8 Best Hoverboards of 2019 – Comparison
3D Insider is ad supported and earns money from clicks, commissions from sales, and other ways.
The hoverboard market has exploded and there has never been more options to choose from. We've written this guide to help you compare and choose.
Entry Level Hoverboards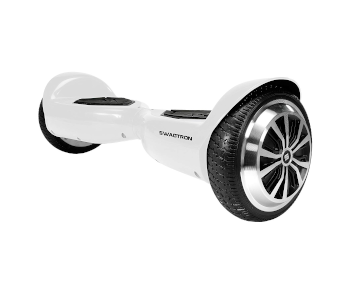 Retail Price: $212
The Swagtron Swagboard T5 is the company's entry-level hoverboard that's designed to be one of the safest in its class. Although it's intended for amateurs and beginners, anyone can ride it. The board boasts upgraded gyroscopic technology to make it easier and simpler to steer and control. Those new to riding a hoverboard will be able to learn to use it in no time.
A feature that the company has put a lot of hours into is it's learning mode for new riders. It limits the maximum speed so the user can get adjusted to riding a hoverboard safely and with ease.
The Swagboard T5 is a lightweight hoverboard, but the build quality allows it to carry passengers up to 187 pounds. This board is perfect for kids, teens, and young adults looking to learn how to ride. As with other Swagtron products, it is UL 2272 certified, and not only that it also comes with its own SentryShield technology. It's an air-tight aluminum body that protects the battery and all the internals from extreme heat.
For power, the hoverboard employs two 200W motors that can push you to a top speed of up to 7 miles per hour. It comes with lithium-ion batteries that give it a reach of up to 7 miles. It's a board that can get you anywhere with ease as long as you're in range.
As an entry-level board, the Swagboard T5 does lack some of the bells and whistles like Bluetooth speakers. It doesn't have built-in LED lights, so if you need to ride it in the evening, you'll need to bring your own illumination source.
Overall, the Swagtron Swagboard T5 is one of your basic hoverboard options. It can fulfill your entertainment and transport needs with its minimalistic package. An incredibly safe and reliable machine that you'll love hopping on to even after you have mastered it.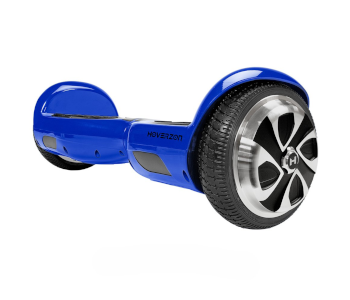 Retail Price: $204
The Hoverzon S self-balancing hoverboard is a personal transporter that's designed for safety, comfort, and maneuverability. It is a board leaning towards the entry-level spectrum. However, it can provide you will all the satisfaction of a well-made one.
It's two 250W motors power it to reach speeds of up to 8 miles per hour. It also has an impressive range of up to 11 miles, so it can definitely take you farther on a single charge. This makes it a great alternative to finish up your last-mile commute.
The Hoverzon S, just like the Swagtron T5, comes with two different riding modes that make it easy for beginners to jump on to. The board also features an LED battery indicator, so you know exactly how much you have left in the tank. This allows you to control your trips to make sure that you always have enough power to get you back to your home or car. LED headlights are also included so you can ride the board at any time of the day without worrying about your visibility.
Just like all the other boards, the Hoverzon S is UL 2272 certified and to exceed that, it comes with its own battery protection system called the Aegis Armor to protect the cells and everything else around it from extreme temperatures. This in turn also protects the riders, so that any battery fires are contained inside the compartment.
The board does lack some other premium features that most buyers are looking for, such as Bluetooth speakers and app connectivity. Overall, it's an entry-level board packed with performance and features that will enable you to enjoy every minute of it.
Our Choice for the Best Entry-Level Hoverboard
The Swagtron T5 and the Hoverzon S are pretty evenly matched in this category. They also have similar price points, so you can never go wrong buying any of them. Both of these hoverboards have learning modes for beginners and are top of their class when it comes to safety.
The performance of both boards is somewhat similar, although the Hoverzon S has a slight advantage in terms of range. Because of that, we're giving a very slim edge to the Hoverzon S as our choice for the best entry-level hoverboard. That added range gives you a ton of flexibility, chiefly when you use it as your last-mile commute solution.
Our Choice: HOVERZON S HOVERBOARD
Commuter Hoverboards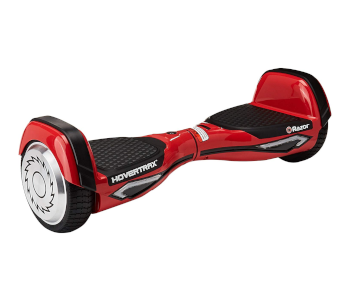 Retail Price: $298
Razor is known as one of the industry leaders in electronic recreational devices, and that shows with their hoverboard the Hovertrax 2.0. The board is one of the first to include an intelligent balancing mechanism they call EverBalance. This technology is basically an active mechanism that helps the rider keep their balance at all times. Now you can enjoy effortless riding wherever you go.
When it comes to safety, Razor was one of the first few brands to have their products checked to get their UL 2272 certification. Their original Hovertrax was the first hoverboard to have been awarded the certification, and as for the 2.0 it exceeds the standards for fire and electrical safety.
The Hovertrax 2.0 is also beginner friendly by having two riding modes. One of the modes is for training, so beginners have an easier time learning how to balance at slower speeds. The training mode also lessens the sensitivity of the sensors, so the board does not get as twitchy for riders who don't know how to control their center of plumb.
After mastering training mode, you can now unleash the full potential of the hoverboard by switching to speed mode. This mode opens up the entire dual 350W motors to get you to a comfortable cruising speed of up to 8 miles per hour. It draws its power from a quick-change LG lithium-ion battery that provides it a run time of about an hour or 8 miles.
An attractive feature of the Hovertrax 2.0 is its removable batteries. Most hoverboards have built-in batteries that you can't remove easily. However, on the Hovertrax 2.0, it's easily swappable. So if you're planning to go on a long trip, you can carry a battery pack with you so you can just swap them in for added range.
The Razor Hovertrax 2.0 is a reliable commuter hoverboard. It comes with LED light bars so you can even ride it at night and not worry about when you can use your board. It's light and portable and the perfect size to carry onto public transport.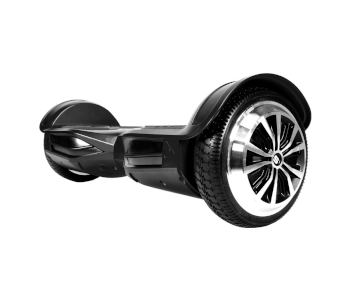 Retail Price: $250
The Swagtron Swagboard Elite is one of the company's premium hoverboards. Featuring updated technology from older Swagtron boards, the Elite is more of a refined version of their entire inventory.
The Elite is powered by two 300W motors that enable the board to reach top speeds of up to 8 miles per hour. The enhanced stability means smoother rides and more responsive controls in any situation. This is particularly useful for beginners, it's able to give you the extra confidence instantly.
Just like the Hovertrax 2.0, the Elite also comes with two riding modes. The learning mode is for new users and directs the device to go slowly. The standard riding setting, on the other hand, will give you the rest of the power so you can reach the maximum speed.
One feature that is often overlooked in the Elite is its high-capacity batteries. They are capable of providing the board an impressive range of up to 11 miles. That's additional of 30 minutes of ride time. Of course, everything is UL 2272 certified, so you don't have to worry about electrical malfunctions. The batteries are also surprisingly quick charging as you can get them to full power in just 2 to 3 hours. That means more time on the road than staying put since your board needs charging.
The Elite comes with its own app so you can connect your device to your smartphone. This allows you to track speed and battery levels in real time. It also allows you to track your travel history, so you know your board's mileage whenever you need it. The added benefit of having this connectivity is Bluetooth speakers. Now you can carry your entire playlist with you and listen to it as your ride.
The Swagtron Swagboard Elite is a hoverboard that is not afraid to show its quality. Made from premium materials and performance that's unparalleled, it's a board that you'll not get tired of riding.
Our Choice for the Best Commuter Hoverboard
The Hovertrax 2.0 and the Swagtron Elite are two of the best commuter hoverboards in the market. They boast excellent performance and put a premium on rider comfort. This is very useful when you're using them every day to get to work or school. Both have similar features and are beginner friendly, so anyone can start using them right away.
The Swagtron Swagboard Elite has a slight advantage though, with its additional features like its own smartphone app for tracking performance and its built-in Bluetooth speakers. It also provides an extended range of 11 miles. The one thing that's going for the Razor Hovertrax 2.0 is its swappable batteries where you can live with its 8-mile range provided you get an extra pack. This is close, and you won't go wrong with any of these, but we'll have to give it to…
Our Choice: SWAGTRON SWAGBOARD T380 ELITE
Premium Hoverboards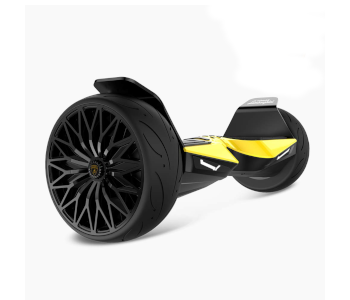 Retail Price: $369
The Lamborghini Hoverboard is designed to give you the ultimate experience. At first glance, you can see that it's a premium product. Compared to other boards in its category, it is more robust and more powerful, meaning better foot placement and a generally more stable ride. Comfort at its absolute finest.
Lamborghini still exclusively makes high-powered road cards. However, the design is stunning enough that they partnered with TwoDots, the manufacturer of the board, to officially brand it with the Lamborghini mark. The design is unmistakable, and using this on the road will definitely turn a lot of heads.
As a more substantial hoverboard, the Lamborghini is equipped with 8.5-inch wheels with big all-season tires that should give you enough traction in different conditions. It is designed to be used all year round so you can continue to commute on it even when it's slightly raining or snowing. It's water resistant, so you'll feel safe and stable no matter what the condition.
The board is built according to world-class safety standards. It's UL 2272 certified, and its batteries have been thoroughly tested thousands of times to ensure that it meets the strictest safety regulations.
Since it's a bit bigger compared to other hoverboards, it comes with more powerful motors. The device is equipped with two 400W motors that enable it to reach maximum speeds of up to 9 miles per hour. Its range on a full charge can also reach up to 9 miles, so a good hour's worth of riding. The powerful motors also allow it to climb steep slopes of up to 15 degrees.
The Lamborghini stays true to its name by providing you with endless music fun by including a Bluetooth speaker. LED lights are installed as well to help you see and be seen when you're riding in the evening.
The Lamborghini hoverboard is more than just technology, it's a piece of art. The ride comfort is there, and so is the performance and all the other luxuries that you're looking for in a device such as a hoverboard.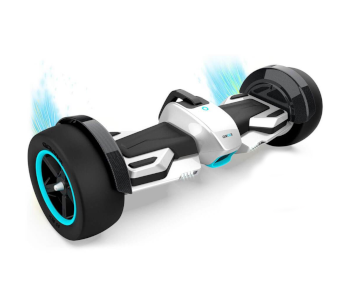 Retail Price: $369
The Gyroor G-F1 is a hoverboard that's inspired by the designs of Formula 1 cars. First of all, it looks very swift, and the 8.5-inch slick tires reinforce the aggressive design of this board. It's not just the looks, but it sounds fast as well. It comes with an adjustable racing sound that syncs to what you're doing, giving that impression of speed.
It definitely looks as fast as it sounds. It is equipped with two 350W motors that can push the board to speeds of up to 12 miles per hour. Gyroor has also built systems to ensure that even if you're traveling down the road at high speeds, you still remain stably rooted on the board.
The motors are significantly smaller than the Lamborghini board. However, the G-F1's body has been designed to be lightweight to offset the more modest generators and still allow you to reach high speeds.
An exciting feature of the G-F1 is its removable batteries. This allows you to enjoy riding on the board for further distances and more extended periods. If you have a spare battery pack, all you need to do is swap out the spent cells with the new one, and you can go for another 10 miles.
The performance of this board is impressive, so is their commitment to safety. It's UL 2272 certified, and the device has been tested thoroughly to make sure that every component is secure and won't overheat and explode any time soon.
Additional features of the G-F1 are the LED lights that you can turn on when you're riding in the evening so that you're visible to everyone on the road. The board is also equipped with wireless Bluetooth speakers so you can enjoy your favorite music, podcast, or audiobook while you're riding.
The Gyroor G-F1 is absolutely an impressive hoverboard able to hit high speeds effortlessly. The board is a definite head turner, which will catch people's attention whether you're in the park or in the streets.
Our Choice for the Best Premium Hoverboard
Both the G-F1 and the Lamborghini hoverboards designs are inspired by race cars, and they do not disappoint. They are quick, living up to their car namesakes. The Lamborghini board is more powerful with a larger motor, but with weight savings, the G-F1 is the fastest between the two. Being lighter means that the G-F1 also has better range.
The performance of both hoverboards is pretty much at par with each other. However, the Gyroor G-F1 has a slight advantage, and that's why it is our choice for the best premium board. Another factor that puts it over the top is its removable batteries that further extend your range.
Our Choice: GYROOR G-F1 HOVERBOARD
Off-Road Hoverboards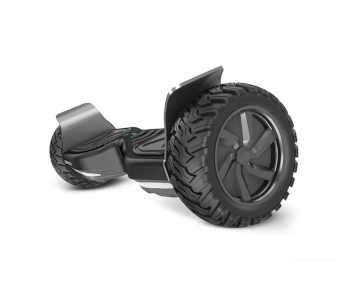 Retail Price: $599
The Epikgo Classic Off-Road Hoverboard is a device that is focused on taking hoverboard technology to the next level. The results of all this mean a much more comfortable ride on just about any terrain.
The Epikgo is 30% larger compared to other boards, and that means more foot space and a much stable ride giving you better control of the vehicle at all times. The larger size also means that the board needs a significant upgrade on the power part, and Epikgo delivered. It's equipped with two 400W motors that allow it to reach a maximum speed of 10 miles per hour.
A larger body also opens up the entire board for more batteries that give the Epikgo up to 12 miles of range on a single charge. They use a certified LG battery to ensure the safety of the rider. The board has passed over 159 tests when it comes to safety, and that simply means that the board or the battery will not go up in flames. The fast charging technology that it comes with is something that most boards do not have, and that considerably helps in extending your range.
The Epikgo's primary feature is its capability to go off-road and to make it possible, it comes with wheels specifically designed to take the abuse of going over different surfaces. It has solid rubber tires that can go over any terrain such as grass, gravel, dirt, pavement, even sand. The design of the tires also makes sure that you don't have to worry about maintenance since there is no chance that you're going to get a flat.
The Epikgo Classic is a hoverboard that can go on just about any type of terrain, and it shines on off-road conditions. The board is water resistant, which is almost a requirement for off-road boards since you'll have to go over some puddles.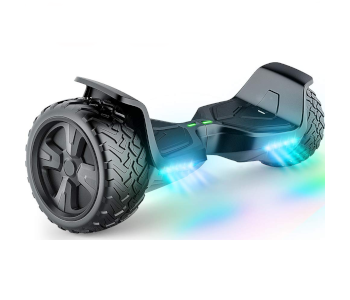 Retail Price: $399
The Tomoloo V2 Eagle is a high-performance off-road hoverboard that provides control over just about any terrain. As a vehicle that is exposed to the elements, it is essential that safety has been thrust to the forefront. The Eagle's design and components have been tested thoroughly to ensure safe operations at all times. It is UL 2272 certified and is resistant to extreme temperatures and fire.
As an off-roader, it comes with two 8.5-inch all rubber tires that provide better control and smoother rides on different terrains. These tires are also low maintenance since there is no air in them and they won't deflate. This makes them extremely durable even when you run them over sharp rocks.
The Eagle has a larger footprint compared to other boards but is similar in size to the Epikgo. This is much more of a necessity than a feature, so you have a better platform to make yourself stable, especially when you're trampling over dirt and rocks.
A large body also means bigger motors to power it, and the Eagle is equipped with two 350W motors that can push the board to a top speed of up to 10 miles per hour. The Eagle's range is a little bit limited at only 8.5 miles.
One of the great features of the Eagle is that it has most of the bells and whistles that you might be looking for on a hoverboard. A Bluetooth speaker is included, and that provides a stereo surround sound that you'll surely love as you're cruising down the street. Tomoloo did not forget to put the entire suite of features when you connect your board to your smartphones, such as GPS, mileage, real-time speed, and battery level.
The Tomoloo V2 Eagle is an excellent off-road hoverboard that can ride on any terrain. It is one of the most affordable off-road boards available in the market.
Our Choice for the Best Off-Road Hoverboard
One thing to note between these two boards is that there is a significant price difference. In terms of performance, they are much more similar, so it is understandable if you want to take the more affordable route. Both are excellent off-road boards that can provide you with the experience that you might be expecting from going through dirt paths.
One of the features that sets the Epikgo from the V2 Eagle are the batteries and the range. The batteries of both are safe, however, the Epikgo takes it to the next level by using high-capacity cells that are capable of fast charging, so you can charge in just two hours. The batteries also give the Epikgo superior range at 12 miles.
Our Choice: EPIKGO CLASSIC OFF-ROAD HOVERBOARD
Wrap Up
There are a lot of different hoverboard classes, and comparing them can sometimes be a challenge. It is vital that you know the type you're looking for to make it easy for you to compare. We have provided you with different categories, so you can make your hoverboard comparison easily.
Now you can compare clearly and get the hoverboard that's suited to your needs. If you're looking for a beginner-friendly for your kids, then you can compare boards of the same type. If you're looking for a great off-road option, then you can now look at two very similar machines. You can now make a smarter choice on your next hoverboard purchase.
Hoverboards have had a lot of ups and downs when it comes to publicity over the past few years. When they first came out, they were media darlings. Celebrities fell in line to get one of these. Then, the problems started. Hoverboards became potential fire hazards overnight.
The entire industry worked hard to change that image. That was years ago now, hoverboards are back. This is their redemption arc, from devices that were once shunned upon, to fun functional machines that are capable of transporting you to your destination at 10 miles per hour.
Today, hoverboards have a different reputation, and they have finally outgrown all those years that they were the subject of a lot of bad publicity. Couple that with the rise of urban traffic, they are now seen as transport saviors for those that are tired of the situation in city centers.
Comparing Different Hoverboards
Putting hoverboards up for comparison can sometimes get tricky. As someone who's shopping for the best board for you, it's natural that you'll have a lot of questions. How do you know that this is the right hoverboard for me? What are the features that are important to me? What's the difference between the budget and premium boards? These are some of the questions that we'll help you answer.
There are a lot of ways to compare different boards so you can eventually choose the right one. We have figured out the most effective way to compare them fairly because what's the point of looking at a premium $500 board against a $150 budget device. Having them categorized to allow you to compare apples to apples, rather than avocados.
What Should You Consider?
Now that there are categories, you can now compare hoverboards of the same kind. For example, if you're looking for a practical commuter board, you just can't compare it to an off-road one and expect to have an unbiased decision.
However, when you're choosing between two commuter boards, you're going to make a much better decision. So, for you to make that decision, there are some considerations you need to look at. Here are some of the things that you need to look at when looking for a board that's right for you.
Your need
Are you looking for a budget, commuter, off-road, or a premium hoverboard? Are you looking for a board mainly for fun or one that's going to make a perfect gift for your kid? This is the first thing you need to consider, and this will help you narrow down your choices. Once you know what you're looking for, you can now check out the rest of the criteria.
Performance numbers
Hoverboards have a lot of features, but none of them are as important as the performance numbers. These include speed, range, battery life, and motor power. Although it's not necessary that you always need to get the fastest or the one that has the most powerful motor, you will want one that's decent enough to meet your needs.
Bells and whistles
These are the extra features that you want on your hoverboard. There are a lot of add-ons that manufacturers include on their boards to get customers to buy their boards. These include Bluetooth speakers, app connectivity, LED lights, and other similar features that add to the value of the board.
Now that you know what type of hoverboard you're looking for, the performance you want to extract from your board, and the added bells and whistles you're now ready for some hoverboard comparison.