How much do hoverboards cost? Hoverboard Prices
3D Insider is ad supported and earns money from clicks, commissions from sales, and other ways.
As with most consumer goods, hoverboards are also affected by price differences. Not everyone can afford high-end expensive boards while others choose to buy high quality and pricier options. Just like all consumer goods, hoverboards have different pricing tiers to satisfy all types of consumers who are willing and ready to buy a device that fits their budget.
Hoverboards cost anywhere between $99 to up to $449. The average price is around $149 for a hoverboard.
When hoverboards were first released, they were considered more as novelty toys rather than a serious transportation alternative and they were really expensive. Now that more brands are developing their own boards and the technology has stabilized and we are starting to see hoverboard price differences clearly.
You can buy cheap hoverboards. There are also mid-range and premium high-end boards that prioritizes material quality, speed, and unique features.
The roles of hoverboards have also evolved from a playground or skate park novelty gadgets to a transport alternative that will allow you to travel to the office or school zipping through cars stuck in traffic. They are not just for kids anymore as they have become extremely popular among adults as well.
Budget and Cheap Hoverboard Prices
There is a wide range of hoverboards available and most are on the expensive side. However, there are also affordable and budget options that are perfect for beginners and kids. Even though they are cheap they do have features that will help make your ride a little better. They may not have the bells and whistles of the high-end options, but hoverboards in this category have LED lights, Bluetooth speakers, and some will have smartphone app capabilities.
What you can be sure of for hoverboards priced this low is that they don't skimp on safety. All these hoverboards have passed all the safety certifications so you can ride without worrying about your board catching on fire or exploding unexpectedly.
We have done the research on all the cheap hoverboards available and here are the best ones that we have found. These boards are high quality and will be worth the money you will be spending on them.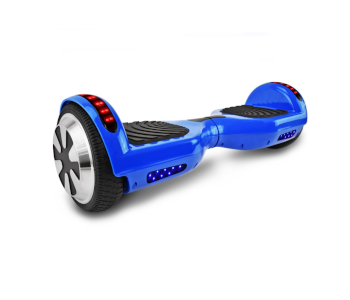 Retail Price: $130
The CHO electric hoverboard is one of the best cheap hoverboard priced under $150. It is cheap but it has all the features that other more expensive hoverboards offer. The board is equipped with bright LED lights that make you visible to traffic when you travel at night. It also comes with dual speakers with Bluetooth capabilities so you can play your favorite songs.
The CHO electric hoverboard is not only cheap, it's also easy to ride. You'll learn to use it in minutes thanks to the self-balancing technology included with the board.
As with most budget hoverboards, they're usually not the fastest but the CHO hoverboard is capable of speeds of up to 6 miles per hour. A full charge will also take you up to 7.5 miles before you need to recharge. Charging though takes a bit of time, it will take you 3 to 5 hours to achieve a full battery load.
This hoverboard will cost you way less compared to the higher end models. If you're a beginner or looking to give one to your kid, the CHO is an excellent choice. You get decent speed and range and the only downside is the long charging time.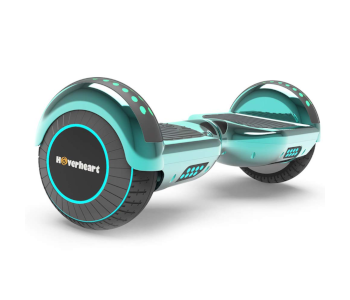 Retail Price: $119
The Hoverheart is one of the cheapest boards on the list and it has tons of different colors and styles to choose from. Don't let the low price fool you though as it is made of high quality durable material. The only, part that might feel cheap is its plastic outer skin, but that's it. The board can accommodate riders up to 180 lbs, which is perfect for kids and teens.
The Hoverheart is equipped with two 200W motors which help it achieve speeds of up to 10 miles per hour. It also comes with high performance batteries that give it a total range of 8 miles on a single charge.
For safety, it comes with an LED lighting system that alerts traffic around you of your position especially when you're out riding in the dark. It also has a speed controller to limit how fast you can go. This feature comes in handy for kids.
The Hoverheart also comes with built-in Bluetooth speakers so you can travel and enjoy your favorite songs at the same time.
This is a cheap but quality hoverboard. It is perfect to give as gifts or if you're on a budget. It's a great pick if it's meant to be ridden by kids and teens as it can only withstand a 180 lb. passenger.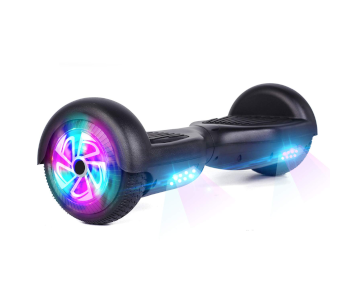 Retail Price: $127
The Sea Eagle Hoverboard is one that's easy to ride and master. It's ideal for amateurs since it comes with a stability control system that helps to keep you upright at all times. It's also responsive where you can easily rotate it to change direction.
The board uses two 200W motors that will help you accelerate up to 6 miles per hour and up 15-degree inclines. It also has a decent range of 6 miles on a single charge. It also has a much speedier charging time of 2 to 2.5 hours compared to other boards in its class.
The Sea Eagle also comes with LED lights so that commuters can easily spot you in the dark. One feature that this board does not have are built-in speakers, so you won't be able to enjoy your music while on the board.
This hoverboard is suitable for beginners because of its stability control and responsiveness. Its anti-skid pedals also keep it safe and improve your comfort levels as you use it.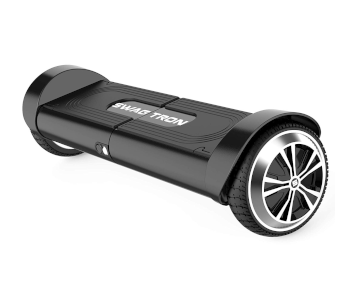 Retail Price: $149
The Swagboard Duro T8 is Swagtron's entry in the budget hoverboard category. One of the most notable features of this board is its lithium-free batteries, which means it is less likely to go up in flames. The downside of not using lithium batteries however is it takes up to 5.5 hours to charge it.
The board is powered by two 200W motors that provide a surge of power allowing you to travel speeds up to 7 miles per hour and overcoming inclines up to 30 degrees. Another downside of its batteries is that it has a limited range of up to 5.8 miles.
The T8 features an IPX4 waterproof design, which means it's weatherproof and you can use it in the rain or zipping through deep puddles. The board's casing is made from metal and can support up to 200 lbs.
The T8 is a sturdy hoverboard that endures a rough ride. It's durable, lightweight, and portable and you can take it with you and ride it on the street or the sidewalk.
Mid-Range Hoverboard Prices
This is where hoverboards start to get serious. The budget category suits mostly kids and teens but mid-priced boards are perfect for those taking hoverboarding to the next level such as commuting. Boards in this range are mostly priced between $150 and $300.
Hoverboards in this category will have better motors, sensors, gyroscopes, and battery which means higher top speed, better stability, and longer range. You will also find boards with off-road capabilities that will allow you to ride on different terrain.
Most of these boards have excellent builds and are made with quality materials. You will also find more high-end features on these boards compared with those on the cheaper side. If you're a serious hoverboarder or looking to move to a more advanced board, then getting one in this price range is a perfect choice.
We have compiled a list of the best midrange hoverboards that you will be able to buy: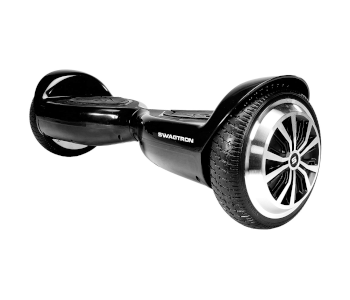 Retail Price: $179
The Swagtron Swagboard T5 hoverboard is a great machine for beginners. Its gyroscopic technology is top notch which allows you to steer and control the board without much effort. Beginners will love learning how to ride a hoverboard using its learning mode feature.
The T5 uses dual 200W motors, which means that each wheel has its own motor to power it. This, in turn, gives you a maximum speed of up to 7 miles per hour with a range of 7 miles.
One notable feature that's important when you make your buying decision is that the T5 can only support a rider weighing up to 187 pounds. The board is built for beginners and caters mostly to kids and teens. Couple that with learning mode, and you have the perfect mix.
As one of the cheaper options in the midrange hoverboard price range, the T5 does lack some of the premium features such as an advanced riding mode or Bluetooth capabilities.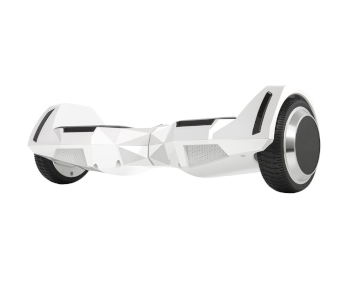 Retail Price: $189
The Spadger R5 hoverboard is another one of those boards that's perfect for beginners. You can even say that it's built for kids, but don't worry, you can enjoy riding this as an adult as long as it can support you.
Its two 250W motors definitely give it an extra power boost compared to other boards in its category. You will be able to achieve a maximum speed of 7.5 miles per hour. The built-in high-performance batteries give it a range of up to 9 miles. One of the best features of the R5 is its fast charging time. In only 90 minutes, you will power up the battery so you can enjoy riding your hoverboard.
The R5 comes with a shell that's designed like a batwing to make it look cool. It also comes with built-in Bluetooth speakers and LED lights. This board mixes performance with aesthetics for a smooth, stable and fun riding experience.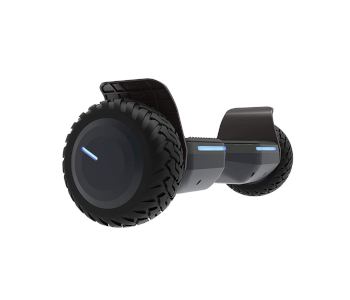 Retail Price: $249
We now enter all-terrain territory with the GoTrax SRX Pro hoverboard. With this board, you will be able to take on any terrain easily and comfortably. To do this, the board comes with 8.5-inch tough all-rubber tires. It also uses its gyroscope to ensure that the foot pedals are level to the ground so you will be able to control the board easily.
The SRX Pro uses dual 250W motors, one for each wheel, for power. These motors help to propel the board up to 7.5 miles per hour. The board also has a decent range at 7.5 miles thanks to its powerful 36V batteries.
For additional fun factor, the SRX Pro comes with Bluetooth speakers so you can safely listen to your favorite tunes and still being able to hear what's happening around you.
Retail Price: $279
The Hyper GOGO is one of the more powerful hoverboards in this category. It is also visibly larger compared to other boards such as the GoTrax SRX Pro. Additionally, it also has all-terrain capability featuring 8.5-inch solid rubber tires to help you maneuver on grass, dirt, sand, and puddles. Because of this, it is also water and weatherproof with an IP54 rating.
The hoverboard comes with two 400W motors that power it to a top speed of 9 miles per hour and up slopes of up to 18 degrees. The larger size means it has larger batteries, but the more powerful motors mean that it consumes a lot of energy giving it a 9-mile range on a single charge. The upside though is that it charges really fast at under two hours so you don't have to wait long before hopping on for a ride.
Its safety features include LED headlights that make you visible when you use the board at night.
Premium Hoverboard Prices
There are a lot of choices when it comes to high-end premium hoverboards. Boards in this category are expensive and have a price range of $300 and above. They are also mostly for adults and enthusiasts.
The most noticeable aspect of these hoverboards is their builds. They are high quality mostly built with an aluminum body rather than plastic. Visually, you will instantly notice the attention to detail on these boards.
Premium hoverboards have more powerful motors and higher top speeds most of them in the range of 8 to 10 miles per hour. Battery technology on these boards is improved with most of them having a quick charge feature that will give you a full charge in under two hours.
Here are the best premium hoverboards you can buy: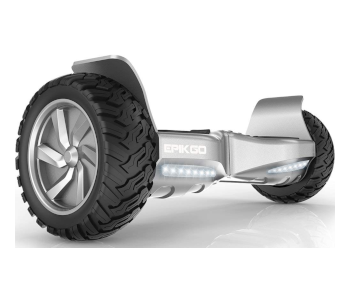 Retail Price: $799
The Epikgo Classic is known for its rugged and reliable build which is expected from a company based in Silicon Valley. It is considered as the ultimate all-terrain hoverboard. It comes with high-tread tires that ensure safe maneuvering on any terrain be it grass, dirt, or pavement.
The board is fast as it can travel up to 10 miles per hour. This is possible because of two 400W motors installed on the board. You will be able to accelerate to its top speed in no time. The power also allows you to climb inclines up to 15 degrees easily. It is so powerful that you don't lose speed when traveling uphill.
The power coupled with the hoverboard's 8.5-inch all-terrain solid rubber tires allows you a high level of performance on any surface. The board is built to last and its design enables it to go over road bumps easily, even at high speeds. The large wheels help make the board stable and comfortable to ride.
A powerful board like this needs a heavy-duty battery and that's what the Epikgo Classic has. The battery is capable of powering the motors up to 10 miles on a single charge. This is possible because of the excellent battery retention system.
Embedded LED lights improve the safety of the hoverboard while riding in the dark. They are bright enough to light the way and it comes equipped with rear lights that can be used as turning signals to alert other motorists of your whereabouts and intentions.
The Epikgo Classic is a stable hoverboard no matter what terrain you use this on. Being one of the best off-road boards it is water resistant so you can use this in the rain or going through street puddles. If you're looking for a high-quality hoverboard that will give you value for its price, this is the board of choice.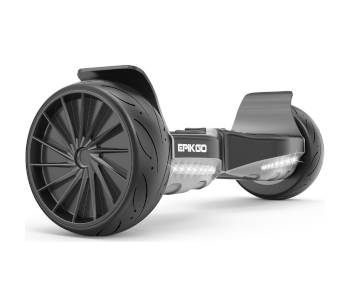 Retail Price: $499
The Epikgo Sport is similar to the Classic in a lot of ways but the difference is really in the performance on paved roads. With cars, when we talk of sport mode, it's maximizing the features on a flat paved surface – it's the same thing with Epikgo. The Sport is built for the track rather than the rugged terrain of the outdoors.
Performance on the road is excellent, however take this off paved surfaces and onto sand or dirt and you will notice the decline. Speed drops off and sometimes you'll find that the hoverboard can't translate that power to the tires. Even though it's marketed as an off-road board you will really enjoy using the Sport on the road.
Similar to the Classic, the Sport is equipped with dual 400W motors that power the large 8.5-inch wheels. This translates to a top speed of 9 miles per hour. The board can easily climb inclines of up to 18 degrees without suffering from performance loss. The range is decent at 9 miles meaning you can travel for an hour at top speed before your battery power runs out. It also charges fast, just taking 2 to 3 hours to reach full capacity.
The Epikgo Sport is one of the fastest hoverboards in the market. The build screams quality every inch and it feels like it can still go faster and further. It's a high-quality board consistently delivering performance, especially in road conditions.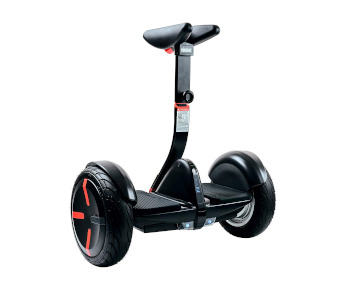 Retail Price: $452
If you're familiar with the Segway brand then you know that they are experts in mobility and transport devices. You will also be familiar with their famous Segway machines. This is a mini version of that full-sized device.
One notable feature of the miniPRO is that it's very easy to learn how to ride. You won't even need training, all you need is a few minutes and you'll get the hang of controlling it.
Visually, it looks different than all the other hoverboards in the market as it has a stick in the middle that rises from the base. You might think that it's for sitting but in fact, it's a control shaft that you use to steer the miniPRO. The control shaft is adjustable so you can level it with your knees so you can easily maneuver the board.
The miniPRO is fairly heavy that's why it uses two 800W motors to power it. Even though it comes with powerful motors, its top priority is safety and mobility and limits its top speed to 10 miles per hour. It has great range however of up to 14 miles.
The miniPRO has excellent smartphone integration and it even has its own app so you can control it. With the app, you will be able to connect via Bluetooth and view your total miles, remaining battery life, and other rider stats. You can also use the app to lock your board and sounds an alarm when someone tries to pick it up or move it. The app also enables you to control the board remotely. It does take a bit of time to get used to.
The Segway miniPRO is more of a mobility device rather than a hoverboard, however, it is relatively larger and you might have trouble riding it on crowded sidewalks.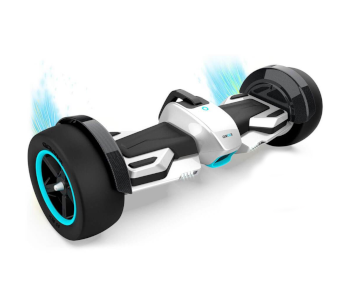 Retail Price: $399
One thing that pops out with the Gyroor G-F1 is that it looks really good. Couple that with the slick wheels then you have a good looking hoverboard that's quick on the road. What makes this possible is the dual 350W motors that power the board up to 10 miles per hour, definitely much faster than the average hoverboard speed.
One feature that testifies to the high-quality build of the F1 hoverboard is that it can handle a maximum load of up to 265 pounds, higher than most boards in the market. This makes it the perfect device if you're a bigger rider or planning to use it while carrying a backpack.
The F1's battery is also an exceptional piece of engineering. It powers the board up to 9.5 miles on a single charge. Charging it to full only takes 1.5 to 2 hours, faster than most boards. It's a powerful device and it needs a high-quality battery to keep it running.
You also get the Gyroor smartphone app with the F1 hoverboard. It has features like adult or child mode that controls the speed and an anti-theft alarm. Bluetooth speakers are also built-in and it has excellent sound quality. For safety, the board is also equipped with LED lights to make sure you're visible in low light conditions.
Final Thoughts
Whether you're looking for a cheap hoverboard, an expensive one, or something in between, there is one that's a right fit for your needs. The budget boards are mostly for kids and teens and they make excellent gifts for any event. Midrange boards are for those who want to take it up a notch and use it for their daily commute. Premium high-end hoverboards are for enthusiasts riders and those that want to fully enjoy the wind-in-you-face feeling.
Hoverboard prices are all across the board, you get one for as low as $100 or buy a premium one that's priced at $800. Of course, there will be differences in terms of build and quality but as with most electronic devices the higher the price, the better the quality gets and the better specs it has.
If you're looking to buy one as a gift or one to enjoy, you definitely have a lot of choices and we have compiled and listed down the best hoverboards in each category.