Hoverboard Warranties: What You Need to Know
3D Insider is ad supported and earns money from clicks, commissions from sales, and other ways.
Personal transport devices have become widespread these days. Not only are they fun to ride, but they are also an efficient commuting alternative. Urban centers are becoming more and more crowded where traffic jams can set you back from a few minutes to a few hours.
Hoverboards are one of these devices that you can not only use in the park, but you can hop on to work or school. They are remarkably portable and lightweight so you can stash them in your car or simply bring them with you on the train or bus. This now gives you a lot of options when it comes to your commute. You can easily weave through traffic or maneuver through busy sidewalks to cut down on your travel time.
One of the problems faced by users that are using their devices daily is the amount of wear and tear they subject to their boards. Some boards can handle it, but most can't. There will come a time when your hoverboard will likely break down or fail.
This is where hoverboard warranties come in. They essentially give you peace of mind as you use your board daily for work or school. You know that when it breaks down, you have something to fall back on and get it repaired or replaced as soon as possible so you can continue enjoying your freedom when commuting.
Manufacturer's Warranty
Newly bought hoverboards usually come with a warranty that ensures their devices will work properly. This means that throughout your first year of use, your board is covered by the manufacturer's warranty. This simply means that whatever happens to your device, you can send it back to where you bought it, and they will fix it for you free of charge. That includes part replacements, mechanical fixes, and even software problems from the control board. No matter what happens, you know someone is going to fix your hoverboard.
Hoverboard repairs and part replacements are usually very costly. They can set you back financially significantly, and if you're not prepared for it, there is a good chance that your hoverboard will be sidelined for months on end. That means you'll have to go back to your longer, more stressful commute route.
A hoverboard warranty ensures that you don't run into that trouble as long as you're covered. The problem with a manufacturer's warranty is that they only last for a specified time. Some brands only offer 30 days, while some are generously offering up to 90 days. This is all good, and you can definitely enjoy your first year of use knowing that whatever happens, you can get it repaired or replaced entirely without any hassle.
Limited Warranties
Other brands come with more lasting warranty periods for up to 1 year, but there's usually a catch. This is what they call limited warranties, and they only cover manufacturing defects. So, when your board arrives, and it doesn't run, they will replace your unit. What's not included is damage due to the normal wear and tear of your board. They won't replace that. If you accidentally drop your hoverboard and it shatters into pieces, that's not covered.
What if you use your hoverboard every day to go to work or school, and what happens when it breaks down on the 31st or 91st day? When this happens, having it repaired means that it's coming out of your pocket. The good news is that there is such a thing as extended hoverboard warranties.
Extended Warranties
Extended hoverboard warranties, on the other hand, come in handy when the one from your manufacturer has expired. So, when your board is more than a year old, you still have somewhere to run to when it breaks down.
This is particularly helpful since most boards are still in good condition after a year of continued use. It might break, but some parts will need to be replaced. Once it's over a year old and the mileage starts to pile up, the chance of it breaking is much higher.
Extended warranties are much more thorough, they can include mechanical and electrical breakdowns, even failures from your regular everyday wear and tear. They also cover accidental damage. So anytime your hoverboard breaks and you have bought an extended warranty plan, then you can likely get it repaired, get parts replaced, or get your board replaced entirely without spending.
Should I Buy an Extended Warranty?
Hoverboards are mechanical devices, and there are a lot of moving parts. It means that if you use it often, the chances of it breaking is relatively high. Much more if you're using your hoverboard for your daily commute. If you're heavily reliant on your board to get you around, then getting an extended warranty might be a good option for you.
Using your board every day means that you're exposing it too many risks than using it recreationally. You might hit a pole as you're traveling and crack your case. You might drop it while hurriedly squeezing yourself through a sea of people on the train.
To protect yourself and from all the hassle of looking for a repair center or worrying about what to do next when your hoverboard breaks down, getting an extended warranty can definitely help you avoid all that. These warranties are not as costly as you might think. Getting your hoverboard repaired is definitely much more expensive than getting a one year extended warranty.
If you're a heavy user and want to have that peace of mind, by all means, get one.
Advantages of Having an Extended Warranty
There are a few services that an extended warranty can give you compared to your manufacturer's limited warranty. The most important of all is that when your hoverboard breaks down if you have a limited warranty, they will simply have a lot of questions for you. When it comes to claiming your extended warranty, they can fix it right away.
24/7 Support
Manufacturer's and brands have their own support hotlines, but honestly, they're mostly there for sales. When you get an extended warranty, the support staff is put in place to respond to your queries regarding your board. They can guide you when it comes to quick fixes. They will definitely be available when you need them.
Parts Replacement and Labor
The limited warranty that your hoverboard comes with is very selective when it comes to parts replacement and repair labor costs. Most limited warranties only cover defects from the factory. Most also don't cover wheel replacements as they get a beating from the first day of use. A limited warranty is, in a sense, very inadequate for what they can replace or fix for free.
An extended warranty, on the other hand, is the complete opposite. As long as you have a plan in place, every repair or part that needs replacing will be fixed without any additional cost to you. You don't have to pay anything, even shipping to the repair center and back to you is covered.
Transferable
You can get someone a hoverboard and an extended warranty as a gift, so they don't have to deal with the hassle of getting it repaired when it breaks down. Limited warranties can't do this. If you give someone a hoverboard and it breaks down, they have to return it to you so you can get it repaired. That's simply a lot of time and effort wasted on getting one board all patched up.
Hoverboards That Come with Warranties
All hoverboards come with their own versions of limited warranties. There are instances when these are enough for your needs. There are also brands that sell their own extended warranty. Here are some of the best hoverboards you can get with warranties.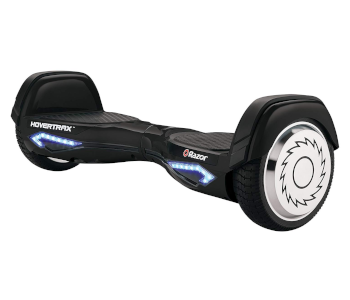 Retail Price: $248
The Razor Hovertrax 2.0 is touted as one of the world's smartest self-balancing electric scooter. It comes with Razor's proprietary EverBalance technology that helps you actively balance the board even when you're riding it. Most boards know how to self-balance, but once you have mounted it, their technology can't keep up with your movements. The Hovertrax 2.0 helps keep you level whether you're on your commute, having fun in the park, or coasting around the neighborhood.
As with most boards, the Hovertrax 2.0 comes with Razor's limited warranty. Coverage is not the longest in the business, but at 90 days, it is definitely enough to know if your board has manufacturing defects that need to be addressed. Since it's a limited warranty, it does not cover damage from your daily wear and tear, wheels, maintenance, or storage mishaps. If you accidentally drop your newly bought hoverboard and it breaks into pieces, Razor won't be able to fix it for you.
Their limited warranty becomes void if you have modified or rented out your Hovertrax 2.0. There's a lot of limitations to what their warranty offers, but what's important is that any defects that you discover, especially with the internal components, you can have it replaced. If you notice any missing parts after you get your hoverboards, such as chargers or other accessories, they can get that sorted for you.
One thing that goes for the Hovertrax 2.0 is its build quality. It's made from a shatter-resistant frame that minimizes your need for repairs. Razor has not compromised on the quality of their products, especially their hoverboards.
Performance is also not an issue with this particular board. It comes with two 350W motors, one for each wheel, that powers this beast to more than 8 miles per hour. Batteries have also been given the attention they deserve where Razor utilizes UL2272 certified LG cells that can give you a range of about 8 miles, 60 minutes of ride time.
The Razor Hovertrax 2.0 may not have the most impressive warranty offer compared to other boards in its class, however, it is built to be one of the more robust ones out there reducing your need to claim your warranty. It is also packed with technology that sets this board above the rest.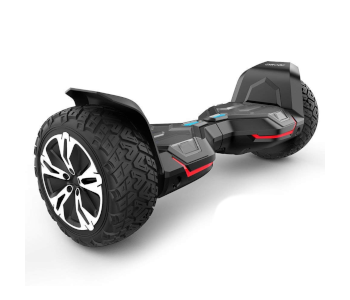 Retail Price: $299
The Gyroor Warrior is an off-road hoverboard that can easily handle all types of different terrains from bumpy pavements, gravel, sand, grass, and dirt. It has been designed so that you get consistently smooth rides on just about any surface. As an off-roader, it is rated IP54 water-resistant so you can ride through rain and even puddles.
Gyroor offers its limited warranty for all its products, including the Warrior. Unlike most warranties, theirs covers up to one year from the date of purchase. This is remarkably long and goes to show that they trust their products enough not to develop any defects for an entire year.
Since it's a limited warranty, there are some restrictions. The warranty only includes defects, so that means accidents are not covered. Damage due to bumps on the road, accident damage, improper maintenance is not covered. However, if the motors develop a defect and do not operate optimally, then they will be able to replace your board within 5 days.
Scratches and nicks on the body are not covered by the warranty. The great thing with the Warrior is that it's made to be sturdy and durable, after all, it's an off-road hoverboard. The body is made from aluminum and durable plastic so that bumping on-road obstacles won't break the board.
As an off-road hoverboard, safety is a priority. Gyroor has put in its own self-balancing mode that helps you stay on the board even when you're riding through bad bumps. This comes in handy for children or when you're still learning how to ride on your board, especially in off-road situations.
The Warrior does not skimp on performance either. It is equipped with two powerful 350W motors that can boost you to its maximum speed of 10 miles per hour. You can also climb hills up to 30 degrees with this board. It comes with removable UL 2272 certified 36V LG or Samsung batteries, the best in their class, to ensure safety even when you're riding on dirt paths in the rain.
The Gyroor Warrior is a sturdy and durable hoverboard designed to last. The excellent warranty coverage also gives you that peace of mind and know that whenever defects start to manifest themselves, you can always get it replaced.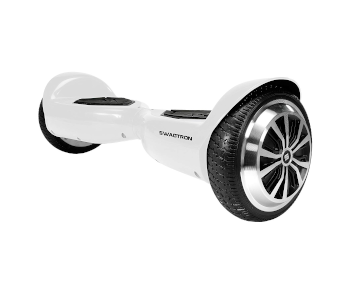 Retail Price: $199
The Swagtron Swagboard T5 is an entry-level hoverboard that's a solid all-around choice. It's designed mainly for young riders where they put in their updated gyroscopic technology that is smoother to ride. This is crucial for beginners to reduce any accidents that might happen by sudden jerking motions. It also comes with better stabilization controls on the wheels and motors to minimize the bumps felt by riders.
Even though it is marketed as an entry-level board suited for beginners, it comes with exceptional performance. It has two 200W motors that help push the Swagboard T5 to speeds of up to 7 miles per hour. It also has a 7-mile range, so that's a decent 60 minutes of ride time.
Getting it up to full charge takes only 90 minutes. You don't have to worry about not getting enough power to get you to your destination since you can always make a quick pit stop on pubs and coffee shops where you can plug it in and charge your board.
The Swagboard T5 is a very reliable board that uses the highest quality components to ensure safe and stable rides every time. It is also one of the first hoverboards to have been granted a UL 2272 certification for its air-tight battery frame that protects everything else in case the cells start to heat up.
Because of how well this board is made, Swagtron is confident in providing a limited warranty of up to a year. Their warranty covers any defects in the device, and they will replace those defects or the entire board. What their warranty does not cover is damage due to road hazards, accidents, and improper operation or maintenance of the hoverboard. If you open it up and it fails to run, it's on you and not covered by their warranty.
Apart from Swagtron's limited warranty for all their products, interestingly, they are also offering a Protection Plan. It is essentially an extended warranty for all their products. If you crack the shell of your Swagboard T5 or accidentally drop it, this plan will cover repair and shipping. Think of it as insurance for your hoverboard.
There are a few things not covered by Swagtron's Protection Plan. Water damage, for example, isn't covered. If it gets stolen, you won't get a new one in return. Lastly, intentional breakage, like doing tricks on your board and destroying it in the process, will nullify your warranty. It also does not cover total damage, an example of that is when your hoverboard gets broken in half, or it shatters into pieces.
Swagtron is one of those few brands that gives you an option if you want to get an extended warranty. Their Protection Plan is particularly useful if you utilize your hoverboard regularly.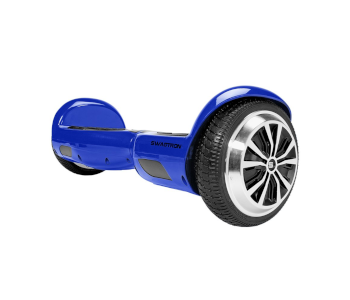 Retail Price: $249
The Swagtron Swagboard T1 electric scooter is the brand's original hoverboard. The board is designed to be durable to support riders up to 220 pounds and consistently provide a stable ride. The Swagboard T1 is one of the world's first boards to be certified by Underwriters Laboratories to ensure that the battery technology installed is safe.
The board comes with two 250W motors that allow you to cruise up to 8 miles per hour for up to 11 miles on a single charge. They can propel you up 30-degree inclines so you can climb gentle hills and not disrupt your commute.
The Swagboard T1 is known for its safety, especially when it comes to battery technology. The first element of its entire safety package is its flame-resistant shell. It is designed to withstand extreme heat, so when the batteries fail, the board won't go up in flames and catch fire.
The next layer of safety is Swagtron's SentryShield battery technology. It's a shell that encloses the entire battery installation so that on the event that it fails, the heat and flames are contained inside.
The hoverboard also has Swagtron's smart Battery Management System that regularly monitors and protects you from short circuits, overvoltage, overheating, and overcharging, which are the primary causes of explosions and fires.
The Swagboard T1 has similar warranty terms as the Swagboard T5. The focus of this hoverboard is durability, robustness, and safety. On all accounts, the one-year limited warranty should be satisfactory. However, if you're using your hoverboard as your daily transporter to work or school, then getting Swagtron's Protection Plan should be an enticing option. Getting that extended warranty gives you that peace of mind to use your hoverboard every day and not worry about unexpected break downs and accidents.
Wrap Up
Hoverboards are definitely great transportation options that can get you from point A to point B without getting stuck in traffic or passing through longer routes than necessary. However, when you're heavily reliant when it comes to using your board, you need some sort of insurance policy so that you're ready for every possible eventuality.
Hoverboard warranties ensure that you have options. Whether it's to get it replaced because your board broke down because of a defect or if some parts fail because of the daily grind. You know that you can get your board replaced or repaired without having to shell out the cash.