HTC Vive Pro Cyber Monday 2018 Deals
3D Insider is ad supported and earns money from clicks and other ways.
Virtual reality is the new frontier of gaming. High-end VR headsets, such as the HTC Vive, have improved by leaps and bounds from the cardboard headsets from several years ago. This Cyber Monday is the perfect chance to buy what is undoubtedly one of the best VR headsets available today because the HTC Vive Pro Headset is available for only $699.00. This is a fantastic deal, considering that the HTC Vive normally sells for $799.00
For the full HTC Vive experience, we recommend getting the HTC Vive Pro Virtual Reality System which comes with all the sensors and controllers designed to work with the headset. This bundle normally sells for $1399.00 but is available this Cyber Monday for only $1199.00.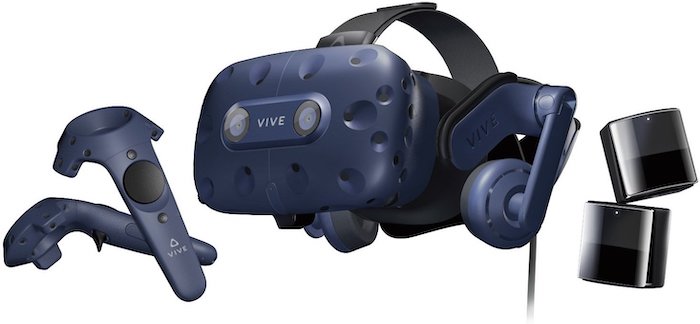 HTC Vive Pro Features
The HTC Vive Pro is basically a remastered version of its predecessor, the HTC Vive. It's a little more expensive, but it does come with improved ergonomics and higher quality screens. With comfort being one of the primary features users look for in a VR headset, the Vive Pro certainly feels like a worthwhile upgrade.
One look at the HTC Vive Pro headset and you get the feeling that it's the future of virtual reality. Its rounded exterior integrates well with the infrared tracking dots, giving the headset a unique and distinctive visual appeal. The headset, as well as the controllers and sensors, are made from durable plastic so they can withstand a few bouts of rough play.
The HTC Vive Pro headset has one screen for each eye, with each screen having a 1440 x 1600 resolution and an AMOLED build. With a very high refresh rate of 90 Hz and an extra wide 110-degree field of view, the HTC Vive Pro is the perfect gaming headset.
HTC has managed to design a VR headset that is more immersive than its predecessors but is not prone to inducing nausea in its users. With its head tracking technology, the HTC Vive Pro allows users to move in virtual space simultaneous to their movements in real space. This feature seems to have gone a long way towards making users more comfortable, as opposed to being stationary wearing a seated headset.
The headset also integrates high impedance headphones that works with 3D spatial sound technology to deliver fully immersive audio. Dual microphones provide noise cancellation, so you will truly feel like you have shut out the outside world.
The HTC Vive Pro Virtual Reality System bundle comes with two tracking sensors and two handheld HTC Vive controllers. The controllers have a unique design with a peculiar ring that acts as your main means of interaction while playing games. It has a very solid and ergonomic design, massive upgrade from old handheld controllers such as those from the Wii. The biggest drawback of the controllers is that they are not wireless. For the sake of solid connectivity, the HTC Vive controllers are connected to a link box with thick cables that may be unsettling once you have immersed into a virtual reality world.
You will not feel a shortage of content when using the HTC Vive Pro as it supports many VR games from the Steam marketplace. There is a literal abundance of ready-to-play games that are available right now. Without a doubt, more VR games will be developed in the future as the genre becomes more popular.
For the past few years, VR technology has continued to evolve and improve. Right now, the HTC Vive Pro sits near the top of this evolution pyramid. If you have always wanted to experience the premium VR experience, make sure that you take advantage of the price drop this Cyber Monday. A deal this good might not come up again in the near future.