How to Use IFTTT to Automate Your Smart Home
3D Insider is ad supported and earns money from clicks, commissions from sales, and other ways.
IFTTT, which stands for "If This Then That", is an online service that connects smart devices and other services so that one of them takes cues from the other to perform certain tasks. It lets you specify a trigger and an action which is carried out through sets of instructions called applets when that trigger happens. For example, a notification can be sent to your phone each time a door lock is armed or a smart air conditioner can be turned off when your smart thermostat is set to away mode.
IFTTT's greatest strength is its ease of use. Anyone can grasp the concept easily and start taking advantage of the power of applets in minutes. Using IFTTT opens up new possibilities in home automation since it lets you use one device's actions to control another even though the two have nothing in common. It can also alter the way in which you get notified about a smart device's actions to better suit your needs.
In this guide, we'll show you how to get started with IFTTT and use the simple yet powerful system to go beyond the limits of your individual smart devices and create a truly smart home.
First Steps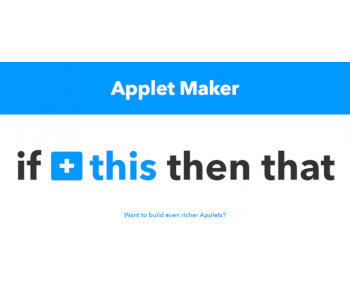 To start using IFTTT, you'll need to create an account on their website or download its mobile app. We'll be talking about how to do use the desktop app unless otherwise specified. The first page you land on showcases some core IFTTT benefits and offers a few straightforward ways of signing up by either providing an email address or connecting through Facebook. IFTTT is completely free to use and doesn't ask for any identifying or credit card information.
Once you've created an account, you'll be prompted to choose a number of services you frequently use. IFTTT supports a large number of online services like Facebook or Google as well as many smart home devices like the Nest thermostat or Phillips Hue lightbulbs. Choosing services and devices you're interested in now will make the suggested applets feed more relevant. You can always add more via IFTTT's complete services list later.
What are Applets and How to Use Them
You may be overwhelmed by the sheer number of options at first, but using IFTTT is actually quite easy. The best way to start is by activating a few pre-defined applets. These are sets of instructions which require a trigger and an action. When the trigger is set off, the action is taken.
Let's say you want to be able to turn your Phillips Hue lights on and off with a button on your smartphone. First, you'll need to search for "Hue" in the services section and click on the corresponding square. To use the applets associated with it, you'll need to have a Hue account. Clicking on the "Connect" button under the service's general description will bring you to a login page where you enter your Hue credentials. Syncing your IFTTT and Hue accounts lets you use every associated applet without further prompting.
Now you can select an applet called "Turn on/off your lights with one tap on your phone". Doing so brings you to the applet's main page. Here you can learn more about it by selecting "How it works" or turn it on by pressing the "Turn on" button. To use the widget, you'll need to log into the IFTTT app on your phone. The button will then be available as a home screen widget. Pressing it turns the lights on or off after a slight delay.
Companies that partner with IFTTT can create applets which have a single trigger and multiple actions. This way you can set up scenes and get more things done quicker. For example, the "Tell Alexa to lock up at night" applet will mute your phone, turn the lights on, and make sure your garage door is closed with a single voice command.
Managing Applets
It's easy to get swept away and install many applets once you realize IFTTT's potential. You'll want to use some of them occasionally while others may turn out to be useless. To manage your applets, click on the "My Applets" button next to the IFTTT logo. This shows all of your active applets and their status. Applets that are in use are colored while ones that are turned off are grayed out.
To activate or deactivate an app, click on it and then on the on/off button when you're on its page. You can configure and delete the app from the same page by clicking on the gear icon. What you can configure depends on the specific applet, but the "Receive notifications when this Applet runs" toggle is always available. To delete the applet entirely, click on the red "Delete" button.
Creating Your Own Applets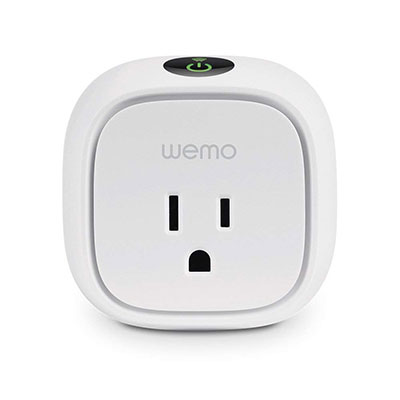 Although there are dozens of applets to choose from for most services and devices, they may not do everything you need. Creating a custom app that does is almost as easy as selecting a pre-made one.
Let's have IFTTT create a simple morning routine for you. By saying "Alexa, trigger good morning" to a smart speaker that supports the virtual assistant, this applet will make a fresh pot of coffee! We're assuming that you have the listed devices and have linked their accounts to IFTTT.
To make a new applet on the desktop site, click on the small arrow beside your account name and choose "New applet". This brings you to a screen where you define triggers by selecting "+this". You want to trigger a morning routine by telling Alexa a command, so click on the "+this" button, type "Alexa" into the search bar, select the Alexa square, and set the trigger to "Say a specific phrase". Type in the phrase you want in lowercase into the field. The phrase is preceded by "Alexa, trigger", so in our case the full command will be "Alexa, trigger good morning".
Now you're back at the applet creation screen and can modify "+that". We're aiming to make some coffee, and the easiest way to automate this is to get an electric kettle, pour water into it the night before, and plug it into the WeMo Smart Plug. Type "WeMo smart plug" into the search bar, select the square, and choose "Turn on" as the action. You'll be prompted to select which switch to turn on as well, so select the one that controls the kettle. Now when you wake up and say "Alexa, trigger good morning", the kettle will start boiling water for a cup of Joe while you're free to do other things.
Can You Build More Complex Applets?
Ordinary users are currently limited to creating applets which have only one trigger and action. There are ways around this, but none of them are as straightforward. The applets created in this way can't be published or shared with others either. IFTTT recently launched the Maker platform which lets developers create applets with multiple actions and share them with the general public. This is a paid service though and requires you to submit personal information.
What Else is IFTTT Good For?
Most smart devices send notifications to your phone in some form. They're often limited to just push notifications or emails though. With IFTTT, you can receive different types of messages – SMS, push notifications, emails, and more. The same principle is applicable to data logging – by combining your smart device with Google Sheets, you can create and access usage reports the device may not support on its own.
IFTTT shines in bringing your smart devices together, but that's just a small part of what it can do. There are thousands of applets aimed at managing your social media posts and photos, helping you live more frugally, or making sure you keep your appointments. IFTTT frequently adds support to new services and smart devices. The applet repository is updated daily, and IFTTT has a bustling community of users that are quick to help newbies and share their own applet ideas.