How to Become an Information Security Analyst
3D Insider is ad supported and earns money from clicks, commissions from sales, and other ways.
Security Analysts work to prevent cyber attacks by implementing various security measures designed to protect systems, networks, and individuals. The role is certainly a demanding one. However, if you enjoy cybersecurity and crave a fast-paced environment that offers new challenges almost every day, working as a Security Analyst could be perfect for you.
In this guide, we will be outlining the steps you will need to take to become a qualified Security Analyst. The path ahead might seem long and arduous, but if you have the passion and determination to succeed, the pay-off at the end will be worth it. Before we get into the steps you need to take, however, let's first go over the main aspects of the job itself.
Job Duties
As mentioned, Security Analysts command a rather demanding role, which involves carrying out a number of different duties and responsibilities. Fortunately, in most cases, these tasks are split amongst a team to make the workload more manageable. However, this isn't always the case, as smaller firms are less likely to have a dedicated department.
The primary duties of a Security Analyst include:
Planning and implementing security measures
Establishing plans and protocols to protect data
Monitoring security access
Anticipating security alerts
Analyzing security breaches
Performing vulnerability testing
Carrying out security audits
Managing intrusion detection and prevention systems
Coordinating security plans with vendors
Training employees in security awareness
Required Skills
Security Analysts are expected to have a wide variety of technical skills, including expert knowledge in cybersecurity, penetration testing, intrusion detecting, auditing, and networking. This might seem excessive, but Security Analysts are essentially playing chess with hackers, and to win, they need to be multiple steps ahead of their opponent.
Here is a list of the primary hard skills employers are currently looking for.
Knowledge in Firewall and intrusion detection/prevention protocols
Java, Python, and/or C/C++ programming skills
DLP, anti-virus, and anti-malware skills
Windows, UNIX, and Linux proficiency
SIEM (Security Information and Event Management) knowledge
Familiarity with TCP/IP, computer networking, routing, and switching
Ability to use network protocols and packet analysis tools
IDS/IPS penetration and vulnerability testing skills
Virtualization and Cloud Computing skills
Ability to reverse engineer malware
Familiarity with SaaS models
Soft skills are also important, as they give an employer an indication as to how professional you are. They also let the employer know how well you are likely to integrate with the rest of the team. The most sought after soft skills employers are looking for include:
Good communication skills
Punctuality
Self-motivation
Responsibility
Teamwork
Problem-solving
Decisiveness
Ability to work under pressure
Salary
Security Analysts get paid pretty well for the work they do, with most earning around $99,000 per year. Those at the top of the field are making even more, with annual salaries of up to $131,000 being boasted by many in the top 10%.
At entry-level though, you should expect to earn closer to $60,000 a year, which isn't quite as glamorous. However, it is important to remember that this figure can quickly rise once you have established yourself at a company.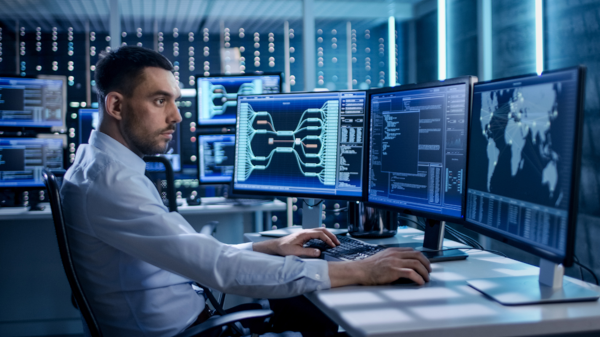 How to become an Information Security Analyst
Now that we have established the main aspects of the job role, and the skills it requires, let's take a look at how to obtain them.
1. Earn a bachelor's degree
Almost every Security Analyst position will require you to hold at least a bachelor's degree in either Cybersecurity, Computer Science, or another related field. Therefore, if you are serious about pursuing a career in this field, enrolling in a degree program that teaches relevant skills should be one of the first things you do.
There have been examples of people who have managed to make it as a Security Analyst without a degree. However, if you want to ensure you have the highest chance of succeeding, a degree is worth the investment.
2. Obtain some professional certifications
Once you have a degree under your belt, you should then look to complete some professional certifications. These certifications are often highly regarded by employers and are recommended for anyone looking to become a Security Analyst, whether you hold a degree or not.
The reason for this is because, unlike some degree programs, these certifications prove that you have a more specific skill set. This gives employers more of an indication as to whether or not you are suited to the role, as well as an idea of your general strengths and weaknesses within the field.
Some of the most popular certifications relating to this role include:
CompTIA Security+
CEH (Certified Ethical Hacker)
ECSA (EC-Council Certified Security Analyst)
CISSP (Certified Information Systems Security Professional)
The CompTIA Security+ certification is widely recommended as the first certification you should look to complete after you have obtained a degree. The reason for this is because it focuses on teaching baseline cybersecurity skills, giving you a solid foundation that you can then build on as you progress in your career.
The CEH certification is one of the most sought after in cybersecurity, with many employers listing it specifically in their requirements when advertising a job. For this reason, we highly recommend obtaining it after you have completed your degree, as it will not only teach you some excellent penetration testing skills but also make you a more desirable candidate to potential employers.
The ECSA certification is often recommended as a follow on after you have obtained the CEH certification, as it essentially picks up where the latter left off. Completing the CEH certification first isn't compulsory, but if you plan on doing multiple certifications, this is a great way to streamline the process.
As for the ECSA certification's content, it mainly focuses on teaching advanced penetration testing methods. This means you will obtain plenty of knowledge in uncovering security threats and vulnerabilities, as well as learning a number of different hacking techniques. This knowledge can also be used to help figure out how a hacker is likely to target your future employer's systems.
The CISSP certification focuses on teaching you how to design and implement a cybersecurity program. It's a little less specific than some of the other certifications on this list, but it is still well-regarded in the industry, and will always look impressive on your resume, no matter what you're applying for.
3. Get some work experience
Most employers will expect you to have at least 1-5 years of work experience. Certifications can often help boost your chances in this scenario. However, you may need to apply for an entry-level position at first or opt to work for a smaller company during the early stages of your career.
Alternatively, you could choose to work as a contractor or on a self-employed basis. This is a great way to build up some experience, and it also allows you to build up a large body of work that can then be shown to potential employers later down the line.
4. Self-learn
This one is less of a step to be taken, and more of a practice you should look to adopt as you progress through the stages above. The reason for this is because although you will be taught the majority of what you need to know on the various courses you enroll in, technology is constantly progressing. This means that not everything you learn in your degree, for example, will be relevant to the job you end up doing.
Therefore, it is important to keep yourself up to date with new technologies, as you will need to make sure you have a good idea of where things are likely to go in the coming years. Doing so will not only better prepare you for the future but also make you a more desirable candidate, with a clear interest in the work you do.