DJI Inspire 3: The Rumors Continue
3D Insider is ad supported and earns money from clicks, commissions from sales, and other ways.
DJI has become the market leader for high-quality, reliable, easy-to-fly drones. It continues to set new standards when it comes to aerial photography systems. It's why we sit up and take notice whenever there are rumors of a new product or product updates.
Leading Up to the DJI Inspire 3
We'll update this page as news comes out for the Inspire 3. No one expects an announcement in Q1 of 2019, but that doesn't mean it won't happen. There's still plenty of chatter going around.
Here's how the product history looks leading up to these rumors:
DJI released its Inspire 1 in November 2014
The Inspire 1 Pro followed in September 2015
DJI released the Inspire 2 a year later in November 2016
There haven't been any major updates since
We've seen a lot of speculation about the all-new Inspire 3, and it looks imminent, but with no date—yet. It's also possible we'll see an Inspire 2 PRO version before a 3. We may not too. After all, DJI already considers the current Inspire 2 a "professional" drone.
What to Expect with a DJI Inspire 3
Here's what we might expect to see with an all-new DJI Inspire 3 drone:
8K 30fps CinemaDNG, 6K 30fps Apple ProRes
Compatible with Zenmuse X6, Zenmuse X7s, Zenmuse X8
Stepless iris control
Top speed 74 mph (120 km/h)
Max takeoff weight 5000g (11.02 lbs.)
Flight time 27 minutes w/ Zenmuse X6
Flight time 25 minutes w/ Zenmuse X7s
Arial Photographer's & Videographer's Dream
DJI set the standards that all other camera drone makers must aspire to. It's why we get so excited about new rumors. DJI produces aerial photography systems that are better than everything else. Aerial photographers and videographers can expect something quite special with a new DJI Inspire 3.
Drone reviewers often brand the term "cinematic quality video" around loosely. With an Inspire 3, though, it wouldn't be an exaggeration. It'd be up there with the likes of the incredible Red or Alexa camera systems. The downside would be the increased price. Even so, being a top-end commercial— rather than consumer—camera drone justifies the high cost.
The New ZENMUSE X7 Camera
It would make perfect sense if a new Inspire 3 came with the option of a DJI Zenmuse X7 camera. It's an incredibly compact Super 35 light-tight box that sports an in-body gimbal. High-end filmmakers could go on to produce astounding footage with breathtaking resolution. Right now, the only drone compatible with the Zenmuse X7 is the Inspire 2.
Any Inspire upgrade—or a new family of high-end camera drones—should include the X7. Or at least be X7 compatible. This way, pro aerial photographers and cinematographers have the choice.
I won't get into a review of the Zenmuse X7 here, but will highlight a few of its key features:
2K Apple ProRes
Continuous RAW burst shooting at 20fps
24 MP stills
DL-Mount allows switching between four prime lenses (first of its kind)
New DJI Cinema Color System makes post-processing easier and faster
It's impossible not to get excited about the potential of a DJI Inspire 3 with Zenmuse X7 camera.
Inspire 3 Rumors Abound
DJI drone pilots love to hate a good rumor. They love it because it's always exciting to hear whispers about a new product in the pipeline. They hate it because of the uncertainty of not knowing whether there's any truth in the stories. A previous buzz surrounded leaked images of 'alleged' test flights of a new model. Some thought it was the all-new DJI Inspire 3, sporting a 6K RAW resolution camera.
You could envisage the tech heads poised over their keyboards in eager anticipation. It turned out to be something of an anticlimax, though. It's true that technology changes fast. Still, new drone launches only arrive when the time is right—when technology can meet demand.
The problem with rumors is that fake news can—and usually does—run riot. Everyone starts to talk about something as though it already exists even though it may never materialize.
How the Inspire 3 Rumors Began
You may wonder how these rumors began. Well, DJI leaked some less than clear images just ahead of the Mobile World Congress (MWC) in Barcelona. Then, the layout of their booth at the MWC added fuel to the speculation. It showed a close-up image of an all-black drone motor and propeller. The tech industry wondered if it was a glimpse of a brand new Inspire 3?
However, the image raised more questions than it gave answers with things like:
Surely, it's a close-up of the Inspire 2?
It could be an entirely new class of DJI drone?
Maybe it's a new Inspire Black Version 2?
It's an image of something from the commercial family, isn't it?
And on and on it went, ad infinitum. Rumors began to circulate because DJI remained tight-lipped.
No, Not the DJI Inspire 2
Most folks first thought the image was an artistic shot of the DJI Inspire 2. It wasn't. We know this because the differences became apparent on closer inspection.
There were three key distinctions found on that mystery poster:
The LED light had a different design and color to the Inspire 2
The Inspire 2's motor tilts off axis slightly; this one didn't
The entire finish was matte black; the Inspire 2 has a light/dark finish
It's not surprising that people thought it could be the first peek of an all-new Inspire 3. Either that or an Inspire 2 PRO version. No one knew anything for sure, but that didn't quell the speculation.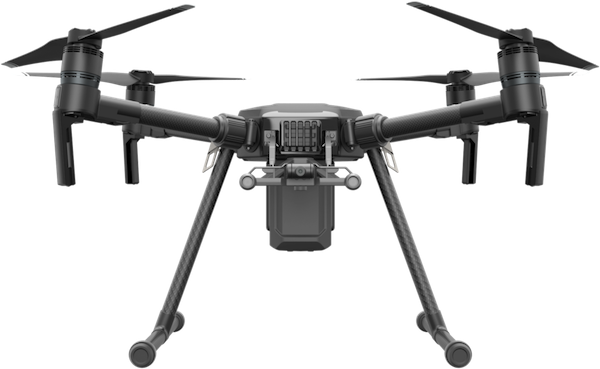 Everyone was barking up the wrong tree. What people saw at the MWC was a sneak peek of the Matrice 200 that the company introduced later that year.
Why so Many New Camera Drones
The thing about drone technology and features is that there's always room for improvements. And when we think things can't possibly get any better—they usually do.
Here are eight shared areas where all drone pilots hope for improvements:
Extended flying time or battery life
Flight range: distance the drone can fly from the controller
Faster flight speeds
Advanced aerial stability and maneuverability
Better flight modes and other useful features
Higher resolution cameras, better gimbals, improved FPV capability
Get propellers out of view
Lighter weight, more compact or foldable designs
Good Things Come to Those Who Wait
Prepare for surprises when DJI introduces an Inspire 3 to the family. For now, though, the whispers have died down just a tad. That doesn't mean the DJI software and hardware engineers are resting on their laurels. It's a company that never fails to innovate, amaze, and excel beyond all expectations.
We will bring updates to this page the moment there's something new to report on the DJI Inspire 3.