Best Intel Processors to Get in 2020
One of the most essential pieces that you are going to get for your PC is the processor. Without it, you will not be able to get your system to run. So, whether you are building a new PC or upgrading your current one, finding the best CPU is essential to what you want to achieve.
Looking at the specs sheet of processors, you will instantly notice a lot of different categories and numbers. There are core counts and clock speeds, and these can make a difference in your system's overall performance.
You can definitely rank these processors based on performance. However, picking the right one to get for your build does not mean that you get the fastest and most powerful one that you can afford. You want one that is powerful enough, with a little bit of headroom for future-proofing, for the tasks you want to put it through.
To help you choose the best one for your build, here is a list of the latest Intel CPUs with their respective specs to give you a better idea on how each of them performs:
List of the Latest Intel Microprocessors
Intel 9th Generation Coffee Lake Desktop Processors
Intel's 9th generation processors, also known for its codename, Coffee Lake, is a refinement of their 14nm process node. It introduces the first Core i9 range that is for the mainstream market. These processors can rip through any workload you throw at them, especially those in the higher end of the spectrum.
Core i9 Enthusiast-Level Processors
The Core i9 family of processors are geared towards enthusiasts and professionals who create content. From 4K video editing and rendering to 3D design, these are the CPUs to use so you can maximize your time. Apart from content creation, the Core i9 line of chips is also excellent for gaming especially with graphics-intensive games and VR.
Core i7 High-Performance Processors
Intel's Core i7 is at the high end of its price and performance spectrum. For so long, these have been the best mainstream processors before Intel introduced the Core i9 family. These are powerful processors that enable you to enjoy your favorite games and handle any resource-intensive workloads.
Core i5 Mainstream Processors
The Core i5 series is Intel's mainstream processors. They offer solid performance at a fraction of the cost. These CPUs are quick enough making them excellent for gamers, but they also provide excellent overall value for anyone who is building a system with a specific budget in mind.
Core i5-9600 Series
Core i5-9400 & i5-9500 Series
Core i3 Budget Processors
The Core i3 family of CPUs leans more on the budget end of the spectrum but still offer dependable and reliable performance. PCs with Core i3s are built for everyday tasks such as word processing, spreadsheets, internet browsing, and multimedia. They also provide excellent gaming performance for games that are not that resource-intensive such as esports titles.
Core i3-9300 Series
Core i3-9100 Series
Pentium Gold Entry-Level Processors
Intel's Pentium and Celeron processors are built mostly for light loads such as web browsing, chatting, or some online shopping. These do not have the power that the Core i3 has, so you will not be able to rely on them when you want to play a lot of games. Still, if you are looking for an entry-level PC with decent speed and responsiveness, one with a Pentium or Celeron processor is something to consider.
Celeron Entry-Level Processors
Intel X-Series Workstation Processor Family
The X-series processor is built for workstations that ask a lot of power and speed. It is the chip of choice for content creators looking for hardware that will suit their needs. It pushes the boundaries of what regular CPUs can do in terms of performance on specific workflows like photo and video editing, visual effects, game development, and 3D animation.
Intel 9th Generation Intel Mobile Processors
Intel does not only manufacture desktop processors, but they also have chips in the game for mobile devices such as laptops. Here are the 9th generation CPUs that you can find in laptops and other similar devices.
Core i9 Mobile Processors
Core i7 Mobile Processors
Core i5 Mobile Processors
Intel 10th Generation Ice Lake Mobile Processors
Intel has announced and released its 10th generation processors. Mobile CPUs are the first to be revealed with their desktop versions coming soon. This is Intel's latest architecture utilizing their 10nm process packing these processors an extra speed bump with better thermals.
Core i7 Ice Lake Mobile Processors
Core i5 Ice Lake Mobile Processors
Core i3 Ice Lake Mobile Processors
Intel 10th Generation Comet Lake Mobile Processors
Although Intel does have a 10nm process, they also have continued with refreshing their older architecture, 14nm, for the Comet Lake processors. These do not have their desktop counterparts yet, and similar to the Ice Lake chips will be coming soon.
Here are the 10th generation Comet Lake processors that are out so you can check out their specs and what they are capable of:
High-end Core i7 and Core i5 Mobile Processors
Budget and Entry Level Core i3, Pentium, and Celeron Mobile Processors
The Best Intel Processor for 2020
Fastest All-Around Intel CPU: Core i9-9900K
The fastest processor can mean a lot of things. The Intel Core i9-9900K is definitely too much for a specific task. If you are building a system that is purely for gaming, this is going on the extreme end. However, if you are going to use your PC for other types of tasks like video editing, encoding, and rendering, this is an excellent processor to consider.
Compared to AMD's high-end desktop processor options like the Threadrippers, the Core i9-9900K does not match them in terms of core count and multi-threaded performance, but this CPU is faster in undoubtedly faster in games thanks to its high clock speeds. On top of that, it also costs significantly less, so if you are not looking for a high core count processor, this is an excellent high-end alternative.
The Core i9-9900K is a processor that is mainly for a system that does a lot of things, including gaming. This is not the most economical or efficient choice out there, but this should last you a good number of years and GPU cycles before you decide to swap it for a newer CPU.
There is also a more affordable version of this processor, the Core i9-9900KF, it is one without the integrated graphics. So, if you are planning to get a GPU with your Core i9-9900K, this is a more economical approach.
Best Entry-Level CPU: Core i3-9100
If you are looking for an Intel CPU that will not burn a hole in your pocket, the Core i3-9100 is it. This is a quad-core processor that can give you a good boost for gaming or productivity tasks. Slap on a budget GPU with this, and you get an entry-level system that can handle most tasks that you can throw at it.
Even though there are other more affordable alternatives than the Core i3-9100 like the Pentiums and Celerons, you are likely to sacrifice some processing cores and a good chunk of clock speeds that will compromise the overall performance of your system.
The Core i3 family of processors and definitely budget picks. However, they do carry a good number of cores and power that you can build a decent system for a fraction of the price of other CPUs that perform only marginally better.
Best Midrange CPU: Core i5-9400F
The Core i5-9400F is an exciting processor. For one, it does not have integrated graphics, which is fine if you are planning to slap a dedicated GPU to your system. If you are planning to use it for gaming, then you are likely to get a separate graphics card anyway, so you should be saving a few dollars by getting this CPU.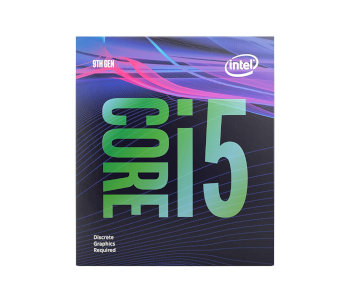 At 6 cores, you do have a bit of a compromise when it comes to using multi-threaded optimized apps like video and 3D editors, but the Core i5-9400F should still work fine for most productivity work. Gaming, though, is where this CPU shines as it does offer excellent single-core performance that is perfect for playing the latest games.
The Core i5-9400F is definitely a budget midrange option. However, it does offer premium performance for its more affordable pricing. This processor is still fast and tremendously reasonably priced and should provide the performance that you need for different work-related tasks and the latest games.
Best High-Performance CPU: Core i7-9700K
Intel's Core i7-9700K is an exciting CPU. It is a step down from the Core i9-9900K, but there is a significant price difference between the two. Apart from the price, the only difference between the two is Hyperthreading as the Core i9-9900K sports 8 cores and 16 threads while the Core i7-9700K sports only 8 cores and 8 threads. This setup is quite unusual for Intel since this is the first time that they did not ship their Core i7 processors with Hyperthreading.
The good news, though, is that it does not affect overall performance, primarily gaming. It comes with excellent single-core performance with boost clocks knocking on the 5.0 GHz mark. Since the Core i7-9700K is also a K processor, it can be easily overclocked able to hit 5.0 GHz on all cores enabling some future-proofing with your system.
This processor offers one of the best in terms of gaming performance. However, its lack of Hyperthreading is a bit of a handicap if you are doing any type of serious content creation work. The Core i7-9700K is designed to be more of a gaming chip rather than an all-around CPU for a variety of processing tasks.
Best Gaming CPU: Core i5-9600K
Looking at the specs of Intel's Core i5-9600K, you can easily argue that the Core i7-9700K is a much better choice for gaming. However, with only a two-core difference and coupled with significant savings, the Core i5-9600K handily wins in terms of value. This is an excellent midrange chip with an insane single-core performance that makes it an outstanding gaming CPU.
What the Core i5-9600K gives you that other more expensive options do not, is tremendous value. It is also unlocked so you can effortlessly overclock it, making this a better pound-for-pound processor. Add to the fact that the latest games only require solid single-core performance, this chip should be enough for a high-end gaming rig.
The Core i5-9600K is a robust gaming CPU that might suffer when you subject it to content creation tasks such as 3D and video rendering. It may also lag behind other chips that have outright more cores and threads, but when it comes to gaming, this is one of the best ones in the market.
Most Raw Performance Desktop CPU: Core i9-9900KS
Intel's Core i9-9900KS is undoubtedly one of their more expensive CPUs in the market. It is also one that will be able to offer you the best in terms of raw performance. This 8-core, 16-thread beast quickly reaches 5.0 GHz without the need for you to tweak anything. This chip is insane when it comes to gaming, as it can give you a bit of a frame rate boost, which comes in handy on a lot of esports titles.
Having Hyperthreading also makes it extremely powerful in various multi-threaded workloads making this a choice of a lot of professionals. This is definitely more than a gaming CPU, and you will be able to take advantage of its full potential when you continuously churn out content on a regular basis.
The Core i9-9900KS is undoubtedly a powerful processor that can handle a lot of tasks, gaming being only one of them.
Intel CPU that Offers the Best Bang for your Buck
Best Overall Value: Core i5-9600K
If you are looking for an Intel CPU that offers the best overall value from the rest, the Core i5-9600K is definitely one to consider. It is not the most affordable. In fact, it is the most powerful Core i5 in Intel's Coffee Lake line. Comparing it to the Core i7s of the same generation, there is not a lot of performance difference with only a difference of two cores.
The lack of Hyperthreading on the 9th generation Core i7s definitely plays a significant factor as to why the Core i5-9600K is the processor that offers the best overall value. To top it all off, this CPU is also unlocked so that you can overclock it, giving you a bit of future-proofing.
This chip is one of the best when it comes to gaming with excellent single-core performance. The lack of cores and Hyperthreading does affect it in multi-threaded tasks like video rendering, encoding, and streaming. The Core i5-9600K is still a solid processor that can handle just about anything you throw at it.
Budget Value CPU: Core i3-9100F
The F designation in Intel's 9th generation CPUs means that it does not come with integrated graphics. There are two sides to this, but if you are looking to build a system where you can play games, the Core i3-9100F is one of those budget-value picks that you can rely on.
Equipped with 4 cores and threads, this is a reliable processor that can handle a lot of different workloads. Pair it with an equally budget-value GPU, it will provide you with reliable gaming performance so you can enjoy your favorite games. The additional cores also help in a lot of productivity tasks, especially those that need some multi-threaded power.
If budget is a consideration when building your system, the Core i3-9100F is a solid choice that will allow you to do just about anything. You will sacrifice a bit of speed, but you can be sure that this processor can handle anything a Core i5 or Core i7 can.
Midrange Value CPU: Core i5-9400
If you do have some leeway with your budget, Intel's Core i5-9400 is a processor to consider for your 2020 build. It is not the most powerful out there, but if you are looking for a decent midrange performance, this is the one for you.
It comes with six cores and threads and offers performance that is more than enough for what it is worth. Intel's 9th generation Core i5s are all dependable processors, and the 9400 variant is one that can provide you more than enough gaming and productivity performance.
Choosing the best CPU that is in the midrange price point can sometimes get tricky. You can get confused with the bells and whistles that you do not focus on the crucial metrics. You can consider the Core i5-9400 as a stripped-down version, which is only concerned about offering you the best value for its price.
Best High-Performance Value: Core i7-9700K
Intel's decision to not include Hyperthreading on their 9th generation Core i7s is not the most popular of choices. However, the Core i7-9700K still shines even without this all-important feature. Equipped with 8 physical cores and threads, this is still a beast at its price point.
What makes this one of the best high-performance CPUs in terms of value is that if you are satisfied with its specs and not looking for the extra 8 more threads from the Core i9s, this is a solid choice for your build.
The Core i7-9700K is a beast when it comes to gaming performance. With clock speeds approaching 5.0 GHz, single-core performance mirrors that of its more expensive Core i9 counterparts. If you are satisfied with sacrificing a few additional minutes of render time, then this is the perfect CPU for your build. It is easily $70 to $100 more affordable compared to the lower-end Core i9s, where performance is not that different, and more than $300 cheaper than the Core i9-9900KS.
Unless you are looking for excellent multi-threaded operations, then the Core i7-9700K is the right processor for you and your build.
The Perfect Intel CPU for your Build
With Intel's processor selections, you definitely have an option no matter what system you are building. There is a perfect Intel CPU for your build, whether you are aiming for a budget rig, midrange gaming system, or a high-end desktop for your content creation needs.
High-end Options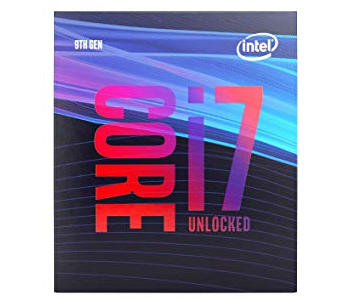 If you are looking for a high-end processor packed with multiple cores and threads, you can get the Core i9-9900KS or other more affordable models from the 9900 series. These chips are definitely going to give you the best in terms of multi-threaded workloads such as rendering, encoding, editing, and streaming.
The 9th generation Core i7 family is a more affordable option and offers similar performance levels to that of the Core i9s. The only difference is that the Core i9s come with Hyperthreading giving it a boost in loads that require more processing threads. Nevertheless, the Core i7 family is still a solid alternative if you are looking for top-end performance at a more reasonable price.
Midrange Mainstream Options
Both high-end options offer stable and reliable performance on just about any type of workload including games. However, for some, these CPUs can still be on the pricier side. The next best processors down the line are the Core i5 family, which offers excellent performance but sacrifices some with multi-core and multi-threaded workloads. They come with only 6 cores and threads but still have insanely fast clock speeds making it the perfect chips for gaming.
Entry-Level and Budget Options
Of course, Intel does have its own line of entry-level and budget processors for those who want decent overall performance without breaking the bank. Their Core i3 family is perfect for those looking for affordable CPUs that do not compromise too much on function.
As low as $100, you can get a processor that can not only give you an excellent gaming experience but provide you with smooth operation on just about any task you use it for. You will definitely be able to utilize for both work and leisure.
Whether you are looking for a processor to go into your gaming, work, or multimedia system, Intel definitely has one that is going to fit your needs and budget.
Final Thoughts
Intel has never been known for their price to performance stats. However, where their CPUs shine is in terms of outright raw performance with their higher clock speeds and optimized design. You can never go wrong with getting an Intel CPU, as they have been doing this for decades.
The list of Intel's processors is extensive, and there is a choice for just about any type of system you want to build. Simply remember that the best CPU you can get is the one that fits your needs and your budget. It seldom is the fastest or most powerful processor, as long as you will be able to use it according to what you want to achieve, that is the perfect one to get for your PC.