6 Best Smart Lights for iOS Devices of 2019
3D Insider is ad supported and earns money from clicks, commissions from sales, and other ways.
Are you a diehard Apple fan who'd like to dip your toes into home automation? In that case, smart lights are the perfect place to start. Installing and controlling them is easy, they immediately improve your surroundings, and can be paired with other smart devices in numerous ways.
These are the six best smart lights and light controllers you can control with your iPhone or Siri. Some of them replace ordinary light bulbs while others brighten your home in unique ways or help add professionalism to your artistic expression. There's a lot to take in since they differ by use, brightness, and color capabilities. Read our reviews of each though, and you'll soon see the world in a different light.
Budget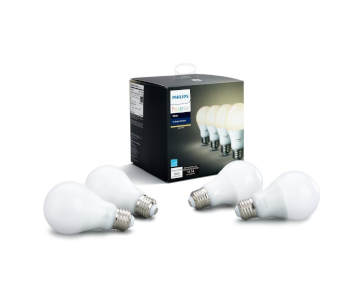 Philips Hue White Smart Bulb Starter Kit
4.0/5.0
Type: Light bulb
RGB: No
Emits bright light yet save power.
Check Amazon
Best Value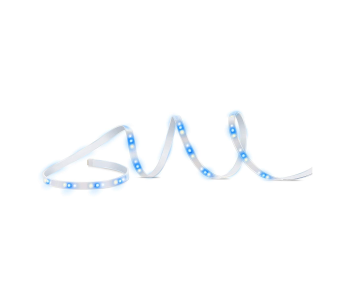 Eve Light Strip
4.7/5.0
Type: Light strip
RGB: Yes
Easy to install, expand, and adjust the length.
Check Amazon
Top Pick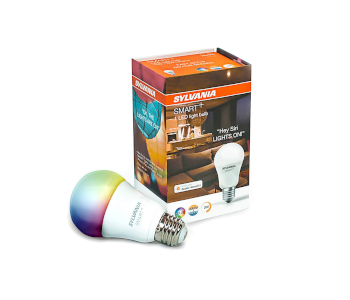 Sylvania Smart+
4.7/5.0
Type: Light bulb
RGB: Yes
Works well with HomeKit and Siri.
Check Amazon
Smart Lights for iOS Devices Comparison Table
1. Best Overall – Sylvania Smart+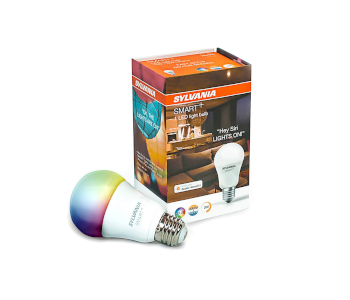 View on Amazon
Editor's Rating: 4.7/5
Simplicity is the feature users of the Apple environment appreciate the most. That's why Sylvania's Smart+ RGB light bulb is as simple as it gets. Integration into HomeKit takes literally a minute, the bulb responds well to Siri commands, and you don't even need a separate hub to get it to work! Ease of use aside, this is a bright, responsive light bulb and the ideal first gadget to integrate into your Apple-centric smart home.
Overview of Features
The Smart+ is an attractive light bulb with a slim white heatsink and a large bulbous part that gives off light equally in all directions. At its brightest, the bulb gives out 800 lumens of light, which is equivalent to a 60W incandescent bulb. It is much more energy-efficient since it needs a fraction of the power to run. The bulb has RGB diodes, meaning it can produce millions of colors. These aren't as bright as the white diode, but they do create a nice ambiance.
The best thing about the Sylvania Smart+ is its ease of use. Setup involves screwing it into a fixture and scanning a numerical code with your iPhone. Each bulb has its own Bluetooth radio, eliminating the need for a hub! The pairing process is complete within 60 seconds, after which you can control the bulb either with Apple Home or update the bulb's firmware through the Sylvania Smart app.
The Apple Home app allows you to control the bulb individually, add it to rooms, or pin the modes you often use to the Control Center. Manual controls include setting the brightness, color temperature, and specific color from presets or a color wheel. You can also tell Siri to turn the light on or off, adjust the brightness, or switch it to a basic color like blue or yellow.
What We Didn't Like
There's noticeable lag between the moment you issue a command, and the bulb follows it. This is especially evident if you buy more than one bulb and want to turn all of them on at the same time. This is a product that works exclusively with the Apple ecosystem, meaning you can't use it to brighten up homes with Alexa or SmartThings. Luckily, there's a ZigBee version if you have these platforms as well.


Tech Specs
Type: Light bulb
Brightness: 800 lumens
Color temperature: 2,700K – 6,300K
RGB: Yes
Connects through: Bluetooth
Support for non-Apple platforms: No
The Pros
Quick and easy setup
Works well with HomeKit and Siri
No hub needed
Pleasant, even glow
The Cons
Works only with Apple devices
Bluetooth suffers from lag and connection issues
2. Best Value – Eve Light Strip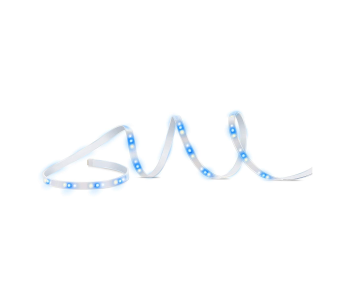 View on Amazon
Editor's Rating: 4.7/5
Once your home's basic lighting needs are met, it's time to add some character! This is easily done by accenting your bookshelves, the space behind the couch, or your hallway with mood lights. The Eve Light Strip produces 1,800 lumens of RGB ambiance. It is flexible and easy to install, requires no hub, and works like a charm either through its own app or HomeKit.
Overview of Features
The Eva Light Strip is 6.5 feet long and has two distinct ends. One attaches to an included control device which has an AC adapter and connects to your Wi-Fi. The other end is designed to enable strip extension up to 32 feet. You can also cut the strip at each 12-foot mark for a better fit. The back of the strip is fitted with sticky tape which adheres well to walls, wood, and other smooth surfaces. You can also twist the strip into curves without compromising the LEDs.
Each strip segment has bright sets of diodes which glow with a combined 1,800 lumens. Apart from 16 million RGB colors, the strip also shines in a broad spectrum of whites ranging from an ember-like 2,000K to white-blue 6,700K. The entire strip glows the same color, but you can change how the colors transition. Calm is the most relaxed setting at which colors gradually flow from one to another while Quick makes the transition immediate.
The light strip comes with an excellent companion app. Once connected, the app will recognize all of your HomeKit scenes, so you don't have to use both apps to control the lights! The strip itself can be quickly accessed and configured from the dashboard. Tapping its icon turns the strip on or off while holding it opens up the settings menu. There you get to set the brightness, color, and color temperature. Other app features include accessing connected devices by room and type as well as granting others permission to configure the light from their own iPhones.
Are There Drawbacks?
Like the Sylvania Smart+, this light strip is only compatible with other Apple products. The control device suffers from occasional Wi-Fi connection loss. While this doesn't happen often, you have to reconnect it to both the Wi-Fi and HomeKit to work again.


Tech Specs
Type: Light strip
Brightness: 1,800 lumens
Color temperature: 2,000K – 6,500K
RGB: Yes
Connects through: Wi-Fi
Support for non-Apple platforms: No
The Pros
Bright and colorful
Easy to install, expand, and adjust the length
Great companion app with full HomeKit support
Can be controlled from multiple iPhones
The Cons
Only works with Apple products
Intermittent connection issues
3. Lume Cube Air
View on Amazon
Editor's Rating: 4.5/5
iPhones don't just excel at bringing people together. They're also powerful photography and videography tools creative types can use to make amazing content. The Lume Cube air is an iPhone accessory that will enhance the visuals of your vlogs and movies as well as professionally light up your photos. It is light, portable, waterproof, and comes with an intuitive app that quickly lets you adapt it to any situation.
Overview of Features
The Lume Cube Air is a portable yet bright video light designed to excel in the studio as well as on location. The cube's sides are just 1.6 inches long and weighs 2 ounces, meaning you can place it into a pouch and always carry an additional light source with you. It is possible to mount the cube in different ways as it has a magnet and a tripod mount. You can also purchase accessories that let you mount the Lume Cube Air onto a DSLR camera or on the back of your MacBook.
The light emitted by the Lume Cube has a temperature of 5,700K and a strength of 400 lumens. This is the dimmest light we've reviewed, but it makes a noticeable difference to the quality of a shot since the light is directional and used close to a subject. You get two diffusers to make the light softer or lower its color temperature too.
You control the Lume Cube exclusively through the Lume-X app. Multiple cubes can be linked to one iPhone and controlled to create elaborate lighting scenes. The app has a simple interface and is easy to navigate. In it, you can check the battery level and adjust the brightness. You're also able to set the Lume Cube to one of two strobing modes, to act as a camera flash, or shine continuously when making videos. One charge makes the battery last for an hour on maximum brightness.
Are There Drawbacks?
While it's practical that the Lume Cube is controlled entirely through the app, this is also a downside. There's no physical on/off button or any way to tell if there's juice in the battery without having a phone nearby. The Lume Cube is easy to lose since it is so small.


Tech Specs
Type: Portable video light
Brightness: 400 lumens
Color temperature: 5,700K
RGB: No
Connects through: Bluetooth
The Pros
Emits bright light for its size
Various mounting options
Waterproof and portable
Simple companion app
The Cons
No physical controls
Easy to lose
4. Lutron Caseta Wireless Smart Lighting Lamp Dimmer Switch Starter Kit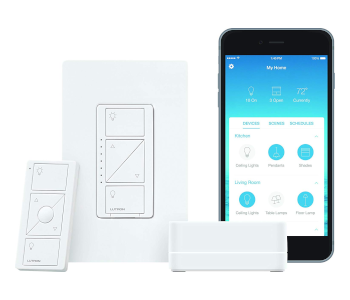 HomeDepot
Editor's Rating: 4.3/5
The lights we've reviewed so far make a fine addition to your collection of smart gadgets, but what about transforming the old lamps you use daily? You could outfit them with smart bulbs, but using Lutron's dimmer switch is a better idea. It works with thousands of standard bulbs, comes with a fantastic remote, and can be configured from your iPhone.
Overview of Features
Lutron's lamp dimmer starter kit is made up of three items – a hub, the switch itself, and a small remote. The hub is a bridge between your phone and the switch that lets you dim the lights wirelessly through Wi-Fi. It is connected to the dimmer via Clear Connect, Lutron's own wireless protocol. Clear Connect operates on a unique frequency, won't interfere with your Wi-Fi, and ensures that the connection is stable. The hub requires a physical connection to your router though.
The dimmer switch is ingeniously designed! It is small enough to fit inside the bottom of two plugs without obstructing the top one. There are buttons on it for turning the light on and off as well as increasing and decreasing its brightness. You can use the switch with lights that aren't dimmable too, albeit only to turn them on and off. The remote is a miniature version of the switch that responds instantly from any room as long it is within range. It features an extra button for your favorite brightness setting and is a welcome alternative to always relying on your phone.
The Lutron app for iOS is basic yet functional. It lets you control a lamp, add it to HomeKit scenes, and set up working times based on schedules. You'll need the app for initial pairing and can stick to HomeKit after that since it has the same controls and scene management. The pairing process is straightforward. Once it is done, you can even uninstall the app and still use the remote without issue!
What We Didn't Like
The lamp dimmer kit is expensive if it is your first Lutron purchase. If you have the hub already, there's also a cheaper standalone version you should pick up instead. The dimmer switch works with Alexa and Google Assistant, but connecting them is a chore since the manual is vague in general and doesn't say anything about the pairing process.


Tech Specs
Type: Light dimmer switch
Connects through: Wi-Fi, Lutron Clear Connect
Support for non-Apple platforms: Yes – Amazon Alexa, Google Assistant, IFTTT
The Pros
Works with most ordinary light bulbs
Comes with useful remote
Takes up one plug without obstructing the other
Intuitive app
The Cons
Expensive if you don't have the hub yet
Vague and poorly-written manual
5. Nanoleaf Aurora Rhythm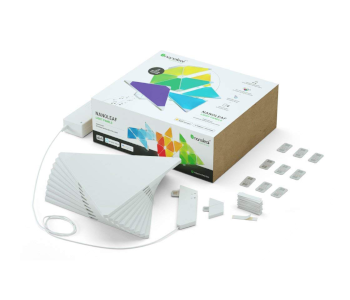 View on Amazon
Editor's Rating: 4.2/5
Is the Eve Light Strip too limited for your design taste? How about a modular ambient light with panels you can arrange in any shape you like? Nanoleaf Rhythm offers in-depth light customization along with a module that makes the light pulse in tune with your favorite songs. It's the perfect gift for anyone that appreciates modern interior design or likes to throw unforgettable parties.
Overview of Features
The Nanoleaf Rhythm starter kit contains 9 light panels, a control module for Wi-Fi communication, and the rhythm module used for music visualization. Individual pieces are connected through a two-sided chip which snaps into place on any of their sides. This means you get to be creative and place the panels in numerous configurations. The setup can be expanded with additional lights, and 30 of them are supported per control module. Each light has a brightness of 100 lumens and is capable of displaying 6.7 million colors.
The real strength of the Aurora lies in the extent to which you can configure the panels. The Aurora app does a fantastic job of guiding you in choosing what colors to display and how the light acts. There are ambiance presets that use different parts of the color palette to make atmospheric transitions. Even more impressive is the fact that you can control individual panel colors, brightnesses, and transitions. This lets you create truly unique light displays to impress your friends with or just relax to after work.
The rhythm module is controlled through a separate tab on the app. There are 8 visual presets to choose from, and you can customize your own. The module is equipped with a sensitive microphone that picks up even quiet sounds and adds a light effect to them. Don't be surprised if the panels light up in tune with your sneezes or conversations!
What's Bad About It?
At around $200, the Nanoleaf Aurora Rhythm is expensive for its low light output. Flimsy construction is a more pressing concern though. Two pieces are held together with nothing except the small chip and can slide out if moved abruptly. You attach them to the wall with adhesive tape which isn't of high quality either.


Tech Specs
Type: Ambience light
Brightness: 900 lumens
Color temperature: 1,200K – 6,500K
RGB: Yes
Connects through: Wi-Fi
Support for non-Apple platforms: Yes – Amazon Alexa, Google Assistant, IFTTT
The Pros
In-depth customization options
Infinite configuration combinations
Sensitive microphone that promptly reacts to sound
Easy to expand with additional
The Cons
Expensive
Parts are held together loosely
6. Best Budget Option – Philips Hue White Smart Bulb Starter Kit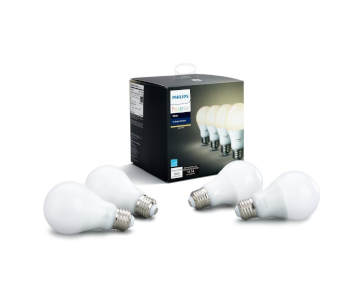 View on Amazon
Editor's Rating: 4/5
Hue made its debut as the first smart lighting system in 2012 and still remains one of the best. What started out as a couple of bulbs and a hub now encompasses dimmers, buttons, garden lights, and much more. If you want to get a taste of the Hue experience, it's best to start small. That's why we're featuring the Hue White Starter kit, the most affordable entry into Hue's bright world. The bulbs are compatible with HomeKit & Siri, easy to add to existing scenes, and offer broader smart connectivity through Alexa and IFTTT.
Overview of Features
The starter pack consists of the Hue hub and four white A19 bulbs. A standalone version of the hub retails for $40, making this an incredible deal since each bulb ends up costing $15! The white hue bulbs are made to a higher standard than competitors in the same price range though. They turn on instantly, dim in five percent increments, and shine with the equivalent of a 60W bulb while only consuming 10 watts per hour.
The Hue hub is at the heart of Phillips' lighting system. You'll need to connect it to your router with an Ethernet cable, but it is otherwise unobtrusive. It uses ZigBee to connect to the bulbs. This ensures a strong signal since individual bulbs act as repeaters. One hub supports a maximum of 50 bulbs. Not all of them have to be white either – Phillips offers RGB bulbs, a portable lamp, light strips, and other products that all connect to each other.
You can control the bulbs through HomeKit or the Hue app. Their most common use in HomeKit is as part of scenes – tap on the corresponding scene's button and the Hue bulbs will turn on along with other HomeKit devices that are part of it. The Hue app lets you set the brightness level, activate the bulbs on a timer, or integrate them with devices that HomeKit doesn't support through IFTTT commands. If you name the bulbs, you can control them with your voice through Siri too.
Are There Drawbacks?
These bulbs have a fixed color temperature of 2,700K. Some users might find this to be too yellow and will need to spring for more expensive Hue bulbs that have the color temperature adjustment feature. In the event of a power failure, the bulbs will turn themselves on at max brightness once power is restored. This may be unsettling if the outage happens in the middle of the night.


Tech Specs
Type: Light bulb
Brightness: 800 lumens
Color temperature: 2,700K
RGB: No
Connects through: Wi-Fi, ZigBee
Support for non-Apple platforms: Yes – Amazon Alexa, Google Assistant, Samsung SmartThings, IFTTT
The Pros
Excellent value for the money
Can be expanded with lots of different lights
Easy to install and control
Emit bright light yet save power
The Cons
Single warm color closer to yellow than white
Turn on at full brightness after power outages