6 Best IP Cameras of 2019
3D Insider is ad supported and earns money from clicks and other ways.
We're living in the golden age of home security! It's never been so easy to set up your own security system and monitor it wherever you are. We have the evolution of cameras and the internet to thank as the combination of these two technologies has led to the most significant advancement in home security yet – the IP camera.
IP or internet protocol cameras are video-capturing surveillance devices that are always online. Unlike their CCTV predecessors, IP cameras connect to the internet either through an Ethernet cable or Wi-Fi and allow you to view their live stream from anywhere in the world. The companies that make them offer access to stored footage of past events as far back as two months and many models support local storage by connecting to computers and having SD card slots. The most advanced IP cameras even integrate into your smart home and take orders through voice commands.
Below you'll find detailed reviews of the six best IP cameras on the market. Even though every model performs well, there are differences in video quality, upfront & continuous costs, as well as features that make each unique. Check out the reviews, pick a favorite, and enjoy connected home security at all times.
Budget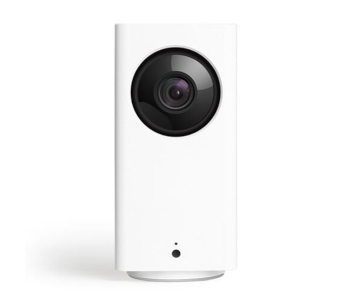 Wyze Cam Pan
4.6/5.0
Cloud Storage: Yes
Field of view: 120°
Has sensors that react to smoke & CO alarms.
Check Amazon
Best Value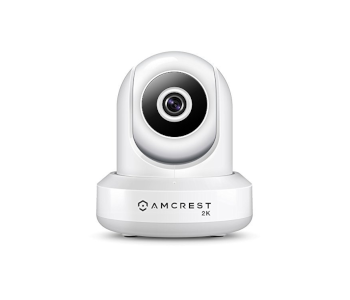 Amcrest UltraHD 2K IP Camera
4.7/5.0
Cloud Storage: Yes
Field of view: 90°
Optional cloud storage & monthly subscription.
Check Amazon
Top Pick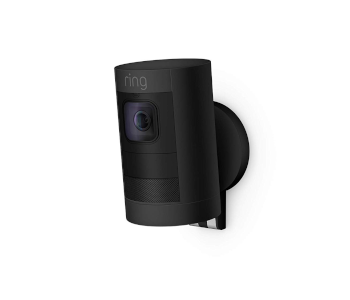 Ring Wire-Free Stick Up Cam
4.9/5.0
Cloud Storage: Yes
Field of view: 115°
Easy to mount and can be used anywhere.
Check Amazon
IP Cameras Comparison Table
1. Best Overall – Ring Wire-Free Stick Up Cam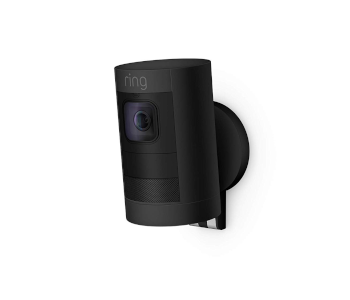 View on Amazon
Editor's Rating: 4.9/5
Ring released their first Stick Up Cam in 2016 and won many users over with the camera's portability and easy installation. The first version of the camera was a success, and we're happy to report that the newest Stick Up Cam surpasses it in every way! It has increased resolution and picture quality, a long-lasting battery, and amazing support for both Ring products and other smart devices thanks to IFTTT. It might not be cheap, but the Stick Up Cam is hands-down the best and most comprehensive IP camera in existence.
Overview of Features
If you're familiar with the original Stick Up Cam, you'll notice that the new version has a more modern cylindrical design. The camera comes with a versatile mount you can either use as a base when placing it onto horizontal surfaces or mount onto walls & ceilings. The Stick Up Cam works flawlessly both indoors and out! It has an IP rating of 5 so rain won't damage any internal components. The battery is the Cam's best physical feature. It runs for 6 to 12 months per charge depending on how much you use the camera and recharges in mere hours.
Ring has updated the Stick Up Cam's stats across the board. Its resolution was upped to 1080p while the field of view was increased to 115 degrees. This means you get a sharp, vibrant overview of either your living room or backyard that's broad enough to encompass a wide area but isn't so wide as to cause barrel distortion. There are also 4 LEDs which cast enough light for high-quality night vision in a 30-foot radius.
The Stick Up Cam has a capable motion detector that turns it on and sends you a notification which arrives instantly. You can alter the sensor's behavior in the Ring app by restricting activation to motion zones, setting snooze timers for when you want the sensors offline temporarily, or turn motion detection off altogether. Once movement is detected, you can communicate with the person on the other end through a two-way intercom or engage the Cam's blaring siren to scare them off.
The camera is backed up by the fantastic Ring app. Connecting it involves selecting the camera from a list of options and scanning a QR code. The app features a detailed history tab that lets you scroll through an event timeline of motion alerts and recordings to select, playback, & delete individual events. You can easily access live mode from the timeline screen and either record what you see or share it. Ring's Neighbors program brings together Ring users in a neighborhood and allows you to share pictures or videos of suspicious events as well as comment on other users' uploads.
Finally, there's the matter of connectivity. The Stick Up Cam works flawlessly with other Ring products. You can connect them through the Ring app and have your Ring flood light turn on or start recording with the Ring Video Doorbell once the Stick Up Cam's motion sensors detect something. The camera also supports voice commands through Amazon Alexa and connects to hundreds of 3rd-party smart devices through IFTTT. This expands its functionality even more, allowing you to unlock the door, turn on interior lights, or start brewing coffee by turning on a smart plug when you get home.
What We Didn't Like
The Stick Up Cam requires a monthly subscription if you don't want your experience with it to be severely limited. You're restricted to viewing the live feed and receiving notifications without one. Thankfully, Ring's pricing is fair – you get access to the last 60 days for $6/month. The camera's stand is poorly made. The area where it connects to the camera is particularly vulnerable, and applying stress to it may cause the stand to break.
Tech Specs
Dimensions: 3.8 x 2.4 x 2.4 in.
Resolution: 1080p
Field of view: 115°
Use: Indoor and outdoor
Cloud Storage: Yes
Min. cloud storage fees: $6/month for 60 days of storage
The Pros
Easy to mount and can be used anywhere
Good video quality and night vision
Excellent companion app
Supports other Ring products and wide variety of 3rd-party smart gadgets
The Cons
Requires monthly subscriptions to view recordings
Flimsy stand
2. Best Value – Amcrest UltraHD 2K IP Camera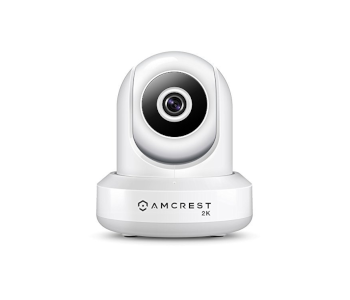 View on Amazon
Editor's Rating: 4.7/5
IP cameras often come with hefty monthly subscriptions since their manufacturers have to maintain cloud servers to give you access to recordings at any time. This isn't a deal breaker though as there are IP cameras like the one made by Amcrest where a monthly subscription is entirely optional! Amcrest's camera features crisp videos in 2K UHD, can be panned and tilted to get the perfect angle, and is reasonably priced to boot!
Overview of Features
The first thing you'll notice about the Amcrest IP Camera is its dome shape. This lets it rotate in a 360-degree circle as well as move up and down 180 degrees. With such an excellent overview, the camera can be installed anywhere indoors. Its field of view is smaller than that of Ring's camera at 90 degrees. Coupled with the camera's pan & tilt ability though, you get a complete overview of any space with excellent detail and not a hint of distortion.
The camera is labeled as 2K, meaning it has a resolution of 2304×1296. The footage recorded in his mode is more detailed than in 1080p. The tradeoff is that video is recorded at 20fps. You can always drop the resolution to 1080p to get smooth footage at 30fps. This is one of the best IP cameras when it comes to managing picture settings! You can adjust color saturation, gamma, white balance, and a host of other options to get the picture just right. Night vision is also present thanks to infrared LEDs capable of providing light 32 feet away.
Installing Amcrest's camera is straightforward. All you need to do is plug it in, download the app, create an account, and scan the QR code at the bottom of its stand. You immediately get a live feed and can control the camera's position by tapping on directional arrows on your screen. The app also lets you talk to the person on the other side, mute the audio, and view past alerts on a detailed timeline.
The best thing about the camera are its various video storage options. For one thing, it lets you save footage to an SD card or your computer! There's also Amcrest's cloud storage which comes in multiple tiers. Unlike Ring, there's a free tier that includes the last 4 hours of video, so you don't need to subscribe if you don't want to. However, doing so is a good idea since subscriptions start at a reasonable $6/month for 7 days of footage.
What's Bad About It?
While you can talk to people through the camera's speaker, the audio quality is poor. Occasional loss of Wi-Fi connection is another issue. The camera should reconnect automatically in such cases but doesn't always do so, forcing you to reconnect it manually.
Tech Specs
Dimensions: 4 x 4.5 x 3.9 in.
Resolution: 2304×1296
Field of view: 90°
Use: Indoor
Cloud Storage: Yes
Min. cloud storage fees: Free for the last 4 hours, 6$/month for 7 days
The Pros
Excellent value for the money
Optional cloud storage & monthly subscription
Great image quality and range of motion
Easy to set up
The Cons
Might lose Wi-Fi connection and not reconnect automatically
Poor audio quality
3. Amazon Cloud Cam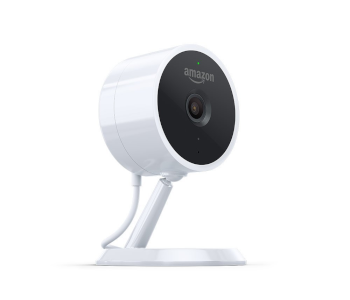 View on Amazon
Editor's Rating: 4.5/5
Apart from being the world's largest online retailer, Amazon has established itself as a leader when it comes to smart technology. The Cloud cam is Amazon's vision for a smart, connected, and capable indoor security camera. It has a lightning-fast response time, works well with Amazon Alexa, and comes with one of the most generous free cloud storage plans. There's also an Amazon Key version that transforms the way you receive deliveries.
Overview of Features
The Cloud Cam is a minimalistic white indoor IP camera that anyone can install. It is powered by an adapter with a mini-USB port that plugs into a standard outlet. While this limits your placement options, the camera's 120-degree field of view ensures a room is monitored in its entirety. Like Ring's camera, the Cloud Cam comes with a base that can stand on its own or be mounted to a wall.
The Cloud Cam's resolution is 1080p at 30fps. It's not the camera with the best video quality out there, but it does produce a clear picture with good contrasts and accurate colors. Its night vision is among the best in the business though. A set of powerful LEDs enables detailed recording in pitch-black conditions and does well against spotlighting, so an intruder can be identified even if he tries to confuse the camera by shining a bright light onto it.
Free cloud storage is another reason to choose the Cloud Cam. Amazon generously offers access to the last 24 hours of footage for 3 Cloud Cams at no cost! The cheapest paid option will set you back $7/month and includes as many days of stored footage along with two features not supported by the free plan – person detection and motion detection zones.
The Cloud Cam's motion sensors react to the slightest movement, so you might want to reduce their sensitivity or the frequency of motion alerts. However, the best way of minimizing false alarms is by enabling person detection mode. The camera will ignore pets, cars, etc. in that mode and only trigger an alert once a person is in range.
We mentioned that Amazon now sells a Key Edition of the Cloud Cam too. This version is identical to the original Cloud Cam but adds Amazon Key, a delivery service Prime members in major American cities can take advantage of. Amazon Key connects your camera and smart lock. It allows a delivery person to gain temporary access to your home at a predefined time to make a delivery. This is a great solution if you've been the victim of package theft and want a surefire way to avoid future damages.
Are There Drawbacks?
Surprisingly, the Cloud Cam's interaction with Alexa-enabled devices is lackluster. It will show a 24-hour event history or the live feed on an Alexa device with a screen, and that's it. Speakers like the Echo can technically read you the event history too, but getting this to work is tricky and unreliable. The Cloud Cam will stop working during a power outage since it doesn't have battery backup power.
Tech Specs
Dimensions: 4 x 4.5 x 3.9 in.
Resolution: 1080p
Field of view: 120°
Use: Indoor
Cloud Storage: Yes
Min. cloud storage fees: Free for the last 24 hours, $7/month for 7 days
The Pros
Excellent night vision
Good motion sensors and response time
Generous free cloud storage
Person detection cuts down on false alerts
The Cons
Limited connectivity with Alexa devices
No battery backup
4. Hikvision DS-2CD2085FWD-I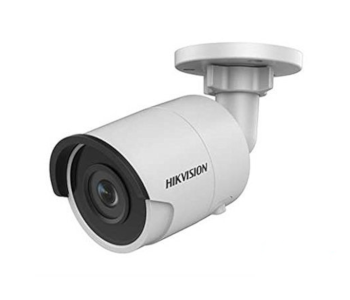 View on Amazon
Editor's Rating: 4.3/5
All modern security cameras are motion-activated, but most of them limit motion sensor configuration to sensitivity settings. Hikvision's DS-2CD2085FWD-I is an outdoor camera that not only has 4K recording capabilities but also features diverse motion sensor behavior settings. It's ideal for outdoor use, has a basic yet functional companion app, and great audio quality.
Overview of Features
This bullet-style outdoor security camera comes in a simple package along with some screws, a drill template for easier installation, and a user's guide. The DS-2CD2085FWD-I is small for an outdoor camera, yet it is rugged and weather-resistant. POE is used to bring both power and internet access to the camera, so only one cable connection is required.
At 4K this is the camera with the highest resolution on review! Footage taken with it truly looks amazing due to both the increased resolution and the camera's wide dynamic range which makes for vivid colors. You'll need a good internet connection to accommodate 4K streams, but Hikvision's H.265+ encoding ensures that the stream's bandwidth requirements are optimized while not impacting picture quality. Similar to Amcrest's camera, the DS-2CD2085FWD-I can be switched to record in 1080p at 30fps since 4K recordings are only 20fps.
Even though video is top-notch, the camera's motion sensors are its most exciting feature. You can configure them in different ways for specific situations. For example, one mode lets you specify a virtual line, and the camera will start to record once the line is crossed. Another mode registers when an object that's been in the same place for a while goes missing. This is an excellent defense against porch pirates! There's also a mode that triggers the camera when an object has been in an area long as well as zone-specific motion activation.
You control the DS-2CD2085FWD-I through either a web interface on your computer or the Hik-Connect app. The web interface offers lots of video and security options and is meant for advanced users. The app is easy to use and features a timeline along with an overview of multiple connected cameras. Tapping on one opens up the live feed and allows for two-way communication. Speaking of which, the DS-2CD2085FWD-I has a noise-canceling technology that makes understanding people easier even in harsh weather.
What We Didn't Like
The DS-2CD2085FWD-I isn't as easy to install as other entries on our list. You'll need to know your way around a drill to mount it and go through a lengthy setup process in the app. Cloud storage isn't supported natively but can be configured through the web interface, which is another process that requires specialized knowledge.
Tech Specs
Dimensions: 6.1 x 2.8 x 2.8 in.
Resolution: 3840×2160
Field of view: 102°
Use: Outdoor
Cloud Storage: No
The Pros
Outstanding video & audio quality
Diverse motion settings
Simple companion app
Rugged design
The Cons
Hard to install
No native cloud storage support
5. Foscam HD IP Camera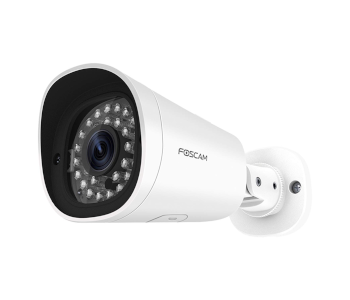 View on Amazon
Editor's Rating: 4/5
Do you need an outdoor P camera that can withstand the pouring rain and freezing cold? In that case, Foscam's HD IP camera should be at the top of your list. It shoots at multiple resolutions to lower bandwidth requirements, has 6x digital zoom, and comes with 30 LEDs that allow the camera to record suspicious activity at night up to 65 feet away!
Overview of Features
Foscam's distinguishing feature is its all-metal silver body. The camera is rugged, and an IP rating of 66 allows it to weather storms and below-freezing temperatures. It can be powered over an Ethernet cable but also has a dedicated power cable if POE isn't an option. Internal components you need to access like the SD card and cables are well-protected too.
This camera's maximum resolution is 2K UHD. You can also lower the resolution to 1080p or 720p to increase framerates and lower bandwidth requirements. The Foscam is ideally suited for covering large yards and open spaces – its high resolution enables the camera to record far-away intruders while the 6x zoom helps with identification. This is the camera with the most powerful infrared LEDs we've tested. 30 of them surround the lens and light up a large area in front of the camera, producing good black & white footage of anyone that comes within 65 feet of it.
It's natural that such video performance is accompanied by equally capable motion sensors. While these don't have safe zones, the Foscam's motion sensors are on par with the Cloud Cam's in terms of sensitivity. Their working radius can be reduced to decrease the chances of a false positive, and you can also adjust notification frequency.
The camera supports 128GB SD cards, but Foscam offers an array of subscription plans too. You can choose the free option to get 8 hours of footage plus access to the last three days of notifications. The first paid option increases that to 3 days. $5/month is the sweet spot as you get 7 days of history to bring up whenever you wish.
The Foscam app is nothing special. It has a clean interface which gets you access to the camera's video and communication features. The app has a timeline, sends you event notifications complete with pictures of the events that triggered them, and facilitates two-way communication.
What's Bad About It?
The Foscam's tank-like build makes it hard access the SD card. You need to unscrew a lot of screws and remove the lens casing to get to the SD card slot. This takes a long time and is annoying. There's a noticeable difference in sensor performance depending on the setting you use. Medium and low may miss movement while high is overly sensitive, so you'll need to experiment to achieve the right balance of sensitivity and alert frequency.
Tech Specs
Dimensions: 9.9 x 4.5 x 4 in.
Resolution: 2304×1296
Field of view: 112°
Use: Outdoor
Cloud Storage: Yes
Min. cloud storage fees: Free for the last 8 hours, $4/month for 3 days
The Pros
Exceptionally well built
Three resolutions for nuanced balancing of quality and bandwidth
Long-reaching night vision
Fair subscription plan
The Cons
SD card hard to get to
Sensor calibration requires trial & error
6. Best Budget Option – Wyze Cam Pan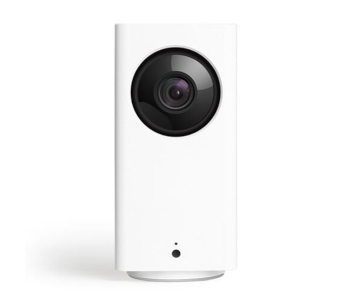 View on Amazon
Editor's Rating: 4.6/5
Even a lens with the widest viewing angle can only capture so much – once a burglar is out of its detection range, the camera becomes useless. That's why the Wyze Cam Pan can zero in on a motion or sound and follow the one responsible in a 360-degree radius! It's hard to believe that such an affordable camera could have useful features like smoke and CO alerts, IFTTT support, and even a time-lapse function. This is the camera to get if you're looking for an affordable yet versatile indoor security camera for your home or office.
Overview of Features
The Wyze Cam Pan is a stylish rectangular camera that's both a security upgrade and a conversation piece. It is the best model on review in terms of coverage – the camera sits on a pedestal that rotates 360 degrees, and the lens can move 93 degrees in either cardinal direction as well. This, along with the 120-degree field of view, lets the Wyze Cam Pan guard a space from top to bottom.
Motion tracking is the camera's main selling point. When turned on, motion tracking causes the Wyze Cam Pan to focus on the source of the motion and follow it around the room. You can enable a green rectangle that appears around the intruder for easier tracking. The camera's app has a slider for fine sensitivity adjustment and also controls the frequency of motion-activated phone alerts.
The Wyze Cam Pan is the only camera in the guide which has a sound sensor. Balancing it and the motion sensor leads to increased accuracy and lets you tailor the camera's detection for specific situations. For example, you can increase the sound sensitivity while lowering that of the motion sensor to activate the camera in a baby's room if it starts to cry while ignoring its movement while asleep. The sound sensor has a unique feature – you can sync it to the characteristic beep made by CO and smoke alarms to receive distinct warnings if either goes off!
The Wyze Cam Pan has exceptional video quality for a camera that costs less than $40. Its maximum resolution is 1080p, but this can be lowered to 480p to conserve space on the SD card- There is some barrel distortion on the edges but not enough to lead to detail loss. Night vision is adequate as well as 6 LEDs give off enough light to produce well-exposed clips with no other light source.
As if all of that weren't enough, the Wyze Cam Pan comes with free cloud storage! There are no paid tiers either – you get a 14-day event history and can review any clips shot within that time. There is a slight catch in that the clip length is limited to 14 seconds. This can be extended by buying an SD card and turning on "record on event" mode.
Are There Drawbacks?
The Wyze Cam Pan has a time-lapse mode. You can configure the intervals in which pictures are taken, but you can't slow down its playback. This may result in videos that capture an important event which you can't pinpoint without fiddling with an external media player. Motion blur is a bigger concern, though. The camera will quickly move to keep up with its target when in motion detection mode. This causes noticeable motion blur and might make the footage unusable if the person moves around a lot. You can decrease the camera's turn speed, but this doesn't completely eliminate the problem.
Tech Specs
Dimensions: 2.4 x 2.4 x 5 in.
Resolution: 1080p
Field of view: 120°
Use: Indoor
Cloud Storage: Yes
Min. cloud storage fees: Free for the last 14 days, clip length limited to 12 seconds without SD card
The Pros
Outstanding price for a wealth of features
Has sound sensors that react to smoke & CO alarms
Free cloud storage
Stays on target when it moves out of the field of view
The Cons
Motion tracking results in blurry footage
Time-lapse videos can't be slowed down