iPad and iPhone Controlled Drones
Control Your Drone from iOS Smartphones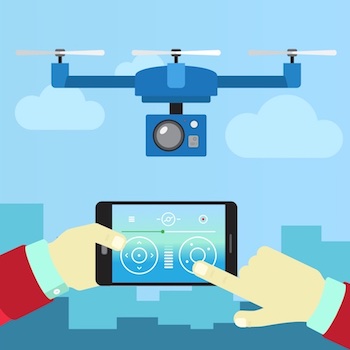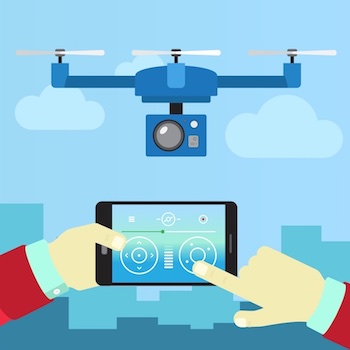 Why should you care if you can use your iPad or iPhone to operate a drone? After all, a lot of UAVs come with remote controllers. The answer is convenience and ease of use. The main problem with controllers is that they can be bulky and take up a lot of space.
The best drones fold down making them nice and portable. But with a drone controller in your luggage, you have extra stuff to carry around and therefore worry about.
There are two main reasons for you to consider an iPad or iPhone-controlled drone:
The portability factor: size, weight, and easy setup
Visual control: First Person View a.k.a. FPV (certain models only)
| Name | | Dimensions | Weight | Rating | Price |
| --- | --- | --- | --- | --- | --- |
| | DJI Phantom 4 PRO | 6.3 x 0.7 x 0.7″ | 12.8 oz | | |
| | Parrot Bebop 2 | 8.6 x 5.3 x 4.1″ | 17.6 oz | | |
| | Parrot Airborne Cargo | 6.2 x 1 x 1.6″ | 8.2 oz | | |
Choose Your Budget:
Lightweight Convenience
If you own an iPad or an iPhone, there's a good chance it's with you all the time. This convenience means you're always ready to grab any opportunistic shots that may materialize.
Okay, so drone apps may not give you quite as much control and flexibility as a purpose controller. Despite this, you can still take to the skies with your quadcopters and start filming. That's the point.
Visual control of your drone is a priceless feature. It means you can see what your eye in the sky sees. It gives you full control of how the footage turns out using your Apple tablet or smartphone.
Become the Eye in the Sky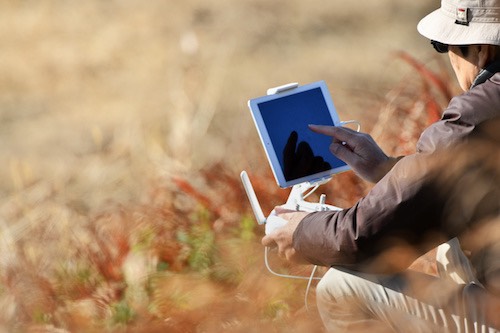 Smooth touchscreen interaction means you can change the view in a nanosecond. You can rotate the lens and zoom in and out as and when you need to. This is directing at your fingertips.
Not all public drones have tablet or smartphone syncing abilities but some do. That's where this guide comes in. Keep reading if you have an iPhone or an iPad and are thinking about buying a drone.
The format of this guide is the same as the others on this site. Each review here will include:
Introduction to present the drone
Table with tech specs, pros, and cons
Link to further reading and current price check
Know what You Want from Your Drone
You might want to read all the reviews on this page as a matter of interest. If you'd prefer to cut to the chase and zoom in on certain models, make sure you know what you want from the outset.
Practice/fun/kids: Look for a quality toy drone that's void of all major bells and whistles
Photography: The priority has to be a quality camera/lens
Filming: consider something that has visual tracking
Final Points to Note
Using your iPhone or iPad can be really convenient. Yet mobile devices don't always offer the full range of features and functions of a dedicated controller. This is more evident with higher-end drones.
Mobile drone apps have come a long way in recent times. They're intuitive and simple to use. Just make sure you have everything at your fingertips before you set off for a day's filming.
Remember too that sophisticated transmitters are not always included in the price of costlier drones. If you can get everything you need from apps, iPhones, and iPads, save your money and shop smart.
Finally, make sure you're up to speed with the latest FAA regulations before you buy anything. Read: Before You Fly Your Drone.
OK, the table below lists my top 10 picks from budget, mid-range, and high-end amateur AUVs.
Top 10 iPhone and iPad Controlled Drones at a glance:
iPad and iPhone Controlled Drones Under $100
Cheap drones, a.k.a. unmanned aerial vehicles (UAV), are great fun. They're a low cost introduction into the world of consumer drones. Even models under a hundred bucks will let you capture your first amazing aerial shots. Most of them are pretty small too. Their tiny size means they won't attract too much attention as you get to grips with your new toy.
I've added a couple of low cost drones to this guide for all you curious amateur pilots out there.
This is a really fun indoor/outdoor drone for kids and their parents. It'll even take Lego characters which add to the thrill of the flight. It's simple to control with any mobile device after the iPhone 4.
There are a few personalized stickers in the box so kids can customize their crafts. Perhaps you can remember the old Airfix models and how exciting stickers were for you back in the day.
Controlling this little beauty with an iPhone is a piece of cake. The drone itself is remarkably stable and flies smoothly in the air. A double tap on your phone's screen will even have it do summersaults.
Tech Specs
| | |
| --- | --- |
| Weight: | 62g (2.2 oz.) |
| Battery: | Lithium-ion |
| Charging Time: | 25 min (90 min via USB) |
| Control Range: | 19.8 m (65 ft.) |
| Max Flight Time: | 9 minutes |
| Max Speed: | 5 m/s (11 mph) |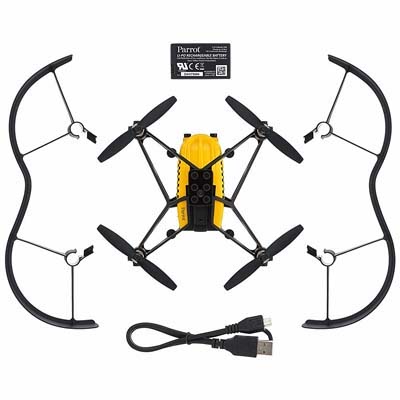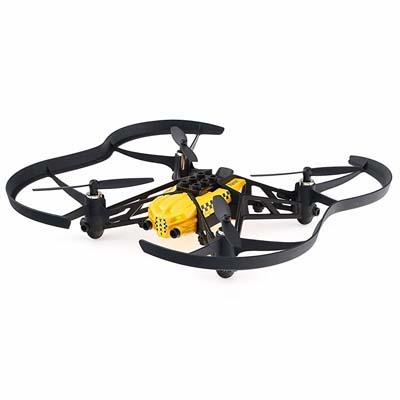 The standard mode is child's play, which is apt seeing at the makers target the Parrot Airborne Cargo MiniDrone at kids. But there's also an expert mode for when the young 'uns get more skillful.
The only thing to be careful of is windy conditions. This is a stable flyer, but it's also small and lightweight. Avoid flying outside on a blustery day or risk losing or damaging it.
There's lots you can't do with this drone. Still, at around $79 you can't expect miracles. Despite this, it's a great product and you won't find anything better for the price.
By the way, as this is only a category toy drone it doesn't need to be FAA registered.


This is another great toy drone aimed at youngsters, especially boys with its mean looks. You've got a good choice of colors too, which is a nice touch for kids: blue, green, red/white, and yellow.
This little flying machine is as tough as they come despite its light weight and cheap price. That means they'll be no tears after those inevitable crashes.
The remote controller has a neat mounting point to put your iPhone. You get to enjoy First Person View (FPV), but check the model first. FPV mode lets you see what the camera sees using the FPVCam app.
Tech Specs
| | |
| --- | --- |
| Weight: | 101g (3.6 oz.) |
| Battery: | 700mAh 3.7v 1S LiPo battery |
| Charging Time: | 45 minutes |
| Control Range: | 100 m (328 ft.) |
| Max Flight Time: | 12 minutes |
| Max Speed: | 13.4 m/s (30 mph) |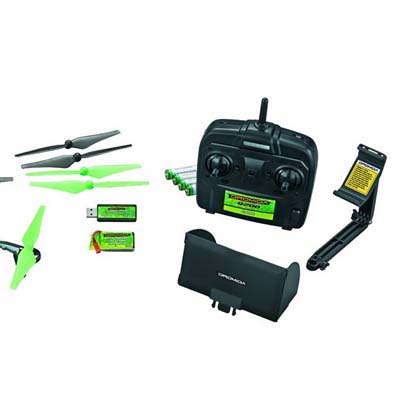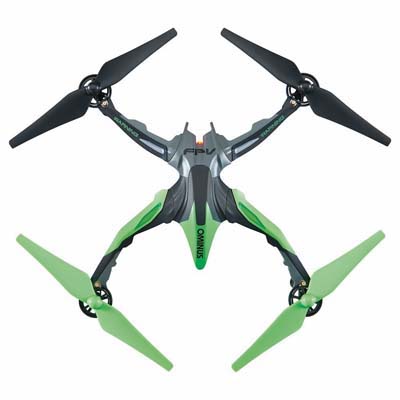 I like the rubber feet at the bottom that help to keep the drone steady after it lands. It's a small thing but it saves all that bouncing around that happens with some cheap models.
You've even got a bright red LED at the back of the craft that flashes when battery levels get low. This really is a great little beginner drone. It works just as well outdoors as it does in—weather permitting.
There's a choice of three basic fly modes to choose from:
Flight mode: beginners
Flight mode: advanced
Flip mode: forward, back, left, right
Flight time is an acceptable 10-12 minutes depending on usage. The good news for impatient pilots is that USB charging only takes around 45 minutes.
Another thing I like about this toy drone is that all the parts are interchangeable. So if you do happen to damage it you can just go online and order replacement bits as you need them.
Although aimed at kids, this little quad copter is a lot of fun for anyone at any age. I'm certainly happy to endorse it here to start our cheap drones list.



iPad and iPhone Controlled Drones Under $500
Moving on to the average priced drones takes you away from the toys and up to a more serious level. By now you've got the bug and want to become more creative with your photography and/or filming.
Drones under $500 are excellent for beginners. You still might want to start with a toy drone first if you've never flown a UAV before (see the first two picks).
Drones in this category—especially toward the $500 end—give you a lot more bang for your buck. You get smarter features, better build, quality cameras, and extra memory.
The drones listed below are in order of editor's rating, with the best picks at the top.
iPad and iPhone Controlled Drones Under $1500
Now we're at the serious prosumer end of the market. Drone pilots who publish the amazing aerial footage on YouTube often use drones from this category.
Flying civilian drones is great fun at any level. It can also be a serious business for anyone who wants to turn a hobby into a business. Drones between $500 and $1,500 are both fun and functional.
Aerial photography and videography are the most popular use. Their capabilities are expanding fast, though. There's aerial geological surveys and keeping track of cattle to name two of many uses.
Make sure you check out our other review pages if you're keen to explore all drones and their benefits.
This drone is one of the most popular for people who like to take aerial photographs and video of their travels. Keen photographers, videographers, and flyers all love this craft for very good reasons.
The DJI Mavic Pro is iPhone and iPad compatible thus adding to its versatility. Flying and operating the craft is so simple it's almost surreal. It's best described as a serious drone that's heaps of fun.
The physical performances of the DJI Mavic Pro are impressive, like the 25 minutes of flight time. Just a couple of years ago you'd be lucky to see 12-15 minutes with most consumer drones.
Tech Specs
| | |
| --- | --- |
| Weight: | 735g (1.6 lbs.) |
| Battery: | 2970mAh |
| Charging Time: | 60+ minutes |
| Control Range: | 4.3 mile (7 km) |
| Max Flight Time: | 27 minutes |
| Max Speed: | 18 m/s (40 mph) |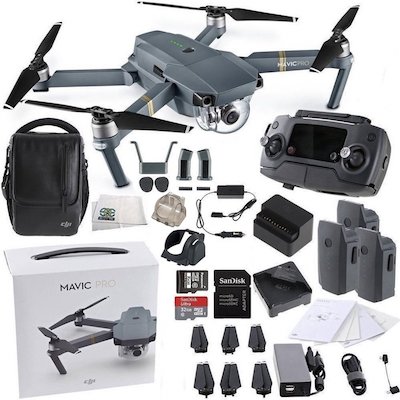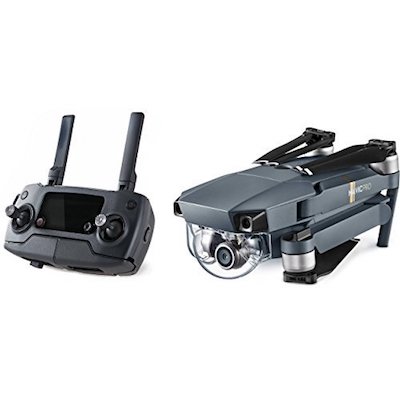 At its fastest speed in Sport Mode the Mavic Pro is stable and flies for a long time at a consistent pace. In fact, everything this powerful little machine is supposed to do it does. That's why it's so popular.
You can't go wrong from the portability angle. It'll fold up and take very little space in any bag or backpack. The controller even fits into a pocket, though you'd be more comfortable packing it away.
What I love about the DJI Mavic Pro is that its portability doesn't come at the cost of quality features. No one can be unimpressed with the software and hardware packed into this smart craft.
The Mavic Pro's camera quality and impressive digital stabilization is second to none. The clever focus modes let you control the depth of field (DOF) which is useful for creative shooting.
The 8-second exposure is sure to impress creative photographers. The digital stabilization makes this possible. It means you can capture some amazing nighttime or low-light shots.
The intelligent battery brings the drone down safely when the power gets low. This is another of those things that you as the pilot don't have to worry about.
There's plenty to explore with performance, portability, camera features, controls and modes. The smart features work really well. You've got TapFly, Gesture Mode, Terrain Follow, and many others.
This folding quadcopter is about as good as consumer drones get in the under $1500 price category. You can enjoy it at a very basic level or get into more complex drone flying and shooting.


DJI consumer drones get a lot of coverage and glowing reviews because they're so good. If they weren't they'd be lost in the maze of civilian drones that currently flood the UAV market.
The DJI Phantom 3 is for anyone who's serious about flying drones and shooting from above. It uses range from professional commercial purposes, to vacations, to simple flights around the neighborhood.
The unique Beginner Mode is a great way to learn how to fly safely in restricted spaces. You get to set predefined limits in distance and altitude. Beginner pilots can then fly with confidence as they practice.
Tech Specs
| | |
| --- | --- |
| Weight: | 1280g (2.8 Lbs) |
| Battery: | 2600 mAh LiPo18650 2S |
| Charging Time: | 60+ minutes (1+ hr.) |
| Control Range: | 2 km (1.2 miles) |
| Max Flight Time: | 25 minutes |
| Max Speed: | 16 m/s (55 mph) |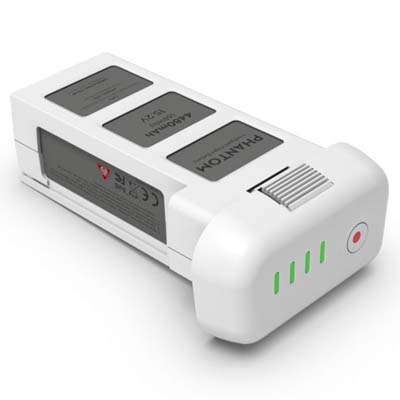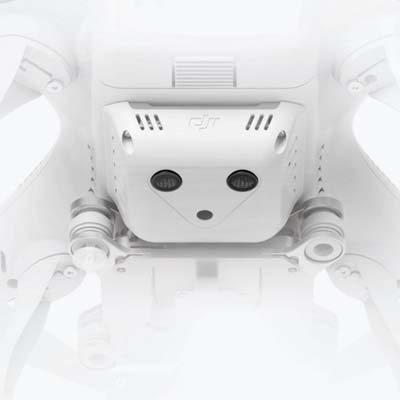 Want to see what your drone sees? Attach your iPhone or iPad to the radio controller unit for live streaming video. Now you can really take to the pilot seat as you soar smoothly across the skies.
How you use the DJI Phantom 3 doesn't really matter. The only thing that counts is the enjoyable flying experience and superb quality footage users get.
Don't be put off by the futuristic flight options. Like most well-made drones in its class this is a quadcopters that's fun to fly and easy to operate. The experience is both intuitive and rewarding.
The Phantom 3 comes with a high-quality integrated camera. Both still images and video quality are nothing short of exceptional. It's so good you can play it all back on big screens with confidence.
The image stabilization system ensures the recorded video remains constantly crisp and clear. Bright colors and the high resolution deliver breathtaking results of professional quality.
The ergonomic remote controller is easy to use and fits comfortably in the hands. Or if you prefer you can control the drone directly from your iPhone using the mobile app.
The 25 minute flight time and the flight transmission range of up to 1000 meters are impressive. And the GPS assisted flight features are a godsend for advanced pilots.
If indoor flying is important to you there's even more reason to consider the Phantom 3. It's 'Vision Positioning' technology lets you fly safely and accurately in GPS-free zones.
This is a sophisticated prosumer drone that offers a foolproof intelligent flight system. It helps you to become a better pilot with the touch of a button. Let the drone fly itself as you concentrate on filming.
You can find the DJI Phantom 3 in Standard, Professional, and Advanced versions, each offering something a bit different. Make sure you shortlist the one that best matches your needs.



The Pros
Good quality follow-me drone
60fps 4K video
+4 more
Automated flight modes
Built in controller screen
Gimbal lock
High-performance Sport mode
Long battery life
Long-distance control
Obstacle detection system
Return-to-home feature
Wide angle 24mm lens
20MP Raw and JPG images
The Cons
Price tag
Taxing firmware updates
My final pick is another quality DJI camera-equipped consumer drone. As the name suggests this is a quality prosumer quadcopter. Anyone can enjoy it at any level if the price tag isn't an issue.
If you need portability use the iPhone as the viewing screen. Now add to this the drone's small size and foldable capability. What you have in your hand is the perfect travelers drone.
This is a fast, fun to fly drone that's almost crash-proof—almost! Reviewers rate it in a similar way as Apple enthusiasts rate Apple products. I suppose you could say DJI is the Apple of the Drone world.
Tech Specs
| | |
| --- | --- |
| Weight: | 1388g (3.1 lbs.) |
| Battery: | Li-Po 4S 5,870 mAh |
| Charging Time: | 210 minutes (3.5 hrs.) |
| Control Range: | > 7000 meters (7 km) |
| Max Flight Time: | 30 minutes |
| Max Speed: | 20 m/s (45 mph) |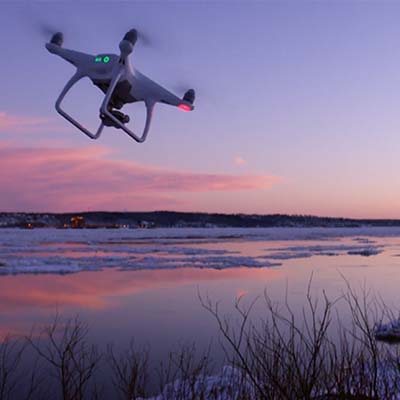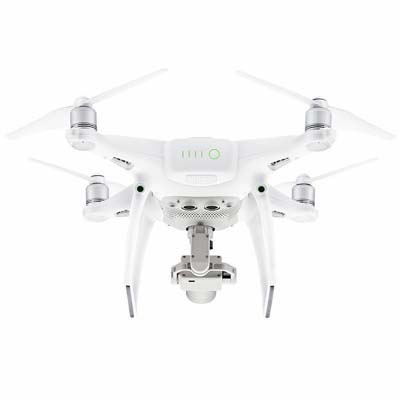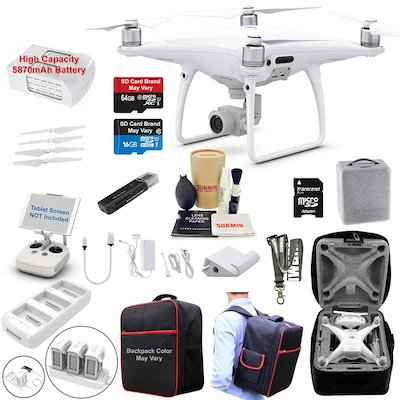 Obstacle avoidance is a great feature but it's not available on all drones. It's standard on the DJI Phantom 4 PRO, though. It's nice to know that this costly flying machine is looking out for itself.
The DJI Phantom 4 PRO comes equipped with a new large sensor. The camera won't disappoint serious videographers and photographers. It can shoot 4k video at 60 fps and still shots up to 20 MP.
If you're creative you'll love the camera's aperture control (AC) and its mechanical shutter. The AC gives you more influence over depth of field (DOF) and other exposure preferences.
The DJI Phantom 4 PRO has plenty of shooting modes to match the pilot's needs and expectations. You can rely on crisp video footage and amazing still photographs every time.
Other highlights of the 4 PRO are its rapid flight (45 mph) and the intelligent flight controls. The long flight time is another major plus point for anyone but especially pro flyers.
There are welcome new flight modes added to the 4 PRO. You've got Reverse TapFly, Draw (flight path), Gesture (hand controls), the Advanced Return-to-Home mode, and a plethora of others.
This is not a high-priced drone if you're a professional aerial photographer or videographer. That's because it comes equipped with all kinds of features a prosumer needs to exploit.
There are cheaper drones if you just want decent footage from an easy-to-fly craft. Some differences are subtle to the new flyer. However, such subtleties are essential extras to a professional.


This concludes my 10 best compatible drone reviews for iPad and iPhone devices. There are others, and no doubt more to come. In my opinion, the flying robots on this page are the best of them all.
This guide is not definitive. Consumer drone technology is advancing all the time and it's all good. As and when more superior models become available I'll update this page accordingly.
Thank you for reading and happy flying.