6 Best 360 Cameras for Your iPhone
3D Insider is ad supported and earns money from clicks, commissions from sales, and other ways.
Did you ever take what seemed like the perfect selfie only to realize it was askew? Have you ever recorded a clip and accidentally cut out part of the action? While improving your skills would certainly help, augmenting your iPhone with a 360 camera eliminates both problems. Plus, it lets you create truly wondrous effects and bring otherwise uninspired clips and photos to life.
Using a 360 camera iPhone combo forces you to think differently. It promotes you from passively recording events to becoming their integral part. You can even choose not to be in the shot if you use a timer. Regardless of your preference, shooting in 360 makes posing for selfies easier and lets you focus on the event you're recording instead of trying to get everything right.
We've put together a list of the six best 360 cameras to pair with your iPhone. Some attach to the phone directly and either augment its cameras or come with their own. Others are standalone models that let you take advantage of the iPhone's superior screen and processing power. Discover which camera suits you best and embrace the endless possibilities 360 brings.
Budget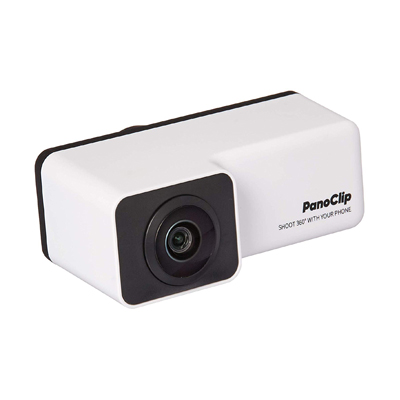 PanoClip Snap-On 360° Lens
4.1/5.0
Weight: 4 oz.
Photo Resolution: Depends on iPhone model used
Video Resolution: Depends on iPhone model used
Fits comfortably onto most newer iPhones, improved image quality thanks to HDR.
Check Amazon
Best Value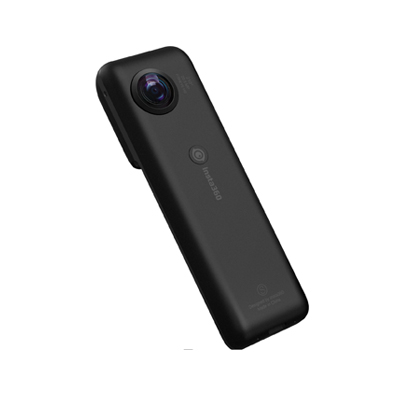 Insta360 Nano S
4.5/5.0
Weight: 2.3 oz.
Photo Resolution: 21 MP
Video Resolution: 3,840 x 1,920, 30fps
Turns your iPhone into a sophisticated 360 camera, 360 video calls and live streaming.
Check Amazon
Top Pick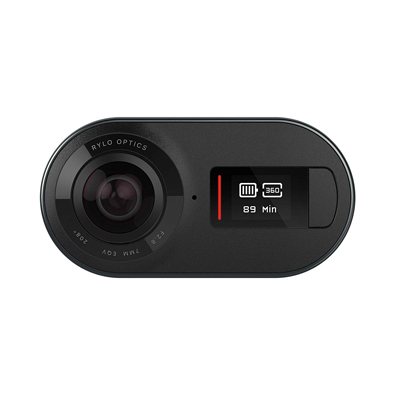 Rylo 360
4.7/5.0
Weight: 3.8 oz.
Photo Resolution: 6K
Video Resolution: 5.8K, 30fps
Excellent video quality under favorable light, Time-lapse and picture-in-picture modes.
Check Amazon
6 Best 360 Cameras for Your iPhone Comparison Table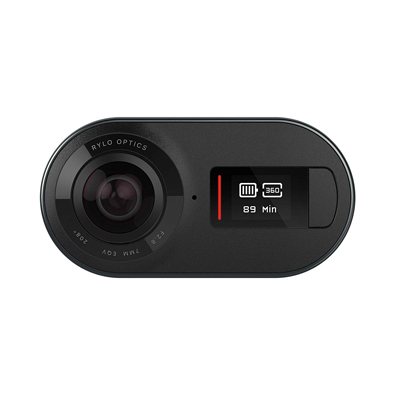 View on Amazon
Editors Rating: 4.7/5
The Rylo 360 doesn't attach directly to an iPhone, but they form a symbiotic relationship that makes for stunning videos nevertheless. It's a camera that's easy to set up and use, delivers crystal-clear video, and is compatible with accessories that increase its versatility. Add a user-friendly app and excellent audio, and you've got a compact-all around camera that satisfies all your creative and action shot needs.
Overview of Features
The Rylo 360 is unusual as cameras in the niche go. It has rounded edges and stands horizontally instead of vertically on a surface made from burnished aluminum. Its lenses are lined up perfectly, and you can use either long side as the top. The camera comes with a case for everyday use that has a standard tripod screw and supports GoPro accessories. There's also an optional adventure case that adds waterproofing down to ten feet.
Your iPhone connects to the Rylo 360 remotely, and its screen acts as the viewfinder. Nothing is stopping you from using the camera alone, though, since all of its recording and mode selection controls are flush with the camera body and can be pressed. You can choose between photo and video mode. One side of the camera has a monochrome display that lists the battery life along with how many minutes of video or pictures can still be recorded. A 16GB SD card is part of the package, and the Rylo 360 supports cards with a capacity of 256 GB.
Videos shot with the Rylo 360 are of outstanding quality. On the one hand, there's its maximum resolution of 5.8K that delivers remarkable clarity for such a small camera. On the other, class-leading image stabilization ensures that videos aren't shaky. The camera has a special follow mode that lets you designate people or objects which are then followed regardless of the camera's relative position t to them. The video experience is made complete with a multi-microphone array that records sound in three dimensions with excellent clarity.
Rylo's app features simple menus yet offers the user a robust set of editing tools. It lets you download footage onto the iPhone and share it to social networks. It's also capable of editing 360 clips into standard ones with different focus points you seamlessly switch to as the video progresses. Segments, as well as entire clips, can be sped up in time-lapse mode, and you can export videos containing a picture of another part of the 360 view within them.
What We Didn't Like
All 360 cameras suffer from poor low light performance, but this fault is especially evident with the Rylo. Avoid shooting at night or in dimly-lit environments as this slows the camera down and leads to considerable detail loss. There's no manual mode. While the camera does a good job of figuring out ISO levels and focus most of the time, the ability to fine-tune them yourself would have been welcome.
Tech Specs
Dimensions: 2.9 x 1.7 x 1.4in.
Weight: 3.8 oz.
Photo Resolution: 6K
Video Resolution: 5.8K, 30fps
The Pros
Excellent video quality under favorable light
Easy to operate directly or through the app
Time-lapse and picture-in-picture modes
Supports tripods and GoPro mounts
The Cons
No manual mode
Bad low-light performance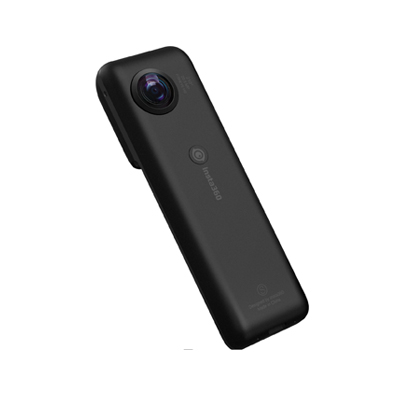 View on Amazon
Editors Rating: 4.5/5
The best way of using your iPhone with a 360 camera is by turning it into one. The Nano S is Insta360's second attempt at a clip-on phone camera, and it delivers much-needed upgrades along with a slew of new features. The camera has excellent image stabilization, performs well in difficult lighting conditions, and isn't expensive either. There are more capable 360 cameras out there, but none come close to the Nano S when convenience is concerned.
Overview of Features
The Nano S is a 360 camera that connects to an iPhone through its lightning port. There's not much going on with it design-wise; you get two lenses and a broad back that slides onto the phone. You hold onto it and provide extra stability to any shot. Speaking of which, the Nano S has improved electronic image stabilization that rotates videos when you shake it instead of cropping them. This ensures that no quality is lost at the cost of smoothness.
Wide dynamic range is the best thing about the Nano S. It performs exceptionally well in situations with a lot of contrasting light like ski slopes or interiors on a sunny day. Expect nuanced details instead of blown-out whites and dark blotches. You caneven edit photos and videos in post-production to recover further detail or make the footage more vibrant. The Nano S shoots in DNG RAW, which creates pictures that shine when appropriately edited. Videos can also be shot using a log profile. It looks bland at first but retains more information on colors and contrasts you can manipulate for better results later.
The camera's companion app is intuitive enough for first-timers but has several settings pros will appreciate. These include a full manual mode along with exposure and dynamic range adjustment. You can edit videos in the app and either show the full 360 experience or direct standard scenes by displaying what's most impressive. There's even a multi view that allows you to split the screen into segments and show a different part of the 360 video in each as it plays out.
The Nano S supports 360 video calls. As the caller, you get to decide whether you'll let the person on the other end use 360 mode or only have access to standard view. You can switch freely between the two. Finally, the Nano S can stream in 360 and lets your audience manipulate the video in real-time.
What We Didn't Like
The camera's low resolution makes for soft and pixelated videos. 4K sounds great on paper but isn't enough for a sharp experience when stretched to 360 degrees. You can use the Nano S without an iPhone, but its fragile frame and exposed connector make this impractical.
Tech Specs
Dimensions: 4.3 x 1.3 x 0.8 in.
Weight: 2.3 oz.
Photo Resolution: 21 MP
Video Resolution: 3,840 x 1,920, 30fps
The Pros
Turns your iPhone into a sophisticated 360 camera
Excellent dynamic range
360 video calls and live streaming
Easy for anyone to use
The Cons
Low resolution for a 360 camera
Standalone use isn't recommended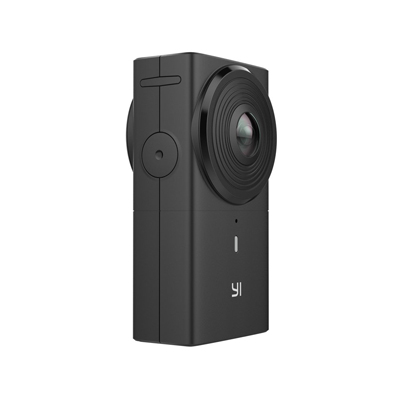 View on Amazon
Editors Rating: 4.6/5
360 cameras are a hit with the selfie-taking crowd, but what if you're an enthusiast or pro videographer who wants to take things to the next level? In that case, Yi's 360 VR camera is an inexpensive, feature-rich offering you should consider. The camera's video quality is superb for the price, and handling it either physically or through the app is straightforward. You can adjust most aspects of how the picture looks manually.
Overview of Features
The camera's design is utilitarian. It's a black box with two protruding lenses that don't impact its portability. There's a small OLED display on top telling you about the battery's status and current mode. A protective flap on one of the sides reveals a MicroSD card slot along with USB-C and micro HDMI ports.
Yi's 360 camera records high-quality video footageshot a 5.7K. Its photo resolution is smaller than that of Rylo's model, but 16.6 megapixels is still enough for vivid snaps. A full manual mode further augments the camera's quality. You may use it to alter properties like exposure levels, white balance, and ISO to optimize how footage looks and to compensate for unfavorable environmental conditions.
This camera has a maximum video ISO of 6,400 and is the best low-light performer on review! While cranking the ISO up that high leads to graininess, you can comfortably use ISO1,600 and get results rich in details in closed spaces or during cloudy days.
There are three ways to stitch together Yi's videos. In-camera stitching is the most practical but downgrades the footage to FullHD. Connecting the camera to its iOSapp bumps this up to 4K, while the maximum resolution requires the use of desktop software. The app is the most convenient and versatile solution. It gives you access to manual settings, lets you edit footage before exporting it, and allows you to stream 360 videos in 4K to YouTube.
Are There Drawbacks?
The camera's battery doesn't have a lot of juice. Expect to get 45 minutes out of it at most, meaning it isn't reliable for longer shoots. You'll have to keep an eye on its temperature as the camera starts to heat up when transferring large files or shooing at its maximum video resolution. You'll find a universal tripod thread on the bottom and get a small tripod as part of the package. It's a great help with positioning, but you'll want something bigger if you aren't going for the low look.
Tech Specs
Dimensions: 4 x 2.1 x 1.2 in.
Weight: 5.9 oz.
Photo Resolution: 16.6MP
Video Resolution: 5.7K, 30fps
The Pros
Class-leading video quality
Full manual control over settings
Powerful companion app
Comes with excellent tripod
The Cons
Prone to overheating while under stress
Short battery life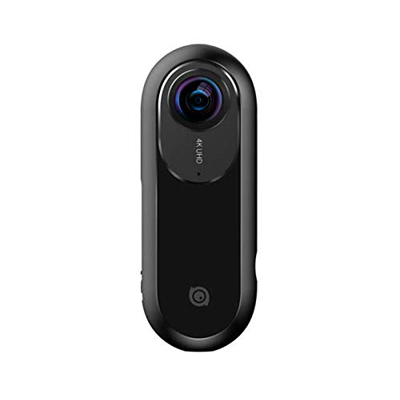 View on Amazon
Editors Rating: 4.3/5
The One is among Insta360's older models, having since been superseded by the excellent One X. However, you'll still want to consider it since the camera takes advantage of the Lightning port for instantaneous stitching and saving to the iPhone's memory. It has decent photo quality, and its videos are on par with the Nano S. There are also a couple of special accessories that let you make unique videos.
Overview of Features
The Insta360 One looks different than the Nano S even though they operate on a similar principle. It's arguably more useful too since you can position the camera on its own without a tripod and control wit through Bluetooth. Its elongated shape and lenses that don't bulge out from the body help the One be compact and pocketable. That brings us to its first unusual accessory – the case. It's made from hard plastic and protects the camera from harm. You can also extend the case partway and transform it into a mini selfie stick.
Shooting with the One is a breeze, whether you're doing it remotely or using the phone. Its 4K footage is colorful and rich in detail. The camera has more trouble than the Nano S when it has to deal with glare. Still, its general performance under good light remains satisfactory. You'll have no problem reading shop signs or recognizing landmarks if you take out on a tour of the city.
The second noteworthy accessory changes how you shoot videos. It's a cord that attaches to one end of the camera and lets you spin it around. The clips you create that way are shot at 120 frames per second and can be slowed down four times. This creates a Matrix-like bullet-time effect with you at the center of a slowly-rotating camera.
The app is focused on bringing out the best in your creations and sharing them with others. You may choose between various filters or turn on Beautify to make yourself even more irresistible. Other fun features include social media sharing, viewing footage in VR, and smooth video directing through subject tracking or automated pans.
What We Didn't Like
The One's physical controls are positioned in a way that makes accidentally pressing the shutter easy. You'll have to be mindful of how you handle it to avoid draining the battery. There's a slight delay between pressing the shutter and the image being taken. It's fine for carefully arranged shots but might cost you a once-in-a-lifetime image when an instant response is required.
Tech Specs
Dimensions: 3.8 x 1.4 x 1 in.
Weight: 8 oz.
Photo Resolution: 6,912 x 3,456
Video Resolution: 3,840 x 1,920, 30fps
The Pros
Works equally well alone or on an iPhone
Versatile carrying case
Unique slow-motion mode
Fun and versatile app
The Cons
Some buttons are easy to press accidentally
Delay between shutter and resulting image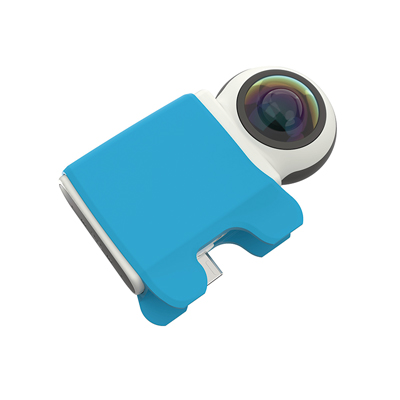 View on Amazon
Editors Rating: 4.0/5
Giroptic's iO is the next best thing if you like the Nano S's concepts but can't find one in stock. The camera is small, has a secure connection to your phone, and performs well when you want to live stream in 360. An effortless setup process and intuitive controls make it a good choice for newbies while the reasonable price should appeal to bargain hunters.
Overview of Features
The iO is by far the cutest camera on review. It has a sturdy plastic base that latches onto your iPhone and connects to its Lightning port. The lenses bulge out to the side and make the whole thing look like an adorable creature that's hugging your phone. Giroptic generously includes a hard carrying case perfect for carrying the camera around while not in use.
We were impressed with the iO's battery life. A full charge gives you 80 minutes of recording time, and your phone's battery isn't taxed apart from keeping the live preview open. The preview lags a split second behind reality, but it is responsive. Rotating the view is snappy and accurate, not bad considering that the tiny camera is stitching it together as you go.
Video and photo performance is adequate, provided you're shooting in ample light. iO does an excellent job of streaming to several social media sites. Starting a stream is straightforward since all you need to do is swipe to the right on the app's dashboard. However, make sure that your connection is stable as the stream will shut down if there's not enough bandwidth to support it.
What's Bad About It?
The iO's video resolution is poor. At 1,920 x 960, it's not even true HD. Expect very soft videos that are best viewed on smartphone screens. Photos aren't impressive either. Another concerning problem is that the camera gets hot. Prolonged exposure to high temperatures can damage it, so limit recording time and let it breathe between takes.
Tech Specs
Dimensions: 2.9 x 0.6 x 1.4in.
Weight: 2.5 oz.
Photo Resolution: 3,840 x 1,920
Video Resolution: 1,920 x 960
The Pros
Plug & play approach ideal for newbies
Easily streams to different sites
Long-lasting battery
Sturdy carrying case
The Cons
Poor video quality
Runs hot with use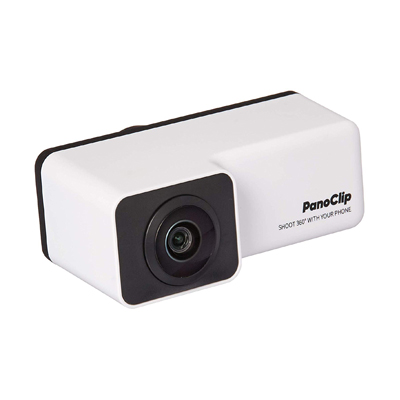 View on Amazon
Editors Rating: 4.1/5
Do you want to experience what makes 360 photography special without leaving a hole in your wallet? In that case, turn your iPhone's own lenses into a 360 camera with the PanoClip. It's a handy accessory that clips onto the phone and lines up with its front and back cameras. It then stitches their outputs together, creating seamless 360-degree images you can then tweak even further.
Overview of Features
The PanoClip is a white plastic accessory that has two lenses on either end. It supports models as old as the iPhone 6 and fits snugly when placed on its top. No Lightning connection is required, and no batteries are drained; the PanoClip works with the phone's existing hardware and can be used any time. It holds on tightly to the phone and won't fall off even if you turn it downward.
You have to install the companion app before you can use the device. It offers lots of fun features that will spice up your photos. There are different views to choose from, like Tiny Planet or Spin, which turns the 360 photo into a rotating video clip. You can also add effects, filters, or stickers. We particularly liked a feature that swaps the sky out with a preset and works well if you want to make photos shot on a cloudy day more intriguing.
PanoClip doesn't have an adverse impact on image quality. In fact, it has an HDR mode you should use in high-contrast situations. The device does a good job of stitching footage from two different cameras together, albeit with a noticeable seam.
Are There Drawbacks?
Its biggest drawback has more to do with the nature of smartphones than with the PanoClip. The pictures it takes are of uneven quality since the back camera is always better than the front one. That results in 360 photos with a sharp and a dull side. The PanoClip does not fit onto larger models like the iPhone XS, even though the manufacturer claims it does.
Tech Specs
Dimensions: 3.5 x 1.6 x 1.2in.
Weight: 4 oz.
Photo Resolution: Depends on iPhone model used
The Pros
Inexpensive add-on without batteries or fuss
Fits comfortably onto most newer iPhones
App has lots of customization options
Improved image quality thanks to HDR
The Cons
Nature of phone cameras makes for uneven image quality
Doesn't fit all advertised models