Essential iPhone Camera Accessories to Elevate Your Photos
3D Insider is ad supported and earns money from clicks, commissions from sales, and other ways.
Technology has come to the point that the iPhone is more than just a smartphone. The camera has considerably improved over the years that the latest models come with powerful components that put them on par with other dedicated gadgets in the market. This is one of the reasons why a lot of people rely heavily on their iPhone cameras to take photos and videos. You do not need to carry bulkier equipment with you since everything you need is right in your pocket.
Superior Practical Performance
Chances are you will not be part of professional photoshoots unless that is what you do. So, a handheld camera that is built-in to the iPhone should be enough for most of your photography needs. It is also highly practical since you can quickly whip it out and not miss moments that you might not catch with a DSLR.
In this age of social media, surely, using your iPhone allows you to share your shots and clips instantly, and this is near impossible with a complicated professional camera. If you are not an expert, then an iPhone camera is something that you use to fulfill your photography needs.
Elevate Your Photos and Videos
There are iPhone camera accessories that can take your photos and videos to the next level. You can now get close to the quality of professional devices by merely attaching a contraption that will elevate your shots. From lenses to gimbals to specialized mounts, using the right accessories can add even more versatility and practicality to an already useful gadget.
Your iPhone is really good at taking photos and videos. However, it is not its primary purpose. Getting the right accessories can undoubtedly maximize the potential of your smartphone.
Here is a list of attachments that you can get for your Apple device that you will find useful the next time you decide to get it out.
Lenses
iPhone cameras come with excellent quality lenses. Although they do have some form of limitation because of the limited space inside the phone. There is a bit of a compromise in terms of optical zoom and macro capabilities. Also, the field of view of the built-in lenses are fixed, and there is nothing you can do with it.
Similar to DSLR cameras, you can invest in third-party lenses that quickly clip on to the back of your iPhone, improving the integrated ones. They are going to add bulk to your camera, but they will give you some artistic freedom in terms of how you want to shoot your subject.
MOMENT LENSES
Moment lenses for the iPhone are some of the best third-party options available on the market. If you are looking to replace your bulky DSLR, then getting a set of Moment Lenses is a notable alternative. Made with aerospace-grade metal and high-end glass, you can instantly tell that it screams quality the moment you touch it.
Mounting the lenses requires you to get a case for your phone that is specifically designed to fasten them tight. They are attached via a twist and lock system, where you will be able to snap them in quickly and ensure that they are secure.
Wide Lens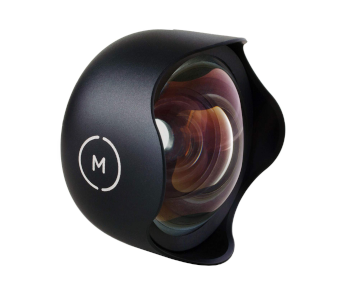 Moment's wide lens is ideal for landscapes and cityscapes, basically anything with a great view. It is also the perfect lens if you want to make sure that everyone is included in group photos. Apart from that, it is a great everyday lens that you can clip on and mostly forget since it can add character to your shots.
Macro Lens
The macro lens enables you to shoot objects and capture the tiniest of details. Using this will allow you to notice things from everyday items that you might take for granted. One thing to note about using this lens is that you need to be extremely close to what you are shooting to get a level of detail that you have not seen before.
Tele Portrait Lens
Moment's Tele Portrait Lens gets you closer to your subject without resorting to zooming in. This is especially helpful if your camera resorts to digital zoom right away since it keeps the sharpness without blurring out your shot.
Moment lenses can significantly improve your everyday iPhone shots. They are definitely impressive and will give you the versatility that you need so you can rely more on your phone when it comes to quick shots. If you are looking for a camera accessory that is going to help with your Instagram game, then this is the one for you.
Our Rating: 5 / 5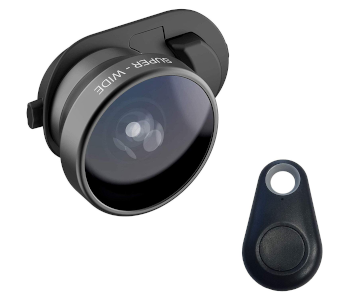 Retail Price: $99
Olloclip does third party lenses really well, and this product is a bundle of three lenses that can clip on just about any smartphone, including your iPhone. The great thing about Olloclip lenses is that they are equipped with their Connect X Lens System, so you can quickly swap any one of these into the back of your iPhone. The system is compatible with a lot of other devices, including the latest iPhones and Android phones.
The lens pack also comes with a wireless Bluetooth remote that is perfect for taking selfies, group photos, and other views. It has a range of up to 30 feet so you can position it wherever you want so you can get the best angle for your shot. It is a pretty handy device, and you can use it for both video and photography projects.
Fisheye Lens
Olloclip's fisheye lens shows your subject in a brand new light. It instantly turns any view or scene into captivating images that your viewers will enjoy. An expanded view of nearly 180 degrees allows you to showcase what is in front of you differently.
Wide Angle Lens
The wide-angle lens greatly enhances your stock lens' field of view. The latest model iPhones do come with their own similar lens, but the Olloclip attachment can undoubtedly give you better flexibility. It is ideal when you want to squeeze every inch of the scenery you want in a single photograph. It likewise makes group selfies a lot easier to take because of the wider angle it fits.
Macro Lens
If you are into detailed, magnified photographs, then the Macro lens is the ideal one for you. It allows you to zoom in on an object, no matter how small it is. The lens, designed for extreme close-ups of your subject, can reveal details that the naked eye will have a hard time detecting. It is all about the details with the Olloclip macro lens, and you will definitely see all of those in your photos.
The Olloclip essential lens kit is a complete set that will take your photos and videos to the next level. You can use this on just about any project that will need your iPhone camera. It is great for videos, live streams, panoramas, time-lapses, and even virtual reality.
Our Rating: 4.5 / 5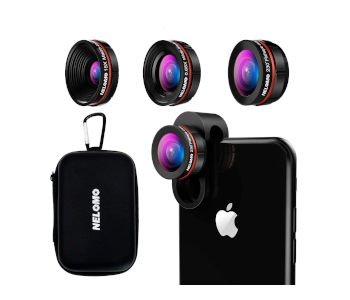 Retail Price: $27
The Nelomo professional camera lens kit allows you to view your world from a different perspective. The kit contains three different lenses, namely a 0.65x super wide-angle, 15x macro, and a 230-degree fisheye. Clipping these in front of your iPhone's stock lenses will allow you to capture the beauty in front of you.
The wide-angle lens has a much larger field of view and allows you to photograph large groups of people quickly. You can also capture stunning landscapes since you will be able to fit a lot in a single frame. This is an excellent attachment if you are into nature and scenery photography.
The kit comes with a 15x macro lens so you can capture photos in greater detail as you get close to your subject. You can catch all the intricacies of your subject and see it in a new light. This lens is best for the razor-sharp focus of very tiny objects.
Finally, the Nelomo kit also comes with a 230-degree fisheye, which gives you rounded images that take you into a different world altogether. It shows you a new way to enjoy the scene in front of you and is perfect for getting that artsy shot that you always wanted.
The Nelomo professional camera lens kit comes with all of these lenses, plus that clip that allows you to fit these seamlessly into your iPhone. It's simple to set up and swap lenses so you can quickly change things up as different moments come up.
Our Rating: 4 / 5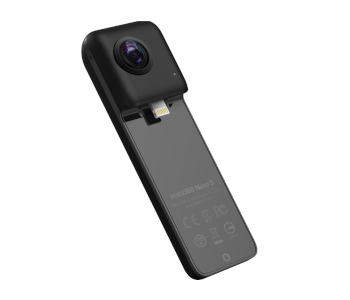 Retail Price: $179
The Insta360 Nano S is a lot different than other swappable lenses. For one, it is not as simple as those clip-on lenses since you need to connect it to your iPhone's lightning port. However, this does give you added versatility since it is plugged directly into your phone.
The feature that allows a full 360-degree experience is the dual camera setup of the Nano S. Two 4K cameras located at the front and back of the device, coupled with its MultiView feature, which allows you to record in every direction giving your audience an immersive experience. This is perfect for live streaming and 360-degree video chat on your favorite platform.
The Nano S also comes with its own stabilization feature so that your 360 videos are as smooth as possible. It uses your phone's gyroscope to adjust the shot, so everything remains level and not mess up with your viewers.
The Insta360 Nano S is an exceptional accessory if you are into producing your own content. If you especially love seamless 360-degree views, then this is the perfect attachment that you can get to elevate your live videos and photos and take them to the next level.
Our Rating: 4 / 5
Handheld Smartphone Stabilizers
Just about everyone gets annoyed by shaky footage, especially if it is a professional production. Even if you have the best cameras out there, but when you decide to shoot, and you are moving chances are it is going to come out trembling and unsteady.
Your iPhone does come with some sort of video stabilization, but it is software dependent, so you really cannot depend that it is going to give you buttery smooth footage. What you need is a device that is going to make the steadiest of hands feel like it is in the middle of an earthquake. This is where handheld smartphone stabilizers come into the picture.
No more shaky recordings and a stabilizer will give you more versatility in terms of what you can shoot. You can now add tilting and panning to your videos, knowing that they are going to come out silky smooth.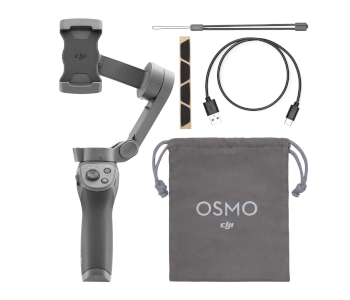 Retail Price: $139
DJI is known for their drone technology, and they undoubtedly produce the best ones in the market. It is not instantly apparent, but drones and stabilizing gimbals have some technology overlap where it easily translates from one to the other. The company came up with the Osmo Mobile 3, which is the third iteration of their handheld gimbal, and it is a reliable device.
Gimbal Build
The gimbal is mostly made up of high-quality plastic, it is relatively light since it is designed to hold up smartphones, mainly iPhones, and not cameras. This ensures that it remains lightweight and portable so you can bring it anywhere you go.
One feature that certainly comes in handy with the Osmo Mobile 3 is the tripod thread at the base. The gimbal does not stand up on its own, but opening this will enable you to set it down and watch or shoot from there. It also comes with a joystick should you want to control the movements manually.
AI Tracking Technology
The Osmo Mobile 3 comes with AI tracking, which is a fantastic tool for vloggers who like to shoot themselves while walking down the street. To fire it up, simply give it a peace sign gesture, and it will start tracking your face. This is an excellent hands-free option ensuring that your face is always in the frame and in focus.
Performance
The device does come with batteries, which can provide you with up to 15 hours of power. This should be enough for about three days. However, if you know that you are using it for an extended amount of time, then consider charging it for up to two and a half hours to ensure full battery capacity.
The DJI Osmo Mobile 3 handheld smartphone gimbal is an excellent companion to your iPhone since it is lightweight, compact, with better battery capacity.
Our Rating: 4.5 / 5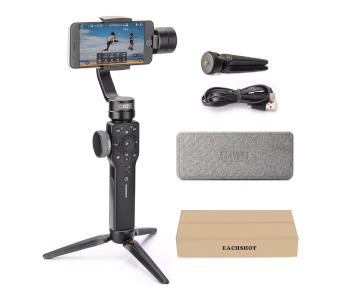 Retail Price: $99
Zhiyun is a brand that can give DJI a run for its money. Their Smooth 4 handheld smartphone stabilizer can be considered an Osmo Mobile 3 equal, even better. It is slightly more affordable than DJI's gimbal, but it does pack a lot more features.
Smartphones, especially the latest iPhones, come with powerful cameras that are capable of recording 4K video at 60 frames per second, and you must take full advantage of those features. Being able to shoot smooth velvety videos is something that you and your viewers will enjoy.
Controls
The Smooth 4 is loaded with camera controls in the grip. This means that you do not need to touch your phone while it is locked just to change your camera settings. One of the most notable features of the gimbal that the Osmo Mobile and other stabilizers do not have is the focus and zoom wheel. It allows you to physically adjust the focus and zoom without the changes being visible to your viewers. The ability to access the menus and change the settings on the fly is extremely helpful and will save you a lot of time and hassle.
Shooting Modes
The Smooth 4 comes with three different gimbal shooting modes, which you can use for just about any occasion. The first one is the pan and follow mode, which keeps your horizon level. This is great for panning scenery shots where you want your phone to move with you as you shoot left-to-right and hold it still to prevent an up and down motion.
The next one is the follow mode, which locks the roll axis. So you can move your phone left, right, up, and down, locking on to your subject while counteracting any tilting motion.
The last one is the lock mode, which locks your phone in place, keeping it still. This is great if you are recording something on stage or mounting it on a vehicle, so your shot is as steady as you want it to be.
Apart from these shooting modes, the Smooth 4 also comes with the PhoneGo method, which makes the device more responsive to movements, so it remains entirely still when you are recording. This mode is excellent when you are walking down the street, talking to the camera similar to those shots of famous vloggers.
The Zhiyun Smooth 4 is an excellent piece of stabilizing equipment. It does offer quite a bit more features compared to the Osmo Mobile 3 and is excellent for those who are using their iPhones for serious projects like YouTube videos and going live while moving around.
Tripods and Mounts
Tripods may not be the first thing that comes to your mind when looking for iPhone camera accessories, but they do provide a lot of value whenever you take photos. Using a tripod allows you to use settings that you will not usually be able to use. You can set to shoot with a faster shutter speed without the risk of you moving and blurring out the entire image. You can also do a long exposure shot to get more light into your camera, which is excellent for low light conditions.
Our Rating: 4 / 5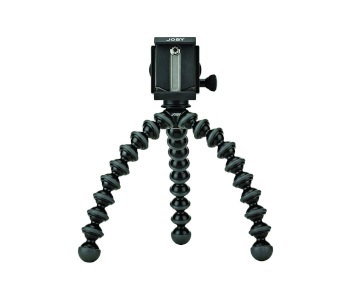 Retail Price: $39
Blurry smartphone photos are something that everyone faces regularly. The leading cause of this is you not being able to hold your phone correctly while getting the perfect shot. The Joby GripTight GorillaPod Pro is a device that will be able to solve all that.
If you are a smartphone photographer or just love taking photos with your handy device, the GripTight GorillaPod can give you a stable base that you can use almost anywhere. The tripod has been designed to do a lot of things, including wrap around poles, branches, and fences so you can get that perfect shot. The tripod's feet are made up of a bunch of flexible ball joints that you can twist and turn for the best placement.
Of course, you need to secure your phone at the other end of the tripod, and the GripTight GorillaPod comes with a clamp that can fit just about any phone, especially your iPhone. It can support phones that measure between 56 mm to 91 mm, and that comfortably fits the latest iPhone models.
Joby produces exceptional products for smartphone photographers, including their GripTight GorillaPod Pro. It is relatively lightweight and compact, which is perfect for heavy users who want to take advantage of the technology that is in their smartphones.
Our Rating: 4 / 5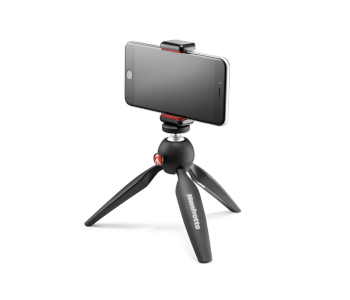 Retail Price: $24
The Manfrotto Pixi Mini tripod is designed as lightweight and portable support for small devices such as your iPhone. It can accommodate slightly larger machines, but they are a perfect fit for smartphones with their camera attachments.
The tripod is small, but it definitely provides enough stability for your phone, so you can enjoy shooting while making sure that everything is in focus. The Pixi Mini does have legs that can extend to only one position elevating your phone up 13.5 cm. Close the tripod's legs together, and you can quickly use them as a grip for whenever you are shooting videos where you want to extend your arms.
The Pixi Mini is more of a stand than a functional tripod. It does have rotation and tilt mechanisms included, but it is challenging to operate for videos. Still, the tripod is a reliable product that stabilizes your iPhone so you can capture excellent looking photos no matter the conditions.
Our Rating: 4 / 5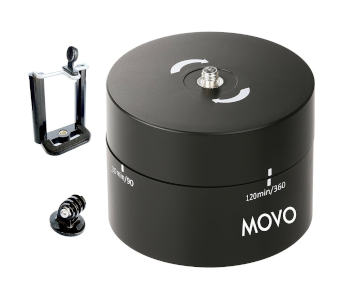 Retail Price: $15
The Manfrotto Pixi Mini tripod is designed as lightweight and portable support for small devices such as your iPhone. It can accommodate slightly larger machines, but they are a perfect fit for smartphones with their camera attachments.
The tripod is small, but it definitely provides enough stability for your phone, so you can enjoy shooting while making sure that everything is in focus. The Pixi Mini does have legs that can extend to only one position elevating your phone up 13.5 cm. Close the tripod's legs together, and you can quickly use them as a grip for whenever you are shooting videos where you want to extend your arms.
The Pixi Mini is more of a stand than a functional tripod. It does have rotation and tilt mechanisms included, but it is challenging to operate for videos. Still, the tripod is a reliable product that stabilizes your iPhone so you can capture excellent looking photos no matter the conditions.
Our Rating: 3.5 / 5
Lighting Accessories
When it comes to pictures, nothing beats excellent lighting. Your iPhone does come with a built-in LED bulb that acts as a flash. However, there are times when it is not enough. If you want to take your photos to the next level, it is crucial that you get the right lighting every time.
There is a simple solution to all your lighting problems, and that is natural light from the sun. The problem with this, though, is that it is not available 24/7. The next best thing would be to look for additional light sources via accessories, and here are the best ones in the market.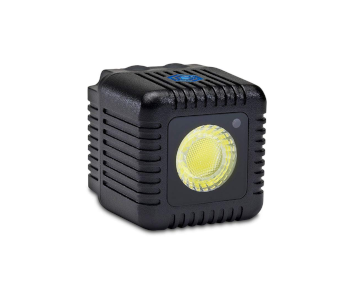 Retail Price: $79
The Lume Cube is a versatile light source that can help keep your sessions going even after the sun has gone down. Do not let the 1.5-inch body deceive you, but it readily emits up to 1,500 Lumens of balanced light. This is roughly equal to a 100-watt bulb, which is quite intense.
The compact design allows the Lume Cube to be waterproof, so you can submerge it under 100 feet of water if you are into underwater shoots that need additional light. The small body also gives it an added benefit, durability. It is ready to take on just about any condition, which is perfect if you use it for all types of photoshoots.
Even though it is small, inside its body, it packs a wireless Bluetooth adapter that allows it to connect to your iPhone and give you a variety of controls through its mobile app. You can control the Cube's brightness, turn on its strobe effect, or adjust its flash capability.
As a light source, it does come with batteries that can last approximately two and a half hours running at 50% brightness. You can always plug it into a wall socket or a battery pack since it is rechargeable via the Micro USB port at the back of the Cube.
For compatibility, it can quickly mount on to anything with a ¼-inch thread. So, you can mount it on iPhone adapters so you can turn it on while you shoot your favorite subject on just about any lighting condition. Apart from smartphones, you can attach it to drones, DSLR cameras, and action cameras.
The Lume Cube is a stable light source that produces much-needed illumination without hot spots and smooth edges. It is capable of giving you the lighting that you need so you can continue to shoot even in situations that you might think is impossible.
Our Rating: 5 / 5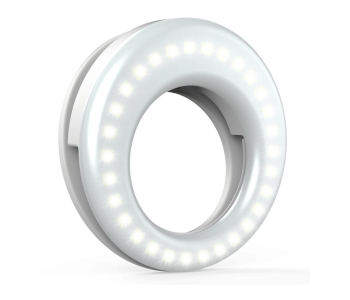 Retail Price: $12
If you love taking a lot of selfies or videos with your face in it, then the Qiaya ring light is the perfect accessory for you. It highlights your facial features while darkening the background behind you. Apart from selfies, you can use this light accessory for vlogging and adding additional light to improve your shots in the dark.
The right light is compact and lightweight, it easily fits in your pocket or bag so you can effortlessly carry it with you at all times. It is also adjustable with three levels of brightness, so you can choose which one suits you at that particular time. You can quickly recharge it in several ways, as long as you can plug it into a USB port, you should be good.
The Qiaya LED selfie right light is a great illumination tool that slides on top of your phone without any trouble. Poorly lit selfies are going to be a thing of the past with the added illumination. It also makes a great gift that your friends are absolutely going to love.
Our Rating: 4 / 5
Portable Photo Printers
Everything is becoming portable. Add to the fact that everyone likes to use iPhones to take pictures, it does make sense to bring a portable photo printer with you. They are handy and convenient, and they allow you to make instant memories by printing your favorite photos right away.
Here are some of the best printers that you can get so printing your photos will become less of a hassle: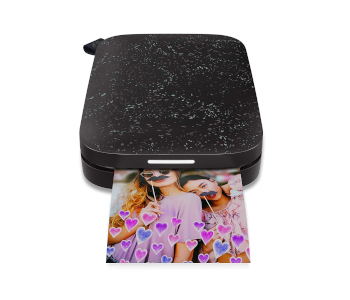 Retail Price: $129
The HP Sprocket is a pocket-sized printer that is designed to turn pictures taken from your iPhone into physical prints. The heat-activated Zink paper makes this all possible since it does need to hold any ink cartridges that will add bulk to the device. You can easily slip the printer into your pocket, purse, or bag so you can have physical photos any time you want.
One of the hallmarks of the Sprocket is that it is straightforward to use. To print, all you need to do is insert the paper by lifting the magnetic cover and dropping the sheets. You can connect the device to your smartphone via Bluetooth so you can start selecting which photos you want to print. Simply hit print and wait about ten seconds for the Sprocket to print your picture.
The Sprocket comes with its own app, which allows you to connect to your social media accounts so you can print your snaps instantly. The app's connectivity is remarkable and gives you the versatility to print from different sources without leaving. This makes deciding which photos to turn into physical memories a lot easier.
It also comes with augmented reality support, so you can add contextual information to your photos and borders whenever you print them. Think of your Facebook profile photos, but in printed form. To use them, though, you will need to print via the Sprocket app so you can add a little more personality to your photos.
The HP Sprocket is definitely a fun device that you can carry anywhere so you can instantly turn your memories into physical photos. It is easy to use and, most notably, something that will get you back to printing pictures when you find the perfect snap.
Our Rating: 4.5 / 5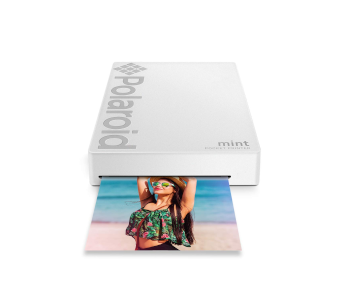 Retail Price: $99
The Polaroid Mint wireless pocket printer is everything it is named after. The printer is everything you need if you are into printing photos taken from your iPhone. It is compact and easily fits in your pocket so you can bring it with you anywhere.
The Mint pocket printer measures 4.5 x 3.0 x 0.7 inches and surprisingly weighs only half a pound. It seems impossible, but you can load a maximum of 50 print sheets without compromising its compactness.
To print your photos, it uses 2 x 3-inch Zink print sheets, which uses no ink so you do not have to mess around with cartridges, toners, and ribbons that will only increase the size of the device. If you are familiar with a Polaroid photo, that is what these prints feel like when they come out of the printer.
The companion Polaroid app does most of the heavy lifting whenever you decide to print your favorite photo from your iPhone. With it, you can add borders and use filters similar to those found on various social media platforms. Your prints will feel like they have been lifted from your Facebook or Instagram profiles.
A great feature of the Mint pocket printer is its wireless capabilities. Bluetooth support means you do not have to deal with cables and wires between your iPhone and the printer. All you need to do is pair them, and you can start printing. Apart from the wireless connectivity, the printer also supports MicroSD cards of up to 256 GB. You can save a sufficient amount of photos so you can print any time without connecting with your phone.
The Polaroid Mint wireless pocket printer is a simple device that allows you to print quality photos whenever you want. The compact and portable design allows you to bring it with you at all times. It is definitely a printer that can turn your memories into mementos you can keep for a long time.
Our Rating: 4.5 / 5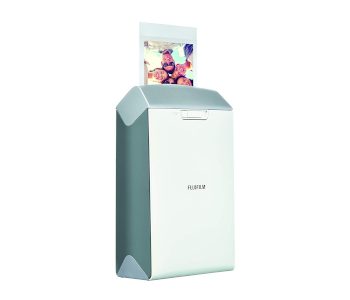 Retail Price: $84
The Fujifilm Instax Share SP-2 mobile printer allows you to transform your iPhone photos into an instant film print right away. This means you will not need to drive down to a shop that handles film printing. You can now quickly pick and choose pictures from your phone that you want to print. You can even make slight edits like filters and borders before you print.
Similar to other portable mobile printers, the Instax Share SP-2 does not use ink but instead uses a particular film that is heat activated so the device can do its magic without cartridges. This technology keeps the printer honest and does not add any additional weight or bulk, so it remains compact and easy to keep in your pocket.
To print pictures from your iPhone, the Instax Share SP-2 uses Wi-Fi instead of Bluetooth. It creates its own network where you connect to your phone. Then, simply fire up Fujifilm's Share app so you can start selecting photos that you want to be printed. You can go into your gallery or your social profiles so you can choose your favorite images.
The Share app allows you to edit your pictures before printing them. You can select filters, adjust settings, or even add text and emojis to the photographs that will also come out when you print them. You can even create collages and mix different photos together and print them that way.
The Fujifilm Instax Share SP-2 is definitely a fun accessory to have. If you are into mobile photography and want to print some shots that you have taken, then this is an excellent printer to have so you can transform those memories into physical pictures.
Our Rating: 4 / 5
Battery Packs
Smartphone cameras are notorious for sucking all of your battery power. If you are a camera power user, a full charge could only last you a couple of hours. One way to mitigate this and have battery power for a full day's worth of shooting, you will need to get a good quality battery pack.
The good news is that there are a lot of great ones in the market that can provide you with a couple of charges worth of power. With it in hand, instead of a few hours' of juice, you can be sure that you have enough so you can get the pictures that you want.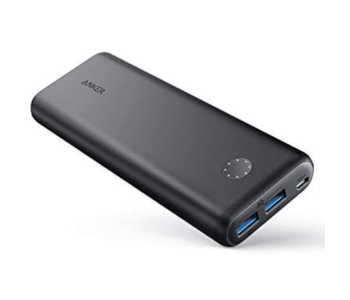 Retail Price: $59
Anker is known for its quality and affordable battery packs, and the Powercore II 20000 is one that surely packs a good punch. As its name suggests, it comes with 20,000 mAh of power and has the energy to charge up your iPhone two to three times over.
The power bank comes with two USB-A ports, one that supports 12W output and the other 18W. This allows the battery pack to support fast charging for phones that can handle it, such as the latest iPhones. You can even use the two ports at the same time, charging a couple of devices. There is also a Micro-USB port that is used to charge up the pack. It takes about five and a half hours to charge the Powercore II to full.
The power bank does not have a clear battery indicator, but on the top part is a power button with lights that signify how much you have left. Each light equals ten percent of power, so you can estimate how much the pack has left, making it easy to determine if you can still go out and shoot some more or call it a day.
It is perfectly portable so you can carry it around with you wherever you go. The slim, ergonomic design allows you to keep it in your pocket so you can whip it out whenever your iPhone battery levels run low.
The Anker Powercore II 20000 is a great battery pack that you can bring with you anywhere you go. If one of your problems is your iPhone battery whenever you take lots of pictures, then this power bank is an excellent accessory for you.
Our Rating: 4.5 / 5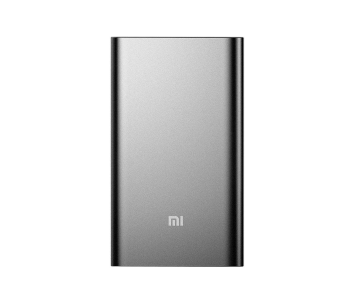 Retail Price: $29
The Xiaomi Mi Slim power bank is a sleek and well-designed battery pack for your iPhone so you can continue to take captivating photos. It is equipped with a high-density lithium polymer battery that is safer, improves charging your devices, and stabilizes its power output for better performance.
The Mi Slim power bank has a capacity of 10,000 mAh, which is enough to charge your iPhone a couple of times before depleting the pack. The device supports quick charging and can get your iPhone full in two hours. It can also be recharged quickly via a USB-C port in about four hours.
The pack is ergonomically built, making it extremely portable so you can easily store it in bags, purses, and even in your pockets. At only 0.49 inches thick, it is definitely not a problem to store and carry around so you can plug in your iPhone whenever it runs low.
The Xiaomi Mi Slim power bank is a reliable battery pack for your iPhone. The performance it provides allows you to charge your smartphone quickly and reliably so you can continue to use it after it has run out of juice.
Our Rating: 4 / 5
Microphones
It is not that the iPhone's built-in mic is terrible since everyone has been using theirs to make calls and talk to Siri. However, the camera has clearly undergone some significant hardware changes, and the microphone just has not.
Updated recording capabilities are not really a priority if you are a regular iPhone user, but if you want to take advantage of one of the best smartphone cameras in the market, then getting an external microphone is something you want to consider.
The great news is that these microphones are small and handy that you can bring it with you anywhere you go. They will also provide a decent upgrade if you like to shoot a lot of videos using your iPhone camera.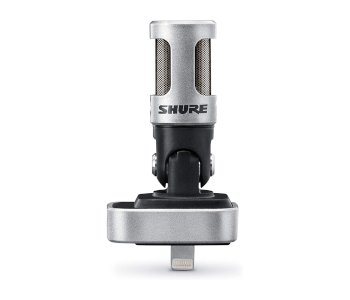 Retail Price: $149
The Shure MV88 is a portable digital stereo microphone for iOS devices, especially the iPhone. It is a versatile device with the ability to record multiple patterns. It can even record in both stereo and cardioid mono mode, so you always get clear audio every time you use it. You can record just about any activity like a podcast, an interview, a rock concert, or even song vocals.
The MV88 connects to your iPhone using the Lightning connector, so it can record audio clearly compared to an audio jack. This comes in handy since the latest iPhone models do not have the 3.5mm jack, so you will not be able to use an accessory that exclusively connects via that port.
To help you unlock all of the features of the microphone, it comes with the ShurePlus Motiv App that enables you to optimize all of your recordings. At its core, it is more of a recording platform that you can use even without the microphone, but of course, the audio you pick up will be marginally better with the MV88 plugged in.
Do not let the small package of the Shure MV88 fool you since it is capable of recording anything that you want at a high level. It consistently provides crisp and clear audio for a multitude of scenarios.
Our Rating: 4.5 / 5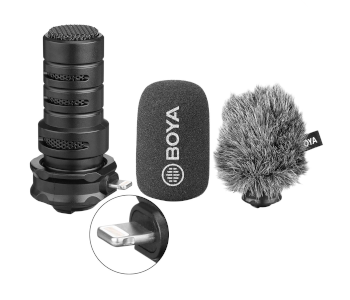 Retail Price: $39
The Boya BY-DM200 is a professional stereo condenser microphone that plugs directly into your iPhone using the Lightning connector. This gives it superior performance compared to other types in the market. It also comes with two capsules that enable you to record in the stereo, so your audio pick-up is significantly improved.
An exciting feature of the BY-DM200 is its plug and play function. It is compatible with any device as long as it has a Lightning port, so that means you can connect it to the latest model iPhone, iPad, or even the iPod Touch.
The device comes with a foam windscreen and a carry pouch, and these attachments allow you to record videos and audio outdoors. You can shoot your videos even in windy conditions and still be confident that your sound is going to come out excellent.
The Boya BY-DM200 is a fabulous budget microphone attachment for any occasion. Whether it is an indoor or an outdoor shoot, this microphone would be able to give you clear sounds that is a definite improvement from the built-in one of your iPhone.
Our Rating: 3.5 / 5
The iPhone Camera Accessories for You
iPhones, especially the latest models, are known for their superior camera technology. When you have that kind of machinery in your pocket, you want to use it every chance you get. There are some challenges when using the iPhone camera, but slapping on a few of these accessories can significantly improve your overall experience.