7 Best iPhone Earbuds of 2019
3D Insider is ad supported and earns money from clicks, commissions from sales, and other ways.
Are you searching for the best iPhone earbuds within your price range, but have no idea how to select the right ones? Then you'll love the earbuds presented in this buyer's guide as they are the best options the marketplace has to offer. We have done the research to locate industry leading iPhone earbuds across 3 different price ranges.
Some of you may not understand what to look at when buying iPhone earbuds. There is a lot to keep in mind so you're able to find the pair that has the features you need and competitively priced. With that thought in mind, we have created a buying consideration section where you can learn the factors that must be examined before pulling the trigger on a purchase.
We had a lot of fun putting this buyer's guide together and hope you find it educational. We are confident that by the time you finish reading this buyer's guide you'll be able to select the iPhone earbuds that make the most sense for you.
Budget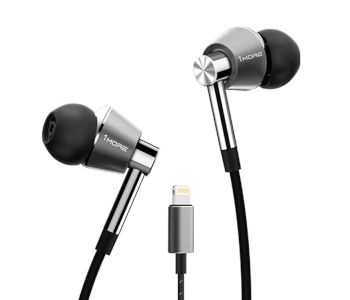 1MORE Triple Driver
4.8/5.0
Weight: 1.6 ounces
Wireless: No
Professionally fine-tuned and has an ergonomic fit.
Check Amazon
Best Value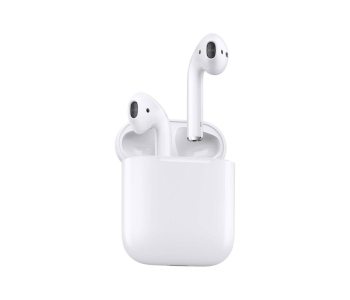 Apple AirPods
4.9/5.0
Weight: 6.1 ounces
Wireless: Yes
This has great audio and compatibility with Apple products.
Check Amazon
Top Pick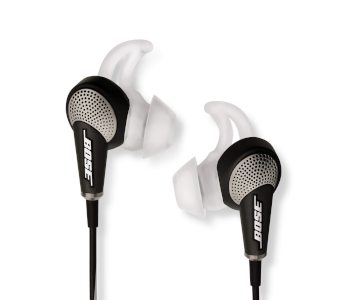 Bose QuietComfort 20i
4.9/5.0
Weight: 1.6 ounces
Wireless: No
Excellent comfort and secure fit and active noise cancelation.
Check Amazon
Buying Considerations
Audio quality
Brand
Wireless connectivity
Durability
Comfort
Items by price:
iPhone Earbuds Comparison Table
Top iPhone Earbuds Under $100
You'll find a number of competitive iPhone earbuds under $100 that offer excellent audio, great comfort, and a visually pleasing design. Audio quality at the budget end of the scale has improved considerably in the last few years and these earbuds are evidence of that.
However, if you're after audiophile grade audio, then you'll need to take a look at some of the more expensive categories in this buyer's guide. Most buyers will be content with that quality that's offered here at a reasonable price.
1. 1MORE Triple Driver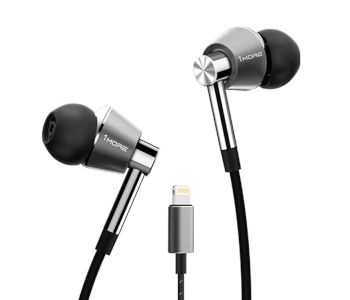 View on Amazon
Editor's Rating: 4.8/5
This version of the 1MORE Triple Driver comes with the Lightning connector for compatibility with your iPhone. The audio drivers have been tuned by an award-winning sound engineering, Luca Bignardi. The precise representation of audio means you can enjoy music the way it was meant to be heard by the artist.
As the earbud name suggests, there are 3 audio drivers that deliver the audio experience. The highs are sizzling and the bass is deep, which means you can enjoy all genres of music in a way that is exciting and refreshing. At around the $100 price range, you'll struggle to find audio drivers that can compete with these particular earbuds. Furthermore, the frequency range is an impressive 20-40KHz, which means the depth of the audio experience will not be lacking in quality.
The shell is made from lightweight aluminum, which is both durable and portable. Silicone eartips are provided that are durable and provide the secure fit that is expected of high-quality earbuds. You'll find that the fit works for regular activities such as walking, but they are not ideal for sports. There are 9 different sets of eartips to give you plenty of options to find the fit that works for you. The earbuds come with an oblique angle to match your ear, which is an excellent ergonomic design feature.
A superior MEMS microphone is included that eliminates cross-talk and background static. You can use the in-line control box to take calls, skip songs, and alter the volume settings. The unboxing experience is a nice bonus as the packaging feels premium and there are a few accessories such as a matching shirt clip and airplane adapter.
A few disadvantages hold the 1MORE Triple Driver back from being an industry leader. Firstly, the highs can be somewhat harsh, but it's not always noticeable. Furthermore, the wire can tangle easily, which can get frustrating.
To conclude, the 1MORE Triple Driver provides excellent value for money. The audio drivers have been tuned by a professional sound engineer and the ergonomics of the fit are excellent. They also have a nice gold finish that will stand out when wearing them in public.


Tech Specs
Weight: 1.6 ounces
Wireless: No
Microphone: Yes
The Pros
Professionally fine-tuned
Ergonomic fit
Packaging feels premium
The Cons
Highs can be harsh
Wires can tangle easily
2. BeatsX Wireless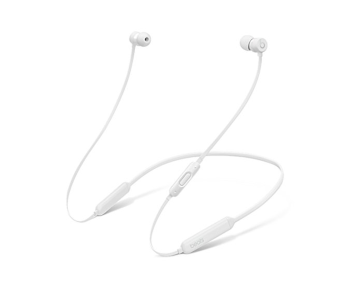 View on Amazon
Editor's Rating: 4.7/5
Beats is a brand that's owned by Apple and their products include the W1 Chip that provides a seamless way to connect to your iPhone and provide great battery life with quick charge integration. The BeatsX is one of their more popular offerings that combines a number of features well to deliver an end result that's practical and competitive.
The flex form cable goes around your neck and contains an in-line control box to alter your audio experience. The cable is durable and conveniently fits around your neck in a way that doesn't feel cumbersome. You can even use the earbuds for sports as the fit is secure and comfortable. However, there is no sweatproof protection, which means you'll need to be careful with moisture based damage.
You can achieve 8 hours of battery life and there is a quick charge feature that gives you 2 hours of battery life for only 5 minutes of charging time. This feature comes in handy when you have run out of battery life and want to quickly charge the earbuds.
A practical carrying case is included that can be used to transport the earbuds without breaking them. You'll also get 4 eartip sizes and a Lightening USB-A charging cable. This adds more value to the purchase because you won't need to buy those accessories separately.
The BeatsX Wireless lacks in clarity compared to a few of the other options at a similar price. However, they offer excellent bass that provides impactful music that's perfect for rap, rock, and club music.
To summarize, the BeatsX Wireless provides great audio and a practical design that you'll love to wear on a daily basis. The implementation of the W1 Chip means that iPhone users can enjoy the compatibility that a lot of other earbuds don't provide.


Tech Specs
Weight: 11.2 ounces
Wireless: Yes
Battery life: 8 hours
Microphone: Yes
The Pros
Great bass
Comfortable fit
W1 Chip
3. Pioneer Rayz Smart
View on Amazon
Editor's Rating: 4.5/5
Pioneer is one of the best audio brands in the world that consistently delivers the kind of audio performance other brands are jealous of. These earbuds come with the Lightning connection for iOS devices and there is the choice of black or white.
The smart mute technology turns off the volume when a call is coming in. Therefore, you can conveniently take calls with these Pioneer earbuds without the need to worry about turning off the music. Once the conversation stops the music will kick back in again in a seamless manner. The microphone can also be used to talk to Siri to activate a number of functions.
A unique Hear-Thru Mode is implemented that allows you to enjoy active noise cancelation, but with a twist. The important noises will still go through that allow you to be aware of your surroundings. This ensures you're able to avoid the dangerous situations that can occur when you can't hear what's going on around you.
A personalized app is available that allows you to customize the button setup and play round with the functions available. The app continually updates itself when new features are added to the user interface.
There are a few drawbacks to the Pioneer Rayz Smart you should be aware of before making the purchase. Firstly, the earbuds have a plastic feeling to them – not ideal when looking for something to go along with a premium smartphone like the iPhone. Furthermore, the in-ear fit could be improved so that the comfort doesn't have a cumbersome feel after an hour of use.
Overall, the big selling points of the Pioneer Rayz Smart are the smart features and Hear-Thru Mode. The audio quality is great, but there are a few minor drawbacks such as the plastic feel and a lack of comfort ergonomics.


Tech Specs
Weight: 0.64 ounces
Wireless: No
Microphone: Yes
The Pros
Great audio
Smart ANC mode
Soli app functionality
The Cons
Plastic feel
In-ear fit could be better
Top iPhone Earbuds Under $150
This price category improves over the last one in terms of functionality. For example, the Apple AirPods have a minimalist design that has no wire at all. You'll need to decide if the increase in asking price is worth the extra features you're getting.
However, for some of you the difference in audio quality between this category and the last one might not be big enough to justify the extra cost. Take a closer look at these iPhone earbuds to determine if they have the quality you require.
4. Apple MMEF2AM/A AirPods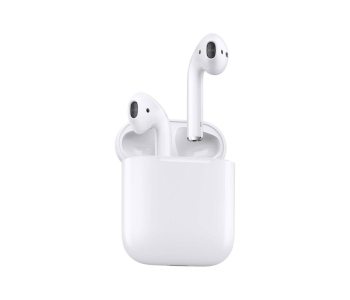 View on Amazon
Editor's Rating: 4.9/5
The Apple AirPods are the go to option for iOS users that is becoming an increasingly common look on the street. For some the design is rather awkward due to the lack of wires, which means they can be easy to lose. However, it provides a very portable experience that's perfect when using your iPhone outdoors. They come in white and have a small practical carrying case.
These are wireless earbuds that last for 5 hours on a single charge. However, you can use the carrying case to achieve a further 24 hours of playing time. You can receive up to 3 hours of battery life for just 15 minutes of charging time.
A dual beamforming microphone is implemented that filters out background noise. This allows you to have clear conversations when there is background noise. Furthermore, you'll be able to communicate with Siri without having to repeat yourself often.
The AirPods provide a rich and high-quality AAC audio experience. It's a competitive option that will bring out the best of various music genres. An H1 chip is included for compatibility with your iPhone, which should give you the peace of mind that you're buying supported equipment.
However, before you go ahead and make the purchase consider a few of the drawbacks that could potentially be a deal breaker for you. The lack of wires might cause you to lose them. The lack of wires might cause you to lose them. The ergonomics of the fit are not the best as there are more comfortable earbuds on this list. There is also no in-line remote due to the lack of wires. This might feel a bit limiting for some users that are used to the feature.
To conclude, the Apple AirPods sound great, have solid battery life, and allows for easy connectivity with all Apple products. However, there are a few drawbacks that you should pay attention to before coming to a conclusion of your own.


Tech Specs
Weight: 6.1 ounces
Wireless: Yes
Battery life: 5 (24 hours in charging case)
Microphone: Yes
The Pros
Great audio
Carrying case with extra battery life
Great compatibility with Apple products
The Cons
No in-line controls
Lack of comfort ergonomics
5. Libratone Q ADAPT Lightning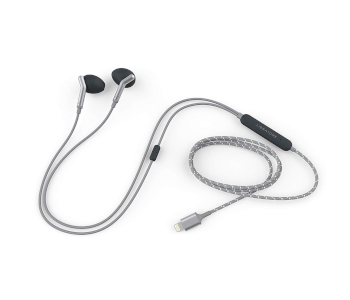 View on Amazon
Editor's Rating: 4.5/5
The Libratone Q ADAPT has a Lighting connection and is therefore specifically designed for the iOS platform. Compatibility with the latest iPhone will not be a problem as you can connect via the Lightning port. Also there is a choice of colors, which includes black, white, elegant nude, and rose pink.
Adjustable noise cancelation is one of the standout features of these iPhone earbuds. There are 4 levels of active noise cancelation that you can choose between in order to match the atmosphere. In some cases, you might want to tone down or turn off the ANC feature to hear the surroundings. ANC helps when you want to travel and not be bothered by other passengers.
The Lightning powered approach means that the earbuds will have a minimal impact on the iPhone battery life. You can listen for up to 52 hours without the need for a bulky battery. The Libratone Q ADAPT provides a premium sound profile that has a full midrange, deep bass, and clear vocals. The end result is superb and competes well with other offerings in the marketplace at a similar price.
A built-in microphone is available to take calls that can be answered using the four button implementation. These buttons can also be used to skip tracks and alter the volume. The braided cable reduces the chances of tangling, which is convenient as you don't have to spend time fiddling around with the cable.
There are a number of eartips to choose from that help you get a great fit, but the overall ergonomics of the design aren't great. The fit isn't as secure as some of the other options on this list, which means they aren't ideal for sporting activities.
To conclude, the Libratone Q ADAPT Lightning earbuds are a great option for buyers that are looking for iOS compatibility, great audio, and adjustable active noise cancelation. The myriad of features here combine to create a compelling set of earbuds.


Tech Specs
Weight: 0.64 ounces
Wireless: No
Microphone: Yes
The Pros
Great audio
Active noise cancelation
Good button controls
The Cons
Lack of comfort ergonomics
Top iPhone Earbuds Under $300
Do you have a big budget and are looking for some of the best iPhone earbuds the marketplace has to offer? Then the two options in this category will be exactly what you're looking for. They are manufactured by some of the best audio brands in the world and have a number of unique features not available in the majority of other earbuds.
You can enjoy adjustable noise cancelation, industry leading durability, audiophile grade audio, and comfortable ergonomics. They are the perfect earbuds to combine with your iPhone if you want to get the most out of it.
6. Bose QuietComfort 20i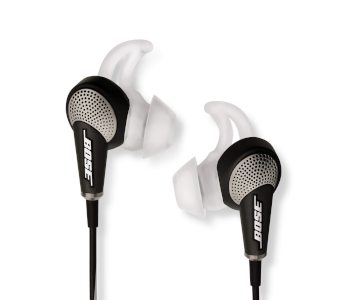 View on Amazon
Editor's Rating: 4.9/5
Bose QuietComfort 20i is the iPhone version of a highly popular earbud model from Bose that we have reviewed in a number of guides such as "Earbuds with Mics" and "Noise Isolating Earbuds of 2019". In both of those guides, it was selected as the top pick due to the overall execution of the various features. It comes in at a premium price point, but you have to decide if the list of features is worth the asking price.
The Proprietary StayHear+ tips provide a fit that is secure and soft, which means the earbuds will not fall out of your ears easily. A gentle seal is achieved that allows for noise isolation – a feature that drastically improves the audio clarity.
Bose offers an industry-leading level of audio reproduction and the QuietComfort 20i is an example of that. Lifelike music can be enjoyed that will be an upgrade over the majority of the marketplace. Furthermore, you can enjoy the Active EQ and TriPort technologies that give you some flexibility in terms of adjusting the audio to your preferences. Buyers at this price range probably know what they are after and these features add more depth to the experience.
They have a noise canceling feature that eliminates unwanted ambient noise and the audio clarity is boosted in the process. The execution of this feature rivals headphone designs and it increases the value when you consider the premium price. Noise cancelation is especially handy when you are traveling via bus, train, and plane, because it can eliminate ambient noise. It can help you get to sleep and relax during long journeys.
However, before making the choice to buy it's a good idea to investigate some of the drawbacks for a fully informed decision. The battery module is very big, which means the portability of the earbuds is somewhat reduced. Also they are on the expensive side and if you shop around you may find cheaper deals that provide comparable quality.
To summarize, the Bose QuietComfort 20i is one of the best iPhone earbuds that you can find right now. The combination of the Bose superior sound quality, noise cancelation, and superb comfort means you can enjoy industry-leading music on your iPhone.


Tech Specs
Weight: 1.6 ounces
Wireless: No
Microphone: Yes
The Pros
Excellent comfort and secure fit
Active noise cancelation
Ability to alter audio settings
The Cons
Very pricey
Large battery unit
7. V-MODA Zn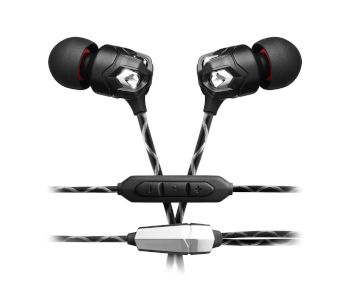 View on Amazon
Editor's Rating: 4.7/5
The V-MODA Zn comes from a reputable brand that focuses on delivering audiophile grade audio and excellent durability. Visually speaking the design looks attractive and offers something different from the rest of the iPhone earbud marketplace. The mix of interesting features here offers something for everyone, but you'll need to decide if they are worth the premium asking price.
The Zinc metal housing ensures durability and a premium feel that is worthy of the asking price. The metal is forged via a patented liquid metal casting process. 8 mm dynamic audio drivers are included that are very accurate and have a distortion of lower than 0.5dB. The frequency response is 2-25KHz, which means you can rely on audio that has powerful bass.
1 pair of ActiveFlex sport earhooks have been included that allow you to use the earbuds when taking part in sporting activities. Furthermore, there are 8 eartips that come in various sizes to help you get the best fit possible. Achieving a superb fit means you can enjoy music with noise isolation that improves clarity.
The 3 button remote and mic add to the experience by allowing you to communicate with Siri and take calls. Crystal clear communication can be achieved via the mic that is highly sensitive to voice-based audio.
However, at this premium price point we must scrutinize the earbuds to ensure the asking price is fair. The buttons could be implemented better as sometimes it's easy to skip tracks when adjusting the volume. Also the highs seem a little dialed back, which can be disappointing for some of the audiophiles among you.
To conclude, the V-MODA Zn provides a number of solid design features such as the durability, wide frequency range, and comfort ergonomics. You'll love to use these earbuds on a daily basis and you can rely on them to stand the test of time.


Tech Specs
Weight: 4 ounces
Wireless: No
Microphone: Yes
The Pros
Excellent comfort and secure fit
8mm awesome audio drivers
Zinc metal housing
The Cons
Highs could be improved