iRobot Roomba 880 vs. 890 – Which Mid-range Roomba Is Better?
3D Insider is ad supported and earns money from clicks and other ways.
iRobot is the best-known robot vacuum cleaner manufacturer in the world. The most advanced Roombas cost a fortune, but each new generational leap also brings lower prices for older models. While no longer the company's crowning achievement, models like the Roomba 880 and 890 still have a lot to offer.
Given their close model numbers, you'd be correct to assume that the two have much in common. However, there are enough differences between them to warrant an in-depth comparison before making your choice. That's precisely what this article brings! Explore what makes each 800-series Roomba unique and make a smarter choice.
| | Roomba 880 | Roomba 890 |
| --- | --- | --- |
| Dimensions | 13.9 x 13.9 x 3.6 in. | 13.9 x 13.9 x 3.6 in. |
| Weight | 8.4 lbs. | 8.4 lbs. |
| Battery type | NiMH | Li-ion |
| Dustbin capacity | 0.3L | 0.3L |
| Operating time | 60 minutes | 120 minutes |
| Spot cleaning | Yes | Yes |
| Brushless cleaning system | Yes | Yes |
| Noise | 65dB | 65dB |
| Wi-Fi connectivity | No | Yes |
| App support | No | Yes |
| Coverage maps | No | Yes |
| Remote control | Yes (physical) | Yes (through a smartphone) |
| Navigates using | iAdapt | iAdapt |
| Cleaning summary | No | Yes |
| Scheduling | Yes | Yes |
| Virtual walls | Two lighthouse beacons | One dual mode virtual wall |
| Price | $599.99 | $392 |
Appearance
Roomba's well-known disk-like look is the trademark of both models. Still, there are enough differences to warrant a comparison. The 880 is black with grey trim, while the 890 is a combination of dark brown and black. There's a sizeable Clean button at the center of either model surrounded by a multifunctional LED ring. It lights up green when the battery is full and the robot is working. Yellow flashes mean that it's charging while red signals that the battery is empty.
The 880 has more physical buttons since it can't connect to Wi-Fi. Controls labeled Dock, Clock, Schedule, and Home are located under the Clean button. Dock sends the Roomba back to its base station. Clock is where you set its internal clock displayed on a monochrome LCD. You can then use either Schedule or the remote to set up cleaning times. Lastly, Spot directs the 880 to focus on a small area and run over it multiple times to suck up hardcore dirt.
The 890's control scheme is more refined. There are only two additional buttons for docking and spot cleaning that form a concentric circle around Clean. Above them are icons that light up and indicate Wi-Fi status, troubleshooting, low battery, and a full bin.
Turning the Roombas over reveals a similar sight. There's a brush with long bristles, the extractor system, and a set of wheels.
+1 for iRobot Roomba 890
Cleaning performance
The main complaint users had about the 700 series was how little pet hair it picked up with its brush rollers. Roomba went back to the drawing board and developed a new set of cleaning tools called extractors. They're textured, chevron-shaped rollers that pick up and push dirt, debris, or pet hair into the center where it gets sucked up by the Roomba's powerful motor. Hair doesn't get tangled anymore since there are no small bristles to snag.
One bristle brush still does exist, but its job is to clean corners and edges by scooping dirt up and directing it inwards. The brush consists of three sets of long bristles and has a long reach. It's effective at removing ingrained dirt and small particles, especially since the Roombas can recognize that they're next to a wall and will run alongside it until everything is clean.
We'd classify the 800 series as all-rounders. Both models are a significant improvement over the last generation when it comes to pet hair removal. However, they excel at getting rid of crumbs or other small debris like rice and sugar. Robot vacuums, in general, don't perform well on high pile carpets, and Roomba isn't an exception yet. On the other hand, the results are excellent on low to mid pile carpets unless you're dealing with fine particulate matter like sawdust or sand. Luckily, the vacuums will still pick most of it up if you have hardwood floors.
The Roombas' dimensions are identical. They're 3.6 inches high and can pass under most furniture without trouble.
Draw
Noise
Roombas in the 800 series aren't the company's quietest models. They produce an equal amount of noise since the motor and cleaning technology are identical. That's 65dB on hard surfaces and 5dB less on carpets. You'll have to raise your voice to maintain a conversation with a Roomba in the same room and definitely won't be able to vacuum while someone is asleep in it.
Draw
Dustbin capacity
Both models have a dustbin you can easily remove by pressing a quick-release button. Its capacity is 0.6 liters, which is enough for daily maintenance but might be too small for pet owners during shedding season.
Draw
Battery
The two Roombas have different batteries, and the 890 performs significantly better in this category. It has a Li-ion battery that extends its cleaning time to a respectable 120 minutes. The 880 has an older NiMH battery that lasts only 60 minutes and takes longer to recharge.
While decisively better on paper, the 890's battery is inconsistent. It will last two hours after one recharge and between ten to twenty minutes less on another. Moreover, both models will automatically seek out the home base to recharge when the battery is low but won't resume cleaning afterward like 900 series Roombas.
+1 for iRobot Roomba 890
Virtual walls & navigation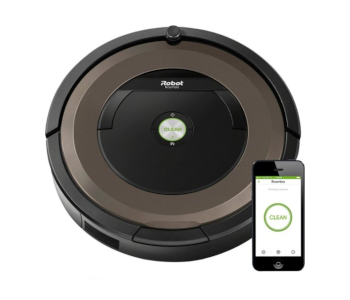 Virtual barriers are a great way of limiting a robovac's movement and a huge step up from magnetic tape. The 880 uses an older style of walls and comes with two. You can set them up at one end of the room, and an invisible line will prevent the Roomba from moving forward. They have a second function called lighthouse beacon. Switching to it helps the 880 get unstuck and find its way back to the docking station by providing a series of waypoints for it to follow.
The 890 comes with what has become Roomba's standard virtual wall. It can cordon off parts of the house but also switch to proximity mode. This extends an invisible barrier around the device and is useful when you need to restrict access to part of the room like your dog's bed or a cat's litter box.
While the 890's barrier is more sophisticated, the lighthouse feature works better in practice. The 800 series isn't as smart at figuring pathfinding out as successive models. Both will wander around the house in one direction and continue to do so until they bump into something. Turning lighthouse mode on helps prevent the 880 from getting stuck in a perpetual loop and draining the battery. The 890 requires a more hands-on approach.
That being said, both models do a decent job when navigating in normal circumstances. Their cliff sensors work well and prevent the Roombas from falling down flights of stairs. The sensors work on carpets with varying pile heights and contrasting patterns. Even dark designs don't pose a problem.
Thanks to the iAdapt technology, 800 series Roombas can get themselves out of most challenging situations. They'll detect when there's a lot of clutter in a close space around them and back up to avoid it. You should remove objects like socks or clothes from the floor before cleaning, but the Roombas are capable of untangling themselves if they run over cables.
+1 for iRobot Roomba 880
Remote control
Rather than calling another draw, we feel that both models deserve a point for remote control since different people will find either more convenient.
The Roomba 880 has an old-fashioned physical remote. Its control scheme is simple; you can steer it directly using a directional pad or engage either spot or regular cleaning modes. The remote's range is only fifteen feet, so you'll need to be in the same room as the vacuum.
One segment of the iRobot app contains navigation controls. They work the same as the remote but use your smartphone's screen instead. Another advantage is that the range is unlimited since you use Wi-Fi. Technically, you could navigate the 890 from anywhere in the world; the results would likely be mixed since there's no camera.
+1 for iRobot Roomba 880
+1 for iRobot Roomba 890
App
The 890 uses the excellent iRobot HOME app. It features a simple, clean design while allowing access to many useful features and settings. Opening the app brings you to the dashboard dominated by a large Clean button. That's also where you can check on the battery's current status. The app lets you create weekly schedules where you specify the time and date of cleaning. There's a maintenance page that shows the status of various parts and reminds you to clean them periodically. You'll need to change the extractors and filters periodically too, which is when the store tab comes in handy.
Floor coverage maps are the app's best feature. Each time the 890 runs, it will create a map showing which parts of your home it cleaned and how many times it has passed over problematic areas. The data provides valuable insight into the vacuum's cleaning patterns and helps you detect neglected areas. Coverage maps are accompanied by detailed history stats like cleaning duration and covered area for each job.
Notifications are another reason having an app is beneficial. They'll arrive on your phone once a cleaning job is completed successfully or when the battery gets low. Notifications are particularly useful when the vacuum gets stuck and needs your help to resume work.
iRobot HOME doesn't support the 880.
+1 for iRobot Roomba 890
Voice controls
The 890 supports voice control through Amazon Alexa and the Google Assistant, two of the most popular AI assistants on the market. Setting this up is straightforward and requires that you have a compatible device like a smart speaker. You'll have to download a specific set of instructions known as a skill. You can then ask the assistant to start, stop, and pause cleaning. Other useful voice commands include a location request that causes the vacuum to beep, sending it back to the base station, and setting up a cleaning schedule.
The 880 lacks this feature entirely.
+1 for iRobot Roomba 890
Pricing & availability
You'd expect that the 880 would come out on top in this category since it has fewer features and should be cheaper. That might have been the case a few years ago, but today the 890 has the upper hand. The main reason for this is the 880's spotty availability. You can't get it from the official iRobot store anymore, and the few units left on Amazon are either used, refurbished, or going for much more than they're worth.
Meanwhile, the 890 has managed to retain its popularity and is still being made today. It's marginally worse than the 900 series yet costs less than $400 when not on sale. You should also be able to find parts for it more easily.
+1 for iRobot Roomba 890
Conclusion
Why choose
Roomba 880 (2 points)
Roomba 880 (6 points)

Better navigation thanks to lighthouse beacons
Remote control helps with room coverage

Long-lasting battery
Can be controlled from anywhere
Sleek design
Excellent companion app
Voice control
Better price and availability
It's clear that the Roomba 890 is the superior product. Its integration into the smart home and better battery make the 890 an appealing choice, and its affordability is reason enough to purchase one over more recent yet more expensive models.
Unfortunately, iRobot has neglected the 880. We'd be more inclined to recommend this model under different circumstances as there's a lot to like about it if you aren't hung up on app control. Most importantly, its cleaning performance is on par with the 890. We recommend you buy one only if you manage to find an unused unit at a reasonable price.