Is a GoPro Worth It? The Pros & Cons of the World's Most Famous Action Camera
3D Insider is ad supported and earns money from clicks, commissions from sales, and other ways.
GoPro knows how to sell you on an action camera. Just take a look at their promotional videos, and you'll see people biking down sandy dunes or kayaking inside breathtaking fiords, all captured in vivid detail. The message is unmistakable – if it's an adventurous moment in your life worth remembering, you should record it for posterity with a GoPro.
The videos make it seem like a GoPro is the best thing ever, but is that really the case? If you've been on the fence about whether or not the hype is justified and a GoPro is worth it, you've come to the right place. This article explores the current GoPro HERO lineup in detail. You'll get to see what makes these cameras stand out from the rest and what to look out for before you buy. In the end, you'll have a better idea of what to expect from your GoPro and can decide whether it is worth the asking price.
What are the benefits of getting a GoPro?
When people think of action cameras, GoPro is the first name that comes to mind for a reason. Here's why these cameras receive so much praise
Portability & build quality
A GoPro is far lighter and smaller than a DSLR or even your trusty point and shoot. At 1.8 x 2.4 x 1.3 inches and weighing just over 4 ounces, the last three generations of GoPro HERO can easily fit into any pocket or traveling bag. Their accessories are small too, so you can fit more of them into a limited space. Since portability isn't an issue, you'll be more likely to want to bring the GoPro with you and use it.
Don't let the cameras' small form factor fool you into thinking that they're fragile. Every GoPro has a case made from durable plastic that offers a comfortable grip and can withstand incredible amounts of punishment. There are videos of people dropping their GoPro from various heights or speeding cars, running over it with a bike, or even setting off an explosion next to it. The GoPro survived every time.
Different models for different needs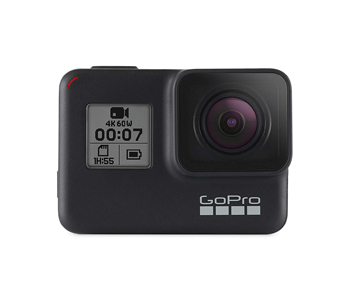 The flagship GoPro HERO Black is on its 7th edition, but it's not the only GoPro worth buying. You can also get the HERO7 Silver or HERO7 White. Both are stripped-down versions of the Black which offer fewer features but cost less. The HERO7 Silver records videos in 4K, albeit at 30 fps and has GPS. The HERO7 White is the least expensive current model and is limited to 1080p video at 60fps. Both cameras shoot 10MP stills in JPEG only. They have built-in batteries, no external mic or HDMI output, and aren't compatible with some GoPro accessories.
Each time a new series of GoPros hits, the last one receives a discount. That means you can get the HERO6 Black and HERO5 Black at alluring prices. The two older flagship models still offer excellent value for the money, especially if you don't care about improved stabilization and sharing options. There are many GoPro enthusiasts who buy every new version of the camera, so you might be able to snag a once top-of-the-line model for even less money if you don't mind buying used.
Lots of diverse accessories
A GoPro might be versatile in its own right, but you won't be able to make full use of it if you don't get an accessory or three. There are dozens of GoPro-compatible accessories with as many unique applications. You can get straps and mounts to attach it to your helmet, bike, ski pole, or even your pet! There's a range of gimbals, tripods, and selfie sticks to help you make the perfect shot. If you want a rounded experience, you'll need a protective case as well as a capable charger and a spacious SD card which doesn't drain much power.
Best of all, the GoPro's shape hasn't changed since the HERO5 Black, meaning that every accessory released since its launch is also compatible with newer Black models.
Waterproofing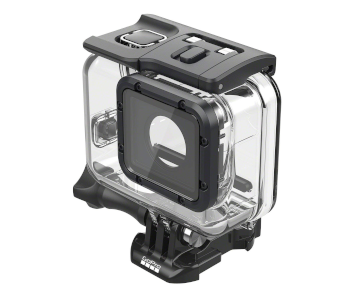 GoPro isn't the only action camera with waterproofing, but it is one where the feature never disappoints and is getting better with each iteration. Up until the HERO 4, you had to use a waterproof housing to record scuba diving and other aquatic adventures. Since then, every GoPro model has been waterproof on its own. That means you don't have to worry about improperly closing the housing and have more room for other GoPro accessories.
New GoPro models are waterproof up to 33 feet. However, you can buy two kinds of waterproof housing and significantly increase the depth. Regular housing allows you to take the GoPro down to 140 feet while the Supersuit dive housing increases the maximum depth to a whopping 196 feet!
Being waterproof means that you can use the GoPro in situations where you wouldn't want to risk your DSLR. Humid mornings with a lot of fog, downpours, snow, salty or sandy air – none of these have an impact on the GoPro's performance.
Image stabilization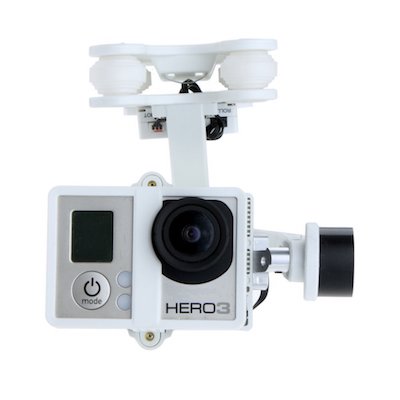 You can't expect to hold your camera steady while braving the rapids or barreling down a mountain. The action shots you'd get from these experiences with a different camera would be unsuitable for sharing. Not so with the last three generations of the GoPro HERO Black.
The GoPro HERO5 introduced Electronic Image Stabilization or EIS which smoothed footage out considerably but was only usable on 1080p videos at 60fps. EIS received a substantial upgrade in the HERO's next iteration and started supporting 4K videos thanks to the new G1 processor. Finally, the GoPro HERO7 Black comes with HyperSmooth. This technology combines EIS with new stabilization hardware that all but eliminates the need for a traditional gimbal.
The results of HyperSmooth are remarkable! It will stabilize anything from a bumpy downhill bike ride to a bungee jump better than anything the competition has to offer. HyperSmooth also allows for the creation of stabilized time-lapse footage called TimeWarp. You can use TimeWarp to document a road trip or capture an unforgettable city tour and never worry about shaky footage.
High-quality video
GoPro cameras are nothing if not versatile when it comes to choosing a video mode. The two newest Black models are capable of capturing footage in 4K at 60fps, 30 if you're using an aspect ratio of 4:3 instead of 16:9. The HERO5 Black is three years old, but it too can shoot 4K at 30 fps. While 4K isn't the norm yet, it's nice to be able to watch your adventures in crystal clarity on a gigantic TV. Once it does become standard, you'll be glad you've invested in a futureproof action cam.
More importantly, GoPro cameras offer a wide selection of smaller resolutions with high framerates. The HERO7 Black can shoot in 2.7 K at a maximum of 120fps. 1440p videos are capped at 60fps while 1080p goes all the way up to 240fps! Such high framerates are ideal for creating slow-motion videos that capture smooth action up to 8 times slower than normal.
Different fields of view
A fixed field of view is one of action cameras' most prominent limitations. Being able to capture everything that's in front of the camera comes at the cost of barrel distortion, which is especially visible if there are people at the edge of the view. GoPro cameras support three fields of view – Wide, SuperView, and Linear
Wide is the GoPro's default setting. Photos and videos made in it have the characteristic GoPro fisheye view with some barrel distortion. SuperView is useful when you want to capture a panorama shot since it increases the viewing angle but squashes the middle of the picture and makes the barrel distortion more severe. You'll want to use Linear mode to eliminate barrel distortion. In this mode, the video is cropped and limited to the center of the lens. This gives you a smaller viewing angle to work with but also makes the video look like it was shot with a regular camera.
Easy to control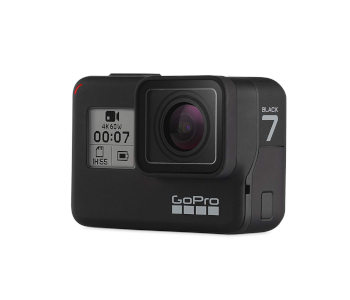 The last thing you want to be doing while tackling a halfpipe is fiddling with your action camera's settings. That's why there are different ways of controlling your GoPro. First, there's the intuitive touchscreen. It has finally reached a place with the HERO7 Black where the layout is both logical and easy to see thanks to green accents for the battery life and menu items. The screen reacts quickly to touch, even if your fingers are wet.
Voice commands are what makes GoPro cameras different from the rest. With a single word, you can have the camera start recording or take a picture. That way, you can wait until the perfect moment to capture an experience or use the camera while it is mounted. Earlier models had trouble responding to voice commands. While this does still occasionally happen on the newest HERO Black, voice commands are now more dependable than ever.
Using your smartphone and GoPro's excellent app is another streamlined way of control. The app connects to your camera through Wi-Fi and has a live view of what the GoPro sees. That makes it easy to mount the camera in place and control it from afar or have another person film your exploits so you can concentrate on experiencing them. The app provides the easiest way of uploading your media or transferring it onto another device. It's also capable of extracting shots from videos.
Streamlined video editing
You might take hundreds of photos and create dozens of videos during a trip yet end up not knowing what to do with them. The GoPro app has a feature called QuickStories that takes the work out of editing and leaves you with presentable stories to share. It takes all of your recent footage, cuts it up, and rearranges what it thinks are the highlights into a single short video. The scenes are chosen well, and transitions from one snippet to another look professional. The app will even enhance the video by adding royalty-free instrumental music to it. You can make minor tweaks to the final result or share it right away.
Advanced sharing options
Apart from HyperSmooth, advanced social media sharing options are the HERO7 Black's greatest new feature. It is now easier than ever to either post pics & videos to your Instagram stories or start a live stream on Facebook. Setting either up requires you have the corresponding social media app and the GoPro app installed. A few logins and granted permission requests later, and you're ready to show your content to the world with a few taps.
Are there any drawbacks to consider?
Even though they come closest to perfection, GoPro cameras do have a few shortcomings you should be aware of. These aren't deal-breakers, but you'll want to take them into account before buying.
Short battery life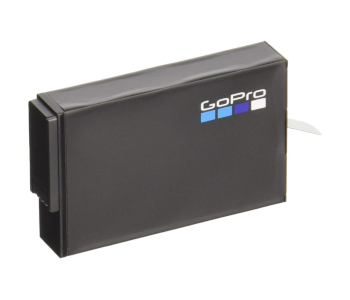 Short recording times and quickly-draining batteries are GoPro users' biggest and most frequent complaints. A full charge lets you record video for an hour straight. That's hardly enough for a day's worth of skiing or snorkeling, which is why you'll want to bring spares. Using quality SD cards and sticking to certain settings will give you a few extra minutes, but no trick is a good enough substitute for an extra battery.
Charging a battery takes two hours if you're using a wall charger, four if it's connected to a computer and charging through a USB cable. This is an even more serious drawback for the HERO7 Silver and White since their batteries aren't removable.
Poor low-light performance
GoPros shine while it records your activities during the day or in brightly-lit rooms. However, their performance starts to degrade as soon as there isn't enough light. Unfavorable weather conditions like dark clouds cause the color palette to become cooler and add a blue tint to the footage. Shooting past sunset or indoors with little light produces videos with lots of noise and detail loss. You can offset this by bringing a portable light or flash, but these take up space, and the results are never as good as shooting in sunlight.
Fixed focal length & no zoom
GoPros can shoot 12-or 10-megapixel stills, but they are much more limited than conventional cameras. We've already mentioned their behavior in low light and barrel distortion, but a lack of zoom and focal length adjustments are equally hindering. You need to keep the camera at least 12 inches away from your subject, or else the picture becomes blurry. No zoom means you can't shoot insects or get a closer look at intriguing landmarks off in the distance.
Older models have poor microphones
Sound quality isn't one of GoPro's strong suits but has been upgraded to acceptable levels with the release of the HERO7 series. Keep in mind that the sound quality in earlier GoPro versions is low and the action sounds muffled.
Cost & incremental improvements
Be prepared to spend a pretty penny if you want the latest GoPro HERO Black as it is among the most expensive action cameras on the market. Luckily for you but not for GoPro, you don't need to spend that much on a good GoPro because the newest models bring small improvements over older ones.
Conclusion
So, is getting a GoPro worth it? If it's your first GoPro or you're upgrading from an inferior action cam, then yes. You won't find better video quality, ease of use, and value from the competition.
The answer isn't as clear-cut if you already own a GoPro. The last three HERO models have the same physical specs and battery, so differences boil down to the small improvements each new version brings. There's little reason to upgrade if you already own a HERO5 Black and don't care for an action cam's social aspect or advances in stabilization. However, waterproofing without a housing, a new set of accessories, and marked advances in video & audio quality are reason enough to get a new GoPro if you have a HERO4 Black or older.