Headphones Comparison: Jabra Elite 75t vs. Jabra Elite 65t
3D Insider is ad supported and earns money from clicks, commissions from sales, and other ways.
If you have a more limited budget and want the more affordable option, choosing between the Jabra Elite 65t and the newer Elite 75t is easy – the former is the obvious choice. But if their price difference is not an issue and you want to end up with the headphones that best suit your needs, it's more difficult, as both products have different strengths.
You can't just compare their technical specifications and base your decision on that, especially since they are similar in many aspects. To make a more informed decision, you need to carefully consider their individual strengths and weaknesses, along with their similarities.
And that's where this guide comes in. In this head-to-head comparison, we'll give you a detailed look at what separates the two Jabra headphones from each other. In addition, we'll also point out areas where they are similar and straight-up identical.
Quick Look
Jabra Elite 75t
Jabra Elite 65t
Type
Truly wireless in-ear
Truly wireless in-ear
Enclosure
Closed-back
Closed-back
ANC
No
No
Connectivity
Bluetooth 5.0
Bluetooth 5.0
Battery
7.5 hours
5 hours
Weight
Headphones: 0.38 oz
Case: 1.2 oz
Headphones: 0.43 oz
Case: 2.4 oz
Price
Amazon
Amazon
Design
It's not much of a competition between the Elite 75t and the Elite 65t regarding the overall design – the former is the runaway winner here. They are much more comfortable to wear, especially if you have small ears, and have better controls and a better-designed charging case. They also include a more modern USB-C charging cable instead of micro USB. The Elite 75t are better than their predecessor in all five categories in this section.
But that doesn't necessarily mean the Elite 65t are poorly designed headphones. They are also well-designed headphones, with good controls and a stable fit. Their build quality is good, with the exact same IP rating as their successor, while their portability is excellent. However, the Elite 75t are simply better-designed headphones from top to bottom.
Fit
The Elite 75t and the Elite 65t are both truly wireless headphones featuring an in-ear design, with three ear tip options to choose from. Unlike some sports earphones like the Jaybird Vista and the Beats Powerbeats Pro, they lack stability fins and ear hooks, but they stay securely in your ears nonetheless, which is beneficial if you plan to use them for running and working out.
Although the two earphones are similarly stable and breathable, they are not the same regarding overall comfort. The Elite 75t are much more comfortable to wear than their predecessor, making them more suitable for long listening sessions. In fact, they are some of the most comfortable truly wireless earphones out right now. Compared to the Elite 65t, they are noticeably smaller and have a more ergonomic design that makes them a better option if you have small ears.
For both earphones, comfort and stability will ultimately depend on your ear shape and size, which can also be said for other in-ear headphones. But most people will find the Elite 75t more comfortable to wear for long periods, mainly due to their smaller design. If none of the ear tips included with both earphones is a good fit for your ears, you'll need to look into third-party silicone and foam ear tips.
Build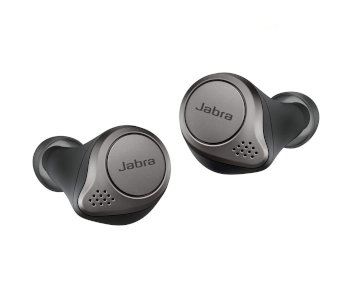 Both earphones are well-built, with their plastic shells appearing sturdy and durable and capable of surviving a few accidental drops. Their identical IP55 ratings mean they are protected against both dust and water up to a certain degree, with their water resistance making them better-protected against sweat and allowing them to survive after being exposed to light rain.
While the two earphones are similar in build quality, it's a different story for their cases, which also serve as their charging stations. The newer Elite 75t have a better-designed and better-built charging case. Unlike the Elite 65t charging case, it has a more secure (but still easy to open) lid and features a flat bottom, allowing it to stand upright on your desk. Most importantly, it has magnets that keep the earphones in place when docked.
Regarding aesthetics, the Elite 75t and the Elite 65t are slightly different. The former is smaller and has a more streamlined design that allows for a more discreet look, while the latter is noticeably bulkier and includes short stems extending out. Both earphones are available in different colors. As of this writing, Jabra offers titanium black and gold beige options for both products. BestBuy also offers exclusive color options for both earphones: all-black for the Elite 75t and copper black for the Elite 65t.
Controls
The Elite 75t have better controls than the Elite 65t, but not by a wide margin. Composed of a multi-function button on each earpiece, their control scheme is more user-friendly and includes more functions. With the right button, you can play or pause music, manage calls, increase the volume, and activate your voice assistant. With the left button, you can skip tracks, decrease the volume, and toggle the ambient sound mode, as well as mute the mic and toggle the sidetone during calls.
While it appears identical at first glance, the Elite 65t have a slightly different control scheme that can be confusing initially. They have a multi-function button on the right earpiece that allows you to play or pause music, manage calls, activate your voice assistant, and toggle the ambient sound mode. Unlike with the Elite 75t, the button on the left earpiece is a rocker type with tiny bumps on the left and right edges as markers. You can use this button for track skipping, adjusting the volume, and checking the battery status.
Both earphones have an auto-pause feature, with the audio automatically pausing when you take out one unit from your ear. In addition, both have auto-on and auto-off features: they automatically turn on when you remove them from their case and turn off when you put them back in. Their control buttons are also used for initiating the Bluetooth pairing and for manually turning them on or off. Unlike with other truly wireless headphones, you can't customize their controls on their companion app, though this may change with future updates.
Portability
The Elite 75t and the Elite 65t are both extremely lightweight and compact headphones that are easy to carry for everyday use. Their charging cases are pocket-friendly and will easily fit into most pockets and take up minimal space in your bag. However, as mentioned earlier, the Elite 75t have a better-designed charging case, allowing them to edge out their predecessor in this category.
In addition to having more additional charges, their charging case is lighter and has magnets to keep the earphones in place when docked. The charging case of the Elite 65t lacks magnets and has a less secure lid, which means the earphones are more prone to tumbling out of the case when you drop it or throw it inside your backpack.
Accessories
The two Jabra earphones are nearly identical regarding accessories, with both including three ear tip options, a charging case, and a charging cable. The only difference between them is their charging cable types: the Elite 75t include a more modern USB-C cable that many people will prefer while the Elite 65t still include a micro USB cable.
Performance
Unlike in the design section, the Elite 75t are not the clear winner in overall performance, with their predecessor either matching or besting them in several areas. Both have good audio reproduction, though their sound profiles are different. Their mic performances are similar while their connectivity features are the same, with both earphones featuring Bluetooth 5.0, multipoint technology, mono mode, and a nice companion app for customization.
The most notable differences between the two earphones – not counting their different sound profiles –lie in the noise isolation and battery categories. The Elite 65t provide better passive noise isolation, which adds to their versatility, while the Elite 75t have much better battery performance, offering more battery life per charge and almost double the total battery life.
Sound
The Elite 75t and the Elite 65t are both good-sounding earphones, with good bass, mid-range, and treble, but their sound profiles are different. The Elite 75t have a more exciting sound profile that many consumers will prefer. Their bass-heavy sound makes them more suitable for hip hop, electronic dance music, and other bass-heavy music genres. They are the better earphones for listening to music while running and working out.
On the other hand, the Elite 65t sound more neutral and better-balanced overall, with a lighter but more accurate bass. They are more musical and will impress audiophiles more than their bass-heavy successor. However, many people will also find them boring because of their more neutral sound profile. There is no winner or loser in this category, though – it's all about preferences in the end, as everyone has different tastes.
In addition to listening to music, both earphones are suitable for listening to audiobooks and podcasts and for watching movies and other video content on your mobile device. If you don't like their default sound signatures, you can slightly modify their sound using the Jabra Sound+ app, which includes a graphic equalizer with a few presets.
Isolation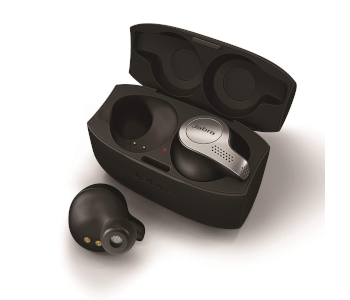 Both earphones have tight in-ear seals and provide good passive noise isolation, but the older Elite 65t are much better in this department. They are decent at reducing the sound of airplane and bus engines and are good at blocking out background chatter and high-frequency noises. They are better for reducing ambient noise in the office and during flights and commutes. The Elite 75t are also good at blocking out background chatter and high-frequency noises, but they are poor at reducing low-frequency noises.
Regarding sound leakage, the two earphones are the same. Even when listening to loud music, their sound leakage is minimal. This allows you to increase the volume to further reduce ambient noise in noisy places without worrying about bothering people around you. Their low sound leakage is also beneficial when listening to music in a quiet setting with other people sitting or standing close to you.
Both earphones have an ambient sound mode that allows you to monitor your surroundings without removing them from your ears. This feature is useful in situations like when ordering something in a coffee shop or when listening for announcements in a public transport hub. Using their companion app, you can adjust how much background noise you want to hear when the ambient sound mode is enabled, with the option to mute the audio upon activating the feature.
Mic
Featuring similar four-mic systems, the Elite 75t and the Elite 65t are some of the better ones among truly wireless headphones regarding mic performance. Their noise reduction and recording quality are good for truly wireless headphones, but compared to headsets with actual boom mics, they are inferior in both of those aspects. While their integrated mics are not exactly great, there are many other truly wireless headphones with a much worse mic performance.
Battery
The Elite 75t have better battery performance than their predecessor, which is one of their highlights and likely the first thing you'll notice when comparing the two products. They can run up to seven and a half hours per charge and have a total battery life of 28 hours with the additional charges in their case. Although their battery life per charge is still not as good as that of the Powerbeats Pro, the Samsung Galaxy Buds+, and the Creative Outlier Air, their total battery life is one of the best marks among truly wireless headphones.
With their five-hour battery life per charge and 15-hour total battery life, the Elite 65t are certainly not as impressive regarding battery performance. They are not bad, as there are many other truly wireless headphones with a shorter battery life per charge, but their total battery life is a bit disappointing. They are less suitable for extended hours in the office and particularly long flights.
The two earphones have identical quick-charge features: both gain about one hour of playback after a 15-minute charge. Their power-saving features are also the same, with both of them featuring auto-off timers that trigger when certain conditions are met, allowing them to conserve power. They turn off after 15 minutes when they are not connected to any Bluetooth device. They also turn off after being idle or inactive for one hour.
Connectivity
The newer Elite 75t boast a better wireless range and have lower latency when watching YouTube videos on mobile devices, but aside from these differences, the two earphones are similar in this category. Both are equipped with Bluetooth 5.0 and are compatible with iOS and Android devices, with their multipoint features allowing them to connect with up to two devices at the same time.
With their multipoint features, you can play music on one device and still receive calls on another connected device. This allows for faster switching between two sources, which is especially beneficial if you have multiple Bluetooth devices. On the other hand, both earphones lack NFC technology for faster pairing and can't be used in wired mode, which is typical for truly wireless headphones.
If you prefer to be more aware of your surroundings, especially while outdoors, you can use the earphones in mono mode. For both the Elite 75t and the Elite 65t, only the right earpiece – which is the master unit – can function in mono mode. Instead of independently connecting to a Bluetooth device, the left earpiece simply connects to the right earpiece. This means if you lose the right earpiece, the left earpiece becomes useless.
The two earphones are compatible with the Jabra Sound+ app, which is one of the better headphone apps out there. Available on both iOS and Android, the user-friendly app allows for a good amount of customization for both earphones – including options to modify the sound profile, change your voice assistant settings, and adjust the ambient sound mode. You can also use the app to check the last known location of your earphones if you lose them.
Wrap-up
Jabra Elite 75t
The Elite 75t are great truly wireless headphones that are good for everyday use, with their ergonomic design making them some of the most comfortable earphones out there. Their build quality is good, with an IP55 rating for dust and water protection, and they include a pocket-friendly, magnetic case that keeps the earphones securely in place. Their control scheme is one of the most complete among truly wireless headphones while their companion app offers a good amount of customization options.

Although they have weaker noise isolation and a more bass-heavy sound that some will not like, the Elite 75t are better than their predecessor in many aspects. They have a smaller, more ergonomic in-ear design that makes them more comfortable to wear for long hours. Their battery performance is better, with a longer battery life both per charge and total. In addition, they have a better-designed case, a more user-friendly control scheme, and a better wireless range. If you don't mind their weaker noise isolation and more bass-heavy sound, the Elite 75t are a better option than the Elite 65t.
Pros
Cons

Very comfortable in-ear fit
Secure case with magnets
IP55 rating for dust and water resistance
Good passive noise isolation
Multipoint support
Good app customization options
USB-C charging cable

Only the right unit is usable in mono mode
Bass can be overwhelming
Jabra Elite 65t
The Elite 65t are some of the most popular truly wireless earphones on the market. They are well-designed earphones with good sound quality, great passive noise isolation, and an IP55 rating for dust and water resistance. Their charging case is pocket-friendly while their onboard controls are easy to use once you become familiar with the button layout and functions. While not as comfortable as other in-ear headphones, they stay securely in your ears despite lacking stability fins and ear hooks.

Compared to their successor, they provide better noise isolation and are more suitable for blocking out ambient noise during commutes and flights. Their sound profile is also better-balanced, with a less overpowering bass, but their battery life is shorter. They are more affordable than the Elite 75t, with many resellers now offering them for a much lower price than their $170 launch price. Although their successor is the better product overall, the Elite 65t are the better option if you prefer truly wireless earphones with better noise isolation and a more neutral sound.
Pros
Cons

Good sound quality
Pocket-friendly charging case
IP55 rating for dust and water resistance
Great passive noise isolation
Multipoint support
Good app customization options

Short battery life per charge
Only the right unit is usable in mono mode
Bulky design