Headphone Comparison: Jaybird Freedom 2 vs. Jaybird X3
3D Insider is ad supported and earns money from clicks, commissions from sales, and other ways.
If none of Jaybird's current line-up of sports headphones is within your budget range, check out the Jaybird Freedom 2 and the Jaybird X3. They are older, more affordable models that can be bought for around $80 or less. Although they are not as good as Jaybird's newer products, both are still great headphones for sports use, whether you are an athlete or a fitness enthusiast. Both are also solid all-around headphones that are decent for casual everyday use.
While both headphones are designed for the same usage and are similar in many areas, they are not completely the same, with each offering something that the other does not have. In this head-to-head comparison guide, we'll highlight the strengths, weaknesses, and similarities of both products to help you decide with your purchase.
Quick Look
| | Jaybird Freedom 2 | Jaybird X3 |
| --- | --- | --- |
| Form Factor | In-ear | In-ear |
| Enclosure Type | Closed-back | Closed-back |
| ANC | No | No |
| Connectivity | Bluetooth | Bluetooth |
| Battery | 4 hours | 8 hours |
| Weight | 0.53 oz | 0.46 oz |
| Price | Amazon | Amazon |
Design
On the surface, the Freedom 2 and the X3 appear to be a pair of sports earphones with little difference in overall design, considering their similarities in form factor and build quality. Both products are also available in different colors. But if you look closely, you'll notice there are differences in their structures that directly affect comfort level and ease of use.
Fit
The Freedom 2 and the X3 are both in-ear headphones or earphones with behind-the-neck cables that connect to their earpieces, which have closed backplates. They are similar to wireless neckband headphones but without an actual solid neckband. They have stability fins for better support – which is especially important during rigorous training – and can be worn either over or under your ears depending on your current activity. Both are lightweight and breathable, but the Freedom 2 are more comfortable overall and are less fatiguing to wear for long workouts.
Although they are technically earphones, the Freedom 2 are more of a cross between earphones and earbuds. Their earpieces are sleeker and don't enter your ear canals as deep as typical earphones. They might remind you of Bose headphones featuring "StayHear+" ear tips, which are technically earbuds but look like typical in-ears. The Freedom 2 also allow for easier cable adjustment due to their "SpeedFit" integrated cable management.
On the other hand, the X3, which have a typical in-ear design, allow for more fit customization. Unlike with the Freedom 2, their ear tips and stability fins are individual units. You can combine different ear tips and stability fins to get the most comfortable and most secure fit for your ears. Furthermore, the X3 have more ear tip options in the box, including foam ear tips for better noise isolation.
Build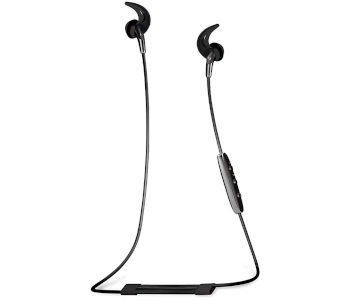 While both are made of plastic, the Freedom 2 and the X3 are durable sports earphones that are protected against sweat, but they don't have official IP ratings. Their build qualities are similar, especially regarding the earpieces. Both of their earpieces are made of tough plastic material and feel sturdy, while their respective audio cables are durable. However, the Freedom 2 are slightly inferior in overall build quality due to their in-line remote, which comes off as a bit more cheaply implemented than that of the X3.
Controls
Like other sports-oriented earphones with a behind-the-neck design, the Freedom 2 and the X3 have in-line remotes with the usual three-button configuration for controls. Using their remotes, you can manage your calls and music, adjust the volume, and initiate the Bluetooth pairing process. When there is no music playing, you can also check the battery status using the volume buttons.
Other than the aforementioned minor build quality difference, there is no big difference between the in-line remotes of the Freedom 2 and the X3 – their overall control schemes are simple, effective, and user-friendly. You can easily access their in-line controls, whether their cables are tightened or loosened depending on your workout intensity.
Portability
Both the Freedom 2 and the X3 are very portable earphones that are easy to carry not only for daily workouts but for casual everyday use. While they are not on the same level as truly wireless earphones, they are extremely compact and lightweight, with their small weight difference being practically negligible. When traveling to the gym, you can either simply wear them around your neck or put them in their travel pouches, which are also compact and lightweight. Moreover, their cables are shorter than that of regular wired earphones, allowing for easier cable management.
Accessories
Regarding accessories, the X3 have the advantage, offering more ear tip options. In addition to their silicone and foam ear tip options, they include multiple stability fins – also made of silicone – cable management clips, a shirt clip, a soft pouch, and a USB charging cable. The foam ear tips are especially welcome since not everyone is a fan of silicone ear tips.
The Freedom 2 also include a shirt clip, a soft pouch, and a USB charging cable. But they have fewer ear tip options, with no foam ear tips included among them. And since their stability fins and ear tips are not individual units, there are no separate stability fin sizes to choose from, which can be a problem if none of the included hybrid ear tips is a good fit for your ears. The Freedom 2 also include a charging clip, which doubles as a battery pack for extended playback (more on this in the next section).
Performance
The X3 are better than the Freedom 2 in several areas. But excluding battery life, their differences are not that wide and won't be noticeable for many people. In other aspects – including mic performance, charge time, Bluetooth connectivity, and app support – they are about the same.
Sound
Both the Freedom 2 and the X3 are decent-sounding earphones that will sound consistent among different users. While they are not recommended for audiophiles who are looking for good-sounding earphones that are also suitable for sports, they will satisfy most people with their sound profiles. You can modify them for specific music genres with the Jaybird MySound companion app, which offers presets and a parametric equalizer. Out of the box, the X3 are better-sounding overall, with a more balanced mid-range and a more accurate bass.
Isolation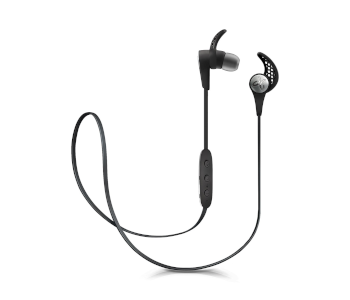 With their in-ear seals, the Freedom 2 and the X3 offer passive noise isolation, and both are good in that department. Both are effective at blocking out background chatter and are suitable earphones for commute and office use. However, both are not as good as some of the best noise-canceling headphones when it comes to blocking the sound of airplane and bus engines.
The X3 have better noise isolation with their foam ear tips, but many people are not going to notice the difference, especially with music playing. Regarding sound leakage, the X3 are also better, allowing you to increase the music volume to further reduce ambient noise without worrying about the audio bleeding out too much. The Freedom 2 have low sound leakage, too. But if you want to blast your loud music in quiet places without disturbing other people, the X3 are the safer option.
Mic
There isn't much to say about the mic performances of the Freedom 2 and the X3. Both of their mics are subpar and not suitable for phone calls in noisy environments. But while they are not recommended for business calls, they are adequate enough for casual phone calls in a quiet setting. If you want sports earphones with better mic performance, check out the Jaybird Tarah instead.
Battery
The X3 have a longer battery life per charge and are more suitable for long training and workout sessions. They can run up to eight hours on a single charge, which is also good enough for typical commutes and work shifts. You can use them for a few hours in the office and you'll still have enough battery for a quick session at the gym or for a short run after work.
Technically, the Freedom 2 also have an eight-hour total battery life, but only when their charging clip is involved. Their internal battery can run up to only four hours per charge, which is one of the shortest marks for wireless sports earphones, not counting truly wireless earphones. Their charging clip holds an additional four hours of battery. While the earphones can be used with the charging clip attached, it makes for a more cumbersome setup.
Both the Freedom 2 and the X3 can be fully recharged in less than two hours, although their official specifications state two and a half hours of charging time. Moreover, they have fast-charge features, with both earphones providing one hour of playback after 20 minutes of charge time. Their fast-charge features are not as good as that of other wireless headphones – the Jaybird Tarah Pro, for instance, provide two hours of playback after five minutes of charging – but they are still useful.
Connectivity
The Freedom 2 and the X3 have good wireless ranges and can easily pair with Bluetooth devices, but both don't support NFC for faster pairing. Both can connect with multiple devices at the same time and allow for easy switching between sources, which is convenient in some situations. They share the same companion app – the Jaybird MySound app – which is compatible with both Android and iOS devices. Unlike some wireless neckband earphones, the Freedom 2 and the X3 can't be used in wired mode with an analog audio cable, limiting their connectivity options to Bluetooth.
Wrap-up
Jaybird Freedom 2
The Freedom 2 are great earphones for sports use, with their stability fins making for a more secure fit and their integrated cable management allowing for easy fit adjustment. They are more comfortable to use for long training sessions than the X3, but their battery life per charge is shorter. Although they are clearly designed for sports, they are also suitable for casual everyday use, with their good passive noise isolation and low sound leakage making them decent earphones for commuting and office use. If you prefer sports earphones that are more comfortable than typical earphones and provide easier cable management, the Freedom 2 are the better pick.
Pros
Cons

Integrated cable management system
Secure and stable fit
More comfortable in-ear design
Good passive noise isolation
Low sound leakage
Decent app support

Short battery life
Mediocre mic performance
Jaybird X3
The X3 are better than the Freedom 2, offering most of what the latter brings to the table on top of their own strengths. Their default sound, build quality, passive noise isolation, and sound leakage are all better. Most notably, their battery life per charge is longer, making them more suitable for long listening sessions. However, they have a conventional in-ear design and are not as comfortable as the Freedom 2. But on the bright side, they offer more fit customization options, with options to select different stability fin sizes and choose between silicone and foam ear tips. Unless you prefer a more comfortable design or simply don't like their color options, the X3 are the better buy overall.
Pros
Cons

Tough build quality
Breathable and stable in-ear fit
Lots of ear tip options
Good passive noise isolation
Minimal sound leakage
Decent app support

Less comfortable to use for long hours
Subpar mic performance