JBL Xtreme vs. UE Megaboom – Which Wireless Speaker Should You Get?
3D Insider is ad supported and earns money from clicks and other ways.
Portable stereos have improved significantly and they now offer great quality audio on the go. While some sacrifice in quality is to be expected, there are definitely better options out there than those horrendous little cellphone speakers people blast music through these days. We're talking about wireless bluetooth speakers of course.
A portable Bluetooth speaker is the best solution for excellent music reproduction on the go, and no one makes them quite like JBL and UE. Both companies have put out great Bluetooth speakers in the past, and today we're analyzing the strengths & weaknesses of their biggest models – the Xtreme and the Megaboom. Either will do nicely for a great time at home or tailgating with friends, but which one is a better fit for you?
To find this out, start off by getting a general idea of their capabilities in the table below, and then discover more details on how each speaker performs in the in-depth comparison that follows.
Quick Comparison
| | JBL Xtreme | UE Megaboom |
| --- | --- | --- |
| Dimensions | 11.1 x 5 x 4.8 in. | 8.9 x 3.3 x 3.3 in. |
| Weight | 4.6 lb. | 1.9 lb. |
| Bluetooth range | 30 ft. | 100 ft. |
| Frequency range | 70Hz – 20,000Hz | 65Hz – 20,000Hz |
| Waterproofing | Splashproof (IPX4) | Waterproof (IPX7) |
| Charge time | 3.5 hours | 2.5 Hours |
| Playback time per charge | 15 hours | 20 hours |
| Warranty | 1 year | 2 years |
| Price | $197 | $156 |
Appearance
Each speaker has its own distinct look, color schemes, and preferred operating position. The Xtreme looks like a foot pillow while the Megaboom's simpler cylindrical shape resembles a thermos more than anything. Although both speakers' controls are prominent and easily reached, the Megaboom's design is a little more fun as it sports two enormous volume buttons.
In terms of their design's practicality though, the Xtreme takes home the win. For one thing, it can be placed vertically, but is designed to operate best in a horizontal position. This gives it much more stability and will do a better job of preventing a guest from accidentally knocking it down. While it is bigger and heavier than the Megaboom, the Xtreme comes with a handy shoulder strap for effortless transportation.
+1 for JBL Xtreme
Build Quality & Waterproofing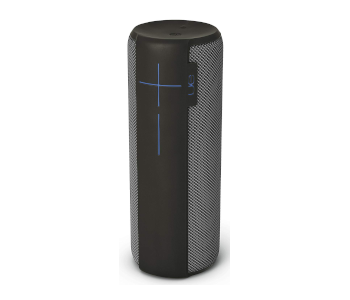 In spite of their size and weight differences (the Xtreme is quite a bit larger and twice as heavy), both speakers have robust bodies able to withstand shock. Accidents will happen, especially at parties, and it's great to know that either speaker will most likely survive a fall and keep on playing.
Waterproofing is a different matter. You don't need to worry about getting a few drops onto the Xtreme since its outer coat is splashproof. Submerging it entirely is a bad idea though. The Megaboom has no such limitations – you can keep it under 3 feet of water for up to an hour without fear, making it the ideal companion to take to the beach, a pool party, or into the bathroom while showering.
+1 for UE Megaboom
Sound Quality
Although both speakers will help get the party rolling properly and have decent sound quality, there are a few nuances which will have a major impact on your decision based on what kind of music you listen to the most.
The JBL Xtreme puts out a rich, vibrant base that envelops the whole room and gets you into the groove thanks to a pair of excellent passive radiators. Lows in general are amazing, and while prominent, don't overshadow the mids when it's time for the base to step aside. Whether you're listening in a packed room or out in your garden, the JBL Xtreme definitely delivers punchier tunes than the Megaboom.
That's not to say that the Megaboom is bad – its well-balanced sound is perfect for acoustic performances, classical music and old-school rock / metal where it's important to distinguish between screeching vocals and shredding guitars. The Xtreme skips the first second of each track for some reason and delivers highs that can sometimes be painful with the volume all the way up. The Megaboom doesn't have this problem.
You'll need to take a little more care in placing the Xtreme as it doesn't offer 360-degree surround sound. The Megaboom projects sound all around it equally, and sounds best when placed in the center of a room.
+2 for JBL Xtreme
+1 for UE Megaboom
Speakerphone
Connecting either speaker to a smartphone allows you to hold calls over speakerphone. The experience is better when using the Xtreme as it has built-in noise-canceling that makes conversations sound better and less tinny.
+1 for JBL Xtreme
Connectivity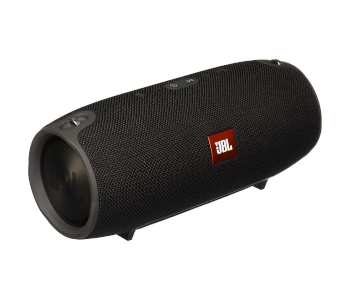 The biggest convenience with Bluetooth speakers is their ability to connect to your smartphone or iPod wirelessly, but both test models go a step further. It's easy to connect up to three additional JBL speakers to the Xtreme just by pressing down on the Bluetooth button. The Megaboom supports only two other speakers.
Connection strength plays a greater role in the wireless experience than speaker count though, and here's where the Megaboom shines. The Xtreme's wireless range is a mere 30 feet and connection quality starts to noticeably degrade the more rooms / floors separate the speaker from other connected devices. Bluetooth on the Megaboom works flawlessly up to 100 feet regardless of any obstacles in-between.
+1 for UE Megaboom
App
We were disappointed by the Xtreme rather bland JBL Connect app. You use the app to keep track of synced JBL speakers, update their firmware, or rename them. It doesn't unlock any additional features or settings.
Megaboom's app is miles ahead as pairing it with the speaker expands its usefulness. In the app you'll find an equalizer so you can change the speaker's output settings based on the genre that's currently playing. Like to be woken up by your favorite tunes? Set the Megaboom up to be an effective alarm clock with a few swipes. Lastly, there's the fun "Block Party" feature which lets you connect to UE speaker owners in your area, sync your speakers up and exchange song choices. Pretty neat!
+1 for UE Megaboom
Battery Life & Recharge Time
UE have managed to pack a real powerhouse inside the Megaboom's smaller frame! Its Li-ion battery will not only last up to five hours longer than the Xtreme's, but takes a whole hour less to recharge. The Xtreme's saving grace in this category is its powerbank function – hooking up a cellphone or other USB-chargeable device to the speaker will start to charge it. Considering a full charge of its battery is equal to 10,000mAh, this should be very useful when no outlet is in sight.
+1 for each as they have different strengths
Price
Given its bigger size and speaker configuration, it's no wonder that the Xtreme is a bit more expensive. Currently you can buy the Megaboom for about $50 less, although the prices rarely ever stay the same. Since their release, both speakers have received a considerable price cut, so now's the time to save while enjoying top notch sound quality on the go.
+1 for UE Megaboom
Conclusion
Why choose:
| JBL Xtreme (5 points) | UE Megaboom (6 points) |
| --- | --- |
| Great sound quality (especially in the lows) | Balanced sound |
| Stable and robust | Waterproof |
| Better quality speakerphone mode | Better battery life & recharge time |
| Acts as a powerbank | More stable connection |
| | App has more diverse features |
| | Less expensive |
Although it is more expensive and doesn't have the same breadth of features that the Megaboom has, the Xtreme's superior sound quality may still be enough to trump anything the competition can throw at it. If you're into EDM, R&B, or any other music genre with heavily accentuated bases and don't mind being close to the speaker while shuffling songs or controlling the volume, the Xtreme is the better option.
That being said, the Megaboom has other advantages – it's better for outdoor use, clearly more versatile, can keep the party going all day long, and is less expensive. Its sound may not be as rich in the lows, but the speaker makes up for that with good vocal clarity and distinction in mids & highs. You're getting an incredible bang for your buck if you purchase it, making either choice a sound one.