Keurig Black Friday 2019 Deals
3D Insider is ad supported and earns money from clicks and other ways.
There's nothing like a great cup of coffee in the morning, but only if you don't have to queue up to get it. It is much better to get it in the comfort of your home or office.
Keurig coffee makers are, of course, the gold standard in the industry for this kind of use. If you're looking for a Keurig coffee maker but don't want to spend over the top, Keurig Black Friday deals are perfect for you.
Keurig Discounts on Black Friday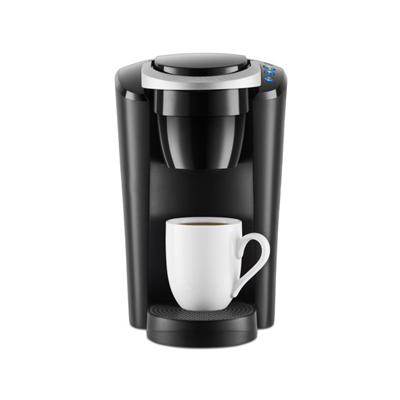 Original Price: $59
Black Friday Deal Price: $40
Savings: $19
This is the simplest and most affordable option. It is perfect for bachelors not only because it serves one but also because it is compact enough to fit on to the smallest counters.
Even though it only serves one cup, you'll have multiple sizes to choose from. You won't even have to fill it with water every time you want a coffee since its water reservoir can hold up to 36 ounces at one time.
Further, this coffee maker is super-fast because it doesn't need to heat up and brew the coffee separately. Instead, it does both simultaneously, making it possible for you to get a cup of coffee in less than 60 seconds. Moreover, you can just grab your coffee and head out, as it will automatically shut itself off in a couple of hours.
The $19 discount from Walmart may not seem much at first glance, but you have to realize that it amounts to getting 30% off on this coffee maker!
Pour into cups of various sizes, including 6, 8, and 10 ounces.
It can be used to heat water only.
It comes with a removable water reservoir and drip tray.
Available in black, gray, red, turquoise, and white colors.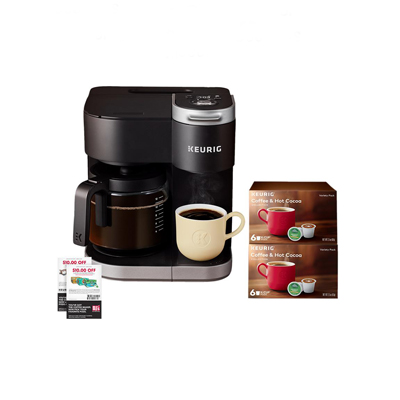 Original Price: $169.99
Black Friday Deal Price: $99.99
Savings: $70 + $20
The Keurig K-Duo Coffee Maker is an excellent option for small families and workgroups because of its versatility. It can be used to make an entire carafe serving 12 cups or a single cup.
Under the carafe, you'll even find a heating plate to keep already brewed coffee hot. Moreover, you can choose to brew your coffee with ground beans or K-Cup pods. The water reservoir on this coffee maker has a capacity of 60 ounces, ensuring a minimum of 12 six-ounce cups with a single refill.
This coffee maker brews the coffee while heating up as well, saving you tons of time. Further, it has an automatic shutoff feature that kicks in five minutes after the last brew.
The Black Friday deals on this coffee maker are nothing short of spectacular. Meijer is offering a $70 discount with another $20 available on the following purchase.
If you don't want to wait for the full discount, though, you can go with Bed Bath & Beyond. At BB&B, you'll get a straight discount of $90 since they're offering it for a mere $59.99.
Pour into cups of various sizes, including 6, 8, and 10 ounces.
It comes with a removable water reservoir and drip tray.
Carafe brew can be programmed up to 24 hours in advance.
Brewing can be paused midway for pouring coffee.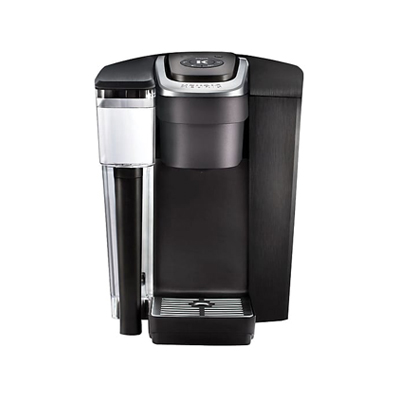 Original Price: $179.99
Black Friday Deal Price: $129.99
Savings: $50
The Keurig K1500 is tailor-made for small businesses of up to 15 professionals because of multiple reasons, including its large capacity, multiple features, and versatility.
For instance, it has a water reservoir with a capacity of 96 ounces. Further, it doesn't make a lot of noise owing to its Quiet Brew Technology. It is also designed to weather heavy use as it is built with commercial-grade components. This device even helps save energy through its programmable automatic shutoff feature.
Moreover, even though this device is technically a coffee maker, it can make various beverages depending on the pod-type being used. For instance, it can make tea and hot cocoa, apart from coffee. It even has a "strong" button for strong drinks.
Pour into cups of various sizes, including 6, 8, 10, and 12 ounces
It comes with a removable water reservoir and drip tray
Indicator lights for water and brewer descaling.
High altitude setting.
Other Black Friday Keurig Discounts Worth Considering