7 Best Key Finders of 2020
3D Insider is ad supported and earns money from clicks, commissions from sales, and other ways.
A study commissioned by Post It revealed that adults forget an average of four things per day. Keys are the second item on the list! Misplacing such an essential item is frustrating, robs you of free time, and can have disastrous consequences. You might not be able to improve your memory, but there's an elegant and effective way of ensuring you always know where the keys are – key finders.
There are different kinds of key finders, but all work on the same principle. They consist of a receiver that attaches to your keys while a transmitter sends out signals that cause the receiver to produce a loud noise. Simple models rely on sound or radio waves, while more sophisticated ones use Bluetooth with your smartphone acting as the transceiver. The smartest among them even enlist the help of your local community and let AI assistants like Alexa activate the alarm with a spoken command.
We've assembled seven of the best key finders and have reviewed each so you can make an informed choice. They vary by connection method, loudness, price, and other metrics. Select the key finder you think is best and stop wasting time on aimless searching.
Budget
Esky Key Finder
4.0/5.0
Range: 80 feet
Battery life: 12 months
Reliable for indoor use and no setup required.
Check Amazon
Best Value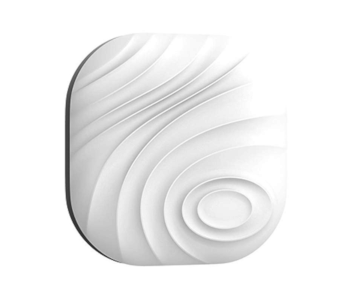 Luxsure Smart Anti-Lost Tracker
4.4/5.0
Range: 100 feet
Battery life: 8-10 months
This has finder and geofencing modes.
Check Amazon
Top Pick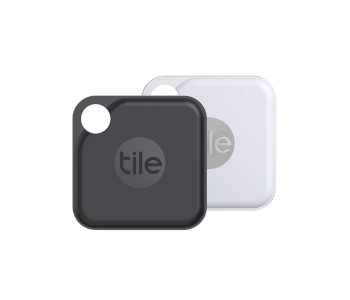 Tile Pro (2020 version)
5.0/5.0
Range: 400 feet
Battery life: 12 months
This is the loudest alarm on the market
Check Amazon
Key Finders Comparison Table
1. Best Overall – Tile Pro (2020 version)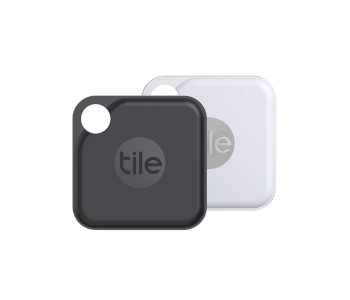 View on Amazon
Editor's Rating: 5/5
Tile has been the world's leading key finder manufacturer for years, thanks in no small part to the Tile Pro. This is the pro's third and best iteration. It retains past improvements like the replaceable battery but features an even more extended range as well as the loudest alarm we've tested. It's not cheap, but that's the price of excellence.
Tile's 2020 lineup includes other key and item finders you might be interested in if the Pro's price isn't appealing. There's the Tile Mate, a finder that looks and behaves the same as the Pro but has a shorter range and is slightly quieter. Tile Slim is designed to fit in wallets and excellent for recovering them, while the Tile Sticker can adhere to any surface and is waterproof.
Overview of Features
The newest Tile Pro still has a recognizable square shape but has undergone minor design changes. Its textured surface has been replaced with a smoother one. The central Tile button works like before and activates an alarm on your phone if pressed. There's a battery compartment in the back whose cover you can remove easily. Tile uses a CR2032 battery that's available anywhere and lasts for a year with regular use.
Improvements to range and loudness are the best thing about the updated Tile Pro. The second version had an impressive 300-foot range, and that has been extended to 400 feet. This allows you to track and find your keys even if you've lost them in a large space like a commercial office building or a park. Its alarm is now a deafening 128dB and can be heard from several rooms away or when coming from inside a sofa.
The finder's usability is extended further thanks to its excellent app. Here you can assign different Tiles to pets or objects like keys and phones. It has a search function that directs you in the Pro's direction by lighting concentric circles green. The more of them are lit, the closer you are.
You can use the Tile Pro as is but should consider paying $3/month or $30/year for a subscription. This gets you free battery replacements, an extended warranty, and a location tracking history. You'll also be able to share the Pro with family & friends.
What We Didn't Like
Tile Pro is the most expensive model in the guide and gets even more costly if you opt for the subscription. The only thing Tile Pro lacks at this point is waterproofing. Opening a door in the rain won't damage the device since it is splash-resistant, but water can still get inside and mess up the electronics.
Tech Specs
Dimensions: 0.3 x 1.7 x 1.7 in
Range: 400 feet
Connection method: Bluetooth
Loudness: 128dB
Battery life: 12 months
Has app: Yes
Has crowdfinding: Yes
The Pros
Extraordinary range
Loudest alarm on the market
Replaceable battery
Versatile companion app
The Cons
Expensive
Not waterproof
2. Best Value – Luxsure Smart Anti-Lost Tracker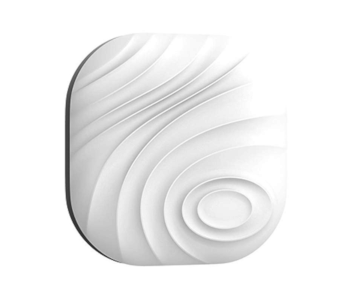 View on Amazon
Editor's Rating: 4.4/5
Do you like how the Tile Pro works but tend to lose your keys in a limited area? Luxsure's Anti-Lost Tracker keeps tabs on them and will send out an alert if the keys and your phone get too far apart. The finder is slim, stylish, and reliable. Plus, it costs less than 20 dollars.
Overview of Features
Luxsure's tracker is tile-shaped, but it is much more elegant than the competition. It's available in white with a beautiful swirling pattern that centers on a button. Pressing it causes both the tracker and your phone to beep when in Find It mode and is a convenient way of locating keys when you're in their general vicinity. This is another model that uses a replaceable battery. Expect it to last from eight to ten months.
There are two ways in which you can use the tracker. Find It comes into play when you can't find the keys while Anti-Lost prevents this from happening in the first place. The receiver inside the device has a limited Bluetooth range. An alarm sounds if that range is exceeded, telling you to come back for the item you forgot.
The tracker has a well-designed companion app that lets you switch between modes, see approximately how far the device is, and adjust the alarms. There's no monthly fee, and you can invite as many people as you like to keep tabs on the same tracker by sending them a QR code.
What's Bad About It?
At 90 decibels, Luxsure's tracker is among the quieter models on review. It will work in closed spaces, but you might not hear the alarm if your keys are under a pile of laundry in a far-away room. Luxsure claims that the tracker has a range of 100 feet. While any Bluetooth device will struggle to reach its maximum, you shouldn't expect this one to maintain a connection beyond 60 feet.
Tech Specs
Dimensions: 0.1 x 1.5 x 1.5 in.
Range: 100 feet
Connection method: Bluetooth
Loudness: 90dB
Battery life: 8-10 months
Has app: Yes
Has crowdfinding: No
The Pros
Great value for the money
Appealing design
Finder and geofencing modes
Supports unlimited users
The Cons
Quiet
Actual range is shorter than advertised
3. Cube Pro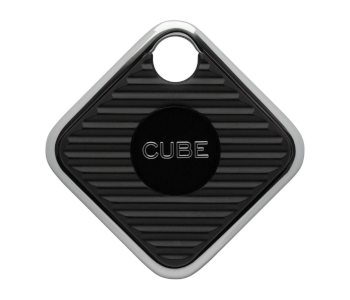 View on Amazon
Editor's Rating: 4.6/5
Lack of waterproofing is one of the Tile Pro's shortcomings. Luckily, there's another pro at your disposal if this feature is high up on your list. The Cube Pro is a tracker that can do much of what its eponymous competitor can. However, it's much more rugged. Consider the Cube if you live in a rural area or have a job that frequently exposes your keys to dust and grime.
Overview of Features
Cube's pro has a rugged yet attractive aesthetic. It has a metallic frame and plastic sides textured with bars for a better grip. The key finder has an IP rating of 67, meaning it is entirely dustproof and can be submerged in three feet of water without malfunctioning. Moreover, it can withstand temperatures from -5 to 150 degrees Fahrenheit and be used in any climate. Cube Pro requires one CR2025 battery per year and comes with an extra.
A maximum range of 200 feet is enough to cover a wide search area. While it shrinks the more obstacles and walls there are, Cube Pro manages to maintain max range out in the open. Its 100dB siren is loud and clear in closed spaces but might not be sufficient if your keys were last seen in a vast area.
This model shares two things with the Tile Pro we haven't discussed in its review. The first is an integration with Amazon Alexa and Google Assistant. You can ask either to find your keys, and the Pro's alarm will sound.
The second is key finder location through anonymous crowd searches. Cube's version is called Crowd Find. It turns passers-by who own a Cube device into search helpers since your Cube registers their presence. It then sends out an anonymous message with the tracker's last-known location, greatly helping you narrow down the search. Tile has more customers, and its network is more effective. Still, Cube's customer base helps recover keys too.
Are There Drawbacks?
The batteries you get with the Cube Pro have a shorter lifespan than their commercially available counterparts. There's no way of telling when the battery is dead, so you'll have to periodically run tests or risk losing power at a critical moment. The Bluetooth signal isn't reliable. Expect occasional connection troubles.
Tech Specs
Dimensions: 0.2 x 1.6 x 1.6 in.
Range: 200 feet
Connection method: Bluetooth
Loudness: 101dB
Battery life: 12 months
Has app: Yes
Has crowdfinding: Yes
The Pros
Rugged design with dust and waterproofing
Works with Alexa and Google Assistant
Crowd Finding feature
Reaches max range outdoors
The Cons
Unreliable Bluetooth connection
No way of telling when battery is about to die
4. SpotyPal Item Finder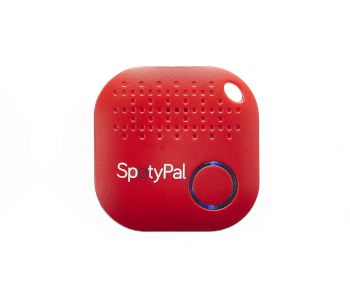 View on Amazon
Editor's Rating: 4.4/5
The key finders mentioned so far all excel at item detection, but that's the only thing they do. The SpotyPal Item Finder complements key finding with features like a panic button, alarm, and item checklist that helps make sure you've got everything before leaving the house. It has decent range and separation alerts, and at $25, the Item Finder isn't too expensive either.
Overview of Features
The SpotyPal Item Finder follows the broad key finder aesthetic and enhances it with some unique touches. It's available in three colors and has a blue LED that glows when you press the button. This model is smaller than others and slim enough to fit inside your wallet too. A replaceable battery powers it for one year.
The finder has a separation alert and will start beeping if you step out of Bluetooth range, which is decent at 210 feet. Doing so will also place a marker on the app's map informing you of where the item was last seen. That makes retracing your steps and getting back into range much easier. Your phone and the Item Finder both beep once they're back in range.
This model comes with two unique features – an alarm function and a panic button. You can set the alarm up in the app, and SpotyPal will beep once it's time. That will come in handy if you don't like to sleep with the phone close by or are charging it overnight in another room. The panic button is a potentially life-saving feature. You have to set up an emergency contact in the app first; when you do, pressing the button will send an email to them that includes a map of your location.
The SpotyPal app has a recognizable look but is otherwise similar to what you get with Tile and Cube. You can adjust notification settings, set up the alarm & emergency contacts, and even anonymously help other SpotyPal users find their lost stuff. Unlimited account sharing is supported, and there's no monthly subscription.
What We Didn't Like
The app is functional but bloated. It takes a while to load and might annoy impatient users. The separation alert is sensitive. You might want to turn the alarm off if you keep the keys in one room and your phone in another since obstacles can trigger it.
Tech Specs
Dimensions: 0.2 x 1.4 x 1.4 in.
Range: 210 feet
Connection method: Bluetooth
Loudness: 95dB
Has app: Yes
Has crowdfinding: Yes
The Pros
Slim build
Alarm function and panic button
Versatile app
No monthly subscription
The Cons
App loads slowly
Indoor use shortens range and causes false separation alerts
5. KeyRinger XL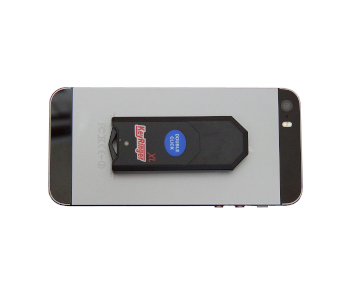 View on Amazon
Editor's Rating: 4.3/5
Having loads of features and an app to fall back on is nice, but what if you just want a no-frills, reliable key finder that you'll hear from across the house? In that case, the KeyRinger XL is the ideal model for you. It has a blaring alarm, comes ready to use out of the box, and is more durable than much of the competition. Users looking for simplicity will love it while the more tech-savvy will find a surprising number of advanced options to explore.
Overview of Features
The KeyRinger XL is an odd one out design-wise. It's much larger than tile-shaped models and isn't suitable for wallets. That has its benefits, though. On the one hand, it has a durable carbon casing that can survive accidental drops without a scratch. On the other, the KeyRinger can support a larger battery and get more life out of it. At 18 months per cell, this is the best value pick in terms of battery consumption.
The packaging contains two identical KeyRinger XLs that act as receivers and transmitters. Pressing the blue button on one produces a loud sound from the other. KeyRinger doesn't specify the XL's exact loudness in decibels, but you'll have no trouble hearing it whether you're in a large home or an open space. The communication range is 300 feet and consistent when outdoors.
While simple to use as is, the KeyRinger XL can also be configured using a web interface. It lets you change the loudness to one of five settings. There's also the option of changing the XL's beeping tone and pairing multiple units together. That way, you can buy multiple pairs and have all of them react when pressing one, or configure different combinations to go off, etc.
What's Bad About It?
Not having an app means you're stuck guessing where you last left the keys as there's no last known location. The two devices find each other by listening for a distinct beeping sound. That means they aren't reliable in noisy environments like factories or busy streets.
Tech Specs
Dimensions: 0.4 x 1.1 x 2.6 in.
Range: 210 feet
Connection method: Sound
Loudness: Not specified
Battery life: 18 months
Has app: No
Has crowdfinding: No
The Pros
Loud alarm
Long battery life
Durable build
Can trigger multiple KeyRingers simultaneously
The Cons
Useless if you aren't in range
Noisy environments decrease its effectiveness
6. Click 'n Dig Key Finder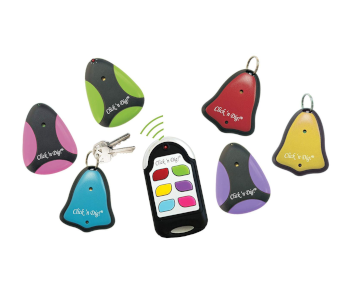 View on Amazon
Editor's Rating: 3.8/5
Once your family sees how useful a key finder is, they'll all want one. Click 0n Dig is an inexpensive and all-encompassing lost item solution for the whole household. For less than $20, you're getting three key finders and as many item finders all controlled with a foolproof remote. Get this set if you're looking for a cheap yet effective indoor solution for frequent item loss.
Overview of Features
The Click 'n Dig set is the most accessible product on the list to use. It comes with six brightly-colored finders you either attach to keys or items like a tablet or laptop via adhesive tape. There's also a remote with six buttons corresponding to each of the finders' colors. Pressing one triggers a beep and helps you start looking in the right place. Each finder comes with a battery that runs for twelve months.
The system works well in practice, provided you keep the remote in the same location. It's an excellent choice for seniors and young children since there are no complicated settings to fiddle with, and the finders are usable out of the box.
Are There Drawbacks?
Click 'n Dig's range is the shortest one on review. The devices communicate through radio frequencies and might not register if they're on different floors. Even when they do, you'll have to focus on hearing them since the alarm is weak. Lastly, the tags that you can stick onto objects are too large and bulky for use with smaller items like TV remotes and smartphones.
Tech Specs
Dimensions: 0.4 x 1.1 x 2.6 in.
Range: 80 feet
Connection method: Radiofrequency
Loudness: 90dB
Battery life: 12 months
Has app: No
Has crowdfinding: No
The Pros
Two sets of three item finders for an excellent price
Easy remote control
Anyone can use them
The Cons
Quiet
Limited range
Item finders are too large
7. Best Budget Option – Esky Key Finder
View on Amazon
Editor's Rating: 4/5
The Eskey Key Finder system works similarly to Click 'n Drag. The reason it's our budget pick, even though it is slightly more expensive, is that all six receivers can be attached to keys. There's no app support, and the system has some limitations, but it's effortless to use and offers the most bang for your buck.
Overview of Features
The first thing you'll notice when you open up the box is how many accessories the system includes. Each of the six receivers has its own keyring and piece of double-sided sticky tape, so you can place them on a keychain and luggage or stick one onto a TV remote. You also get enough coin cell batteries to keep everything running smoothly for a year.
We like Esky's approach to design. The receivers are gray and shaped like small, fat credit cards. Each has two colored strips and a red light that starts flashing once activated to make the search easier. The colors correspond to buttons on the remote. Unlike with Click 'n Dig, Eskey gives you a handy remote holder. That way, you can keep it in a spot that's accessible to everyone and not lose it too.
Performance-wise, the Eskey system is on par with Click 'n Dig. Esky states that the loudness is a mere 80dB, but in practice, it doesn't sound quieter than the competitor. They also realistically assess the range at 40 to 80 feet. Expect the former indoors due to radio wave interference and physical obstacles, while the latter is stable and easily attainable in the yard.
What We Didn't Like
The receivers were designed for use with keys and may be too big to stick on thin objects like smartphones. While it's a good idea in theory, the red light is too dim. It works in the dark but is useless in daylight.
Tech Specs
Dimensions: 0.2 x 1.3 x 1.9 in.
Range: 80 feet
Connection method: Radiofrequency
Loudness: 80dB
Battery life: 12 months
Has app: No
Has crowdfinding: No
The Pros
Six versatile key finders for a reasonable price
Remote comes with stand
Reliable for indoor use
No setup required
The Cons
Light needs to be brighter
Too bulky to stick to some items