6 Best Keyless Deadbolts of 2019
3D Insider is ad supported and earns money from clicks and other ways.
Are you still using a thin piece of metal to gain access to your home? In the age of global communication and instant access to information, this is no longer unnecessary! Invest in a keyless deadbolt, and losing your keys becomes something you never have to worry about again.
Keyless deadbolts let you gain entry to your home in different ways like putting in a code, scanning your fingerprint, or issuing a voice command. They're safer and more convenient than traditional deadbolts since you don't need to carry keys anymore and are even able to grant temporary access to friends and visitors. The smartest deadbolts come with apps that let you unlock them with a tap or just by being close enough, and even let the deadbolt become part of your home automation routines.
There are dozens of keyless deadbolts on the market, which is why we've put together this guide to help you pick the right one. It features reviews of the six best keyless deadbolts. While each deadbolt offers robust protection, there are differences in price, ease of use and the breadth of feature each model has. Read up on them all and choose the keyless deadbolt which fits your budget and needs the best.
Budget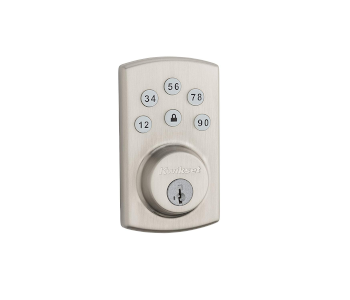 Kwikset 907 Powerbolt 2.0
3.9/5.0
Security: 4.2
Features: 3.5
Has two numbers per button to confuse thieves.
Check Amazon
Best Value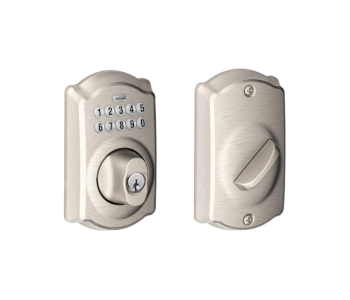 Schlage BE365CAM619
4.5/5.0
Security: 4.8
Features: 4.3
Long battery life and easy to install and use.
Check Amazon
Top Pick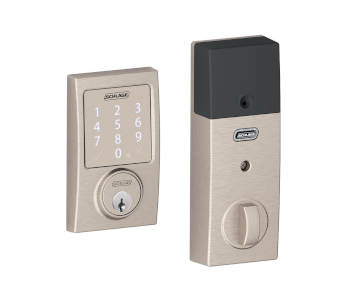 Schlage Sense Smart Deadbolt
4.7/5.0
Security: 4.9
Features: 4.6
This has diverse ways of gaining entry.
Check Amazon
Keyless Deadbolts Comparison Table
1. Best Overall – Schlage Sense Smart Deadbolt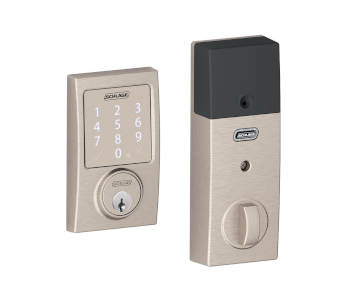 View on Amazon
Editor's Rating: 4.5/5
Schlage has been making industry-leading locks for generations, and the Sense Smart Deadbolt is their crowning achievement. It's built like a tank without being ugly, easy to use, and comes with advanced features which let you integrate it into your smart home. Given its versatility and build quality, choosing the Sense as our top pick was a no-brainer.
Overview of Features
Schlage's Sense is a massive deadbolt you'll need to make serious room for when replacing your old assembly. Its front panel has a smudge-resistant touchscreen LCD keypad, and there's a basic alarm system in the back. Installing the deadbolt takes some DIY knowledge and may require you to shape your door for it to fit. Luckily, you get two extensive manuals to help you through the process. The deadbolt is available in either satin nickel or aged bronze, and you can choose between century or camelot finishes.
Using the deadbolt involves assigning and entering a key through the keypad. Passkeys can be between 4 and 8 digits long. You may assign a time restriction to each one, so people like housekeepers or mailmen can enter the house during certain times. Keys that are no longer used or you feel have become unsafe can be altered or removed. The deadbolt supports a maximum of 30 unique passkeys.
The Schlage app sports a simple design and is filled with useful settings that are easy to access. The dashboard features a prominent lock icon you tap once to either lock or unlock the deadbolt. The app also lets you adjust the alarm function which triggers a beeping sound whenever the door is opened. You can assign or remove keys, view entry logs, or set auto-locking, which will lock the door a few seconds or minutes after its last use.
The Sense integrates into any smart home environment since it supports HomeKit, Alexa, and Google Assistant alike. Its Alexa skill is especially useful since it lets you unlock a door with a voice command! Of course, this is disabled by default so thieves can't gain entry that way, but enabling the skill is easy.
What We Didn't Like
The Sense has trouble connecting to its app even when you're well within Bluetooth range. It is also limited to supporting one home automation system at a time, i.e., you can't use the deadbolt with Alexa if you've already connected it with HomeKit and vice versa.

Tech Specs
Dimensions: 5.7 x 6.5 x 9.8 in.
No. of stored codes: 30
Supports physical keys: Yes
Has smart features: Yes
Works with Alexa: Yes
The Pros
Solidly built and secure
Diverse ways of gaining entry
Responsive companion app
Excellent passkey management
The Cons
Has trouble connecting to the app
Can use only one home automation platform at a time
2. Best Value – Schlage BE365CAM619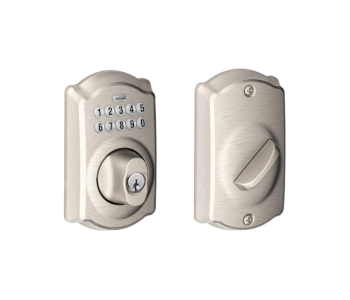 View on Amazon
Editor's Rating: 4.5/5
Are you a fan of Schlage locks but don't want to pay extra for smart features? In that case, the BE365CAM619 has your name on it. This tasteful keyless deadbolt is as secure as our overall winner yet costs only half as much! It takes minutes to install, has a clever locking mechanism that puts minimal strain on the battery, and is easy for people of all ages to use.
Overview of Features
The BE365CAM619 is a beautiful keyless deadbolt available in five colors ranging from silver satin chrome to dark gray aged bronze. It is dust and weatherproof, meaning it will protect your front door or a sensitive space in your office equally well. Its numerical keypad consists of ten round keys in two rows with an automatic lock button above them. The keys are coated in silicone and don't fade even with years of daily use. They're lit up by blue LEDs which make it easy to enter the right combination at night.
The deadbolt arrives with two physical keys and as many pre-programmed passcodes. You can start using these right away or enter your own 4-digit codes by entering the 6-digit master code first. 19 codes can be issued. These aren't time-sensitive though, so you'll need to manually remove a code once it is no longer needed. The physical keys are useful for older folks and as a backup in case the battery fails.
Unlocking the deadbolt is handled intelligently. Entering the correct passkey doesn't engage any motor like with other models. Instead, the thumb turn becomes usable and rotating it towards the hinges will unlock the door. If you enter an incorrect code or none at all, the thumb turn rotates freely and is useless. This mechanism is powered by a 9-volt battery that's easy to replace and can last for many years due to how energy-efficient the deadbolt is.
What's Bad About It?
The thumb turn in newer models of this lock is unreliable. It might stop catching the lock and become useless. There's also the issue of some locks requiring you to enter the code multiple times to recognize it. You can send such faulty deadbolts to Schlage for a replacement, but the process takes time and is a hassle.

Tech Specs
Dimensions: 4.2 x 3.2 x 5.5 in.
No. of stored codes: 19
Supports physical keys: Yes
Has smart features: No
The Pros
Great value for the money
Long battery life
Easy to install and use
Weather-resistant finish in multiple appealing colors
The Cons
Thumbturn might stop working
Keypad can become unresponsive with use
3. Lockly Keyless Entry Smart Lock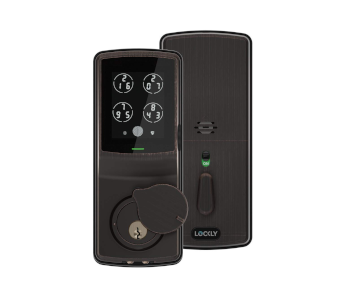 View on Amazon
Editor's Rating: 4.4/5
While keyless door locks are secure and convenient, there's always the chance that someone is spying on you and memorizing the PIN as you're entering it. you can lay this fear to rest will become impossible if you purchase the Lockly Keyless Entry Smart Lock! It features an ingenious number shuffling system that keeps burglars guessing, has a simple yet effective mobile app, and installs as quickly as an ordinary deadbolt.
Overview of Features
The Lockley deadbolt is unobtrusive and stylish since no thumb turns or handles stick out from it. There's only the bottom part with a covered keyhole and a bright touchscreen above it. The deadbolt can be bought in Venetian bronze or satin nickel finishes, both of which can withstand the elements as well as extreme temperatures.
The best things about the deadbolt are its touchscreen and associated PIN Genie feature. Instead of having a fixed keypad, Lockly has four buttons with three numbers each. You can set the lock to rotate the numbers after entry or even after each number in the sequence is pressed, making it impossible to guess your combination either by observing your movement or left-over fingerprints. Speaking of which, there's a fingerprint scanner under the buttons which gives instant access to approved users while remaining smudge-free.
This lock connects to a companion app through Bluetooth. The app contains useful information which makes installation smoother, and you use it to manage all of your Lockly locks. You can name each lock and access it from the dashboard. This brings you to a screen with one-touch locking. There's also fingerprint storage, which takes pictures of a fingerprint from five different angles, and passcode management. New passcodes can be sent to family & guests over SMS or email, or you can read them out loud.
There are three levels of users. Authorized users get permanent passkeys which they can use to gain entry at any time. Guests can be issued either timed passkeys with an expiration date or time-gated passkeys that only work at certain times.
Are There Drawbacks?
In spite of being a smart deadbolt, this model doesn't connect to either IFTTT or any other smart home platform. The screen is delicate and should be handled with care as pressing too hard might shatter it.

Tech Specs
Dimensions: 3.1 x 1.9 x 7.4 in.
No. of stored codes: 50
Supports physical keys: Yes
Has smart features: Yes
Works with Alexa: No
The Pros
PIN Genie feature
Fingerprint scanner
Intuitive companion app
Straightforward installation
The Cons
Delicate touchscreen
No support for other smart devices
4. August Smart Lock, 3rd Gen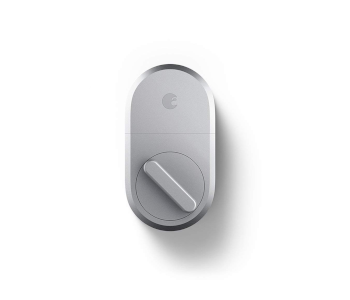 View on Amazon
Editor's Rating: 4.2/5
Some of us don't like to fuss with DIY deadbolt installation or expensive handymen. August's 3rd-generation smart lock is the perfect fit if you don't want to remove your current deadbolt since the lock is an attachment that installs over it! There's also the unique DoorSense technology, a streamlined app, and the ability to control the lock through Alexa or the Google Assistant.
Overview of Features
The 3rd-gen August lock has a more traditional look than its puck-like predecessors and features a thumb turn along with a large housing in matte gray. The lock attaches to your existing deadbolt assembly, and the process takes only 10 minutes if you follow along with detailed instructions provided in the app. You also get a mounting plate which works with any brand or type of deadbolt.
Once installed, the August lock uses a motor to control your deadbolt when the right access key is entered. Pairing the lock with your phone is even easier than the August's installation – press a button on the inside of the lock, bring your smartphone into Bluetooth range, and pairing is complete!
The basic August lock kit lets you unlock a door exclusively through the August Home app. Its dashboard features a huge button that's either red or green depending on the lock's status and impossible to miss even if you're in a hurry. The app can also be set to unlock a door once you're in Bluetooth range, perfect for when you go out grocery shopping. There are no passkeys – family members and guests need to install the app on their phones and sync it with the lock to gain entry. As the administrator, you get to choose how long their keys last and at what time of day they can enter.
The lock comes with a unique sensor. DoorSense is a magnetic sensor you need to install separately on the door frame opposite the deadbolt. It is a simple yet invaluable add-on that tells you when the door is left open. Other smart deadbolts will indicate that the door is locked, but don't know whether it is closed, meaning that the door could be locked but open for thieves to exploit. DoorSense eliminates this fear by showing the door's open status and sending push notifications if it's been ajar for too long.
Are There Drawbacks?
The 3rd-gen August lock supports a wide variety of smart devices through IFTT as well as voice commands through the Google Assistant and Amazon Alexa. These features aren't available out of the box though – you'll need to buy an additional bridge for Wi-Fi capability which increases the lock's otherwise excellent price. Granting guest access can be hit & miss since the lock might not recognize their phones. A separate smart keypad fixes this issue by letting you send out passcodes, but it's one more expensive add-on other deadbolts come with as a matter of course.

Tech Specs
Dimensions: 1.6 x 2.6 x 4.8 in.
No. of stored codes: N/A
Supports physical keys: No
Has smart features: Yes
Works with Alexa: Yes
The Pros
Easily installs onto existing deadbolts
DoorSense feature
Great companion app
Affordable for a smart lock
The Cons
Taking full advantage of its smart capabilities requires the purchase of an additional gateway
Keypad sold separately
5. Kwikset Obsidian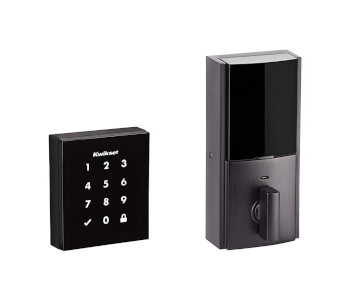 View on Amazon
Editor's Rating: 4.1/5
Are you looking for a completely keyless, modern-looking deadbolt that will impress both house guests and business partners? If so, look no further than the Obsidian by Kwikset. This stylish deadbolt connects to your smart home hub through Z-wave, features a tamper-proof PIN system, and is effortless to operate thanks to its large touchscreen. It's the most expensive deadbolt on review, but there's also a much cheaper version available if you don't care for smart connectivity.
Overview of Features
The Obsidian gets its name from the deep black color of its touchscreen. This contrasts nicely with both the bright white keys and the deadbolt's satin nickel finish. It has a modern aesthetic that looks great in trendsetters' homes and elevates the prestige of office buildings. Even though it is larger than most deadbolts, installing the Obsidian is no different than replacing a standard model. It comes with in-depth instructions if you get stuck.
Skeptics might point out that it is easy to see what combination you're entering due to the screen's large size and excellent contrast. Kwikset solved this with the SecureScreen feature. Activating it lets you put in any two digits before entering your actual passkey, confusing nosy observers. The screen's smooth surface isn't immune to fingerprints, but these are easily wiped away with a cloth.
The deadbolt's inner part acts as a simplified control center while the keyboard is used to issue up to 30 passkeys. There's a series of switches located behind a small plate on the inner part which control a signal light, keypress sounds, and automatic locking. The light is useful for figuring out the door's status from afar – it blinks yellow if it is locked and green if it isn't. Enabling automatic locking activates the Obsidian 15 seconds after use.
This version of the Obsidian has a Z-wave radio, which makes it compatible with hubs like SmartThings and Wink. Using them and IFTTT you're able to connect the deadbolt to security cameras, smart lights, or door locks. You can also give it voice commands through Alexa.
What's Bad About It?
The obsidian is slower to open than other keyless deadbolts. Doing so involves placing your hand on its screen, waiting for it to turn on, and then entering your code at a measured pace. This can get annoying if you're in a rush or need to pass through a door with access control frequently. The Obsidian runs on 9-volt batteries which it uses up in just a few months.

Tech Specs
Dimensions: 3.5 x 5.4 x 9.9 in.
No. of stored codes: 30
Supports physical keys: No
Has smart features: Yes
Works with Alexa: Yes
The Pros
Modern minimalist look
SecureScreen feature
In-depth installation instructions
Supports wide variety of 3rd-party devices
The Cons
Expensive
Short battery life
Entering a code takes long
6. Best Budget Option – Kwikset 907 Powerbolt 2.0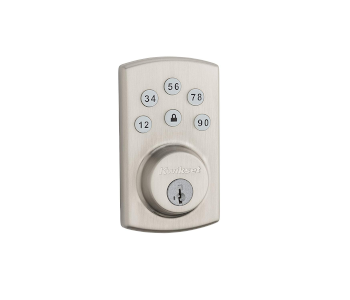 View on Amazon
Editor's Rating: 3.9/5
Kwikset also makes the last and most affordable lock on the list. Don't think that the Powerbolt 2.0's accessible price makes it a security risk though – this appealing deadbolt is as reliable as any of Kwikset's offerings. We've chosen the standard version because of its unbeatable price, but there's also a Z-wave alternative for smart home enthusiasts that's worth checking out.
Overview of Features
The Powerbolt 2.0 looks similar to Schlage's BE365CAM619 with its traditional décor, pleasing color options, and keypad positioned over a keyhole. There are fewer buttons to press though since each except the autolock buttons has two digits associated with it. This makes it hard for burglars to figure out your exact combination and is a feature you'd expect from pricier alternatives.
The deadbolt has a KW1-compatible keyway and comes with a rekeying fit. This means that you can reshape existing Kwikset keys to fit the Powerbolt's keyhole and create a master system where a single key is able to open any door in your home! Using keys isn't even necessary– the deadbolt supports 6 passcodes as well as a temporary one.
Autolock is another feature you see on high-end deadbolts, and even then some have a fixed duration. The Powerbolt can be adjusted to lock a door automatically between 10 and 50 seconds after closing.
Are There Drawbacks?
The numbers don't light up. This isn't a problem during the day or if you have a good porch light but might make it harder to enter the code if the deadbolt is dimly lit. Like the Obsidian, this deadbolt has buttons that need to be pressed a second apart or else the combination won't be registered properly.

Tech Specs
Dimensions: : 3.7 x 5.6 x 7.9 in.
No. of stored codes: 6
Supports physical keys: Yes
Has smart features: No
The Pros
Affordable price
Two numbers per button confuse thieves
Easy to rekey
Adjustable autolock function
The Cons
Buttons don't light up
Code needs to be entered slowly