6 Best Keypad Door Locks for Home or Commercial Business
3D Insider is ad supported and earns money from clicks, commissions from sales, and other ways.
You've installed a sophisticated security system and have the latest in home automation technology, and yet still continue to use a carved slip of metal to actually get into it… pretty archaic, wouldn't you say? With just one more upgrade in form of a keypad lock, you could beef up your home or business security and have a more convenient way of entering all at once.
In this guide, we take a look at the best keypad door locks that you can buy in 2019.
Budget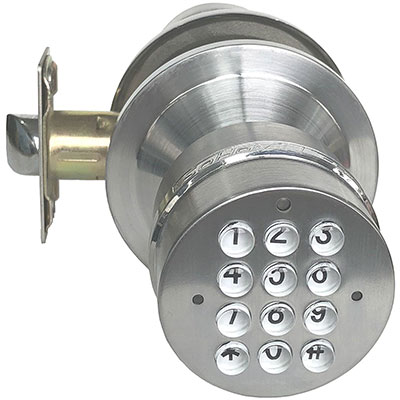 SoHoMiLL YL 99
4.5/5.0
PIN length 4 digits
Power – 4 AAA batteries
Keyless, affordable and fake PIN mode. Easy installation.
Check Amazon
Best Value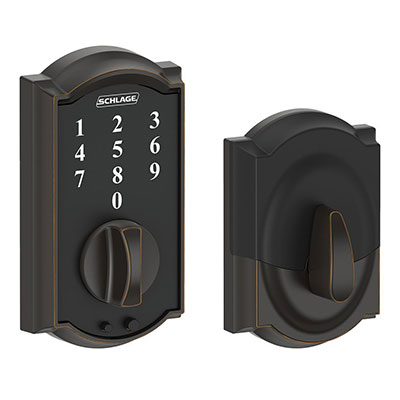 Schlage Touch Camelot Deadbolt
4.6/5.0
PIN length 4 digits
3 years Warranty
Big bright touchscreen, no keys required. and vacation mode.
Check Amazon
Top Pick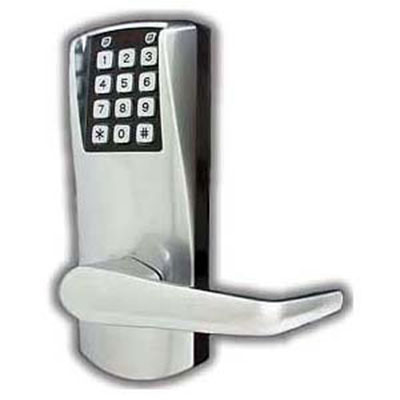 Kaba Eplex 2000
4.7/5.0
PIN length 4 – 9 digits
3 years Warranty
Great for high traffic areas. Timer and lockout functions.
Check Amazon
Keypad locks are useful alternatives to old-fashioned analog ones. While many still give you the option of using a key, the elegance of typing a code up and achieving the same result quickly makes them feel unnecessary. Not to mention that you can more directly control access by giving family members and coworkers their own passcodes and revoking them if needed.
We've gathered six of the best keypad door locks with which to bring protection up to snuff, and bring in-depth reviews of each one right after the handy quick comparison table. Have a look at the guide towards the end to also find out what makes a keypad lock worth getting.
6 Best Keypad Door Locks for a Safer Home or Business Comparison Table
1. Kaba Eplex 2000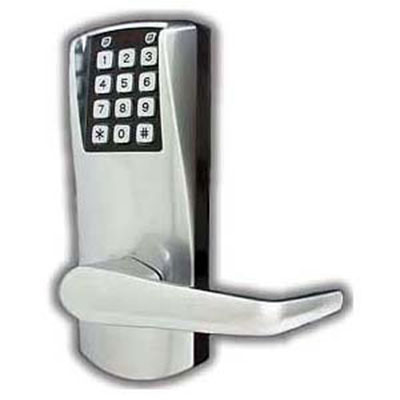 View on Amazon
Editor's Rating: 4.7/5
Whether big or small, constant daily traffic makes businesses vulnerable to intrusion. If you've got a building many people require access to and want a secure lock that can both handle the traffic and give you precise information about it afterward, then Kaba's Eplex 2000 is the most secure and sophisticated choice.
Self-powered Security Star
The neat thing about this keypad lock is that neither the building's own power nor any type of batteries are required for it to work – all it takes is the motion of the handle to provide enough juice for its daily operation! The lock is massively built and will fit seamlessly into a business environment. You can install one at home too to make burglars think twice about attempting entry.
Up to 100 different passcodes can be stored in its internal memory, and their length can range from 4 to 8 digits. An advanced feature associated with them are Authority Levels. There are five different levels you can assign to each code, ranging from single-use access through normal privileges to the administrative level. A total of 1,000 use instances can be saved. Pulling them up will show which key was used to get in, as well as its associated authority level.
The Eplex 2000 comes with an optional key-in-lock cylinder protected by a cap. It can be set to provide limitless access until switched back, or by setting a timer. You can also program it to lock someone who isn't putting in the correct key code out after 3 – 9 attempts. Autolock is a standard feature of most locks, but rarely can you set the time after which it engages. The Eplex 2000 gives you between three and twenty seconds before its auto lock activates depending on the chosen setting.
Are There Drawbacks?
There's almost nothing to complain about as the Eplex2000 is rock-solid! The handle does tend to wear out with extensive use, but it can easily be replaced and doesn't affect the lock's overall security.


Tech Specs
No. of stored passcodes: 100
PIN length: 4 – 9 digits
Key-in-lever cylinder: Yes(optional)
Has lockout feature: Yes
Has passage feature: Yes
Power: Self-powered
Warranty: 3 years
The Pros
Great for high traffic areas
Authority levels
Timer and lockout functions
Variable autolock
Doesn't require external power
The Cons
Handle can wear out and become loose
2. Schlage Touch Camelot Deadbolt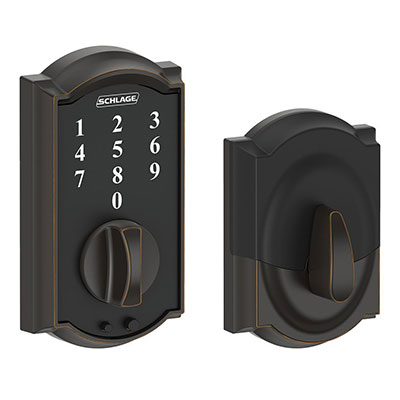 View on Amazon
Editor's Rating: 4.6/5
The trouble with door locks that can be opened with keys is that sooner or later they can be broken into. Why not remove that possibility altogether and give yourself some piece of mind? World-renowned door lock manufacturer Schlage has an elegant and effective solution – a numeric lock that requires no keys whatsoever!
Never Fret Over Losing Your Keys Again
Apart from being a security risk, relying on keys alone will put you in a pickle if you ever lose them. With Schlage's lock, all you have to remember is one of nineteen 4-digit codes that it can store to gain entry. You punch them into a large backlit numeric touch keypad that's easy to make out in the dark and resistant to scratching. Since there's no physical lock to access, both lock-picking and lock-bumping won't trouble you any more.
Installing the lock should be a simple affair even for beginners as no drilling is required. A regular door and an appropriate wrench are all you need. You can even install it on entrances with thinner screen doors. The lock has a slim profile and is available in 7 color schemes. If you don't fancy the Camelot shape, Century is available too.
A 9-volt battery powers the lock and can be relied on for at least a year. Indicators are in place to warn you when it's about to run out, giving you enough time to find a replacement. Going on vacation and you don't want people you've given out codes to access your house? Turn on vacation mode and have the master passkey be the only one that can temporarily unlock the door the Schlage lock is guarding.
What Could Be Better?
While sturdy and easy to see, the touchpad sometimes won't register a keypress or will respond after a second or two. Keyless door locks are great for security, but if the battery ever fails completely you'll have no other choice than calling a locksmith to help you regain entry.


Tech Specs
No. of stored passcodes: 19
PIN length: 4 digits
Key-in-lever cylinder: No
Has lockout feature: No
Has passage feature: Yes
Power: 9-volt battery
Warranty: 3 years
The Pros
No keys required
Big bright touchscreen
Beautiful finish
Vacation mode
The Cons
Laggy touchpad
Useless if the battery dies
3. Ultraloq UL3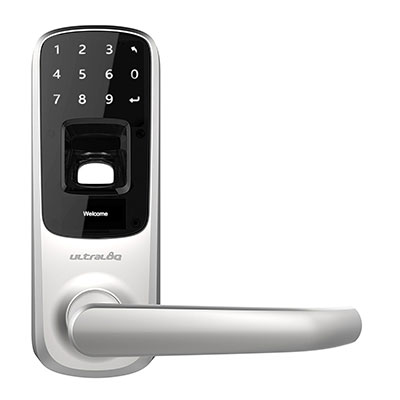 View on Amazon
Editor's Rating: 4.4/5
Entering digits isn't the only way to roll these days – biometric locks are becoming increasingly popular, and thanks to companies like Ultraloq, more affordable too. The result of an accomplished Kickstarter campaign, the UL3 is a keypad door lock with a built-in fingerprint scanner which gives you an additional layer of security. The heavy-duty lock is a great and convenient solution for either your home or business.
3 Ways to Enter, No Way to Break In
The UL3 is special in that every means of access it offers is uniquely reinforced in some way. The most "primitive" way of getting it to open is by using a key. The keyhole is hidden in its underside though and won't be easily spotted by would-be burglars. Using the touchpad is the 2nd mode of e entry. All the keys are big, brightly-lit and respond quickly to the touch. You can opt to put in just a security code, or you can engage "Anti-peep mode" and put in up to 16 digits to confuse onlookers. As long as a valid code is in there somewhere, the door will open.
Lastly and most interestingly, you can gain access by having the UL3 read your fingerprint. The scanner is very responsive and will unlock the door in half a second, provided a valid fingerprint is given. Up to 95 of them along with as many passcodes can be stored. The lock differentiates between admin-level and regular users with the former being able to add or remove either passkeys or fingerprints.
Every precaution has been taken to make the UL3 operable even when the batteries are dead. It takes 3 AA batteries to power it, and an indicator light goes on once they're low. When completely depleted, the lock can still be opened a thousand times until it finally stops responding.
Where Did They Miss the Mark?
The UL3 is advertised as being weatherproof but may stop working if exposed to sunlight for long time periods. The fingerprint sensor could use a bit of refinement too – having to try twice to open the door this way happens much more frequently than we're comfortable with, and don't even think about trying if your fingers are wet or greasy.


Tech Specs
No. of stored passcodes: 95 fingerprints + 95 numeric
PIN length: 4 – 8 digits
Key-in-lever cylinder: Yes
Has lockout feature: No
Has passage feature: Yes
Power: 3 AA batteries
Warranty: Lifetime mechanical, 1-year electronic
The Pros
3 ways of getting in
Hidden keyhole
Anti-peep mode
Quick fingerprint scanner
The Cons
Can't be left in direct sunlight
Occasional fingerprint reader hiccups
4. Kwikset 909 SmartCode Electronic Deadbolt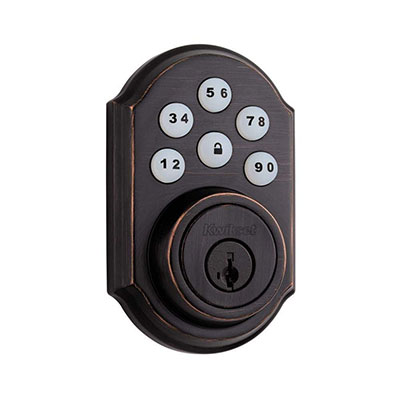 View on Amazon
Editor's Rating: 4.3/5
Kwikset's SmartCode deadbolt is an affordable, no fuss keypad door lock which keeps intruders out while keeping you from losing your cool if you ever forget your key. Although basic in its functionality, the lock's beautiful finish, straightforward operation, and lifetime warranty make it a good choice for anyone keen on investing in a smarter, more secure home.
Easy to Use, Hard to Bypass
Kwikset has made a stylish deadbolt lock with a clean finish and pleasant lines. You can choose one of four color options including hand-rubbed bronze, and pair it with Quickset knobs or door handles for maximum aesthetic effect. You'll need nothing but a screwdriver to install it as 4 AA batteries take care of the lock's power requirements.
There are only 6 keys, 5 of which are numeric. While sparse, this is actually a smart design decision since it makes it harder for a potential observer to tell exactly what your combination is. When pressed, the 6th button springs the deadbolt into action. When you need to use the lock at night, a soft green backlight makes pressing the right keys easier.
The inside part of the lock contains additional settings. By using three switches you can (dis)engage free passage mode, toggle the backlight on/off, or turn off sounds that play when the door is (un)locked or keys are being pressed. There's one main 4 – 8-digit passcode, and another temporary one you can give to friends & neighbors. Either can be changed whenever you like.
What We Didn't Like
As it is among the cheaper locks we've looked at, it's no surprise there are a few design flaws. The main one is the plastic gears that pull the latch into place. Sooner or later they'll wear out and need replacing. There's also a 30-second delay before the autolock kicks in, which might give someone the chance to enter your home uninvited.


Tech Specs
No. of stored passcodes: 2
PIN length: 4 – 8 digits
Key-in-lever cylinder: Yes
Has lockout feature: No
Has passage feature: Yes
Power: 4 AA batteries
Warranty: Lifetime mechanical, 1-year electronic
The Pros
Easy to install and use
6-key keypad
Backlit
4 nice-looking finishes
Generous warranty
The Cons
Internal gears prone to wearing out
Autolock takes long to activate
5. Schlage BE365VCAM619 Camelot Keypad Deadbolt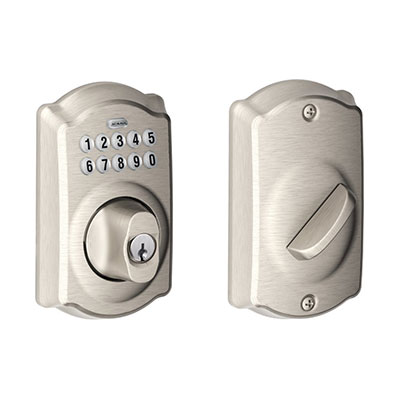 View on Amazon
Editor's Rating: 4.4/5
What's better than having a secure lock to guard your home? Having a trusty lock that also happens to look great! We all know that Schlage is no slouch when it comes to security, but their Camelot lock demonstrates that a reliable door lock can be elegant as well. If you value your home's aesthetics almost as much as its security, then the BE365VCAM619 is the door lock to get.
A Successful Mix of Beauty & Power
The BE365VCAM619 takes a departure from the angular look and hard lines of more traditional numeric locks and is shaped in a more curved manner that suits the modern home better. On top of this, 6 different finish options ensure that you can get a lock that will blend in perfectly with other fixtures in your home. As the lock's finish is resistant to the elements as well as wear & tear, it can secure your shed or front gate too.
Appearance is just icing on the cake though as the BE365VCAM619 is a capable and robust security lock. You can easily install it onto a standard door of either orientation and won't need to fiddle with any wires as it is powered by a long-lasting 9-volt battery. Its keypad is clearly visible and the keys show no signs of wearing out even after year-long use. They're slanted so that you can punch the 6-digit code in without stooping, and are illuminated by a blue light to make nighttime entry more convenient.
Up to 19 passcodes can be set up for it, one of them being the master code. You can use the master code as a starting point to create new codes and delete ones that aren't in use anymore.
What Should Be Improved?
The BE365VCAM619's main issue is that you can't lock it from the inside, so if an intruder does manage to break in another way, they'll be able to get out through your front door. More importantly, your kids and pets can open it too and get out onto the street. We'd like to see an addition of autolock in future versions as well.


Tech Specs
No. of stored passcodes: 19
PIN length: 6 digits
Key-in-lever cylinder: Yes
Has lockout feature: No
Has passage feature: Yes
Power: 9-bolt battery
Warranty: 3 years
The Pros
Looks great
6 different finishes
Clear and illuminated keypad
Easy to install
The Cons
Doesn't lock from the inside
No autolock
6. SoHoMiLL YL 99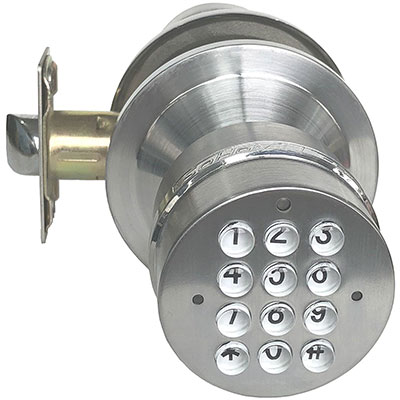 View on Amazon
Editor's Rating: 4.5/5
Even though no price is too high to pay for a home that's safe & sound, it's nice to know that companies like SoHoMiLL create door locks that are both built to keep trespassers away and are very affordable at the same time. Don't mistake its austere appearance for a lack of effectiveness – the YL 99 is right up there with the big boys when it comes to preventing unauthorized access to your home.
Unique Design and Affordable Protection
Unlike all the other reviewed locks so far, the YL99 doesn't have a separate keypad. Rather, the keypad is built into the knob itself, which is understandably larger than usual as a result. This won't cause you any issues as the lock is completely compatible with standard-sized doors and shouldn't be complicated to install.
The keypad feels nice to the touch and its numbers are painted from the inside to prevent wear and someone guessing the combination based on it. They're lit up by a strong blue LED light so unlocking the door at night won't be an issue. Four AAA batteries keep things running smoothly and the lock lets out beeps when they run low. If the batteries do run out, you can hook an accompanying jumper box up to the lock in order to jolt it back to life.
One master key and 8 user keys can be programmed at a time. For even more security, you can also set the lock to fake PIN mode and enter nonsensical codes along with the right one. Autolock is also present and is initiated after just three seconds.
What Needs Improving?
SoHoMiLL claims that the lock is weatherproof, and while that seems to be the case, its beautiful stainless steel finish will be marred if left out in the rain. Since its keys had to be crammed onto an oversized doorknob, they're smaller than those on most other keypads. What's more, they aren't angled like the ones on Schlage's lock, so you'll have to bend down to see the numbers if you can't feel your way to opening it.


Tech Specs
No. of stored passcodes: 9
PIN length: 4 digits
Key-in-lever cylinder: No
Has lockout feature: No
Has passage feature: Yes
Power: 4 AAA batteries
Warranty: N/A
The Pros
Keyless
Affordable
Fake PIN mode
Easy installation
The Cons
Finish gets stained with outdoor use
Keys are small and hard to see while standing
What to Look for in a Keypad Door Lock?
Ways of Entry
The Keypad
Additional Security Features
Autolock
User Management
Power & Weatherproofing