6 Best Walkie-Talkies for Kids of 2019
Children spend far too much time cooped up in the house these days. The obvious solution is to get them outside to play, but how to do so responsibly? Smartphones are pricy and complicated for small children to carry around, and they won't work if cell tower coverage is bad. A less expensive and less complicated solution is to invest in a set of walkie-talkies designed for kids!
Kids' walkie-talkies work just like ones for grownups except that they are easier to use and have a shorter range. Some are designed with toddlers in mind and let you talk with your bundle of joy just by pressing a button. Others are closer to models they seek to imitate and have many of the same sophisticated features like privacy codes, call alerts, or automatic channel scanning.
We've put together thorough reviews of the six best walkie-talkies for kids on offer today. They may be similarly priced, but each model is unique when it comes to how easy it is to use for children and what features it has. Pick the walkie that fits your tyke's needs and let her enjoy a taste of freedom and adventure while keeping her safe.
Budget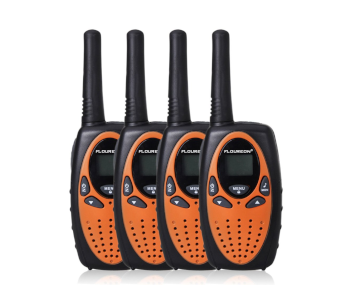 Floureon 22 Channel 2 Way Radio
4.3/5.0
Weight: 8.2 oz.
Range: 3 miles
Has a decent range and adjustable volume.
Check Amazon
Best Value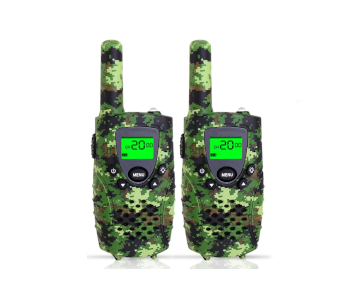 FAYOGOO Walkie Talkies for Kids
4.6/5.0
Weight: 2.2 oz.
Range: 4 miles
This can be heard clearly from far away.
Check Amazon
Top Pick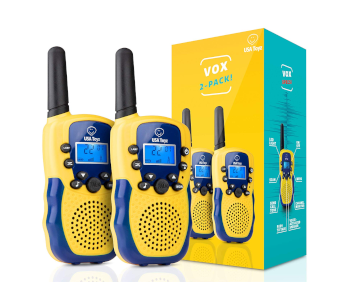 Vox Box Kids Walkie Talkies
4.7/5.0
Weight: 3.9 oz.
Range: 2 miles
Lots of channels and talk settings to choose from.
Check Amazon
Kids' Walkie-Talkies Comparison Table
1. Best Overall – Vox Box Kids Walkie Talkies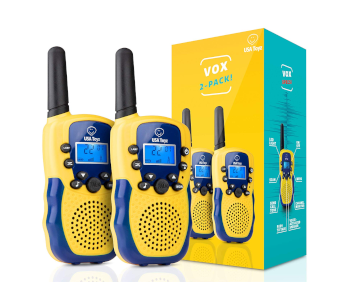 View on Amazon
Editor's Rating: 4.7/5
USA Toyz is a company that produces quality, American-made toys, including the Vox Box walkie-talkies. These are the cream of the crop as kids' walkies go. They're sturdily built and have a slew of extra features like a headphone jack and LED flashlight. They might be considered a toy, but these are full-fledged walkie-talkies your kid can use not just for fun adventures, but as a learning tool to develop a useful skill they may need later in life.
Overview of Features
Don't let the fun appearance of the Vox Box fool you – these are sturdy radios that can easily handle backyard shenanigans. While they might not survive being run over by a bike, accidentally dropping a Vox Box walkie won't make it useless. They're well-built from an ergonomic standpoint too since the lower parts of their bodies have grooves for natural finger placement.
USA Toyz has equipped their walkie-talkie with a slew of extra goodies. There's the backlit LCD screen that provides info on channel selection and the battery status regardless of the weather. A headphone jack and powerful flashlight are above it, allowing for hushed communication during sneak attacks, and helping your kids explore the untamed wilds of your backyard.
Introducing kids to the basics of radio communication is made easier by the Vox Box's straightforward controls. There are 22 channels and 99 sub-channels to choose from, so your kids can either have secret one-on-one conversations or broadcast their plans to other walkies tuned into the same channel. They can do so by pressing the convenient PTT button or without using their hands when VOX is on.
The Vox Box walkies boast a range of two miles in ideal conditions. They're more likely to reach their maximum than other walkies on review because of well-made antennas. Even so, expect walls and other major obstacles to shorten the range.
You need 4 AAA batteries per unit to power the radios. These are secured by a heavy-duty protective cover that won't budge unless you need it to but isn't secured with safety screws for easier access.
What We Didn't Like
It's great that the Vox Box's batteries are easy to change since you'll be doing that a lot. A fresh pack lasts only 2-3 hours of intensive use. Unlike the radios, the belt clip is made from low-quality plastic and prone to snapping off.
Tech Specs
Dimensions: 6.5 x 3 x 2.5 in.
Weight: 3.9 oz.
Range: 2 miles
The Pros
Durable and fun design
Flashlight and headphone jack
Lots of channels and talk settings to choose from
Excellent range
The Cons
Flimsy belt clip
Drains batteries quickly
2. Best Value – FAYOGOO Walkie Talkies for Kids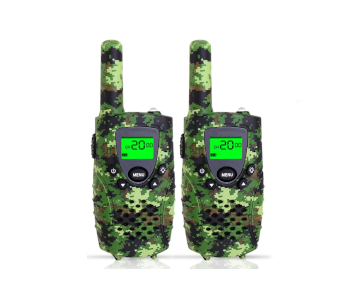 View on Amazon
Editor's Rating: 4.6/5
Fayogoo's walkie-talkies might be among the priciest on our list, but they have something other models lack – rechargeable batteries! This package comes with three NiMH AAA batteries per device you can charge up with the included USB cables. The more you use them, the more you'll save! These walkies aren't so high up just because of great battery life though. They go toe-to-toe with the Vox Box in terms of features and have some of their own like squelch.
Overview of Features
At 2.2 ounces apiece, the Fayogoo radios are the lightest models on review. They're small for adult hands but fit perfectly in those of young explorers. You can choose between two camo designs and bright pink. Whichever color you go with, the walkies' exterior is slip-resistant and fits naturally in hand. You also get easily removable belt clips that attach to their backs.
Communicating through Fayogoo's walkies is effortless! They feature an impressive 4-mile range, but you can expect to get reception 0.5 – 1 mile away with minimal interference thanks to squelch. You can talk to your kids on one of 22 channels and use 36 privacy codes to keep the conversation private even when someone else is using the same channel.
Overall, these two-way radios hold up well in the field. They have LED flashlights and backlit screens for use in low light conditions and can be voice-activated for greater convenience. They come with 10 call alerts so your kids can distinguish between you calling them to dinner and a friend relaying top secret info. Lastly, there's a headphone jack for quieter communication if the neighbors start complaining.
Are There Drawbacks?
The batteries last for six hours and take as long to recharge, so you'll need to top them off after a day of play if your child wants to use the walkies tomorrow. Eventually, the batteries will start losing their charge, at which point it is better to replace them.
Tech Specs
Dimensions: 1.8 x 1.4 x 5 in.
Weight: 2.2 oz.
Range: 4 miles
The Pros
Come with rechargeable batteries
Excellent value for the money
Can be heard clearly from far away
Useful for one-on-one communication thanks to privacy codes
The Cons
Batteries take long to recharge and become less effective over time
3. Kidzlane Walkie Talkies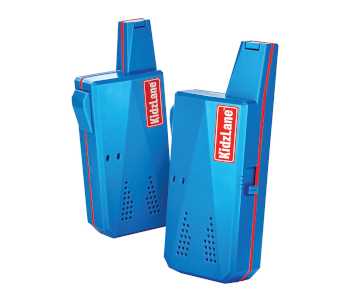 View on Amazon
Editor's Rating: 4.4/5
Our top pick is an excellent choice for children aged 5 and up but might be too complicated for younger ones. The walkie-talkie set by Kidzlane has such a simple design that even a toddler can quickly grasp and start having fun with it. This no-frills, inexpensive set is perfect for introducing your child to communicating via an electronic device, but also as a tool to master concepts like cause & effect or waiting their turn.
Overview of Features
We love the barebones approach to the Kidzlane walkie-talkie design! The walkies are the perfect size for tiny hands and light enough for 2-year-olds to carry around comfortably for hours. They come in two bright colors and have a belt clip for more comfortable carrying. You'll need 3 AAA batteries to power them, and the children will get upwards of 4 hours of playtime per set.
Control-wise, these walkie-talkies are as simple as it gets. There's only one push-to-talk button that doubles as a beeper when pressed quickly. The kids can toggle between three pre-programmed channels and talk either privately or in a group conversation if you buy more than two units. A power indicator LED and the thick antenna complete the walkies' appearance.
With a max range of 2 miles, the Kidzlane walkie-talkies are among the best of the bunch. That is a distance you'll likely never reach, but you can expect clear communication with your child whether they're in the next room or on a playdate at the neighbor's.
What's Bad About It?
These walkies don't shut off automatically, you turn them off by toggling the channel switch instead. Since they're meant for younger children who don't understand the on/off concept yet, chances are that yours will leave the walkies on and drain the batteries in a snap. Durability is another concerning issue. The walkies are made from cheap plastic which cracks upon impact. You'll need to tell your tyke to be careful while playing with them, which makes the walkies less fun.
Tech Specs
Dimensions: 1.1 x 1 x 4.6 in.
Weight: 3.5 oz.
Range: 2 miles
The Pros
Simple design suited for smaller children
Excellent range and clarity
Three channels that are easy to switch to
No programming required
The Cons
Made from low-quality plastic
No way to turn off automatically
4. Retevis RT628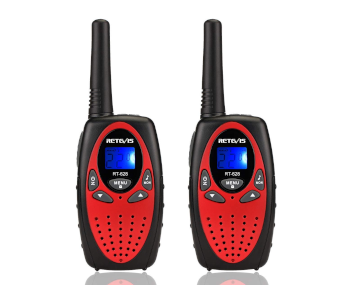 View on Amazon
Editor's Rating: 4.2/5
Do you want your kids to play safely without having to rely on smartphones? In that case, the Retevis RT628 is the perfect gift! This small yet versatile walkie is designed to keep up with your child's antics and give them a quick way to contact you or her friends. The RT628 is rugged, easy to use, and even has some features you'd think are reserved for walkie-talkies for grown-ups like VOX.
Overview of Features
It's clear that this walkie-talkie was built with kids in mind as soon as you remove it from the packaging. It is small and light, so younger children will have no trouble carrying it around. There are four cool colors to choose from – red & silver if you want to find the walkies more easily, or black & camo if you want them to look like the real deal. You power the RT628 with three AA batteries. The light-up LCD screen has a battery level indicator that lets you plan replacement In advance.
Retevis puts the RT628's maximum range at 9,000 feet or 1.5 miles. This is true in ideal conditions but drops off considerably in areas with lots of buildings or that are dense with trees. Still, the RT628 can be heard loud and clear at more than half a mile away in such circumstances, which is far enough to keep tabs on your kid in the neighborhood.
Ergonomically, the RT628 is fantastic! It fits well in hand and has a large push-to-talk button on the side the kid can't miss. The control scheme in general is simple for a child to grasp yet advanced enough for mom & dad to tweak the way it works. This includes programming the walkies to be on the same channel, setting up hands-free operation with VOX, and choosing the call tone. There's also a handy keypad lock function if you don't want the child to switch to a different channel accidentally.
What We Didn't Like
You need to remove a cover to replace the batteries. Doing so is frustrating because the cover has a tight fit and you might bruise your fingers while attempting to remove it. Parents not familiar with walkie-talkie operation might find it challenging to get the RT628 to work. This is due to the poorly-written manual that offers vague instructions in bad English.
Tech Specs
Dimensions: 6.2 x 2.1 x 1.1 in.
Weight: 3.5 oz.
Range: 9,000 feet
The Pros
Easy to use for kids
Great ergonomics and PTT button placement
Has VOX
Solid range for its strength
The Cons
Battery cover is hard to remove
Poorly-written instruction manual
5. Little Pretender Walkie Talkies for Kids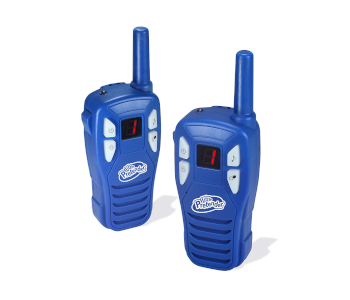 View on Amazon
Editor's Rating: 4/5
Do you like the concept of the Kidzlane walkie-talkies but know your kids can handle something more advanced? Little Pretender makes walkies that are just as easy to use yet offer more features like call alerts and a flashlight. These well-built gadgets are fun to use, provide good reception, and are sure to bring hours of imaginative play.
Overview of Features
The first thing you'll notice when you remove the Little Pretenders from their beautiful box is how solid they feel. That's because they're made out of hard plastic that can be dropped from 3 feet and not get damaged. This is great for kids used to rough play and fearless exploration! It also means that the walkies are easy to clean – a damp cloth and some elbow grease will take care of all the dirt that gets stuck to them while playing. You can only get them in blue, but that's a small inconvenience considering the radios' performance.
The control scheme is easy to grasp, even for smaller children. There are five buttons in total – the PTT button off to the side and four large buttons on the walkie's face. These are easy to press and used to turn the device on or off, call the other walkie, turn on the flashlight, or change the channel. There are only three channels so keeping in touch with one another is simple, even if the child accidentally switches to a different frequency. The current channel is shown in big red numbers to make agreeing on which one to use easier.
What's Bad About It?
These are the walkie-talkies with the shortest range we've tested. The box might say 2 miles, but your kids will be lucky if they get a usable signal from half a mile away in an open field. This also means that the range is greatly diminished in areas with housing and that you won't be able to keep in touch with your tyke if she's more than a couple houses away. The four control buttons are well-made, but the push-to-talk button isn't. Pressing it too hard can cause the button to stick and become unusable, so handle with care.
Tech Specs
Dimensions: 5 x 1.9 x 1.5 in.
Weight: 3.6 oz.
Range: 2 miles
The Pros
Rugged body resistant to fall damage
Right balance of features and complexity
Has flashlight
Fits small hands well
The Cons
Short range
Flimsy push-to-talk button
6. Best Budget Option – Floureon 22 Channel 2 Way Radio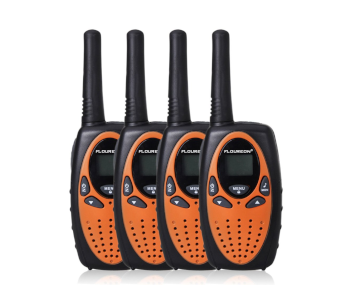 View on Amazon
Editor's Rating: 4.3/5
The last set of walkie-talkies on review is a real bargain. Floureon's two-way radio pack contains four units with features like squelch, variable call alerts, and volume control for less than $30! These walkies are great for older children you can teach about channel selection and programming while having fun outdoors. Plus, there are enough of them for the whole family to use.
Overview of Features
Floureon's radios look similar to ones made by Retevis. They share the same button layout and information presented on their backlit LCD screens. Floureon's models are only available in orange or red, however. The orange in particular contrasts well with grass and wooded environments, making the walkie easier to find should your child drop it.
0.5 watts is the default power level, but you can boost it to 1 watt. This will drain the batteries quicker, but it also ensures that your kids can get farther away and still communicate without interference. The walkies' range is set at 3 miles in open fields and a mile less when there are buildings nearby.
These are the loudest two-way radios we've tested. Better yet, their volume can be controlled to fit your surroundings. This helps you get a hold of your kids in noisier environments like amusement parks while leaving neighbors with nothing to complain about when playing at home. Regardless of the current volume, turning the call function on will alert you to incoming calls with a sound that's slightly louder than a transmission, letting you pick the walkie out from background chatter and other noises.
Just because Floureon's walkies are affordable doesn't mean they lack versatility. They have 2.5mm headphone jacks, access to 22 channels, and the ability to scan for active channels in case of emergency. Your kids can also enjoy voice activation with VOX and get to hear each other clearly with squelch on.
Are There Drawbacks?
The control keys were built to support multiple actions depending on how long they're pressed. While this is a smart design decision, it can confuse smaller children. For example, the on/off button doubles as the channel selection button when pressed quickly. A child might want to turn the walkie off and inadvertently change the channel, making it hard for her to reestablish contact. This is another model that quickly drains batteries.
Tech Specs
Dimensions: 3.2 x 2.8 x 7.5 in.
Weight: 8.2 oz.
Range: 3 miles
The Pros
Four units for an excellent price
Decent range
Adjustable volume
Adjustable power output
The Cons
Short battery life
Might be confusing for smaller children