Amazon Kindle Cyber Monday 2018 Deals
3D Insider is ad supported and earns money from clicks and other ways.
Cyber Monday is here and it's the best day to get a Kindle e-reader. Amazon has not released many discounts across their Kindle range this year, but there is still a way you can save money.
The Amazon Kindle is an undisputed device for bookworms and this year you can save up to 33% when you get one.
Amazon Kindle Paperwhite
Cyber Monday Price: $79 Retail Price: $119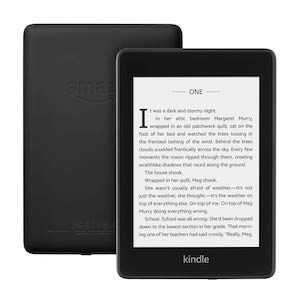 Amazon is discounting the previous generation Kindle Paperwhite for Cyber Monday. The company just released a new version that they do not have on sale.
The new version of the Paperwhite is now waterproof. It also has twice the amount of storage as the old version and it's thinner and lighter. Finally, it supports Audible and you can connect a pair of wireless headphones to listen to stories.
The Kindle Paperwhite is Amazon's mid-level e-reader. Compared with the standard Kindle, the old Paperwhite has a more premium finish. Its 6-inch display has a 300 pixel per inch resolution, double that of the Kindle. The brightness of the Paperwhite's display has been improved so you will be able to read under bright sunlight.
Similar to the Kindle, battery life for the Paperwhite is excellent. A full charge can last up to 6 weeks so you can forget to charge it and still have a decent amount of battery life when you open it up to read a book. The Paperwhite comes with 4 GB of storage, which is enough to store thousands of books.
Amazon Kindle
Amazon has not discounted the standard Kindle for Cyber Monday. We have included this information so you can compare it to the Kindle Paperwhite above. This version also got a new refresh.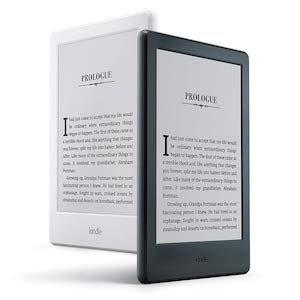 The latest iteration of the Amazon Kindle is sleeker, slimmer, lighter, and shorter than the previous version. It feels compact with much thinner bezels. It's also significantly lighter, which makes it easier to hold and handle in one hand for a better reading experience.
The new Kindle has 4GB of storage so you can easily store your favorite books without worrying about running out of space. If 4GB is not enough, you can use Amazon's cloud storage to store more of your books. This space option comes in handy with Kindle's Audible integration. You can listen to more than 200,000 audiobooks by connecting Bluetooth headphones or speakers.
The Kindle has a 6-inch display, which is the size of your regular paperback so reading on the Kindle will feel like reading a physical book. One downside to the Kindle is its display. The resolution is enough to show text clearly but not for viewing book covers in the Kindle Store.
One feature that's missing on the Kindle is the lack of back lightning, so reading in bed at night is a bit of a problem. The experience of reading in natural light on the Kindle is excellent.
Battery life with the Kindle is excellent and is able to last 3 weeks on a single charge. If you're not a heavy reader, you can even make it through a month without charging so you can store your device in your bag and be sure that you have some battery power left to read your favorite book.
The Amazon Kindle is your basic e-reader option, and it is an affordable and capable device.