Kindle Cyber Monday Deals You Don't Want to Miss
3D Insider is ad supported and earns money from clicks, commissions from sales, and other ways.
Amazon's e-reader, the Kindle, is one fantastic device, and they never forget to put up amazing deals during the holiday sale season. This Cyber Monday, discounts have continued so you can get your hands on the latest models or even the previous one at a significantly reduced price.
Kindle's are generally affordable devices for what they do, and you can even enjoy them at a much lower price with these bargains. We have rounded up the cheapest deals we could find and covered all the models, so you will know exactly which model will work for you.
A lot of devices can be turned into an e-reader, but they do carry with them a good amount of distractions in the form of other apps. If you are looking for a device that can keep your library, the Kindle is definitely a device to consider rather than getting a pricey smartphone or tablet.
ALL NEW KINDLE (WITH SPECIAL OFFERS)

Original Price: $89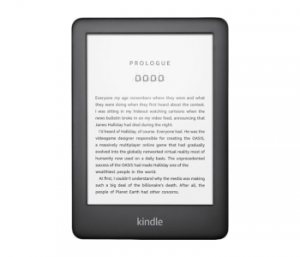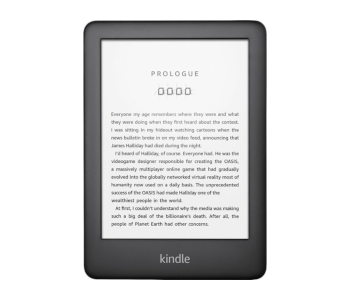 Cyber Monday Price: $59
This is the latest version of the entry-level Kindle, which now comes with a built-in backlight. This means that you do not have to get the Kindle Paperwhite if you enjoy reading your favorite eBook at night and in the dark. It is definitely a welcome upgrade, but this means that the price has been pushed a bit higher.
This Cyber Monday is your chance to get the all-new Kindle at a discounted price where you can save up to 33%.
What Do 'Special Offers' Mean?
When looking at the latest listings of Amazon devices such as Kindles and Fire tablets, you'll sometimes see them listed with a note that says 'with special offers.' Choose the other option 'without special offers,' and you will immediately see the price jump.
Essentially, these Special Offers are Amazon's screensavers that show you some advertising right on your device. If you got a device with Special Offers, the next time you wake it up from sleep mode, you will see an ad for a book or a product from a third party.
It might sound annoying, but it really isn't. First of all, you'll get a much cheaper deal, and the ads are actually pretty easy to swipe away. These ads do not disrupt your reading experience. So they are not intrusive as they only appear when you wake them up from sleep mode as something like a screensaver.
Then, you can always pay the difference at a later date to permanently remove the ads. So, you do have options regarding the Special Offers. If you're looking for a much sweeter deal and are not bothered to see a few sales here and there, then definitely get a Kindle with Special Offers.
ALL NEW KINDLE KIDS EDITION

Original Price: $109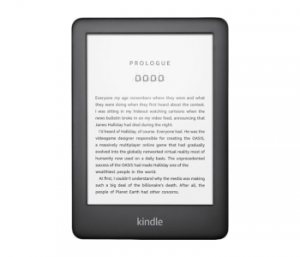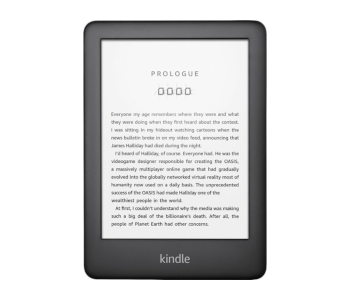 Cyber Monday Price: $79
At first glance, you will instantly notice that the kid's edition is more expensive than the standard Kindle. However, this gives you an ad-free and kid-friendly experience. You and your kid also get a year's subscription to Fire for Kids Unlimited, which comes with thousands of children's books.
It is pretty much similar to the standard Kindle but comes with a slightly tweaked software where the browser is disabled to avoid distractions. It also has achievement badges that kids will love to collect and comes with Word Wise which shows the meaning of difficult words.
Overall, this is an excellent device to give to your kid and makes a beautiful gift to get a kid interested in reading.
KINDLE PAPERWHITE (WITH SPECIAL OFFERS)

Original Price: $129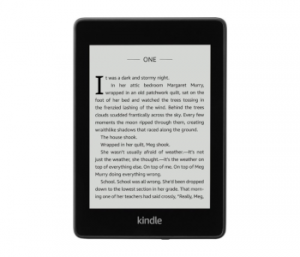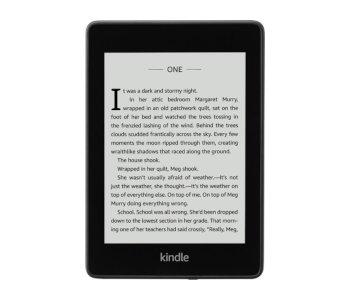 Cyber Monday Price: $84
The Kindle Paperwhite can be considered as a midrange eBook reader. Amazon put the core features of the Kindle Oasis into this machine, making it more affordable. If you love reading books and have an extensive library, this is a must-have.
Its crisp 300 PPI display and backlighting allows you to use the Paperwhite to read in just about any conditions. It is also waterproof so you can lounge by the pool or bring it with you for a bath and not worry about getting it wet. Overall, this is one of the best ebook readers on the market today.
KINDLE PAPERWHITE (WITH 32GB STORAGE, WI-FI + FREE CELLULAR CONNECTIVITY)

Original Price: $249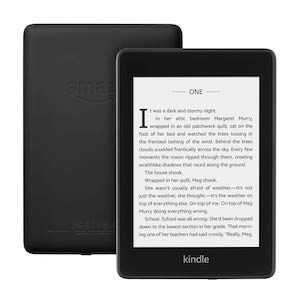 Cyber Monday Price: $199
The standard Kindle Paperwhite only comes with 8GB of storage, while this version comes with 32GB. This is an excellent choice if you have an extensive library and want to keep them at the ready. This is also the device to get if you have lots of audiobooks so you can store a few of them without worrying about storage space.
KINDLE OASIS E-READER 9TH GENERATION (WITH SPECIAL OFFERS)

Original Price: $279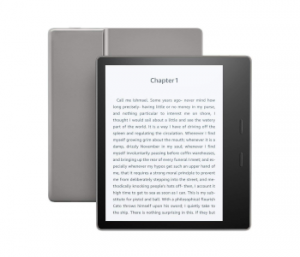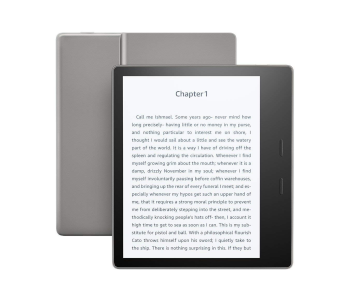 Cyber Monday Price: $149
The Kindle Oasis is a premium eBook reader with an all-metal build and is waterproof. It is on the expensive side, but it will surely give you one of the best reading experiences on a handheld device. This is one of the best readers on the market if you're a total bookworm since you can read for hours without straining your eyes.
The Oasis has Audible integration so you can listen to audiobooks by linking a Bluetooth headset. The added integration also means that if you own both the book and audiobook version, you can switch quickly between both versions. It also keeps track of your progress so you can read and switch to the audiobook and pick up where you left off.
The Kindle Oasis is on a sweet deal this Cyber Monday with its 46% discount. You can get a premium eBook reading experience at the price of a little over that of the Paperwhite. So, if you're looking for a top-notch reader with all the bells and whistles, this is the device for you.