Amazon Kindle E-Reader – A Brief History of All Kindle Types Released to Date
3D Insider is ad supported and earns money from clicks, commissions from sales, and other ways.
Amazon's Kindle is the world's best-known e-reader. It uses Electronic Ink technology to display your favorite books, comics, and documents in a way that simulates real paper almost perfectly. The device has come far from the expensive, clunky slab of white plastic that took the world by storm in 2007. Now you can take the Kindle to the beach, read at night without disturbing your partner, or share favorite passages with friends across multiple social media sites.
But how did we get to the diverse options we have today? This article takes a closer look at Kindle's history. It examines every type of Kindle e-reader released so far, showcasing their characteristics, improvements, and flaws. By the time you're finished, you'll develop a deeper understanding of how your Kindle came to be. You'll also have a better idea which Kindle type to get if you don't have one yet. Keep in mind that we focus on the e-readers only – Kindle Fire tablets are a topic that deserves its own article.
The early years
Kindle made its debut in 2007 and was sold exclusively in the USA. Despite costing $399, it sold out mere hours after appearing on Amazon, and it took months for new stock to arrive. It wasn't the first reader to use E-Ink, but the original Kindle left its competition behind. This was thanks mainly to superior performance and Amazon's vast catalog of books and other written media.
The original Kindle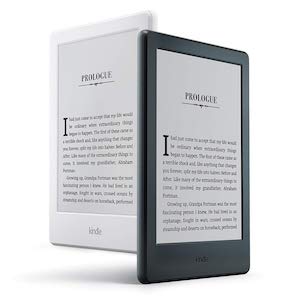 It might not seem so now, but the original's specs were impressive at the time. It had a 6-inch display with a resolution of 600×800 and 168 pixels per inch or PPI. A touchscreen was still a ways off, so you had to turn the page using two large buttons to the left of the screen. There was also a rubberized scroll wheel to make navigation easier along with a physical keyboard for text input.
3G wireless connection was another big selling point. You could access the Amazon store, download books, or browse Wikipedia pages from anywhere for free over Sprint's 3G network. The selection of books, journals, periodicals, and other content was extensive but also pricey. You could download the first chapter of a book for free before buying, though.
For all of its breakthroughs, the original Kindle had some noticeable shortcomings. Its battery lasted a week at best, the screen had only four contrast levels, and the design was both bulky and unattractive. The reader's 400MHz processor and web browser were sluggish, and the screen turned black briefly each time you turned a page. The original only had 256MB of storage but could be expanded with an SD card.
Kindle 2
Kindle's second iteration arrived less than two years after the original. Amazon took customers' complaints to heart and made improvements across the board. Four contrast levels were replaced by sixteen, and page-turning speed was optimized. Kindle 2 was $50 cheaper at launch and saw further price reductions down the line.
Amazon ditched the original's wedge-like shape and made the reader flat. Its layout was also improved. The page-turning buttons were smaller and harder to press accidentally while the scroll wheel was made smaller and more functional. Internal storage was increased to 2GB, which meant you could keep a library of thousands of books. Battery life was raised, as was the size of Amazon's digital library.
The original had a speaker that let you listen to music in the MP3 format as well as audiobooks. Kindle 2 added to its audio capabilities by introducing text-to-speech or TTS. This feature allowed the blind to listen to regular books thanks to a speech synthesis program.
Kindle 2 was briefly available only in America. It was soon replaced by a version that could use 3G wireless globally but was identical in other respects.
Kindle Keyboard
First dubbed Kindle 3, Kindle Keyboard was to become Amazon's best-selling e-reader to date. It upped the 2's storage to 4GB and had significantly increased battery life. You could get a Keyboard in either white or gray at an initial price of $189. Kindle Keyboard was the first to introduce a Wi-Fi version for $139. Customers could also opt for a $115 version that displayed ads, which was to become a standard option for newer models.
The Keyboard featured a streamlined user interface with small page-turning buttons on either side. The scroll wheel was replaced with a d-pad and placed closer to the keyboard. This was the first Kindle to support multiple fonts as well as Unicode characters, allowing users to read books in foreign languages. The screen's resolution and PPI didn't change, but the contrast ratio was now 10:1 thanks to a new pearl display. The Keyboard was powered by a 533MHz processor which made turning pages quicker.
Kindle Touch
September of 2011 was a pivotal time for Kindle as both the fourth-gen e-reader and the first Kindle Fire tablet were announced. Also new was Kindle Touch, Amazon's first touchscreen-operated e-reader. Like the Keyboard, Kindle touch came in 3G and Wi-Fi versions, both with ad and ad-free options. The most barebones Touch cost just $99, approaching the low price points basic versions would have from the Kindle 4 onward.
The new touchscreen brought with it a radical change to the Kindle's design. The keyboard and navigation buttons were all gone, replaced with a single home button. You performed actions like turning pages, zooming, or changing fonts by swiping and pinching the screen. Touch navigation was intuitive but slower than pressing physical buttons on older models.
Along with Kindle 4, the Touch was the first model with an experimental web browser. You could type in webpages with the responsive virtual keyboard and access many, albeit with slow loading times and mixed results. Other features like accessing Wikipedia or getting word definitions from the Oxford Dictionary of English worked well though. You could also take screenshots for the first time.
The touch added a new unique feature – Amazon X-Ray. This allowed users to browse passages with the same themes, track where characters were mentioned, or get info about highlighted words on Wikipedia. X-Ray would later allow authors to include additional content on locations, characters, etc. to enrich the reading experience.
Kindle DX
At 6-inches, the Kindle is equal in size to a paperback. That might be fine for novels, but it made newspapers, journals, and any content with graphics in it hard to read. That's why Amazon released the DX three months after Kindle 2. Its screen size went up to 9.7 inches with a corresponding resolution increase to 1200×864. PPI was decreased to 150, but the DX supported automatic page orientation.
Kindle DX came with a host of social features as part of the Kindle 2.5 software update. Readers could now post their favorite passages on social media and see which passages other people highlighted the most. You could zoom for the first time in PDF documents and organize your library into categories.
Kindle DX 2
The second Kindle DX was a minor but important upgrade to its predecessor. It was the first Kindle available in graphite gray, a color that made more sense and contrasted better with the screen's whiteness. The keyboard was smaller & streamlined, while directional arrows replaced the previous & next page markers.
Amazon switched production from vizplex to pearl screens. This afforded the DX 2 better contrast and readability. Both DX models came with 4GB of storage, but the DX2 had a longer-lasting battery.
Bringing e-reading to everyone – past & current basic Kindles
The advent of e-readers marked a dip in physical book sales while e-book sales were skyrocketing. Amazon was already the world's largest e-book publisher at the start of the decade, but they wanted people to take an even greater interest in this fast-growing medium. Their Kindle Keyboard made it clear that cheaper readers sell well, so Amazon started putting out basic versions of the Kindle with amazing success that continues until today.
Kindle 4
The fourth Kindle was Amazon's least expensive e-reader until its successor was released. It only had Wi-Fi and cost $79 if you chose the special promotions version. Kindle 4's most significant departure from earlier models was a streamlined look, along with better build quality and no physical keyboard.
The device was smaller and lighter while not compromising on quality. It was made from plastic that had a metallic sheen and was comfortable to hold. The back felt rubbery and provided extra grip. A lack of keyboard was the most drastic design change, leaving you with the directional pad, page turn buttons, and four buttons used for navigation.
The content selection was bigger than ever as Amazon wasn't your only source of books anymore. Now you could rent e-books from your local library or download them from various other sites. Kindle 4 supported several DRM-free formats and even handled PDFs well.
Experimental internet browsing let you visit more websites than ever. You couldn't open links that forced a new window and content was slow to load, but it was progress nevertheless. Kindle 4 saw the introduction of Article Mode, which made websites load faster by only displaying text. This made it easier to read content without distractions and crawling loading times.
There were drawbacks since this was a stripped-down model. Its most notable shortcoming was lack of any audio features, so you couldn't use TTS or listen to audiobooks. Another was the clunky way in which you handled the keyboard. You had to press a button for it to appear on the screen and then navigate to the letter you wanted with the directional pad.
Kindle 5
The 5th-gen Kindle was released shortly after Kindle 4 and was more of a refresh than a full-fledged upgrade. It had the same button layout, software suite, and feature set. Its major visual difference was a black bezel, while performance improvements took the shape of better contrast and faster page turning. There was no reason for an upgrade if you had the Kindle 4 or touch, but the 5's $69 price tag made it the cheapest device in Amazon's lineup.
Kindle 7
The only Kindle to be introduced in the sixth overall generation of e-readers was the 2nd-gen Paperwhite, so Amazon skipped a number for this model. Kindle 7 brought touchscreen capabilities to the basic e-reader line. It still lacked audio and the same screen spec as the last generation but received software updates on par with more expensive contemporary models.
Visually, Kindle 7 was a downgrade. It had thicker sides and was made from lesser-quality plastic than the Kindle 5 in spite of costing $10 more at launch. Its infrared touchscreen was on par with the Kindle Touch, but a 1GHz CPU ensured smooth page turning.
Updated visuals and features were Kindle 7's main selling point. It featured a revamped home screen, more in-depth social options, and a better user experience. It was the first Kindle that allowed parents to curate their kids' book choices and track reading progress. Meanwhile, kids would get badges for completing challenges. It also let you connect to your Goodreads profile where you could create lists, review books, and check out what friends were reading.
Text customization received improvements in the form of three new fonts for a total of six. You could select between three line spacings and track reading progress. The tracker showed how much of the book was left and estimated the time it would take to read the rest based on turning speed.
Kindle 7 also added to its predecessors' interactive reading experience. New features included About the Author pages, a vocabulary builder that helped you memorize words you looked up in the dictionary, and Word Wise. You could turn the latter on when reading demanding texts, and it would display definitions and synonyms alongside more complicated words.
Kindle 8
Next came the Kindle 8, a modest upgrade in the basic Kindle series. Its core specs remained mostly unchanged, the major exception being a reduction in size and weight. At 5.7 inches, it was the lightest basic Kindle yet and small enough for comfortable one-handed use. Its edges were rounded, and there was only one physical button for turning the device on and off. This model was the first basic Kindle to use Bluetooth. Through it, you could connect wireless headphones and listen to TTS.
Kindle 8 was a worthy inexpensive alternative to the Voyage and Oasis as it had the same software features at a much better price point.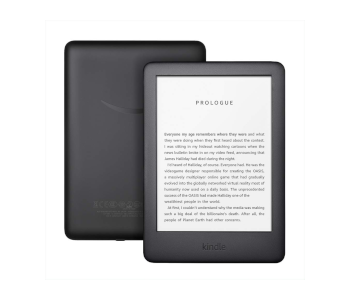 The latest basic Kindle model was released in April of 2019. Its most exciting new feature is a frontlight. The light is made up of four LEDs which light up the screen and let you read at night. The light is useful during the day, too, making the Kindle brighter and uppIng its contrast. It's also the reason why the newest Kindle costs $89.
Software features and design remain unchanged from the Kindle 8, except that the newest model has more rounded edges and fits more comfortably in hand. The screen's resolution and PPI haven't changed for years, but the frontlight brightens it during the day and makes reading in any lighting condition possible. The screen is capacitive instead of infrared now, so it isn't as recessed as previous versions.
The current basic Kindle has a lot going for it, especially since its software suite is identical to that of more expensive models. If you don't care about waterproofing and listening to audiobooks, it's a fantastic value for the money.
Kindle Paperwhite
Kindle Paperwhite came out at the same time as Kindle 5, as evidenced by its characteristic black border. The Paperwhite in its name comes from its most innovative feature – a frontlight. The frontlight consisted of 4 LEDs that would shine on a light guide layer that distributed light evenly. This made the Kindle whiter during the day and allowed for reading at night without an external light source.
The original Paperwhite is best described as an improved version of the Kindle Touch. It had a single power button while all other actions were accessible via the touchscreen. This ways capacitive instead of infrared, which made it more in line with the bezel's edges as there didn't need to be room for infrared sensors. The resolution was upped to 1200×758, making text sharper and easier to read.
Kindle Paperwhite featured an improved home interface you cold rotate into landscape mode. The font count was increased to six, and you could translate words or whole pages instantly into fifteen languages. The reading progress indicator mentioned above made its debut on the original Paperwhite too.
However, there were problems. Amazon's claims of a 2-month battery life were exaggerated, although you could run the device for four weeks with the frontlight at maximum. A more significant issue was that the frontlight wasn't uniform and had a bluish hue in some lighting conditions. In spite of the $179 price tag for 3G or $119 for Wi-Fi, the Paperwhite had only 2GB of storage and no audio support.
Kindle Paperwhite 2
The second Paperwhite was launched a year after the first, mainly to address the uneven lighting issues. This version's frontlight received a noticeable upgrade that eliminated discoloration and darker blotches. Everything else related to hardware remained the same, although you could now buy a 4GB version as well.
Buyers did get some welcome additions to the Paperwhite's reading features. You could now open another window and skim through a book's contents without leaving where you left off. The vocabulary builder was introduced with this version, as were parental controls and Goodreads integration shortly after release. Finally, Smart Lookup let you access X-Ray and Wikipedia from the dictionary when highlighting word.
Kindle Paperwhite 3
The third Paperwhite was another minor upgrade. Most notable was its new Carta screen which boasted a resolution of 1448×1072 and a PPI of 300. That meant it displayed twice as many pixels on the screen as less expensive models and was the sharpest Kindle yet. The frontlight, dimensions, and build quality remained unchanged, as did the reading experience. For the most part. Readers could now take advantage of Word Wise and find information about the author more easily.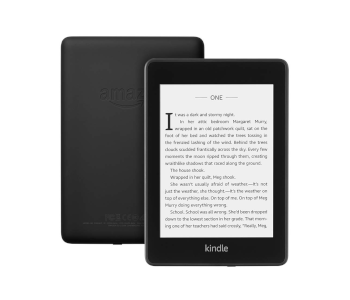 The newest Paperwhite model is also the best with numerous improvements across the board! It's now waterproof like the Oasis with an IPX rating of 8. Audiobooks and TTs are supported thanks to Bluetooth that lets you wirelessly connect the Paperwhite to speakers and headphones. The frontlight is brighter than ever as a fifth LED was added, and you can finally turn it off completely. This translates into considerable battery savings, allowing the Paperwhite to work for six weeks.
Discovering new content is more natural thanks to a redesign of the homepage and your library. You can now search for comic books and audiobooks, browse books in the library based on their read/unread status, and get recommendations based on previous reads. Family members may set up different profiles and access them from the same device. Each person can also create their own font & spacing preferences and switch between them while reading.
Comic book lovers will find that graphics look clean, and text bubbles are easy to read. There's a new navigation mode designed to quickly page through comics. The Paperwhite's capacity has been increased to 8GB, and you can buy a 32GB version if your collection includes a lot of PDFs or visual novels.
Accessibility options are broader and more robust. Apart from TTS, you can now listen to audiobooks through Bluetooth. You get new ones from Audible whose account you can sync with all of your devices. The audiobook player has handy time skip, volume, and pitch adjustment options that let you tailor your listening experience.
Visually impaired people have extra zoom levels at their disposal as well as the bold Ember fonts explicitly designed with them in mind. The Paperwhite's colors can be inverted for more comfortable reading at night, turning the text white and the background dark.
Kindle Voyage
After the success of cheaper e-readers, Amazon wanted to offer its customers a premium alternative. This resulted in the release of the Kindle Voyage in November of 2014 along with the basic model's 7th generation. An improved screen was the Voyage's main selling point. It had a 1448×1072 display at 300 PPI long before one became the standard on the Paperwhite and a year and a half before the release of Oasis. The catch? Its cheapest version was priced at $189.
Voyage was the best-looking Kindle thus far since it featured a sleek design and a tablet-like screen that was flush with the bezel. Its premium feel was augmented by touch sensors that acted as page-turning buttons. You had to apply pressure to them to move on and could set three levels of haptic feedback as a response.
The reader's frontlight had an adaptive sensor. It would take in ambient light levels and adjust LED strength accordingly. Automatic brightness adjustment worked well on the Voyage, which couldn't be said for its competition at the time.
While the improved screen and touch sensors were a welcome addition, the consensus was that Voyage didn't offer enough features to justify its steep price. The frontlight wasn't uniform, and the device ran the same software as less expensive current Kindles. Amazon has made only one version of the Voyage so far. However, rumors suggest that they've been developing a prototype of its second iteration which could be revealed in 2020.
Kindle Oasis
Amazon played it safe for years with the design of all its e-readers. The original Oasis was a welcome surprise in that respect – it wasn't symmetrical and had one side that was noticeably thinner than the other. It also came with a leather case that significantly prolonged its battery life and was to become a point of contention for buyers.
The Oasis looked and felt unique. One of its bezels was much wider than the other and housed two physical navigation buttons users enjoyed more than Voyage's sensors. You could invert the buttons, meaning you were able to read a book at any angle and by holding the Oasis with either hand. It had a built-in gyroscope and detected which way it was facing automatically.
The frontlight was the most powerful yet with 10 LEDs and a uniform glow that surpassed even the 3rd-gen Paperwhite. The Oasis had a small battery pack with enough juice for seven hours on its own. Using the cover bumped that up to thirty or more, so you could get two months out of a single charge if you used the Oasis moderately and with Wi-Fi or 3G turned off.
The leather case protected the Oasis and was of premium quality, but it wasn't an optional purchase. That's why the Wi-Fi version of the Oasis cost a hefty $289 at launch, and you had to pay $70 more if you wanted 3G instead. The mandatory cover meant you couldn't buy third-party alternatives either. The Oasis received praise from reviewers, but the fact that it was so expensive coupled with specs and software identical to the 3rd Paperwhite left buyers with mixed feelings.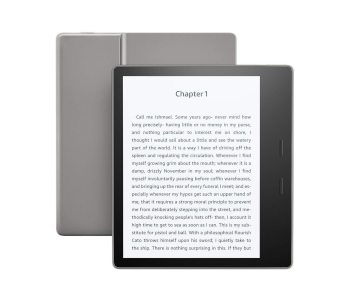 Oasis' second iteration was released just shy of Kindle's tenth anniversary. It addressed most of its predecessor's shortcomings and came with unique features like text inversion and scalable UI elements. Most importantly, it had a beautiful 7-inch screen, and buying a cover wasn't required. While this was a welcome change, battery life suffered for it. Even though it had a larger screen and a faster dual-core processor, the 2nd Oasis cost $40 less than the original.
Amazon retained the same tapering design but replaced the Oasis' back panel with one made from aluminum. That decision was negatively received as the panel was cold to the touch and kept slipping. However, the 7-inch screen more than made up for this by displaying text and images in vivid detail.
The 2nd-gen Oasis implemented a lot of features we'd later see on the Paperwhite 4. These include waterproofing, 8 and 32GB models, support for Audible audiobooks through Bluetooth, color inversion, and new sorting options on the home screen. UI scaling was a feature exclusive to this model – you could choose between standard and large sizes for various UI elements and make them more accessible. On the other hand, there was no TTS support for the visually impaired.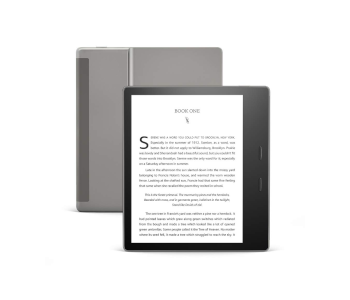 Finally, there's the 3rrd-gen Oasis which was released in July of 2019. It's an excellent e-reader but offers too few improvements to justify switching from the previous Oasis. The only major upgrade is its new frontlight. It now has a whoppIng 25 LEDs which are needed for color adjustment.
You can now scale the color from standard white through yellow to orange for nighttime reading. You scale either manually or let the Oasis' ambient light sensor determine the color instead. Scheduling is another option that allows you to set specific temperature colors for different parts of the day.
The battery has a slightly larger capacity, and users claim the screen is sharper, but everything else is essentially the same. That's not to say the 3rd Oasis is bad – it's still amazon's flagship product and one of the best e-readers on the market today. If you have a basic Kindle or want your first e-reader to come with all the bells & whistles Amazon has to offer, the newest Oasis is a fantastic choice.