KingKong ET100: A Powerful FPV Drone for Under $150
3D Insider is ad supported and earns money from clicks and other ways.
First-person-view (FPV) flying is all of the rage for drones right now. FPV lets you fly using the drone's camera as your eyes with a pair of goggles or a connected tablet.
It's the closest most people will get to the feeling of flying like a bird. It's an immersive experience unlike any other. You float through the sky with a bird's eye view taking in your surroundings hundreds of feet up in the air.
KingKong ET100 Review
For those looking to try FPV, few drones at this price range come packed with as much stuff as the KingKong ET100.
For under $150, the KingKong ET100 comes with a lightweight carbon fiber frame that is far superior to traditional heavy plastic molds. Additionally, it has upgraded brushless motors, which last longer and generate much more power than cheaper alternatives. It also has high-power LiPo batteries and it comes with propeller guards that are said to be unbreakable. This is a drone that can take abuse and still keep flying.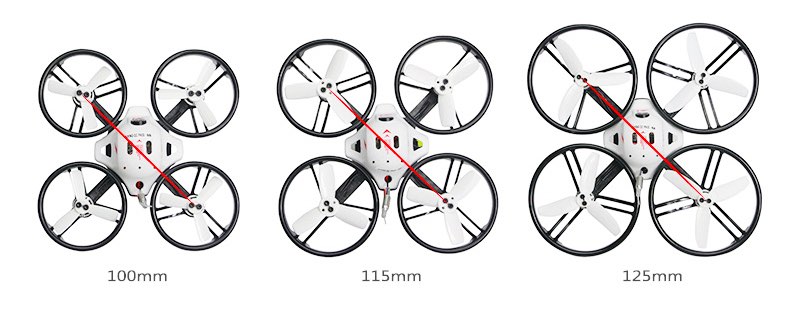 The KingKong ET100 comes with a carrying case to make it easier to transport. There are three sizes of the drone. With no battery the 100mm drone weighs just 71.9 grams, the 115mm comes in at 89.1 grams, and the 125mm version is 93.1 grams. The in-built camera has a 150 degree view.
You don't want to invest a ton of money into a drone if you are still learning. You want a drone that is cheap and easy to fix so that you can recover from inevitable crashes as you learn. You still want it to be fast and fun to fly. The KingKing E100 checks all of these boxes and more.
You usually have to pay quite a bit more to get the upgrades that the KingKong E100 has. In short, the KingKong ET100 is the perfect drone to get your feet wet with FPV flying or even drone racing. It's a perfect holiday gift … and Geek Buying is selling it at a discount right now.
Big Savings Sale Event
Geek Buying is also having an 11.11 sale. For the next several days you can get big discounts on electronics such as cell phones, RC toys, and much more. Click here to see their daily sales. Some items are selling at a 1/4 of their original price. You can easily save a lot of money as they are having giveaways that you can sign up for as well.