6 Best Kitchen Smoke Detector Picks of 2020
3D Insider is ad supported and earns money from clicks, commissions from sales, and other ways.
According to the American Red Cross, home fires are more likely to start in the kitchen than in any other room. Kitchen fires also have the potential to wreak the most havoc if they reach oil, gas, and other flammable substances frequently found there. That's why having a sophisticated smoke detector is crucial for timely intervention.
A smoke alarm for your kitchen is definitely one of those items you should never skimp out on since it has the potential to save lives and minimize property damage. An adequate model needs to have a modern sensor capable of quickly recognizing a fire. It should also be able to discern between serious threats and everyday fumes like steam and cooking smoke. Many models double as carbon monoxide detectors, while the most cutting-edge ones also integrate into the smart home.
These are the six best kitchen smoke detector picks you can get today. We've included solutions for every possible scenario, so you can benefit even if you're a renter or don't have DIY skills. Check out what these devices can do and start sleeping more soundly.
Budget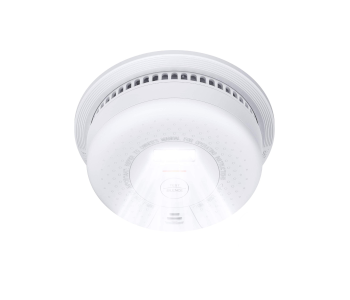 X-Sense SD01
4.1/5.0
Dimensions: 6.5 x 6.2 x 2.5 in
Power source: Internal battery
Colored LED makes monitoring easier.
Check Amazon
Best Value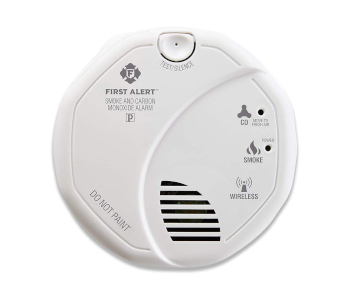 First Alert ZCOMBO
4.4/5.0
Dimensions: 5.3 x 5.3 x 1.5 in
Power source: Battery
Loud and intuitive smoke & CO alarms.
Check Amazon
Top Pick
Google Nest Protect
4.6/5.0
Dimensions: 5.3 x 5.3 x 1.5 in
Power source: Hardwired & battery
Preemptive alarm and loud siren.
Check Amazon
Kitchen Smoke Detectors Comparison Table
1. Best Overall – Google Nest Protect
View on Amazon
Editor's Rating: 4.6/5
Most traditional smoke detectors are prone to false positives when subjected to a little cooking smoke or even steam. They also detect either fast-burning or smoldering fires, rarely both. Not so with Google's nest Protect, the most sophisticated smoke & carbon monoxide detector out there. This versatile device intuitively informs you of various issues, gives a prompt before blaring its loud siren, and has a simple app that lets you integrate it into your smart home.
Overview of Features
The Nest Protect dispenses with traditional some alarm design conventions. It's a white rectangular device with rounded corners, a perforated front plate, and a large LED ring at its center. It comes in wired and battery-powered variants, both of which are easy to install if you follow the in-app instructions. Some drilling and mounting the device on its backplate is all it takes since the calibration process is automated.
We love the Protect's multicolored light ring. It doubles as a soft white night light when it's dark and its sensors detect motion nearby. Blue means it's pairing or performing a self-diagnostic while green tells you everything is fine. Yellow gives you a heads up that smoke or CO levels are elevated but not yet concerning. Finally, red signals danger. It's preceded by a heads up spoken by the Protect and a push notification that gives you time to evacuate. If these fail, the blaring siren definitely won't.
The alarm's ability to distinguish genuine hazards from everyday emissions is its best feature. You can safely boil water or fry up meat in a pan without the worry of accidental alarm triggers.
The Nest app provides a higher degree of control and convenience. It lets you know the Protect's current status and event history. You can perform a self-diagnostic, check up on battery levels, and change the alarm settings. Nest Protect is integrated into Google Home and connects to compatible smart devices. This makes it even more crucial to your home's wellbeing. You can use its alarm as a trigger to shut off sensitive or volatile electronic or start recording footage of the event via a security camera.
What We Didn't Like
Getting the wired version of the Nest Protect might be a good idea since the wireless one drains batteries quickly. You get to choose the device's name when setting it up but can't type one yourself. This isn't a problem if you have a few alarms and a small to mid-sized home. However, it can become one if you've set up multiple alarms on a large property and can't pinpoint which one was triggered.
Tech Specs
Dimensions: 5.3 x 5.3 x 1.5 in
Smoke sensor: Dual
Detects: Smoke, carbon monoxide
Power source: Hardwired & battery
The Pros
Detects both fire types and carbon monoxide
Intuitive multicolored ring that acts as a night light
Seamless integration with Google Home
Preemptive alarm and loud siren
The Cons
Drains batteries quickly
App doesn't let you use a custom name for the alarm's location
2. Best Value – First Alert ZCOMBO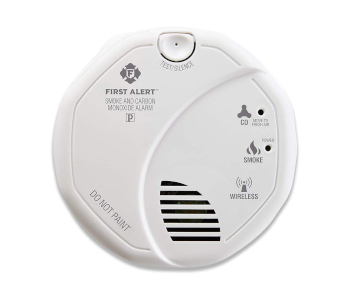 View on Amazon
Editor's Rating: 4.4/5
You don't have to spend upwards of $100 to get a combination smoke and CO 2 detector with smart features. First Alert's ZCOMBO connects to your Ring or SmartThings hub through Z-wave to become an integral part of its security system. It's a capable stand-alone device as well since neither detection type requires wireless connection, and the installation is straightforward.
Overview of Features
The ZCOMBO looks more like a traditional smoke alarm than the Nest Protect. Even so, you can distinguish it from cheaper rivals by its rectangular shape and small size. The device uses two AA batteries that you get in the box and can run for a year without needing replacements. You install the batteries in a sideways compartment that's difficult for curious children to open. The physical installation boils down to screwing in the mounting plate and takes 15 minutes or less.
Using the ZCOMBO is effortless. There's a single test button on it you should press at least once a month to ensure it's in working order. The alarm will emit three long beeps if it detects smoke or four short ones if CO concentration in the air becomes dangerous. Each also has a separate blinking light that's useful for people who are hard of hearing.
The ZCOMBO supports several smart hubs, including Ring, SmartThings, and Nexia. It won't work with Onelink, though. The setup process is simple if you stick to the on-screen instructions. The options at your disposal depend on the hub, but all of them let you assign a room to and name the detector, check its battery status, and receive notifications if either alarm goes off.
Pairing it with a Samsung SmartThings hub gives you access to a wide array of other smart gadgets an alarm can affect, but Ring is a suitable alternative if you've already invested in its comprehensive security system.
What's Bad About It?
The ZCOMBO has an annoying way of letting you know the battery is low. It starts long before critical levels are reached and emits a shrill beep every so often, even during the night. An indicator light or a different sound would have been a much better alternative. Some users report that the alarm becomes unreliable and prone to false positives once you connect it to a Ring hub.
Tech Specs
Dimensions: 5.3 x 5.3 x 1.5 in
Smoke sensor: Photoelectric
Detects: Smoke, carbon monoxide
Power source: Battery
The Pros
Excellent value for the money
Loud and intuitive smoke & CO alarms
Batteries last long and are hard to tamper with
Works with other smart devices through Z-wave hubs
The Cons
Annoying low battery alarm
Might become unreliable if connected to Ring
3. First Alert Onelink Safe & Sound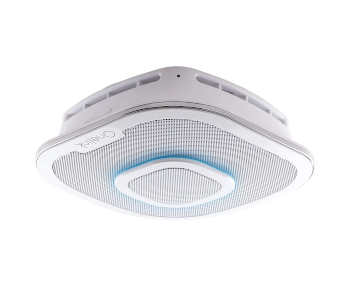 View on Amazon
Editor's Rating: 4.5/5
Smoke detectors are an essential for your family's security, but let's face it – they're boring and rarely used. First Alert aims to remedy this with the Onelink Safe & Sound, an alarm that combines smoke & CO detection with a fully-functioning Alexa speaker. It's security and entertainment in one appealing if expensive package.
Overview of Features
The Onelink Safe & Sound looks a lot like the Nest Protect. It has a similar rounded design, and the light ring takes center stage. It doesn't have as many signals for you to remember, but you can set it up as a night light and have one of several million colors light up the way to a midnight snack.
The Onelink Safe & Sound uses a photoelectric sensor that excels at detecting smoldering fires associated with smoky fires like the ones caused by food left unattended at the stove. Moreover, the detector reliably distinguishes between serious hazards and harmless water vapor. When a fire does happen, a calm voice tells you to vacate the house while a loud alarm ensures everyone will hear the warning.
You'll hopefully never need the Onelink Safe & Sound, but you'll be using it much more frequently than ordinary smoke detectors thanks to its integrated speaker. It connects to your smartphone via Bluetooth and lets you stream music from 20 feet away without connection issues.
The speaker comes integrated with Alexa, Amazon's smart assistant. This increases its usability exponentially since Alexa maintains an internet connection. She can access several news sources, Wikipedia, or one of several live streaming services. You can use Alexa to create shopping lists or update your calendar. She'll even tell corny jokes.
Having Alexa at your disposal means that you can verbally control other smart home devices by speaking to her. HomeKit is supported too, so you can talk to Siri with a similar outcome if Apple HomeKit is your smart home platform of choice.
Are There Drawbacks?
The Onelink Safe & Sound only comes in hardwired mode, which is understandable given the speaker's power requirements. This limits your placement options and means you should hire a professional to install it if you aren't a fan of DIY projects. The system is also the most expensive one on review by far. While getting Alexa is a neat idea, getting a detector and smart speaker separately is a much cheaper option.
Tech Specs
Dimensions: 3.5 x 3.5 x 2 in
Smoke sensor: Photoelectric
Detects: Smoke, carbon monoxide
Power source: Hardwired
The Pros
Good smoke & CO detection
Loud speaker with a stable connection
Works with Alexa and HomeKit
Multicolored night light
The Cons
Hardwired and complicated to install if you're inexperienced in DIY
Expensive
4. Kidde 2070-VDSCR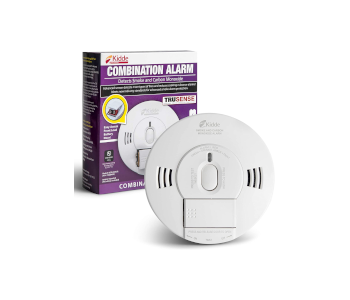 View on Amazon
Editor's Rating: 4.3/5
We've only discussed smoke alarms with fancy smart features so far, but what if all you want is a dependable model without distractions and apps? In that case, you should look into the 2070-VDSCR by Kidde, a no-frills unit that specializes in instant and accurate smoke detection. It's straightforward to install, has a multifunction LED, and will loudly inform you of impending danger.
Overview of Features
The 2070-VDSCR looks like many other smoke detectors on the market. Its white, puck-shaped body is distinguished by a protrusion that looks like a keyhole. It houses the 9-volt battery compartment with a cell already inside along with the Test button and LED. You can't close the compartment if a battery isn't inside, which is a clever way of enforcing the alarm's continued operation.
Even though it isn't smart, the 2070-VDSCR can inform you of several states with different colors and several types of blinking. Green means everything is fine. An amber light that flashes every minute means that the battery is low and is accompanied by a voice that tells you so. You can silence it for a time, but the frequency of the flashes and beeps will increase as the battery nears its end. Amber flashes with 30-second intervals imply there's been a malfunction, while continuously blinking red with beeping sounds means that a fire is in progress.
The 2070-VDSCR is similar to the Nest Protect because it uses a sensor capable of picking up small as well as large particles. It's called TrueSense and uses a sophisticated algorithm that can tell water vapor and cooking fumes apart from actual fire smoke. It also picks up on fast-burning fires in record time.
What We Didn't Like
The 2070-VDSCR could be a better value. Its features are comparable to our budget pick's, yet it's almost twice as expensive without including a carbon monoxide alarm. The alarm is backed by a 10-year warranty Kidde is reluctant to honor. Get ready for a back & forth with them and prepare for your claim to be rejected even if it's evident you did nothing wrong.
Tech Specs
Dimensions: 5.8 x 5.8 x 1.9 in
Smoke sensor: Dual
Detects: Smoke
Power source: Battery
The Pros
TrueSense technology cuts down on false positives and can detect fast-burning fires
Battery compartment design ensures you'll never forget to insert one
Straightforward installation
Loud alarm & useful indicator LED
The Cons
Doesn't come with a CO detector
Kidde rarely acknowledges warranties
5. Ring Alarm Smoke & CO Listener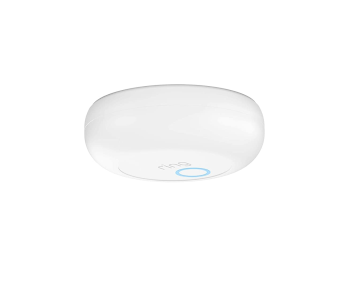 View on Amazon
Editor's Rating: 4.3/5
Smoke detector manufacturers assume you have free reign over where to install their devices. What if there's already an old-fashioned model you aren't allowed to replace in the kitchen of a property you're renting? Enter Ring's Alarm Smoke & CO Listener, a practical device that listens in on your smoke detector and sends notifications to your phone when it is triggered.
Overview of Features
The Alarm Smoke & CO Listener isn't a smoke detector per se; its only function is to listen to industry-standard smoke & carbon monoxide alarm signals. It lacks detection sensors and is much smaller as a result. The listener looks like a large button with the Ring logo you have to install six feet from a real detector or closer. You can use double-sided tape to do so if you aren't allowed to drill into the wall or ceiling.
Ring's app offers an installation process that's easy to follow and will have the listener working in no time. You monitor its battery levels and activity log from the app and are notified as soon as it registers an appropriate sound. The device has competent microphones that have no trouble distinguishing the distinctive beeps from other sounds and responds every time.
How effective the Alarm Smoke & CO Listener is depends partially on your Ring Alert subscription plan. The basic package comes with monitoring and notifications while opting for the premium one will also call an emergency in to the local fire department to minimize response times.
What's Bad About It?
The Alarm Smoke & CO Listener doesn't work without Ring Alert's hub. The company is known for producing world-class doorbell cameras and smart locks, so investing in its smart security system is a good idea. Still, it's understandable if you're on the fence about it. More concerning is the fact that the listener can't distinguish between fire alarm tests and the real deal. Fortunately, you can put it in test mode while performing regular fire alarm checkups.
Tech Specs
Dimensions: 3 x 3 x 1.1 in
Smoke sensor: None
Detects: Alarm sound
Power source: Battery
The Pros
Excellent solution for renters and people with many "dumb" alarms they don't want to replace
Small and unobtrusive
Easy setup with detailed instructions
Advanced security plan includes emergency dispatch
The Cons
Needs to be in test mode to not trigger false alarms
Requires Ring Alert to work
6. Best Budget Option – X-Sense SD01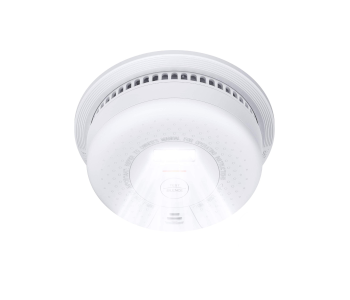 View on Amazon
Editor's Rating: 4.1/5
Changing smoke detector batteries can get annoying, especially if yours eats up several batteries per year and starts demanding fresh ones by beeping at 3AM. The SD01 from X-Sense is an affordable yet ingenious smoke alarm with a non-removable battery. That isn't a problem since the battery has 1,500mAh of power and lasts for a whopping ten years. You'd want to replace the alarm by that time anyway, and there's no reason you shouldn't choose this one again.
Overview of Features
Superficially, the SD01 looks like most other smoke alarms. It's round and full of holes along its outer edge. There's no wired option, so all you need to do is drill the two included screws into a wall or ceiling and mount the device onto its bracket with a twist.
You'll notice that the SD01 has an indicator light and a bright LE. The light can shine in one of three colors. Greens everything is safe & the SD01 is working normally. Yellow denotes malfunctions and warns you to troubleshoot or replace the detector in time. Red is accompanied by a beeping alarm and means smoke has been detected. The alarm also turns on the light, providing enough illumination for occupants to find an escape route in the middle of the night.
The SD01 is an accurate alarm, thanks to a quality sensor and a special design. The holes along its edges let in smoke and guide it at a precise angle. It has to hit the sensor at the same angle three times, or else it will be dismissed as a false positive. That means the SD01 is triggered only when there's a genuine threat.
Are There Drawbacks?
The SD01 is larger than other smoke detectors. Disregard this if you're installing it in a new location, but users hoping to use an existing detector's drill holes or mounting bracket are out of luck. X-sense claims to support the SD01 with a 5-year warranty, but the card you get in the packaging is only good for three years. Keep this in mind if you run into trouble in the interim.
Tech Specs
Dimensions: 6.5 x 6.2 x 2.5 in
Smoke sensor: Photoelectric
Detects: Smoke
Power source: Internal battery
The Pros
Accurate smoke alarm at an inviting price
Colored LED makes monitoring easier
Alarm is accompanied by light for safer evacuation
Has 10-year battery
The Cons
Inconsistent warranty information
Can't be installed in place of existing alarms