How to Setup a Kodi Android TV Box
3D Insider is ad supported and earns money from clicks, commissions from sales, and other ways.
Due to the recent government crackdown on fully-loaded Kodi boxes, many Android TV Box manufacturers are now shipping the precious little device without the popular Kodi application. The few that are including Kodi in their initial app list are only providing the application, and you now have to figure out a way of maximizing your Android TV Box Kodi experience. In case you are wondering what we are talking about, don't worry. I'll give you a heads-up.
What is an Android TV Box?
An Android TV Box is a set-top box that runs on Google's Android TV operating system to give users an Android Smart TV experience. Among the many reasons why people like Android is the fact that the operating system is open source, just like the Android Smartphone OS. This makes it a low-cost interface and coupled with its app compatibility, the Android TV experience comes out on top.
What is Kodi?
Kodi is a free open-source media center that is designed to make home entertainment as seamless as possible. The software allows you to organize all your entertainment content efficiently and it also lets you stream all movies, TV shows, music, and live events. What's more, Kodi is super compatible and can be used on your laptop, TV, smartphone, tablet, Android TV box and more. Today, we shall focus on the latter.
However, it's important to know that the power of Kodi doesn't lie in the software itself, but in Kodi add-ons. Some add-ons are official and developed by the XBMC Foundation, but others are unofficial and are from developers who utilize the open-source nature of Kodi. We shall discuss more of these add-ons and their legality later.
Connecting your Kodi Android Box to the TV
The first thing you need to do is create a connection between your Android Box and the TV. This is done using an HDMI cable, which should come with your Android TV Box.
Plug the HDMI cord into your Android box, and then to the TV's HDMI port. In case your TV doesn't support HDMI technology, you will need an HDMI to AV converter.
After that, plug in the power adapter of your Android box. Power on the TV and set it to 'HDMI mode.' You can now power on the Android box. It should display on the TV.
The last thing you need to do is set up internet connection for your Kodi Android Box. You can do this by either using your home Wi-Fi or a Wired Internet connection. The latter is advisable for a better streaming experience.
To connect to your Home Wi-Fi go to Settings > WiFi. Select the network and then enter the password.
No configurations will be needed for a wired connection. All you need to do is plug in an Ethernet cable into the LAN port of the Android TV Box.
Setting Up a Kodi Android TV Box
Back when you could buy a 'fully-loaded' Kodi box you would have much of the work done for you. All you needed to do was power up your Android box, connect it to the screen, and enjoy Kodi. However, times have changed and now you need to know how to set up everything by yourself. It's not as hard as it might sound and we will show you how.
Android TV Box with Kodi Installed
If your Android TV Box has Kodi pre-installed, you only need to know how to install the various third party Kodi add-ons. However, it's also important to make sure that you are running the latest version of Kodi.
The version of Kodi is usually displayed when Kodi is loading. As for this writing, the latest version is 17.6 Kodi Krypton.
Updating Kodi on Android TV Box
If your Kodi version is not up-to-date, you can follow the procedure below to update it.
Note: Before you proceed, ensure you have enabled installation from "Unknown Sources." You can do this by going to Settings > Security & Restrictions > Unknown sources.
You can then:
Launch your Android TV Box. At the Home Screen, go to "Apps."
Click on the "Browser" In the search bar, and type the URL https://kodi.tv/download
While on this page, scroll down to the section where the website says "Choose your Weapon." In our case, it's Android, so select it.
You will be given three options for installing Kodi. These are Google Play, ARMV7A (32 bit) and ARMV8A (64 bit). Select the second one.
You will now be asked whether you want to download the file using ES Downloader or the Browser. Select "ES Downloader," and your download will start.
You can now close the browser and go back to the Home Screen. Navigate to "Apps" and select "App Installer."
A pop-up box will ask your permission for installation in either Local Disk or SD Card. Choose "Local Disk."
In the list that will be provided, you will see the Kodi Android App. Click on it.
You will be informed that the version you are about to install will replace the existing one, but your data will be kept intact. Click "All" and then press "Install."
Your App will install, and you can click "Open" to run it. Enjoy the latest version of Kodi.
Android TV Box without Kodi Installed
Some manufacturers decide to ship their Android boxes without Kodi installed. If you have bought your Android Box on Amazon, it should fall into this category since Amazon banned Kodi boxes.
However, installing Kodi on your new Android box is far easier than even updating it, if your box has the Play Store app. Here's the procedure;
Launch your Android TV Box. At the Home Screen, go to "Apps."
From here, select "Play Store" and then click "Open"
Go to the search bar and type "Kodi" then click enter. Choose the first app, which should be Kodi by XBMC Foundation. Click "Install"
Kodi will be installed on your Android Box. You can go back to the Home Screen, click Apps and then open Kodi.
If your Android TV Box has Kodi pre-installed and you would like to update it using the Play Store, you may need to uninstall the present version of Kodi. To do this:
Launch your Android TV Box. At the Home Screen, go to "Apps."
Find Kodi from the list and then select "Uninstall"
You can now follow the Play Store procedure to install Kodi.
3rd Party Add-Ons & Kodi
As mentioned before, its 3rd party add-ons that make Kodi, well, Kodi. The content that they make available to you can't be overstated. However, the reason why many Kodi users install them is that they offer premium content ranging from live TV, Movies, TV Shows, and Music all for free. Obviously, this is illegal in some countries. Some people get around this by using a VPN to become anonymous on the Internet.
Installing Kodi add-ons may seem like a daunting experience, but it's quite simple and only involves following a few steps in sequence. The process becomes much easier after doing it a few times. We shall look at the general procedure of installing these add-ons.
Enabling "Unknown Sources"
To install an add-on that is not from the official Kodi repository, you will need to grant the system permission to do so.
Here's how to do it;
Click on the Settings Icon in the top left corner.
Go to System Settings -> Expert Mode -> Add-ons.
Turn on "Unknown Sources." A warning box will pop up. Click 'Yes.'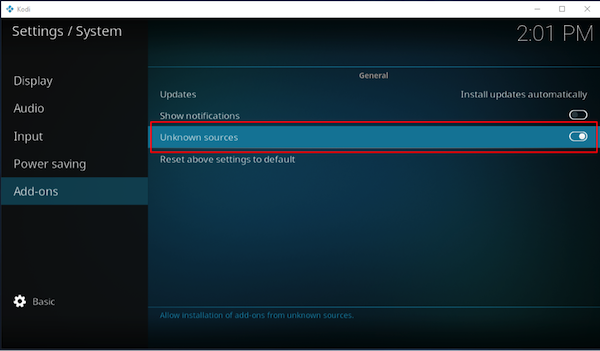 You will now be able to install third-party add-ons.
Installing Third-Party Add-ons on Kodi
Here's the general procedure of installing 3rd party add-ons on Kodi. To make the process simpler, we will break it into two sections.
Adding a Source File
Go to the Kodi Home Screen. From here, click the Settings Icon (Looks like a Gear). You will be taken to the System Menu
Navigate to the File Manager, and then double-click 'Add-Source' to open a panel.
Type the URL of the add-on repository into the window that opens.
Give a name to the repository you're about to create. After that, click "OK."
Installing a Repository
Go back to the Kodi Home Screen and select "Add-ons."
Click the Add-ons icon at the top left side of the menu bar. It looks like an open box.
Choose "Install from Zip File"
Select the file you just added.
After the repository has installed, you will get a notification informing you so.
Installing an Add-on
Go back to the Add-ons menu and click the open box icon again.
Choose "Install from the repository."
Find the add-on you'd like to install from the repository, and then click it.
Wait for Kodi to give the notification, 'installed.'
Enjoy your plugin.
Always Protect Yourself
Though Kodi in its original form is entirely legal, installation of third-party add-ons that give you access to paid content for free is not. This can lead you into trouble and it's very possible that you will end up getting a DMCA notice for copyright infringement, or even face legal charges.
It's important to secure yourself while using Kodi and this can only be done via a secure VPN. The VPN industry is quite crowded, and selecting the wrong VPN can give you a false sense of security, and you might end up on the wrong side of the law.
One VPN that would give you the security, Anonymity and entertainment experience you require while using Kodi is Private Internet Access. The VPN keeps Zero logs, provides unlimited bandwidth, has servers worldwide and offers excellent speeds that allow you to stream comfortably in HD.
This article will allow you to set up your Kodi Android TV Box quickly, but remember to put your security first by using a VPN with Kodi.