How to Install Kodi on Microsoft Windows
3D Insider is ad supported and earns money from clicks and other ways.
If you love media streaming, then you have probably come across the name Kodi.  Kodi is a free and open source media player that makes it easy to access music, movies, and TV shows. The program has a super friendly interface that lets you stream local content from devices like laptops, smartphones, and hard disks on your network as well as over the internet.
Kodi is made popular by its flexibility, compatibility, and ability to take home entertainment to another level, all for free. Though a powerful software in itself, its ability to incorporate add-ons from hundreds of developers worldwide is what makes Kodi a powerful home entertainment software.
If you are interested in utilizing the power of Kodi on your Windows PC, this guide is for you. We will tell you everything you need to know about installing Kodi on PC to open you up to the unlimited entertainment world of the platform.
What are the requirements?
Most Windows systems can support and run Kodi efficiently. For this, you will need at least Windows Vista, although Windows 7, 8 and 10 are preferred due to their enhanced video decoding. As for processing power, an x86 or x86-64 processor is recommended. These include Intel Pentium 4/ Pentium M, AMD Athlon 64 / Opteron, or newer CPUs that support SSE2. If your CPU has been made within the last 10 years, it should support SSE2, so you don't have to worry. 2 GB RAM or more is recommended if you are using a multipurpose computer. Kodi is not especially resource intense as you may have noticed, although 4K support changes things.
Methods of Installing Kodi on PC
For all the features it's packed with, Kodi is surprisingly easy to install on Windows. There are two methods that you can use to install Kodi on PC.
Installing Kodi from the Windows Store
This is the easier method of the two. However, it has a downside in that the build hosted in the Microsoft store can only run on Windows 10. If you are using an earlier version of Windows, you may need to use the manual installation method (installing Kodi from the official Kodi website).
Open the Windows store application on your PC.
Under the search bar, type 'Kodi'. The first suggestion is for the official Kodi app. Open it.
Click "Get" on the Kodi page.
The application will start downloading, and it will install automatically.
After installation is complete, click "Launch" to start Kodi.
You can now use Kodi on your Windows PC.
Installing Kodi from the Official Kodi Website
If the Windows version on your PC is not compatible with the build on the Microsoft Store, you can use this method to install Kodi. Below is the procedure:
While on the Homepage, click the "Download" button on the top right side.
On the download page, scroll down to the section "choose your weapon." You can then select Windows by clicking it.
A pop-up will appear, giving you an option of downloading the installer or heading the Microsoft store. Select "INSTALLER 32-BIT."
Head to the download folder and double-click the set-up file. You will be asked if you want to allow the app to make changes to your device. Click "Yes". When prompted, click "Next".
When the installation is complete, click finish and then launch Kodi.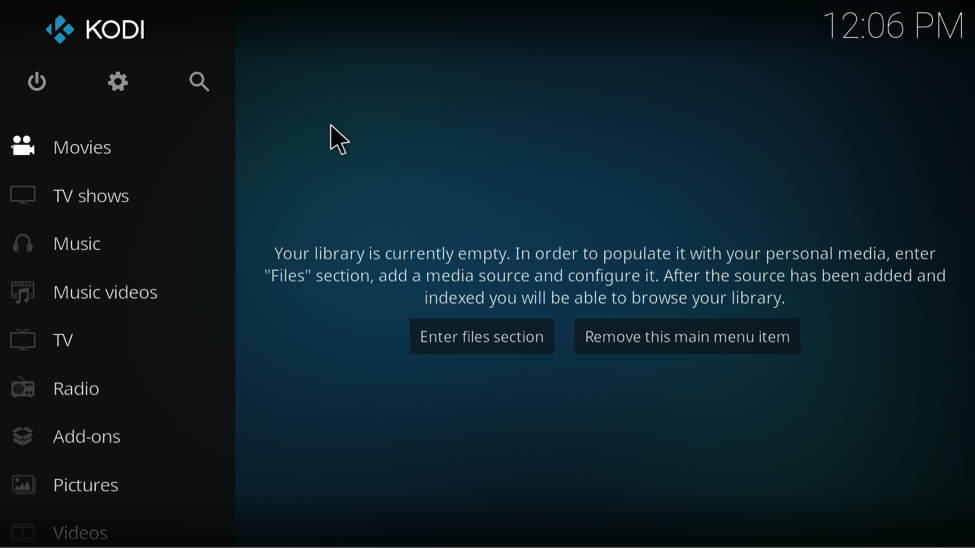 Does Kodi come with any content?
No. Kodi clearly states that "The official Kodi version does not contain any content what so ever. This means that you should provide your own content from a local store or remote storage location, DVD, Blu-Ray or any other media center carrier that you own."
However, the app allows you to install both official and third-party plugins that you can then use to give access to content that you can pay for or is freely available on the official content provider website.
What about third-party Add-ons?
Kodi is notoriously known for having plugins that allow users to watch illegal content which would otherwise require payment. These add-ons are created by different developers and are considered illegal depending on where you come from.
Nevertheless, the add-ons are what make a lot of people love Kodi. The idea of premium content for free is appealing to many. However, use of these add-ons requires you to take some measures to protect yourself from copyright infringement notices.
Ensure your security and stream anonymously
Since streaming copyrighted content can easily land you in trouble, you need to take some security measures. This can only be achieved by the use of a VPN.
A VPN is an online subscription service that secures all your internet activities and makes your online identity anonymous. It does this by encrypting your traffic and then securely sending it over to a VPN server through a secure tunnel. The VPN server connects you to the internet and gives you a new IP address. Through this process, your ISP no longer knows what you are doing online, and therefore can't tell if you have breached any copyrights.
However, you need to be careful when choosing your Kodi VPN. Not all VPNs are good at unblocking geo-restricted content, and some offer speeds that are not good for streaming. If you are not sure which one to choose, a good starting point would be Private Internet Access (PIA). The VPN has over 3,000+ servers world-wide, guarantees top-grade security and is super-fast.
Wrap up
You now run Kodi on your Windows PC. You and your internet speed is the only thing that can limit your entertainment experience. For a start, you can import your local movie libraries into Kodi and stream your media seamlessly. You can then install repositories and add-ons that will remove your entertainment limits and take it to another level through free online streams. Remember to turn on your VPN before you start using Kodi. Stay safe.
Enjoy Kodi on PC!