6 Best Lavalier Mics of 2019
3D Insider is ad supported and earns money from clicks, commissions from sales, and other ways.
How many times have you used a smartphone or relied on a camera's internal microphone, only to be disappointed by the results? A dedicated mic would solve this problem, but most are unwieldy and cumbersome. What you need is a lavalier or lapel mic – a small, portable microphone that clips onto clothes and doesn't get in the way.
Lavalier microphones are superbly convenient. You attach them so that the speaker's voice can be heard correctly, and they'll soon forget it's there. The added benefit is that a speaker can move her head freely or even walk about without impacting audio quality. There are both wired and wireless versions to consider. Some lavalier microphones will fit your DSLR or mirrorless camera while others are designed to work with smartphones. There are models among the latter which come with excellent apps that help you set up recording parameters and cut down on post-production times.
This article features the six best lavalier microphones you can buy. All of them offer above-average performance for their price points. Some are better suited for studio work, while others let you record outdoors and produce good audio clips. Take a look at their reviews and find a mic that will transform your future projects' audio for the better.
Budget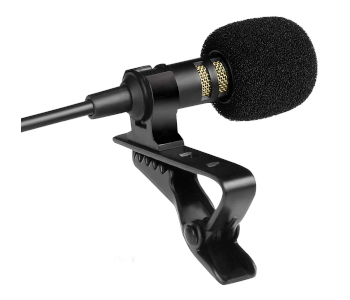 PowerDeWise Lavalier Microphone
3.9/5.0
Signal to noise ratio: 56 dB
Frequency range: 50Hz– 16kHz
Long extension cable and handles wind well.
Check Amazon
Best Value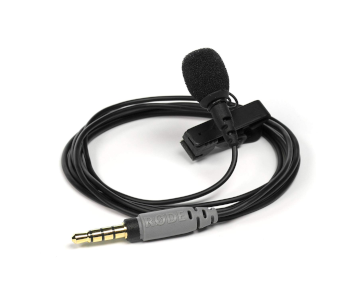 Rode SmartLav+
4.6/5.0
Signal to noise ratio: 67dB
Frequency range: 60Hz– 18kHz
App lets you share files and tweak audio settings.
Check Amazon
Top Pick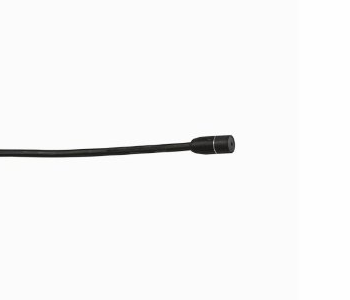 Sennheiser MKE 2-EW GOLD
4.7/5.0
Weight: 0.04 oz.
Frequency range: 20Hz– 20kHz
It has a low amount of background noise pickup.
Check Amazon
Lavalier Mics Comparison Table
1. Best Overall – Sennheiser MKE 2-EW GOLD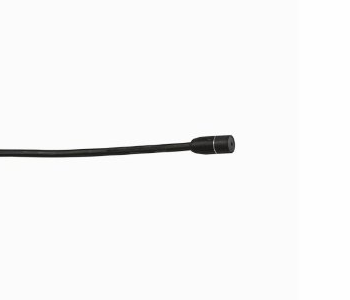 View on Amazon
Editor's Rating: 4.7/5
Lavalier microphones are great for recording conversations regardless of where the subject stands. That's fine for documentaries and podcasts but would break the immersion when you're shooting a movie or recording a play. That's why Sennheiser's MKE 2-EW can be concealed under one's clothing and is water-resistant. It's more expensive than others on the list, but the price difference reflects a real step up in quality.
Overview of Features
The Sennheiser MKE 2-EW is among the smallest lavalier mics on review. Unlike some models whose windscreens are fixed, it comes with a set of attachments you can exchange depending on the conditions in your environment. That makes the MKE 2-EW great for anything from a quiet studio to a busy street. Conversely, using no windscreens lets the mic retain its slim profile and be concealed more easily.
Water-resistance is one of the MKE 2-EW's standout features. It lets you place the device directly onto your talent's skin. The mic can remain on one's body as long as you're recording without causing discomfort or being damaged by moisture. It will stay in place thanks to an ingenious clip system that secures it to clothes while also eliminating differences in quality caused by taut cables. On the other end, there's a lock that prevents the cable from being yanked out of the recorder.
As you'd expect from Sennheiser, the audio quality is superb! The MKE 2-EW' omnidirectional capsule captures sounds throughout the audible spectrum. It doesn't matter how someone outfitted with the mic moves their head since their voice comes through clearly in any position. Some background noise is to be expected, especially in busy environments. However, the MKE 2-EW does a good job of keeping this interference to a minimum in spite of its omnidirectional polar pattern.
What We Didn't Like
This is by far the most expensive lavalier microphone on our list. If you don't care about its slim profile and water resistance, you might want to check out the Sennheiser ME 2-II instead. The accompanying windscreen is of excellent quality, but putting it on and removing it is a chore and requires force. You'll need to be careful not to damage the microphone while doing this.
Tech Specs
Diameter: 0.19 in.
Weight: 0.04 oz.
Maximum sound pressure level: 142dB
Frequency range: 20Hz– 20kHz
The Pros
Exceptional sound quality
Resistance to water makes it ideal for concealment
Clever clip design prevents taut cables
Low amount of background noise pickup
The Cons
Expensive
Forcefully removing windscreen might damage it
2. Best Value – Rode SmartLav+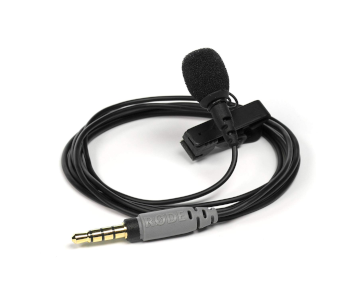 View on Amazon
Editor's Rating: 4.6/5
Capturing audio externally can get expensive since you need both a microphone and a recording device. That's why Rode's SmartLav+ uses your smartphone instead. You already have a smartphone at hand, using one makes the SmartLav+ portable, and you don't have to worry about a power source. The microphone's quality is great, and it comes at an appealing price. Best of all, there's a robust companion app that helps you make adjustments on site.
Overview of Features
There's not much to say about the SmartLav+'s physical features. It's a small, omnidirectional mic with a sturdy lapel clip and a 3.5 mm jack. The jack means it's compatible with most Android devices and older iPhones. You'll need to purchase a 3.5mm to Lightning adapter if you want to use it with newer Apple devices. Likewise, the SmartLav+ wasn't designed for external recorders but can connect to them through an adapter.
While not concealable like Sennheiser's model, the SmartLav+ is held in place well and records sounds from all directions with little interference. It focuses on close sounds but can capture everything that's going on, even in larger rooms like lecture halls. Its capsule is excellent at eliminating popping and excessive hissing, which leads to clean recordings of speech that's easily understood.
The microphone draws continuous yet minimal power from your smartphone and can work for hours. You use it in tandem with the Rode Rec app. There you can store, listen to, and share files. Sharing is done through various means like uploading to SoundCloud and DropBox, through email, or FPT. The base version of the app is free. Paying for an upgrade unlocks an equalizer and a host of new quality settings as well as new file types for export.
What's Bad About It?
The microphone is delicate and not suitable for long-term use involving a lot of movement. Its cable can wear out over time and start to produce static. The Rode Rec app is getting on in years. Rode hasn't put any new features in for a while and hasn't addressed issues like freezing. Transferring files doesn't work all the time, either.
Tech Specs
Diameter: 0.28 in.
Weight: 0.12 oz.
Maximum sound pressure level: 110dB
Signal to noise ratio: 67dB
Frequency range: 60Hz– 18kHz
The Pros
Great value for the money
Uses your smartphone as a recording device
App lets you share files and tweak audio settings
Good noise reduction
The Cons
App is starting to show its age
Not for use with moving subjects
3. Shure MVL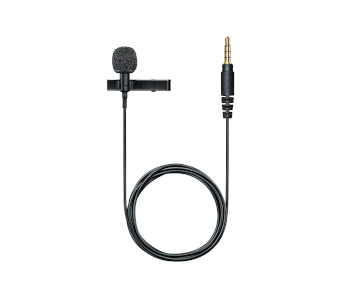 View on Amazon
Editor's Rating: 4.5/5
The MVL is Shure's response to the SmartLav+ – a well-rounded, clean-sounding lavalier mic with an excellent app. Their price points are similar, and Shure's Motiv app has a leg up on Rode Rec. However, slightly lower sound and build quality ultimately ended up costing this model the top value spot.
Overview of Features
The MVL is built from sturdy plastic and feels well made in spite of being accessible. It has a removable windshield that feels like it is metal but is plastic, as well. There's a lapel clip for attaching to clothes that's larger than SmartLav's. It might take more time to get used to, but the clip ensures that the MVL will stay in place.
Voices recorded through the MLV have a warm resonance and sound close to natural. The mic does a decent job of subduing ambient noise but can't get rid of it entirely. It will work in a controlled sound environment or venues with a quiet audience, but you'll want to use something else if you have to record out in the open.
The cable ends off with a TRRS jack specially made to be compatible with smartphones. That means you can plug the microphone into your Android or older iPhone without needing an adapter.
We love the Shure Method app! It's free of charge, updated regularly, and has a host of features. You may record through your phone's sound recorder or camera apps, but using Motiv displays available recording time based on the phone's memory as well as how many megabytes you've already used.
The best thing about the app is that you can easily regulate gain levels. That way, you can ensure that quiet speakers are heard better or lessen the impact of loud noises. You get to play with equalizer settings, manage a file library, and even trim recordings before sending them off via multiple sharing methods. There's also a dedicated recording rate for videos.
What We Didn't Like
Unlike the microphone itself, the cable is poorly made. It is short, prone to twisting, and needs to be handled with care because of frailty. The overall volume is low, even if you increase the gain.
Tech Specs
Diameter: 0.63 in.
Weight: 0.28 oz.
Maximum sound pressure level: 124dB
Signal to noise ratio: 67dB
Frequency range: 45Hz– 20kHz
The Pros
Outstanding app
Recorded voices sound natural
Sturdy build
Performs well in closed spaces
The Cons
Flimsy cable
Low volume
4. Movo WMIC50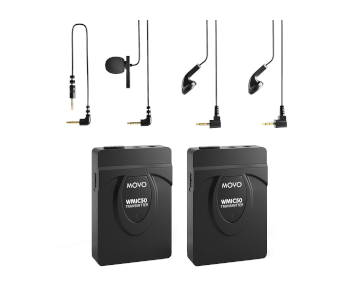 View on Amazon
Editor's Rating: 4.3/5
Wireless lav mics are convenient and practical. There are no cables to trip over, and audio quality isn't adversely affected. If you're looking for a wireless recorder with a dependable lavalier microphone, consider investing in the Movo WMIC50 system. It is effortless to set up and use, gets decent runtime from a set of batteries, and lets you monitor what you're recording.
Overview of Features
Movo's WMIC50 is a system consisting of a lavalier mic, a receiver, a transmitter, and two separate headphones. You hook the microphone up to the transceiver, which can be clipped to a belt or mounted onto your camera's hotshoe. The receiver plugs into your recording device and can be 150 feet away from the transmitter. Both devices run on two AAA batteries for four hours, enough to cover a lengthy interview or the most important parts of a wedding.
The earphones are the kit's most interesting component. One plugs into the transmitter and allows you to listen to audio as it's recorded. The other does the same on the receiver's end but also has a microphone of its own. You use it to communicate with the person holding the transmitter, and its input isn't recorded. That way, you can coordinate with a colleague, tell them to move closer or adjust their angle, and so on.
Audio quality reflects the kit's mid-range price. It's not as good as the SmartLav's but still miles better than what you'd get from a camera. The device receives bonus points for maintaining clarity even with considerable background noise. You'll hear the sounds of a sports arena or wedding venue, but they'll be overshadowed by the loudness and quality of the speaker's voice. Controlling mic output is effortless – all you have to do is turn the transmitter and receiver on and then adjust the volume.
Are There Drawbacks?
The audio starts to cut out as soon as you approach the set's maximum range. You'll have to keep that in mind and position yourself accordingly. The transmitter and receiver communicate over 2.4GHz Wi-Fi. This frequency is commonly used by routers and other wireless devices, which leads to interference if there are more of these nearby.
Tech Specs
Frequency: 2.4GhZ
Maximum range: 150 feet
Signal to noise ratio: 76dB
Frequency range: 35Hz– 14kHz
The Pros
Inexpensive wireless recording system
Transmitter can be mounted to tripods and cameras
Adequate sound quality with a focus on speaker clarity
Earphones let you monitor input
The Cons
Other devices using 2.4GHz band may cause interference
Sound starts to cut off when approaching range limit
5. Galaxy Audio Trek GT-V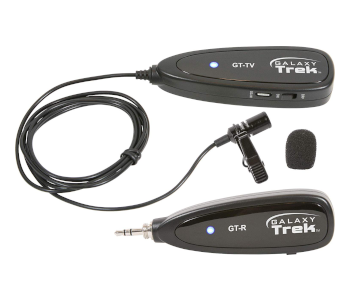 View on Amazon
Editor's Rating: 4.1/5
Need a versatile wireless recording system for vlogs, interviews, or live broadcasts? In that case, Trek GT-V from Galaxy Audio is a feature-rich yet inexpensive solution. It's similar to Movo's model but is powered by rechargeable batteries with longer running time. The lavalier microphone has a cardioid polar pattern, and its quality is above average in the category it occupies.
Overview of Features
Unlike the WMIC50, Galaxy Audio's Trek GT-V has no earphones. However, its receiver and transmitter are small and lightweight. They plug directly into all manner of devices through a 3.5mm jack and are light enough that the port is all the support they need. The two pair automatically and are ready to go in less than five seconds as signaled by an LED on each. These LEDs also indicate when it's time to change the battery, which Galaxy Audio clocks at six hours. Both devices have Li-ion rechargeable batteries, meaning you can recharge them after each use and not spend more on replacements.
The microphone has a cardioid polar pattern. Unlike omnidirectional models that pick out everything around them, a cardioid microphone's scope is focused. It will record sound directly in front well while ignoring what's behind and off to the sides. That makes the Trek GT-V an excellent choice when you're working in noisy environments and need to extract clear audio with minimal interference.
The audio quality is adequate and geared towards recording speech. To that end, the GT-V emphasizes deeper and mid-range tones while subduing highs. The results are pleasant-sounding and free from shrill sounds. On the other hand, this microphone is less suited for musical performances and enthusiastic speakers who talk in a higher register.
What's Bad About It?
This system's wireless range is small; its maximum is 50 feet and further reduced by obstacles separating the receiver and transmitter. Individual components have good build quality, but the transmitter's volume adjustment buttons are flimsy and might break. Speaking of which, the GT-V is quiet even with the volume on maximum.
Tech Specs
Frequency: 2.4GHz
Maximum range: 50 feet
Signal to noise ratio: 67dB
Frequency range: 20Hz– 20kHz
The Pros
Small and lightweight
Cardioid polar pattern eliminates ambient noises well
Rechargeable batteries with high capacity
Easy pairing process
The Cons
Limited wireless range made worse by obstacles
Low volume and flimsy control buttons
6. Best Budget Option – PowerDeWise Lavalier Microphone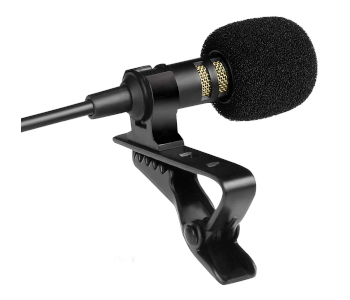 View on Amazon
Editor's Rating: 3.9/5
Default smartphone microphones are bad, which is why you should spring for an upgrade even if you're on a shoestring budget. The lavalier microphone from PowerDeWise costs less than $25 and will immediately improve the sound quality of your vlogs, podcasts, and other recordings. It arrives with an extra-long cable, the learning curve is non-existent, and sound quality is surprisingly good.
Overview of Features
PowerDeWise has made a comprehensive starter package for phone-using audio enthusiasts. You get the microphone, a handy carrying pouch, and a 6.5-foot extension cable. Attach it to the 5-foot cable on the mic, and you'll have enough leeway to move around a room without worries. The clip is on the bulky side and visible when on a shirt, but it holds the microphone firmly in place.
This is another model that uses a TRRS jack for seamless smartphone connection. PowerDeWise also sells a lightning adapter version of the mic you should pick up if you have a newer iPhone. There are no companion apps for this microphone. It plugs into your phone and automatically takes over the duties of its internal mic instead.
The audio quality is solid. Comparing this model to the likes of Sennheiser would be unfair, but you won't get a better sounding lavalier mic for so little money. It brings your voice to the forefront, and the results sound pleasant. There are no popping noises while hissing is at an acceptable minimum. Best of all, you can use the mic outdoors. Wind and other noises will still register, but they're muffled and add more to the recording's ambiance without the voice quality suffering for it.
Are There Drawbacks?
The biggest drawback is the manufacturer's inconsistent quality control. Most units work fine, but you might end up receiving one that will short out after a few uses or which produces an annoying buzzing sound in every recording. You can return the microphone and ask for a replacement, but there's no guarantee that it won't suffer from the same issues.
Tech Specs
Signal to noise ratio: 56 dB
Frequency range: 50Hz– 16kHz
The Pros
Great audio quality for the price
Long extension cable
Works right out of the box
Handles wind well
The Cons
Inconsistent production quality