15 Best LED RC Car Lights
3D Insider is ad supported and earns money from clicks, commissions from sales, and other ways.
This guide reviews affordable LED RC cars lights, including decorative underbody illumination. We review lights for specific models and others with universal application. There are all kinds of creative LEDs that you can control as needed. My guide looks at some of the current favorites.
You can add lights to any radio-controlled model with a little creative imagination. The same products may work for RC cars, trucks, boats, planes, and drones. Keep reading if you want to add a touch of bling to your model.
Choices in LED RC Car Lighting
Some RC cars come equipped with lights, and others have none. You can modify or build a new custom lighting system in either case. LED lights and supporting accessories are cheap and great fun to boot.
Here's a quick list of the type of lights available to customize RC vehicles:
RC Headlights
Brake & tail lights
Turn signals
Reverse lights
Emergency strobes
Random strobes
Auto hazard lights
Light bars, constant, flashing, or both
Others
You can buy single LEDs or entire plug-n-play systems with multiple lighting modes. Look for waterproof units if you drive off-road in wet and muddy conditions.
How-to Install RC Car Lights
How you install RC car lights to your model depends on several factors. They include the lighting system, what you need it to do, and the model you want to customize. Some lighting kits come with instructions, and others have none. There are RC LED sets without wires and those with wiring. Most are easy to fit, even for the inexperienced.
Search for YouTube video tutorials if you get stuck. Failing that, head over to your favorite RC forum and ask fellow RC'ers for guidance. Finally, it's always useful to have a basic RC tool kit to make the job easier, and maybe a soldering iron. At least get a drill, or a reamer tool is even better.
LED Light Controllers
You need a way to control LED lights with multiple features, and for that, we use LED light controllers. There numerous options to choose from to match any setup. It's possible to control some lights from the product via simple switches or buttons. Control can also come from a remote device.
Here are 4 typical LED control functions:
Turn On/Off using a simple remote
Change colors and color temperatures
Pre-set scenes for favored lighting effects
Dimming to adjust LED brightness
You can use a simple infrared (IR) remote and receiver for straightforward functions. Dimming and color-changing effects need something a little more sophisticated. Controllers include:
Single color LED controllers
RGB color LED controllers
RGBW color controllers
Color temperature controllers
DMX / Dali controllers
Don't be put off by any of this. Installing and controlling most LED car lights is not difficult.
About My 'RC Car Lights' Guide
There are lots of RC car lights to choose from, some excellent, some good, and others mediocre. The 15 reviewed here are all LED kits that sell well within the RC community. I considered user feedback as well as personal thoughts in the final selection process. There's a good variety here for a wide range of radio control vehicles. The table below lists the products in the order they appear on the page.
RC Car Lights Comparison Table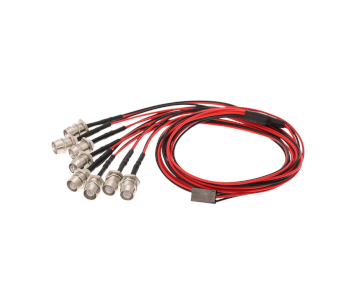 EDITOR'S RATING: 4.5/5
Light compatibility: Traxxas Redcat RC4WD Tamiya Axial SCX10 D90 HPI RC Car
This is an 8 piece bright LED light set for 1/10 and 1/8 scaled models that costs only a few dollars. There are 2 white 5mm LEDs, 2 red, and 4 yellow. The lights take power directly from the receiver. A durable, hard metal lampshade helps to protect them from knocks and crashes. It's a simple set that you can install and run in no time, and there's plenty of wiring too.
Cons: It's a basic light kit that stays on permanently with the default set up. One workaround is to power the lights using a 9V battery and a simple on/off switch.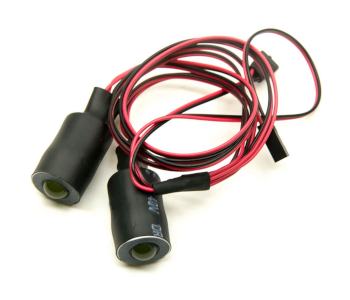 EDITOR'S RATING: 4.4/5
Light compatibility: Universal use with RC model crawlers, cars, and trucks
The Best Value RC LED light set goes to the universal Angel/Demon Eyes. These are ultra-bright 17mm blue (outer) and white (inner) headlights for 1/10 scale RC vehicles. There are several sizes and colors to choose from. You can install them pre-wired or use a lighting switch. Installation is quick and easy when plugged directly into the model's receiver battery jack.
Cons: No mounts included, so you need to do a little DIY to attach them. The maker's suggestion is to drill holes and then hot glue them into place, but you're free to be creative.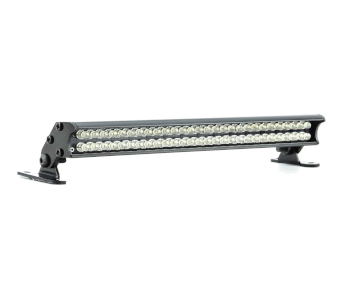 EDITOR'S RATING: 4.7/5
Light compatibility: Short course trucks, Traxxas Slash, Slash 4WD, TRX-4, RC Nitro Slash, X-Maxx, RC Axial Score, Yeti XL #9045L, and many others
My Top Pick goes to this super-bright LEDs set for 1/10 scale RC trucks. The light bar has 56 dazzling LEDs that illuminate the way in dark or dim conditions. The bar looks best on the roof of a model, but that might not be the most practical place for it. It can fit on most hoods too, which provides better protection in the event of rollovers. The kit comes complete with mounting screws and bolts.
You can turn the light bar on and off via the controller and electronic switch (spare channel needed). The kit has everything you need in the box, so no creative DIY required.
Cons: Most people are than happy with this product, but it's still a tad overpriced.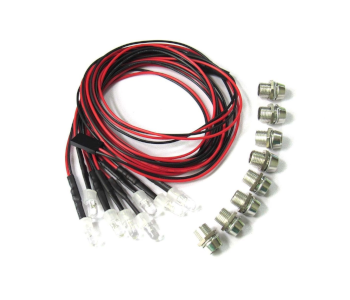 EDITOR'S RATING: 4.7/5
Light compatibility: All types of RC cars and trucks
This is an 8 piece 5mm headlamp and taillight kit. There are 4 red and 4 white LEDs, directly powered by the receiver. The makers use hard plastic and metal lampshades to protect the product. Installation is quick and easy, even for the novice. You may need to undo a few screws before you plug them in depending on the model. It's a simple kit that's plenty bright enough for night driving.
Cons: No-thrills LED lights. They're quite bright but don't expect the intense glow of costlier products.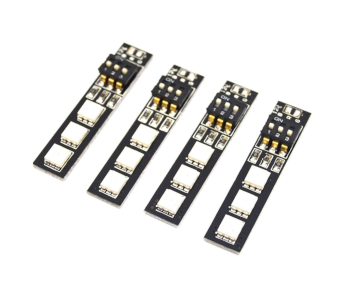 EDITOR'S RATING: 4.4/5
Light compatibility: RC car, multirotor, airplane, helicopter, ZMR250 QAV250 FPV 250, RC FPV quadcopter, and other model types.
These LHI RGB night navigation strip lights are for those who love to DIY. There are 7 colors, i.e., green, white, red blue, yellow, cyan, and magenta. The lights are ultra-bright and give users the ability to switch between the various colors on the fly. The makers aim these lights primarily at quadcopter pilots, but they also make great floor lights for RC ground vehicles.
Cons: Power leads need soldering to the panel. Another drawback is that the dip switch is quite fragile. Still, this flexible light system takes some beating considering its price.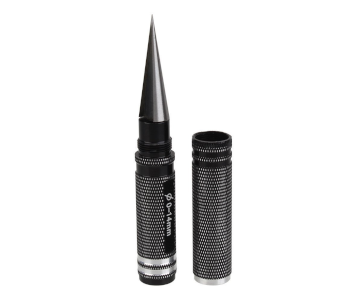 EDITOR'S RATING: 4.5/5
Light compatibility: RV trucks, cars, Revo, Jato, Traxxas Slash, HPI Futaba, and others.
These super-bright LED lights are another affordable product for 1/10 scale RC. There are eight 5mm lights, i.e., 4 white and 4 red, protected by metal lampshades. The LEDs are easy to install though you may need to drill holes in your model to mount them. The product comes with plenty of wire too. Typical uses are headlights, taillights, and for underbody illumination.
Cons: These are DIY LEDs, so you need to make holes to mount them. A reamer tool makes the job simple. Also, there's no on/off option, but you can get around that by using a simple wire extension.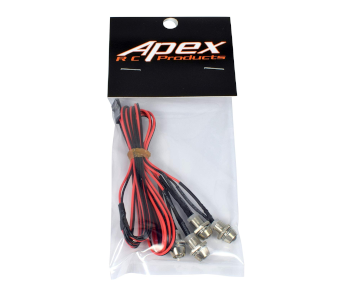 EDITOR'S RATING: 4.4/5
Light compatibility: Universal LEDs for most models
This super bright LED headlight and taillight kit comes complete with silver bezels. It's an ideal universal set that should easily fit most 1/8 and 1/10 scale models. There are four 5mm lights, 2 red, and 2 white, that take power directly from the receiver. It's another easy-to-install plug-n-play LED kit. Use a reamer tool to drill the holes and then slot the LED holder and light into place. That's it.
Cons: The headlights don't share the same intense brightness of the red LEDs for some reason. The white lights don't seem to last as long as the red taillights either.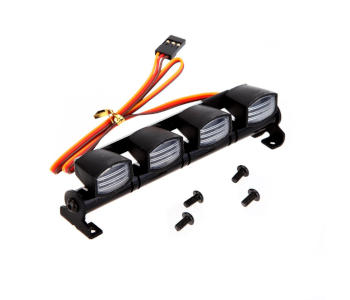 EDITOR'S RATING: 4.6/5
Light compatibility: Climbing/crawling trucks, rally cars, monster truck, short-course truck CC01, D90, SCX10 4WD, and many others.
This police car white LED light set is for 1/8 and 1/10 scale RC cars and trucks. It has strobing-blasting, flashing fast/slow, and alternately flashing modes. There's a multi-function button located at the back to switch between the different lighting effects. You can also decide to keep all lights on (no flashing) or turn them off altogether.
The kit comes with an aluminum alloy support that's both attractive and practical. The light's power line connects directly to the receiver through its CH3 (third channel).
Cons: The aluminum support is sturdy enough, but the lights are housed in plastic. That means they're vulnerable to breakage if the vehicle rolls over, especially when roof-mounted.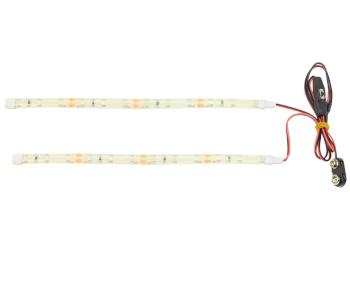 EDITOR'S RATING: 4.5/5
Light compatibility: Any RC car, truck, or other model types
Everyone loves the luminous underbody effect produced by blue LEDs. This affordable light set by Apex RC Products doesn't disappoint. There's even a built-in on/off switch. The installation is the easiest of them all. All you do is peel the protective strip off the back, and stick them to the underside of your RC car or truck. The lights get their power from a standard 9V battery. That's all there is to it.
Cons: Not quite as vibrant as some products, but still excellent value considering the price.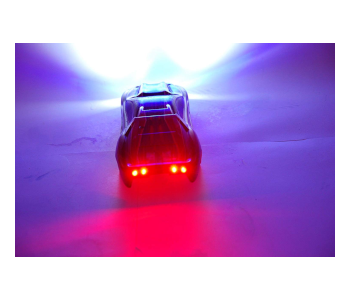 EDITOR'S RATING: 4.6/5
Light compatibility: Most scale RC cars and trucks
This 8 piece 3mm RC light set comes with 2 white, 2 blue, and 4 red LEDs. They fit any model from 1/16 up to 1/8 scale. There are metal holders that help to protect the lights. You get 15.7" (40 cm) of wire with each unit, so there's lots of room to be creative. Use a drill or reamer tool to make the holes in your model. The lights get their power from any standard 9V battery with connector (not included).
Cons: There's no on/off switch. Not suitable for anything smaller than 1/16 scale.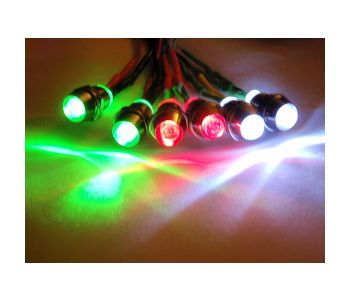 EDITOR'S RATING: 4.5/5
Light compatibility: Helicopter, drone, multirotor, other RC models
These 5mm LEDs are sold as RC plane navigational lights. Even so, you can use them on any RC model with a little imagination. The set comes with 2 white, 2 green flashing, and 2 red flashing LEDs. Each unit has over 15 inches (40 cm) of wiring. There's also a 9V battery connector in the box, and other plug types are available, i.e., JST or JR. The LED holders are chrome, or you can request black plastic.
Cons: No negatives to report for this product.
EDITOR'S RATING: 4.6/5
Light compatibility: Scale RC models, Yokomo, Tamiya, HSP, HPI, AXIAL, RC4WD, and Traxxas, etc.
This LED set by Goolsky includes 12 LED lights as follows:
4 x white headlights
4 x yellow turn lights
2 x blue taillights
2 x red rear lights
Consider this 12 LED system kit if you like smart simulation flash effects. You can control the synchronized direction of the flashing lights from the receiver's third channel.
Here's how you might utilize the full 12-light system on your RC model:
Light group 1: Blue LEDs on permanently
Light group 2: LEDs come on with the forward throttle
Light group 1: Full transmitter control
The blue LEDs go out once the car speeds up or brakes. Red lights come on with the brakes applied. The steering brake smart simulation flashing lights look much better in action than they sound.
Cons: The rear light goes out when moving forward, which takes away some of the realism. Also, setting up is a little trickier due to the complexity of the system.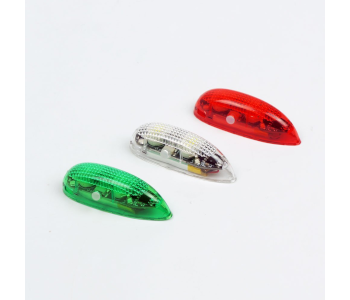 EDITOR'S RATING: 4.2/5
Light compatibility: RC custom cars, RC jet aircraft, fixed-wing planes, quadcopter, drones
This 3 piece super-bright wireless LED light kit is primarily for RC aircraft. You can use them in creative ways on custom-built, larger-scale RC cars. There's no wiring involved so you can test these puppies out on any RC product. A simple Velcro setup works. However, they are best for dusk and night flying RC planes and drones. They help to keep the craft firmly in the line of sight (LOS).
You can switch between the various modes with the one-touch control. The lights can blink, double flash, fast flash, and breath flash. Working time on a single charge is around 3 hours.
Cons: No non-flashing mode, so you must be happy with some form of blinking. Another downside is that you must charge the lights separately, which takes around one hour apiece.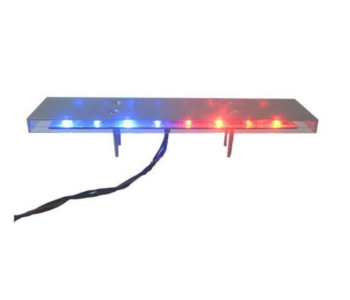 EDITOR'S RATING: 4.6/5
Light compatibility: Most 1/18 to 1/10 RC scale cars and trucks
The penultimate pick goes to another police light bar. It looks a lot more realistic than the images on the sales page portray. The bar is metal and houses red and blue LEDs at the front and yellow at the back. There are 7 easily switchable flashing modes. You can wire the system directly to the RC vehicle's battery or use an external 9V battery (9V connector included).
Cons: The LEDs are built-in and therefore not replaceable if any of them blow. The price of this police light bar is quite high compared to some of the alternatives.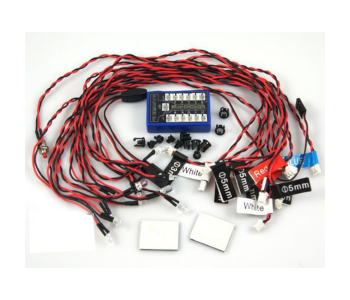 EDITOR'S RATING: 4.2/5
Light compatibility: All RC models
The bright multi-colored Soondar® 12 LED flashing light system makes the final review slot. It's quick to install and easy to operate. This set has the following 4 operational modes:
All LEDs are on
Front LEDs: White LED flashes quickly, blue LED always on
Front LEDs: White/blue rapid flashing (rear white/yellow/red flashing)
Front LEDs: White LED on, yellow LED slow flash (rear white/yellow flashing)
The 12 Soondar® colored LEDs include:
2 x Blue
2 x Orange
2 x Red
6 x White
There's 13.7" (35 cm) of LED wire length and 7.8" (20 cm) power connection wire.
Cons: The lights are quite bulky, which restricts their versatility somewhat. Moreover, there's no on/off mode, so there's the hassle of plugging and unplugging as needed.