6 Best LED Video Lights in 2020
3D Insider is ad supported and earns money from clicks, commissions from sales, and other ways.
LEDs are finally bright and reliable enough to take on any video lighting challenge!. You'll never want to switch back to incandescent or fluorescent once you make the switch since they're safer, offer more customization, and produce shades of white that closely resemble natural sunlight.
Here are the six best LED video lights you can buy today. You'll find on-camera options as well as full-fledged studio alternatives among our top picks. Some of them can produce millions of colors while you can use others to brighten up underwater scenes while shooting with your GoPro. Find out how they perform through our in-depth reviews and stop letting the location and time of day affect your productivity and artistic freedom.
Budget
Aputure Amaran AL-F7
4.2/5.0
Type: On-camera light
Brightness: 1,500Lux/m
Easy to control with function-switching knob.
Check B&H
Best Value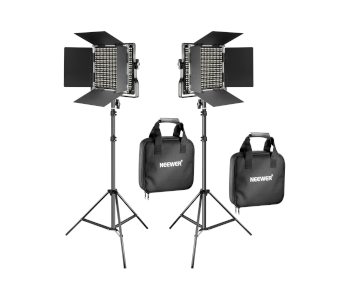 Neewer 2 Pieces Bi-color 660 LED Video Light
4.4/5.0
Type: Studio light
Brightness: 3,360Lux/m
Light panels and stands are built to last.
Check Amazon
Top Pick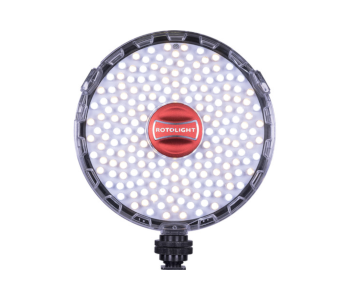 Rotolight NEO 2
4.7/5.0
Type: On-camera light
Brightness: 2,000Lux/m
This gives off a soft, pleasant glow.
Check B&H
LED Video Lights Comparison Table
1. Best Overall – Rotolight NEO 2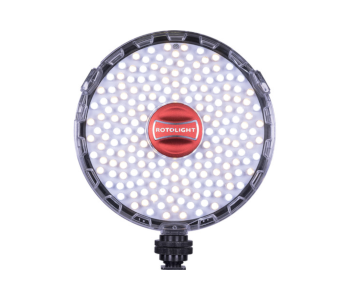 View on B&H
Editor's Rating: 4.7/5
The Rotolight Neo 2 is as close to a complete package as on-camera lights get. It works brilliantly as a video light but doesn't falter when it's time to act as a flash. Its straightforward controls let you adjust the color temperature in seconds, and several power options mean you'll never be left in the dark. It's more expensive than some competent studio light setups, but the Neo 2's versatility makes this easy to swallow.
Overview of Features
In trademark Rotolight fashion, the Neo 2 is a round on-camera light with a telltale red dot in the middle. Most of the light is made from quality plastic that can take a few dings without being ruined. The controls on its back are as simple as can be; one of the two knobs adjusts brightness while the other changes color temperature. Pressing down on them together brings you to a menu with advanced options we'll get to shortly.
You can power the neo 2 in three ways. Plugging it in ensures constant power and puts out light five times brighter than usual when using it like a flash. Six rechargeable batteries ensure portability but cut the flash's strength in half. Finally, the Neo 2 can draw power directly from your camera since it's connected via hotshoe.
The light the Neo 2 puts out is soft and finely adjustable thanks to a set of bi-colored LEDs. It ranges from 3,150 to 6,300 Kelvin, encompassing everything from a warm orange glow to bluish-white. It's brightest at 4,100K where both sets of lights shine at their brightest, but running it at either extreme produces only marginally dimmer results.
Unlike most other lights, the Neo 2 is capable of simulating various effects. These include useful light sources like lightning, gunshots, or fire that can add character to your videos. The Neo 2 is a capable photo light too since it can sync with your camera and deliver accurate illumination at shutter speeds as fast as 1/80, seconds.
What We Didn't Like
The Rotolight Neo 2 is expensive. It's also a light best used for interior work and at night since it isn't bright enough to work as a fill light when it's sunny outside.
Tech Specs
Dimensions: 10.9 x 8.5 x 4.3 in.
Weight: 2.7 lbs.
Type: On-camera light
Brightness: 2,000Lux/m
Color temperature: 3,150 to 6,300K
Color rendering index: 96
The Pros
Easy to operate and adjust
Gives off a soft, pleasant glow
Runs on battery or mains power
Works well as a flash
The Cons
Expensive
Too weak to be used in sunlight without getting uncomfortably close to the subject
2. Best Value – Neewer 2 Pieces Bi-color 660 LED Video Light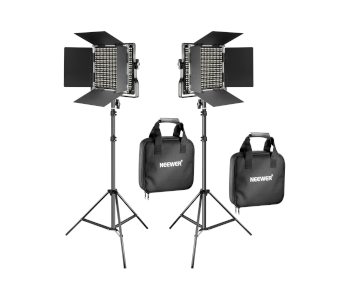 View on Amazon
Editor's Rating: 4.4/5
The Neo 2 is great for on-the-go filmmaking, but what if you need a light setup for studio work. Neewer's got you covered with a deal that looks too good to be true. Its two 660-bulb LED lights are robust, finely adjustable, and easy to set up. They're an excellent choice whether you conduct interviews, create internet content, or do product showcases and tutorials.
Overview of Features
The Neewer 660 bicolor LED light kit is made up of two light panels with as many carrying cases, adjustable stands, diffusion filters, and battery packs. All components feel well-made, especially the metal housing that protects the lights.
Each panel also as barn doors that help with minute light beam adjustment and is set on a U-bracket that makes panning and tilting easier. The barn doors are screwed on tight and easy to adjust in small increments, but it's equally simple to remove them with a flathead screwdriver if they aren't needed.
Each panel's back has room for two batteries and houses dials that control the brightness for each set of 330 lights. A diffuser softens the light they give off, which is at its brightest at 4,000K. Don't expect to reach the Neo 2's max color temperature, but 5,600K is a fine upper value since it corresponds to the look of natural sunlight. The panels have a color rendering index or CRI of 96, so expect objects illuminated by them to appear natural on camera.
The accessories that come with Neewer's lights are useful and well-made. We particularly liked the adjustable stands since their height ranges from 25 to 75 inches, giving you the flexibility to play around with multiple angles. The battery packs provide 90 minutes of continuous light output if there's no outlet nearby, in which case it's better to use the included adapter. The bags offer a safe and convenient way to store and transport everything once filming is complete.
What's Bad About It?
The dials on the back of the panels are flimsy and imprecise. There's no LCD screen or other indicator to show the exact current color temperature, so you'll have to judge it manually. This would have been less tricky if Neewer followed Rotolight's example and separated the brightness and color controls.
Tech Specs
Light dimensions: 9.1 x 7.9 x 1.9 in.
Stand height: 25 – 75 in.
Kit weight: 14.7 lbs.
Type: Studio light
Brightness: 3,360Lux/m
Color temperature: 3,200 to 5,600K
Color rendering index: 96
The Pros
Excellent value for the money
Light panels and stands are built to last
Fantastic barn doors
Run for a long while on battery power
The Cons
Hard to adjust the desired color temperature
Flimsy dials
3. YONGNUO YN360 II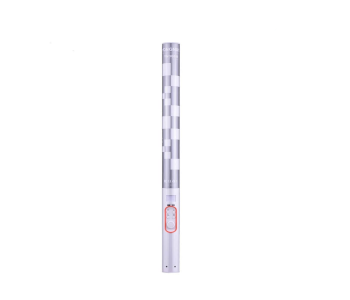 View on Amazon
Editor's Rating: 4.5/5
Traditional tungsten or fluorescent lights have a big drawback – they're limited to a single color you can only change by applying gels. LED technology has finally advanced to the point where RGB has become viable for video lighting, and the YN360 II from Yongnuo is a must-buy in this category. It's a wand light capable of producing either white in a broad range of color temperatures or 16 million differently-colored hues. It's ideal for music videos, night club scenes, and any other situation where boring white light just isn't enough.
Overview of Features
The YN360 II is a thick tube with an array of LEDs occupying part of the center. It's made from plastic but feels sturdy and like it will survive a fall. You can attach its bottom to a tripod thanks to a mount. The light's original version had an external battery that is now incorporated into the YN360 II's base, helping it stand and balance. The battery runs for an impressive four hours in RGB mode and half that when using the brighter white setting. An AC adapter is included too.
Using the YN360 II is a breeze thanks to an intuitive set of controls. There's an on/off switch on top while you control everything else by pressing buttons and then using a dial close to the base. The first button cycles through red, green, and blue. It lets you dial in a specific color by tweaking the three channels' brightness settings. Then there's a power indicator and a coarseness button that shifts adjustment increments from one to ten. Finally, there's the white light option that goes from 3,200 to 5,500K.
The YN360 II is excellent for adding atmosphere to your videos, but it's a competent general-purpose white light as well. Its concentrated beam directs a respectable 4,500 lumens of light wherever you need them, and the LEDs are positioned in a way that softens the glow. Best of all, you don't need to limit yourself to one color per scene. The YN360 II has a smartphone app that lets you tap on a color wheel and switch to a different color on-the-fly.
Are There Drawbacks?
The YN360 II suffers from several questionable design decisions. The most glaring one is the power adapter jack located near the on/off button on the wand's top. Plugging it in makes the YN360 II top-heavy and risks the wire being visible in your shot. The wand's entire area isn't used, so it's disappointing that it's completely round. A polygon would have been better for positioning on the ground or at odd angles since the wand wouldn't move.
Tech Specs
Dimensions: 23.4 x 8.5 x 2 in.
Weight: 2.5 lbs.
Type: Light wand
Brightness: 2,560 lumens
Color temperature: 3,200 to 5,500K
Color rendering index: 95
The Pros
Exceptionally versatile thanks to RGB LEDs
Intuitive controls and companion app
Strong light output
Long battery life
The Cons
Poorly-thought-out cable connection
Round shape makes it harder to keep it in place when not on a tripod
4. Lume Cube 2.0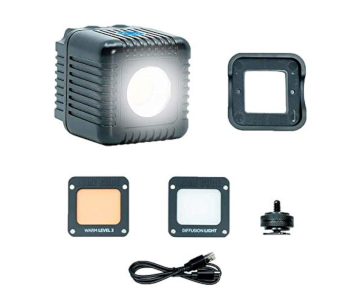 View on Amazon
Editor's Rating: 4.4/5
So far, we've assumed that you mostly make videos with a camera. What about improving the lighting in videos shot with action cams or smartphones, though? Enter the Lume Cube 2.0, a new and greatly improved version of an old favorite. This tiny powerhouse fits comfortably inside your pocket and can brighten up dim environments with a tap on a smartphone screen. It's durable, has a fantastic battery, and produces outstanding results in almost all lighting conditions.
Overview of Features
Little has changed in the new Lume Cube's outward appearance. It has the same dimensions and shape, and you're equally likely to forget you're carrying one. Closer inspection reveals that the light doesn't have transparent controls anymore and that the remote sensor used in flash mode has been moved to the top for more reliable operation. You charge the new cube through a USB-C adapter whose port is protected by a rubber seal. The device is still waterproof, but the depth to which you can use it has decreased to 30 feet because of the flap.
The biggest improvements were made to the Lume Cube 2's battery. It can run for an hour or even 90 minutes if you turn Bluetooth off, which is a massive improvement over the original's disappointing 25 minutes. The beam angle is now 80 degrees instead of 60, allowing for broader coverage and softer results. The Lume Cube 2.0 has a fixed color temperature of 5,600K that accurately simulates daylight, and the CRI has been bumped up from 90 to 95.
You now get access to many more useful accessories that attach to the cube through a modification frame that's become part of the standard package. Basic accessories include diffusion filters and ones that drop the color temperature to 4,100K. You may also want to invest in advanced ones like color filters, grids, and even barn doors. All the new accessories are compatible with the first Lume Cube and have magnets that help them stick together and remain within reach at all times.
What We Didn't Like
The Lume Cube 2.0 itself is excellent, but we can't say the same for its app yet. Theoretically, it allows you to adjust the light strength, eliminate red-eye, and control multiple lights simultaneously. Sadly, the app is still buggy and frequently loses connection. The mod frame fits tightly onto the cube and requires considerable force to fasten.
Tech Specs
Dimensions: 1.6 x 1.6 x 1.6 in.
Weight: 11.2 oz.
Type: Portable light
Brightness: 750Lux/m
Color temperature: 5,600K
Color rendering index: 96
The Pros
Excellent light color and fidelity
Waterproof, tough, and supremely portable
Battery lasts three times longer than original
Comprehensive accessory selection greatly increases versatility
The Cons
Buggy companion app
Modification frame is hard to attach
5. Genaray LED-7100T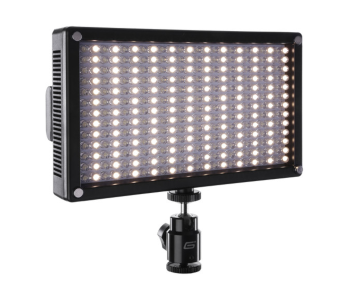 View on Amazon
Editor's Rating: 4.2/5
Next up is another on-camera light designed with simplicity and effectiveness. The Genaray LED-7100T is a no-frills lighting option that works well for videos whether you attach it to a camera or use it on a separate tripod. Getting the right brightness and color temperature is straightforward thanks to two dials, and the light won't give up on you id-filming as it takes two rechargeable batteries.
Overview of Features
The LED-7100T has a much more conventional appearance than the Neo 2. Its 312 bicolored lights are arranged in a rectangle pattern and protected by a thin diffuser that holds onto the frame using four edge magnets. The light comes with a versatile ball head that lets you rotate it to achieve precise angles. The bottom also has a cold shoe and a standard tripod screw that's great for when you want to use it as a fill or backlight.
Turning the LED-7100T around reveals a control panel and a pair of heat sinks. A battery can go under each to supply the light with long-lasting power, but it will also run on a single cell. They attach with little trouble and are even easier to remove thanks to quick-release latches. You can check the approximate battery status at any time thanks to a series of LEDs between the color temperature and brightness dials. These turn smoothly and offer enough resistance to fine-tune your preferences.
The LED-7100T's light output is decent, especially if you plug it into the included AC adapter. It's bright enough to be used successfully during cloudy weather or in studio settings, Color temperature indication is absent, but getting the desired glow is much more intuitive than on Neewer's lights.
Are There Drawbacks?
Genaray doesn't provide info on the LED-710T's CRI. We suspect the value isn't high as reds don't look believable. They lean more towards pink, so you'll have to play around with color correction to set this straight during editing. The build quality leaves something to be desired. You'll be fine if you treat the light with care but might have problems with the ball head as it's much flimsier and prone to breaking.
Tech Specs
Dimensions: 13.6 x 10 x 3.3 in.
Weight: 3 lbs.
Type: On-camera light
Brightness: 1,400 lumens
Color temperature: 3,200 to 5,600K
Color rendering index: Not specified
The Pros
Several mounting options and useful ball head
Takes two batteries but can work with one
Useful battery indicator
God brightness
The Cons
Questionable build quality
Reds require post-production to look natural due to low CRI
6. Best Budget Option – Aputure Amaran AL-F7
View on B&H
Editor's Rating: 4.2/5
Our budget pick is the Amaran AL-F7, an on-camera light from Aputure we're having a hard time believing you can get for less than $100. It features outstanding build quality for the price, intuitive controls, and a wide color temperature range. Add multiple power options and good brightness, and you've got one of the most versatile on-camera lights out there.
Overview of Features
There's not much to say about the Aputure Amaran AL-F7's design other than it's compact enough to fit comfortably onto mirrorless cameras. Its accessories are another matter; you get a quality ball head made from metal along with a power cable. The cable is particularly useful since it's USB-C. This means you can hook it up to an external powerbank and get much more power with few mobility restrictions.
The Amaran AL-F7's LED lighting is surprisingly good. It has a considerably more extensive color temperature range than other lights, 3,200 to 9,500K. Temperatures higher than 7,000K make the light too blue for conventional use. However, the high ceiling translates to a balanced 5,600K when both sets of lights are at their maximum, making for bright, natural-looking illumination.
The panel's controls are sparse yet functional. There's even a small screen that displays the battery life, color temps, and brightness level. You control these in 1-percent and 100K increments, respectively with a knob that pulls out. This takes the guesswork out of adjustment and helps you get the exact light you need. The light is harsh when undifused, so a diffuser that slips into a set of holders in front of the LEDs is included. The one you get is weak, so looking for a replacement is advisable.
Are There Drawbacks?
The Aputure Amaran AL-F7 would be a stellar choice if it wasn't so dim. It's excellent if you're a vlogger or journalist who conducts many interviews. However, it won't do when you need to light up a large room and becomes ineffective in sunlight even as a fill light. A battery and charger aren't included, forcing you to invest more than you might have intended.
Tech Specs
Dimensions: 6.2 x 3.4 x 1.3 in.
Weight: 1.6 lbs.
Type: On-camera light
Brightness: 1,500Lux/m
Color temperature: 3,200 to 9,500K
Color rendering index: 95
The Pros
Wide color temp range with the brightest output at 5,600K
Powered in multiple ways
Useful info screen
Easy to control with function-switching knob
The Cons
Could be brighter
Battery and charger aren't included