5 Best Left-Handed Gaming Mice
3D Insider is ad supported and earns money from clicks, commissions from sales, and other ways.
In the realm of multiplayer gaming where the fraction of a second matters, how well your gaming mouse fits your hand can make the difference between a win and a devastating loss. If you're left-handed, not even the best remapping efforts can ever make a right-handed suitable to your unique needs. To stay competitive, what you need is a gaming mouse that was specially designed for you.
Unfortunately, finding a high-quality gaming mouse for left-handed gamers isn't so easy. Worry not, because we've done the searching for you. Check out our list of recommendations for the best left-handed gaming mice available right now.
Why buy a left-handed gaming mouse?
Finding a gaming mouse that has been designed for left-handed gamers in mind is so rare that it can feel like chancing upon the ultimate weapon in a video game by accident. By default, a huge majority of gaming mice were designed for right-handed people. And while a lot of southpaws have learned to adapt to right-handed mice, the button layouts and ergonomics never seem to feel right.
Is the search for a left-handed gaming mouse worth the effort? Yes, it is, even if you aren't particularly competitive when it comes to multiplayer games. Aside from a marked improvement in your performance, using a left-handed gaming mouse is also a lot more comfortable and efficient. Even for basic browsing or working on your computer, not having to compromise with a right-handed mouse means that you can get a lot more done even with less effort. For the sake of your future self, we highly recommend getting a left-handed mouse.
What to look for in a left-handed gaming mouse
The standards for a left-handed gaming mouse don't have to be any different than any other gaming mouse. You're looking for something responsive and accurate for the superior gaming experience. At the same time, you have a couple of special considerations when it comes to comfort, accessibility, and ergonomics. Let's break down these qualifications according to the level of priority:
1. Orientation
To streamline the selection process, let's narrow down our options to gaming mice that are either left-handed or ambidextrous. This means that you no longer need to adjust your grip or the positioning of your fingers to adapt to a right-handed mouse. You'll find that there actually aren't a lot of left-handed gaming mice out there, so you might have to settle with ambidextrous models.
2. Button layout
Another pertinent issue for left-handed gamers is if the buttons are positioned in a way that they will be easily accessible if the mouse is held by the left hand. Aside from proper positioning, you also want a mouse that allows for the reprogramming and remapping of the buttons. No two gamers are the same, so you want to be able to customize your gaming mouse to fit your style.
3. Grip
Different gamers have different preferences on how they hold a mouse. The Palm style is the traditional way of holding a mouse that allows you to relax your wrist and push the mouse around with a stronger force. The Claw style might require added tension on your wrist but allows your fingers to handle the movement of the mouse. In theory, this should provide a more refined degree of control.
Depending on your style, you may prefer one over the other. There are also gaming mice that allow swapping between the two styles, but these are quite rare.
4. Sensitivity and response
The sensitivity, measured in Dots per Inch (DPI), and response time, measured in reads per second (Hz), go hand-in-hand to determine how well the mouse translates the movements of your hand to on-screen actions. As a general rule, you want to get a gaming mouse that is as fast and sensitive as possible.
However, excess sensitivity can also be a drawback for gamers who would rather focus on precision. As a good common ground solution, many gaming mice allow you to adjust the DPI settings to make them exactly as sensitive as you'd like them to be.
5. Weight
The ideal weight of the mouse is another matter of preference. Some gamers prefer the speed boost that an ultralight mouse can provide while others appreciate the refined control of a heftier mouse. Again, some options have removable weights. With such a gaming mouse, you can change not just the mouse's total weight but also the position of its center of gravity.
The top 5 best left-handed gaming mice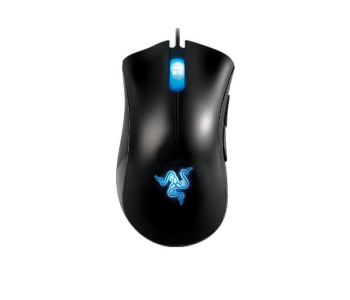 Topping the list is one of the very few gaming mice that are specifically designed for left-handed people. If you're a left-handed gamer who values comfort and ergonomics, then this is almost certainly a very compelling option.
This wired gaming mouse features a 3500 DPI infrared sensor that produces a response time of less than 1 millisecond. Although its sensitivity cannot be adjusted, the mouse makes up for it with its larger than usual size and heft. The result is a fast but accurate gaming experience that should help you rise up the rankings of your favorite multiplayer game.
The Synapse software is useful for keeping track of your usage data and for precisely adjusting the settings of the DeathAdder. However, the over-reliance on the software is also a bit of a downside. The software needs to load every time you load up your system before your personal settings will kick in, which means you'll be stuck with unfamiliar controls for a few seconds. This seems unnecessarily complex and makes us long for the simplicity of mouse drivers.
Tech specs
Orientation: Left-handed
Buttons: 4 programmable buttons
Sensitivity: 3500 DPI infrared sensor
Weight: 408 grams
PROS
Left-handed design
High-response sensors
Provides user analytics
CONS
Requires software support
No weight customization
May be too large for some users
No wireless option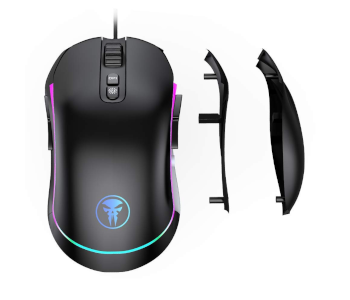 For a gaming mouse that costs less than $20, it's hard to find any fault with this mouse from VersionTECH. Even though it's billed as a left-handed gaming mouse, it's actually ambidextrous. The way that it's implemented is a bit different, though. Instead of a design that allows for gripping from both sides, the VersionTECH mouse has removable side plates for switching between left-handed and right-handed modes.
The mouse sensitivity has four pre-set modes but can be pushed up to 4000 DPI for fast-paced gaming. Its response time is limited by the optical sensor, but you probably can't get a gaming mouse with a laser sensor at this price range. The lightweight form factor somewhat makes up for this deficiency. The VersionTECH gaming mouse is a bit on the small side, so it's perfect for gamers with small hands.
The most important caveat when you buy this mouse is that you get what you pay for. This is certainly not the kind of mouse that you can expect to last for longer than a year or two, especially if you use it heavily for gaming. This mouse is far from the best, but it comes close to being one of the most inexpensive.
Tech specs
Orientation: Ambidextrous
Buttons: 4 programmable buttons
Sensitivity: 4000 DPI optical sensor
Weight: 120 grams
PROS
Interchangeable orientation
Very inexpensive
Suitable for small hands
CONS
No wireless option
Not as fast because of the optical sensor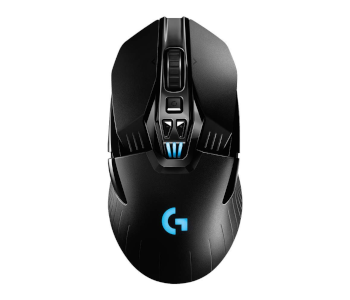 The G903 gaming mouse from Logitech delivers a lot of value for less than $100. It is an ambidextrous gaming mouse with removable side panels so you can place the buttons exactly where you need them. The ergonomics of this aren't the best for left-handed gamers, but it's not terribly uncomfortable.
One of the best features of the Logitech G903 is its super-responsive 12000 DPI sensor which can be dialed down according to your preference. There's also the 10-gram removable weight that you can deploy or remove depending on how hefty you want your gaming mouse to be. Along with the reprogrammable buttons, this has to be one of the most customizable gaming mice in this price range.
There is one glaring flaw with this product, and it has to do with the numerous reviews of users who have run into problems with the mouse double-clicking when it's not supposed to. This probably has something to do with the sensitivity or resistance of the left and right buttons. In any case, there should be a way to work around this problem by adjusting the settings on the mouse's firmware. Until Logitech solves this problem sufficiently, then the G903 may not be able to realize its full potential as a gaming mouse.
Tech specs
Orientation: Ambidextrous
Buttons: 4 programmable buttons
Sensitivity: 12,000 DPI optical sensor
Weight: 110 grams
PROS
Offers wired and wireless options
Has a removable weight
Adjustable sensitivity
Costs less than $100
CONS
Frequent double-click issues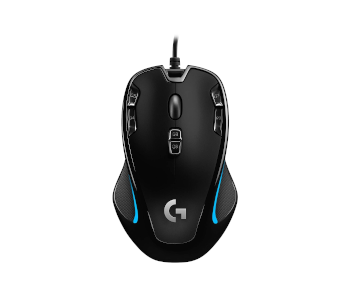 If it's more buttons you're looking for, then the G300s from Logitech has buttons in spades. Since none of the buttons are positioned at the sides of the mouse, it doesn't matter whether you hold it with a right or left hand. All buttons are accessible by your two fingers, making a very quick interface, albeit one that's quite crowded.
This small and lightweight mouse is great for quick motions. Its 2500 DPI optical sensor isn't exactly high-end or sophisticated, but it does offer the option of turning it down further if you want more precision. The small footprint might take a bit of getting used to, especially since it's a wired mouse.
There's also one more thing we haven't mentioned about the G300s – it costs less than $20. For a mouse this cheap, we can be more than a little forgiving of minor flaws. It's a pretty solid, functional, and comfortable mouse for its price. As with any inexpensive piece of electronics, the durability of the G300s isn't the best. If you use it heavily, especially for click-heavy games, then don't expect it to last much longer than a year.
Tech specs
Orientation: Ambidextrous
Buttons: 9 programmable buttons
Sensitivity: 2500 DPI optical sensor
Weight: 79.4 grams
PROS
Offers wired and wireless options
Has a removable weight
Adjustable sensitivity
Costs less than $100
CONS
Limited click durability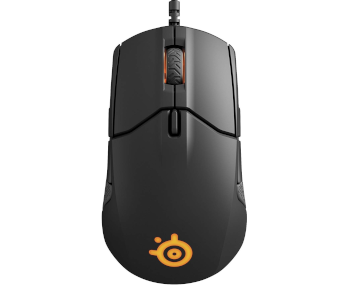 The SteelSeries Sensei line of gaming mice has been pretty well-reviewed and the 310 is no different. This ambidextrous gaming mouse has side buttons on both sides, allowing access for both left-handed and right-handed users. All the side buttons, as well as the finger buttons at the top, can be reprogrammed and remapped.
This remarkably lightweight gaming mouse is equipped with a highly sensitive 12,000 DPI sensor. The proprietary TrueMove3 sensor boasts of low latency and accurate response, resulting in virtually one-is-to-one translation of your inputs to onscreen actions.
Silicone grips at both sides of the mouse provide traction for your hands so you can move it around reliably even after long hours of gaming. Despite being a lightweight mouse, the buttons of the Sensei 310 are rated for 50 million clicks each. Durability-wise, the Sensei 310 offers a lot of value.
The one part of the Sensei 310 that feels cheap is its wire. Because the 310 is a wired mouse that offers no wireless option, you're pretty much stuck playing with the wire. This wouldn't be such a big deal if the wire was braided. Instead, the wire of the Sensei 310 is the old-fashioned mouse wire that feels rigid and inflexible.
Tech specs
Orientation: Ambidextrous
Buttons: 7 programmable buttons
Sensitivity: 12,000 DPI optical sensor
Weight: 92 grams
PROS
Lightweight and durable
Highly responsive sensor
Good tactile response on side buttons
CONS
No wireless option
Wire is not braided
Final thoughts
All left-handed people are probably familiar with the feeling of being left out in a world that was designed for right-handed people. Fortunately, times have been changing and many brands now design more inclusive products.
Gaming mice that are specifically designed for left-handed gaming still aren't as common as we'd like them to be. Even in our list of the best ones, there really is only one entry that passes this standard because all others feature ambidextrous grips. Still, progress is progress.