6 Best Cameras for Live Streaming of 2019
3D Insider is ad supported and earns money from clicks, commissions from sales, and other ways.
With increased bandwidth and the explosion of live-streaming, content creators finally have the means to reach their audience in a more personal way. People like to watch how your face conveys what you're currently experiencing. This establishes a deeper connection with the audience, ultimately leading to a bigger and more dedicated fan base.
That's why it's paramount to have a high-quality camera designed to make your content look polished and professional. These aren't your garden variety webcams – streaming cameras have features like HDR, variable ISO settings, and other image adjustment options you'd only find on professional videography equipment. Some are highly portable while others let you stream in 4K.
Here are the best cameras for live streaming you can buy today. Whether you plan on building a reputation as a Twitch streamer or making a great impression on your next conference call, these are the tools you'll need to succeed.
Budget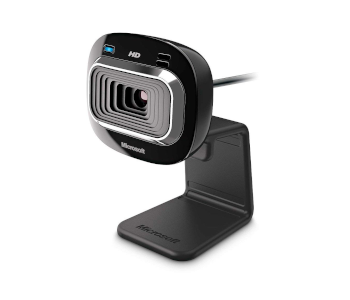 Microsoft LifeCam HD-3000
4.2/5.0
Dimensions: 4.3 x 1.6 x 1.8 in
Field of view: 69 °
Has a decent picture quality and versatile mount.
Check Amazon
Best Value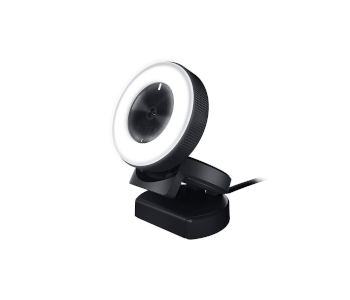 Razer Kiyo
4.5/5.0
Dimensions: 3.7 x 5.1 x 1.1 in
Field of view: 81.6 °
Adjustable LED ring and excellent image quality.
Check Amazon
Top Pick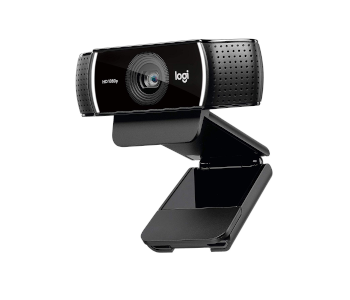 Logitech C922x Pro Stream
4.7/5.0
Dimensions: 1.7 x 3.7 x 2.8 in
Field of view: 78 °
Excellent low-light performance, decent stereo microphones.
Check Amazon
What to Look for in a Camera for Live Streaming
Resolution
Picture Quality
Field of View
Cameras for Live Streaming Comparison Table
1. Best Overall – Logitech C922x Pro Stream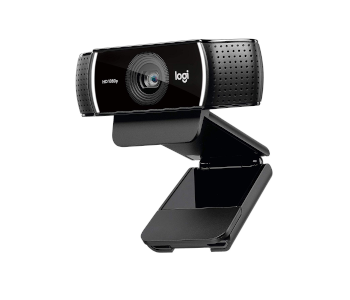 View on Amazon
Editor's Rating: 4.7/5
The Logitech C920 has been the undisputed choice for most serious YouTube & Twitch streamers since it came out in 2012. Its successor, the C922x Pro Stream, improves this already outstanding streaming camera in many aspects. Increased framerates, a responsive background removal tool, and great low-light performance are its main selling points. It's also reasonably priced and easy to set up. The C922x is the ideal solution for both seasoned streamers and newcomers and deservedly takes the top spot.
The Best Streamer Cam Around
Not much has changed in the C922x's design compared to the older model. It still has a squat cubic appearance with prominent stereo speakers on its sides and a Logitech logo next to the lens. The camera rests on your monitor thanks to a hinge which lets you adjust the height and angle. A 6-inch tripod is included in the bundle if you want to set it up on a desk instead. The tripod is well made and has rubberized feet so the camera won't slip and is hard to knock over.
The C922x works practically with any modern device that has a USB port. Windows 7, Mac OS X, and Android 5.0 or higher all recognize it without a hitch. Both OBS and XSplit are supported. If you like using the latter, you'll be thrilled that purchasing the C922x gets you a free 3-month subscription to XSplit Premium.
The camera's performance is outstanding! Low light vision adjustment is of particular note as the C922x delivers natural-looking results even if your monitor is the only light source. If you're streaming in 720p at 60fps, this won't even cause the framerate to drop below 30. This model also has automatic background removal which is handy if you're working without a green screen and don't want your audience to look at your workspace.
Whether you're streaming in fullscreen or taking up a small window in the corner, the stream quality is the best in the business. The C920 was noteworthy for its 1080p performance, and the C922x only improves upon that. Expect a crisp image, fluid motion capture, and a solid color balance regardless of lighting conditions.
Are There Drawbacks?
Logitech uses software called Chromacam for background removal. Chromacam only works with Windows 7 and up, so you won't be able to use this feature if you're on a Mac or Android. There's a bright blue light that indicates that the camera is on. You can't turn it off without using Logitech's camera control software which may fail to install.

Tech Specs
Dimensions: 1.7 x 3.7 x 2.8 in
Streaming resolution: 1080p/30fps or 720p/60fps
Field of view: 78 °
The Pros
Excellent low-light performance
Can remove your background
Decent stereo microphones
Small and unobtrusive
The Cons
Chromacam works only on Windows
Bright on LED is hard to turn off
2. Best Value – Razer Kiyo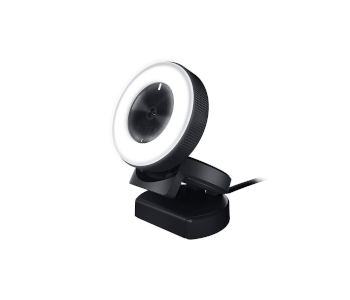 View on Amazon
Editor's Rating: 4.5/5
Professional streamers can't rely on content alone – they need to be presentable too. Lighting plays an important part in how your audience sees you. Even if you've got some professional lighting equipment already, it may not do your face justice. That's why Razer has equipped The Kiyo with an adjustable ring light which provides extra illumination for your face. It's a solid all-around performer when it comes to video too, making it an easy choice for our value pick.
In the Spotlight
For a streamer cam, the Kiyo is large. If you're clipping it onto your monitor with the included stand hinge, it might obstruct a larger part of its top than you're used to. The camera can also be mounted to a tripod and is otherwise easy to transport. It's plug & play, meaning that there's no software to fiddle with other than adjusting preferences in the streaming program you're already using once connected.
The Kiyo's standout feature is its ring light. It has multiple brightness settings so you can fine-tune its lighting profile and incorporate it into your existing lighting setup as you see fit. The light it emits is of a neutral white color and brings out the details of whatever it illuminates while eliminating pronounced shadows. The result is a soft, pleasant glow that accentuates your features without making your face look washed out.
You can stream either in 1080p at 30fps or at 720p at 60fps if you want the audience to experience your reactions more naturally. Image quality is excellent with correct white balance and a lot of contrast. Colors are vivid and true to life as well. It doesn't matter whether you're in a naturally-lit room or have the LED ring on, the Kiyo delivers a top quality picture.
What We Didn't Like
The Kiyo's built-in mic is quiet. This isn't a problem if you've got a professional standalone model, but it's worth noting if you're starting out and don't want to spend money on a separate mic yet. The focus is also too sensitive. It will react to even slight movements in autofocus mode, forcing you to switch to manual.

Tech Specs
Dimensions: 3.7 x 5.1 x 1.1 in
Streaming resolution: 1080p/30fps or 720p/60fps
Field of view: 81.6 °
The Pros
Adjustable LED ring
Excellent image quality
No additional software required
The Cons
Quiet microphone
Overly sensitive autofocus
3. Logitech BRIO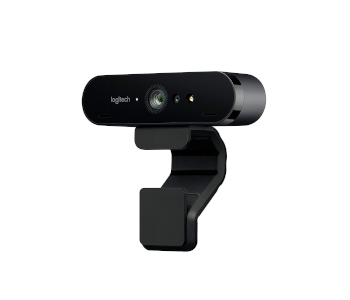 View on Amazon
Editor's Rating: 4.4/5
All the cameras we've reviewed so far have a resolution cap of 1080p. Are there models that go higher? There's one, Logitech's Brio! This high-end streamer camera can record footage in razor-sharp 4K. It also features the excellent low-light capabilities of the C922x and comes with a versatile software package that lets you tweak its settings manually. It's more expensive than most cameras we've tested, but if you want to be a trailblazer and offer your viewers the best video quality available, it's a small price to pay.
Streaming with Crystal Clarity
Logitech's streamer cam designs are minimalistic yet elegant, and the Brio follows this formula as well. It has a rounded front complete with a privacy flap that goes over the lens. The mount is the same you get with the C922x, as is the 5-foot rubberized USB cable. You also get a handy carrying pouch. This along with a speedy automatic driver download when you plug it in for the first time makes the Brio a great choice if you need portability.
Video quality and clarity are outstanding! The Brio makes use of both 4K Ultra HD at 30fps and HDR to deliver high-quality video which doesn't degrade if the lighting changes. Thanks to a 90-degree field of view you can easily fit 2 or 3 people into a shot which is ideal for streamers who host their friends or other commentators a lot. Even if you don't plan on using 4K, it's still worth it to get the Brio as its larger sensor and advanced processor deliver better 1080p image quality at 60fps.
Along with the Brio, you get its configuration software, Logitech Camera Setting. This lets you switch between portrait and landscape modes, turn HRD on or off, and switch between NTSC and PAL formats. Field of view adjustment is its best feature though since it lets you toggle the FOV between 60, 75, and 90 degrees.
What's Bad About It?
Apart from YouTube, no other streaming service officially supports 4K yet. Since the Brio is more expensive than the C922x, it isn't as good a deal if you aren't hung up on 4K. Logitech Camera Setting doesn't let you save changes and reverts to its default settings each time you shut off your PC. This may become frustrating if some of the defaults aren't a good fit for you.

Tech Specs
Dimensions: 1 x 4 x 4 in
Streaming resolution: 4K/30fps, 1080p/30fps, or 720p/60fps
Field of view: 60 – 90 °
The Pros
Captures 4K video
Variable field of view
Has HDR and good low-light performance
The Cons
Expensive
Configuration software resets to defaults on reboot
4. Mevo Plus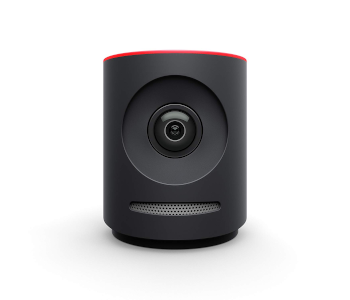 View on Amazon
Editor's Rating: 4.1/5
Do you often leave the comfort of your studio and stream on location? If you cover sporting events, conventions etc., a standard streaming camera won't cut it. Enter Mevo Plus, the compact camera that goes everywhere you do and lets you become a one-man camera crew. Its design is ideal for on-the-spot coverage and spur of the moment scenes. You're going to have to spend a lot on it, but the payoff is content no one else can copy.
Stream from Wherever, Whenever
The Mevo Plus is a small yet durable cylindrical camera you can either carry in your palm or deploy on an included tripod. Its front houses the lens, a microphone, and speakers. A mini-USB jack and microSD card slots are in the back. You get a 16GB card with the Mevo Plus and are going to need it since the camera can record in 4K! There's an Ethernet jack on the camera's bottom for extra connection stability during important streams.
Once you've found a good location for it, you can further adjust the Mevo Plus through its smartphone app. It lets you quickly zoom to someone's face or gradually pan & tilt the camera without having to physically move it. This is thanks due to the large 4K sensor which also lets you stabilize footage albeit with a small crop. When in use, this lets the camera capture smooth footage even if you're carrying it and moving.
Its 150-degree lens makes the Mevo Plus great for wide-angle shots but isn't big enough to cause fisheye or warp the features of a person you're interviewing. Streaming is limited to 1080p at 30 fps which isn't a drawback considering you'll likely rely on dodgy Wi-Fi or LTE anyway. The 4K sensor puts out superior image quality at this resolution though and footage is both vibrant & clear, especially out in the open.
What We Didn't Like
This is by far the most expensive camera we've reviewed. Its Li-ion rechargeable battery has juice for an hour of recording or streaming. If that's too short for you, there is a version of the Mevo Plus with an additional power pack. This accessory drastically increases the battery's charge, but it makes the Mevo Plus even more expensive.

Tech Specs
Dimensions: 2.5 x 2 x 2 in
Streaming resolution: 1080p/30fps or 720p/30fps
Field of view: 150 °
The Pros
Portable
Has image stabilization
Can be controlled from smartphone
The Cons
Very expensive
Short battery life
5. Microsoft LifeCam Studio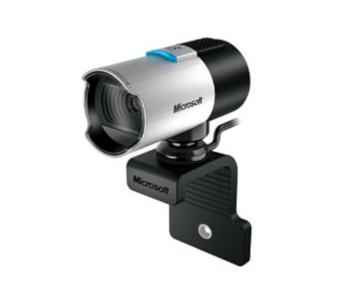 View on Amazon
Editor's Rating: 3.9/5
You want to look your best when you're participating in Skype business calls. For that, you need a reliable camera with an adjustable angle, support for FullHD, and ease of use out of the box. The LifeCam Studio is Microsoft's go to conference call solution for professionals. It takes moments to set up, has decent video & audio quality, and will cost you less than $50. It's a workhorse that won't let you down even with long-term daily use and worth getting as a standard webcam replacement.
The Business-Oriented Streaming Camera
The LifeCam Studio is a smart-looking bullet camera with a silver & black color scheme. It attaches to any monitor or TV via a flexible mount which also lets you adjust the camera's tilt. It can be rotated 180 degrees in either direction, so making adjustments if the monitor isn't directly in front of you is easy. The camera has a sturdy housing complete with a petal design that shields the lens from too much glare.
This camera is a great choice for conference calls due to its sharp image quality and good audio. Colors and automatic exposure are balanced well thanks to the TrueColor feature. The LifeCam studio measures the ambient light and tracks your head movements to produce the best balance of color and lighting. The result is a warm picture that looks good in all but the darkest conditions. A sensitive mono mic takes care of the audio. Voices it records can be clearly distinguished and recorded background noise doesn't interfere with overall quality.
Along with the LifeCam studio, you get a software suite used to tweak its performance. Everything from ISO settings to white balance & color hue can be adjusted manually. There's also a selection of silly effects and a feature that blurs out your face if you'd like to remain anonymous during a call.
What's Bad About It?
There's a large caveat to the LifeCam Studio's advertised video performance. It is capable of 1080p video at 30fps, but not natively. You'll have to install 3rd-party video editing software to unlock this setting or be satisfied with 720p at 30fps.

Tech Specs
Dimensions: 4.5 x 1.8 x 2.4 in
Streaming resolution: 1080p/30fps or 720p/30fps
Field of view: 75 °
The Pros
Durable build
Good automatic scene adjustment
Comprehensive software suite
Flexible mount
The Cons
Streaming in 1080p requires 3rd-party software
720p maxed out at 30fps
6. Best Budget Option – Microsoft LifeCam HD-3000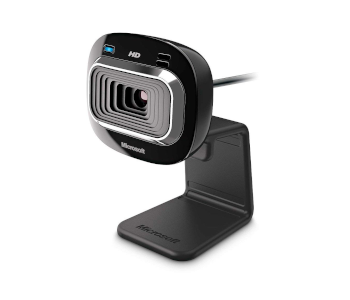 View on Amazon
Editor's Rating: 4.2/5
Are you looking to replace your built-in webcam on a budget? If so, Microsoft's LifeCam HD-3000 is hands down the best choice. It has a lower max resolution than other models on the list and lacks most of their advanced features. Still, for a camera which costs less than $30, it has good image quality enhanced by TrueColor. Its plug & play approach and excellent value make the HD-3000 perfect for the budget-conscious streamer.
Quality Streaming at Little Cost
The HD-3000 is simplistically designed and augmented by a versatile mount. Its front consists of a blue LED indicating its power status, the lens, and two small holes for the mono microphone. The mount is the real star of the design though as it can flex to fit snuggly onto monitors or TVs of different thicknesses. You don't get a tripod with this model, but the mount easily converts into a passable stand if you bend it into a U shape.
You can take 4MP stills or record video in 720p at 30fps. This is also the rate at which you can make conference calls or stream videos. Although you don't get as much detail as with cameras streaming in 1080p, the overall picture quality is good. The same TrueColor technology used in the LifeCam Studio ensures that videos are never washed out or overly dark while the exposure levels and colors are on point. Even if you move your head a lot, the person on the other end won't notice a decline in picture quality.
Are There Drawbacks?
This is an older model and may not work correctly in Windows 10. The Camera app is still able to recognize it but sometimes experiences problems. The microphone is very sensitive. This wouldn't be a problem if it was better at discriminating between voices and other noises. It will pick up all sounds clearly though, so people you're talking to may not understand everything if you're in a crowded place.

Tech Specs
Dimensions: 4.3 x 1.6 x 1.8 in
Streaming resolution: 1080p/30fps or 720p/60fps
Field of view: 69 °
The Pros
Great value for the money
Decent picture quality
Versatile mount
The Cons
Issues working in Windows 10
Mic is bad at filtering out background noise