A Beginner's Guide to Live Streaming Equipment
3D Insider is ad supported and earns money from clicks and other ways.
Today's high-speed internet finally allows us to share live video to audiences across the globe seamlessly. Live streaming applications are endless. For example, church groups use live streaming to broadcast religious ceremonies to every member of their community. It lets family members who live far away take part in celebrating their loved ones' milestones. Most noticeably though, live streaming allows content creators to interact with their audiences in real time and on a personal level.
In this guide, we're focusing on the basics of live streaming equipment. We cover two types of live streams and what equipment you'll need to create each successfully. You'll also get to know a little bit about outstanding products for each category and how they'll help to improve both the quality and attractiveness of your stream.
What Streaming Equipment Do You Need?
This depends on what type of live stream you intend to do the most. Broadly speaking, there are two types of streams which require slightly different equipment – streaming from your computer and on location. We'll talk about the essential gear you need and provide examples for each type of stream.
Streaming from a computer is done in a controlled environment. The computer acts as the hub for all of your gear and also takes on the role of an encoder. This type of stream is preferred by gamers, makeup artists, and influencers who want to focus on interacting with their audience.
Streaming on location shifts the attention away from the streamer and onto an event they're recording. The equipment used to capture it needs to be portable, have an independent power source and be able to deliver professional results in less than ideal conditions.
The Most Basic Option – Your Smartphone
A modern smartphone is all you need to start live streaming! It's the perfect set of "training wheels" that lets you test out the waters and get used to the idea of producing content for a live audience. The best thing about smartphones as live streaming gear is their ease of use. Your phone is also a camera, a microphone, and the means with which you broadcast your content to the most popular social media sites with just a few taps.
Live streaming through a smartphone requires little technical knowledge and is easy to grasp for anyone. Services like Instagram and Twitter's Periscope even take care of notifying your followers automatically so you'll always have an audience while being able to save the stream for later viewing.
There's a reason why you'll want to move away from smartphones as soon as you get some live streaming experience though. Simply put, their feed looks unprofessional. Family and friends won't mind that the sound was muffled and your hand shook while recording your brother's high school graduation. Online audiences are much more demanding though, so you'll need to start using specialized equipment if you hope to stand out and eventually turn live streaming into a career.
Cameras
Picking a good camera for live streaming means balancing between video quality and the camera's ability to record for a long while. DSLRs and mirrorless cameras produce professional-looking footage but aren't suitable for live streaming because prolonged video recording can damage their internal components. If the stream concentrates only on your face and reactions, a quality web camera will get the job done. On the other hand, a camcorder is an affordable choice for producing quality videos on location.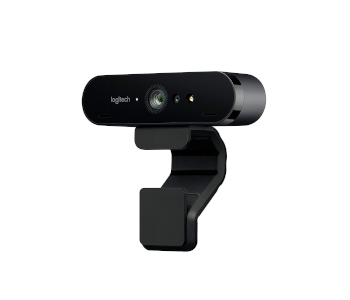 Logitech's Brio is an outstanding webcam which supports recording in 4K. It works out of the box thanks to well-implemented plug & play while also having excellent companion software that lets you tweak specifics like the viewing angle and HDR. It's pricier than most webcams but buying one means you're futureproofing your setup since it's only a matter of time before 4K becomes the standard. In the meantime, your viewers can enjoy 1080p video in higher quality thanks to Brio's bigger 4K sensor.
Investing in the Brio also means you can be more flexible with your lighting. The webcam performs well in low light and adapts quickly to changing light levels. Since the brio has built-in HDR, there's no color degradation so you and your surroundings will appear lifelike
Other webcams are designed to focus just on one person. The Brio has a 90-degree viewing angle, meaning it can fit two people into the shot simultaneously The angle can be narrowed down through its companion software, so you get to interview a guest and quickly switch the focus back to yourself without the shot looking awkward afterward.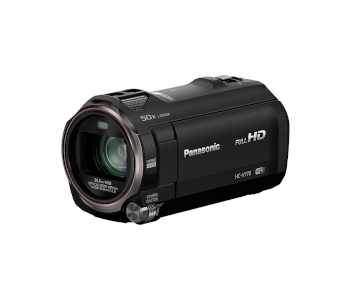 The HC-V770 is the epitome of a user-friendly camcorder. It is lightweight and stable in hand thanks to a broad strap. You can reach its core controls with your shooting hand or access the rest through an LCD touchscreen. The screen also flips around so you can make sure that you're in the center of the shot without moving.
The camcorder also excels at recording events like lectures, concerts, etc. since it has 20x optical zoom which doesn't degrade the picture quality. You don't even need to hold the HC-V770 to control it since onboard Wi-Fi lets you use your phone as a remote control and second viewfinder.
Videos are shot in 1080p at 60 frames per second. The HC-V770 handles low light well too thanks to a large sensor. It has input jacks for an external microphone and headphones. If there's no room in your budget for a mic, the HC-V770's built-in one will tide you over. The microphone records good audio even in slightly windy conditions because it is recessed.
Microphones
Since cameras focus on creating good-quality video, their onboard audio is held to a lower standard. You'll need a dedicated microphone to capture the nuances of your speech and ambient sounds. Standalone microphones can also have multiple polar patterns which make them suitable for different recording situations.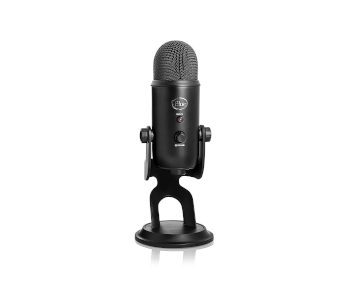 Yeti's Blue is the most versatile and best-sounding microphone you can get in the $100 price range. It has a massive body propped up by a large stand that's difficult to topple. It takes seconds to set up since drivers are applied automatically once you plug the Yeti in for the first time.
Four polar patterns are the Yeti's main selling point and make it appealing for any type of studio streamer. Commenting on a game you're playing? The cardioid pattern will make sure only your voice is heard while eliminating ambient sounds. Want to perform song requests for your fans? Switch to stereo mode and hear the yeti faithfully reproduce your instrument and the room's acoustics.
Controlling the Yeti is easy thanks to dials on its front and back which change the polar pattern, adjust the volume & gain, etc. There's also a headphone jack on its bottom that's useful for performing sound checks before you go on air and making sure your audience hears you correctly.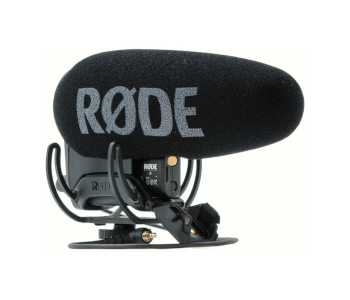 The VideoMic Pro+ is a rugged shotgun mic that attaches to your camera. Its award-winning mount negates noises made by moving the camera, so you can walk around and record an event without picking up unwanted mechanical sounds. This microphone has a focused polar pattern which picks up sound directly in front of and behind it and ignores the surroundings. This lets you comment on what's going on while walking or record a speaker from across a lecture hall and nothing else.
Loudness management is another of the Pro+'s strengths. It records audio to two channels at once. The 2nd channel is ten decibels quieter so the audio doesn't break in case a concert gets really loud for example. If what you want to record is too soft, you can increase the gain in three steps and amplify it.
The Pro+ is great to work with in the field because of its versatile power sources. It runs on two AA batteries but has a rechargeable battery good for 20 hours too. If all else fails, there's a USB jack that lets you hook the microphone up to a power bank.
Lights
Too many live streams look unprofessional because of poor lighting. There's no excuse not to be using a basic three-point lighting setup if you're streaming indoors. Streaming on location is more challenging since lighting conditions are unpredictable, but clever lighting solutions for this type of stream are available too.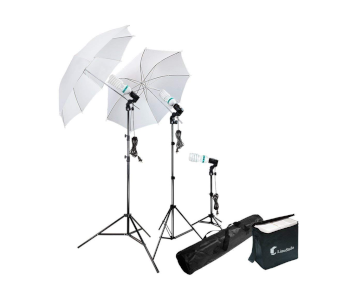 This lighting kit by LimoStudio is proof that you don't have to spend a fortune on good lighting. The comprehensive package includes everything you need to implement three-point lighting – three fluorescent bulbs with accompanying stands, two lighting umbrellas, and carrying cases to organize and transport it all.
For a kit that costs just over $50, the build quality is excellent. The stands are made of aluminum, and their height can be adjusted. The fluorescent bulbs which screw into them give off bright light at 1,800 lumens at a temperature of 6,000 degrees Kelvin.
You'll appreciate the two nylon umbrellas the most though since these let you direct the lights and control how hard they are. A little experimentation with their positioning results in rich diffuse light that casts soft shadows and flatters your appearance.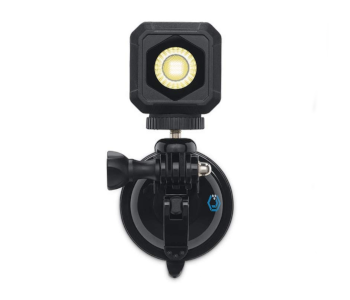 No other professional light beats the Lume Cube AIR when it comes to portability. The little LED light fits inside your pocket yet has a brightness of 400 lumens. This is enough to correct any ambient light at close range and give your location streams a professional look. You can mount the Lume Cube onto a camera or place it on a flat surface, and it's good to go. The light may be small, but it's also rugged and waterproof down to 30 feet.
The Lume Cube has no physical controls. You turn it on and configure its operating mode through a mobile app instead. You'll use its intuitive interface to check on the battery, switch between modes, and upload photos or videos to social media sites. The cube puts out continuous light, but it can also act as a strobe light or a flash. Its built-in battery is rechargeable and has enough power to keep the Lume Cube going at its brightest for 60 minutes.
Encoder
The data your camera and microphone record is generated separately and incompatible with live streaming protocols. That's why you need an encoder to take the raw input from your recording devices and turn it into data a live streaming platform will recognize. Modern PCs are powerful enough to run programs which do this in the background. However, streaming on location requires a hardware encoder.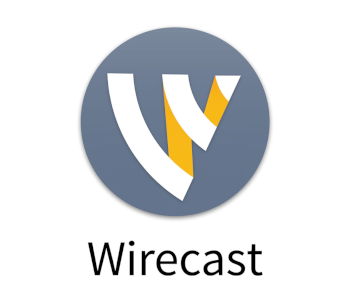 Wirecast is a professional live streaming program used to broadcast, monitor, and edit your live content. It supports all major streaming services and adapts itself to the one you're using. For example, you can overlay your Twitch comments feed on top of the stream through a dedicated command.
You'll get the hang of Wirecast quickly if you've ever used video or image editing software before. It has a live view that supports limitless camera input sources as well as a layers section. Layers are used to store clips, lower thirds, or even scoreboards which can be called up at any time during the stream.
Webcast is straightforward to use but has powerful advanced options as well. These include chromakey, streaming to multiple platforms simultaneously, an advanced audio mixer, as well as the ability to crop the picture and adjust its color balance.
Wirecast's only downside is the steep asking price. If its features seem overkill and your main focus is on video game streaming, you should try Open Broadcaster Software (OBS) instead.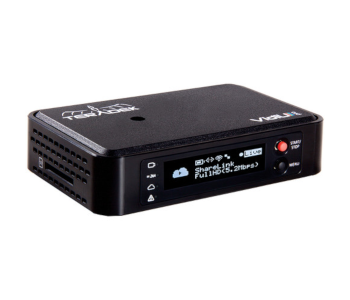 Ensuring a stable internet connection is crucial if you want to stream from an event or venue. Teradek's VidiU Pro is a hardware video recorder that not only makes streaming easier but guarantees a stable internet connection. It has built-in Wi-Fi and connects through an Ethernet cable, but the VidiU also takes advantage of ShareLink. This technology allows you to bond the bandwidth of multiple cellphones into a broadband connection that will transmit the stream without buffering or connection loss.
VidiU has native support for streaming services like YouTube Live and will connect to them automatically once you put in your credentials. If your camera has Wi-Fi, the VidiU will connect to it wirelessly. Otherwise, you can use an HDMI cable. Wireless connection to your smartphone or tablet is available too and enables you to turn your smart devices into monitoring screens. You can plug the VidiU into an outlet or a power bank through USB. It has a rechargeable battery good for an hour of streaming if no other power sources are available.