10 Best Drones By Battery Life
Cheap & Expensive Long Lasting Drones

Consumer drones are here to stay and we love them. Taking photos and videos has never been so exciting or this much fun. Or at least it would be if it wasn't for the short drone battery life.
The problem with drones is that they need batteries to power them. Unfortunately, the electricity provided by drone batteries empties way too fast. Charging your battery can sometimes take several hours. That's why we wrote this guide to give you tips on how to increase your battery life and to help you pick a drone with the longest battery life. We've reviewed the most popular drones and picked the best ones.
| Name | | Range | Flight Time | Rating | Price |
| --- | --- | --- | --- | --- | --- |
| | DJI Phantom 4 Pro | 7 km | 30 minutes | | |
| | Parrot Bebop 2 | 642m | 27 minutes | | |
| | UPair One FPV | 800m | 18 minutes | | |
Drones by Flight Time:
Click below to get detailed information on each drone.
The table below gives a quick glance at my top 10 picks in order of longest to shortest flight times.
10 Popular Drones with the Longest Flight Times
Why do Drones Fly so Short
Ideal Flying Conditions
Beware of Proprietary Technology
Battery Composition
Battery Charging Times
Summing Up Drone Batteries
I've arranged these long flying crafts into three categories for easy reference:
27-30 minutes
Up to 25 minutes
Less than 25 minutes.
Remember to pay attention to battery charging times and any other features you demand from a good quality UAV For example: recording capabilities, flight speed, First Person View (FPV), and so on.
Drones With Flight Times From 27 – 30 Minutes
Heavier payloads mean shorter flight times. Every second is valuable if your projects are long and the equipment heavy. The drones in this section give you up to 30 minutes in the air.
Obviously you want a quality camera. And yes, you demand a drone that's easy to handle. But you're on a difficult mission if the UAV can't stay in the air for long. These top three picks won't let you down.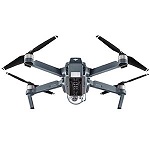 The Pros
Long battery life
Fast charging time
+8 more
Very portable (small and foldable)
Lightweight
Foldable controller (Smartphone compatible)
Long control range
Impressive flight modes
Obstacle avoidance system
FPV Support
Quality camera and gimbal
The Cons
Not so good in breezy conditions due to lightweight
Field of View (FOV) quite narrow
+1 more
Field of View (FOV) quite narrow
This is another impressive quadcopter by DJI. It also happens to be the smallest camera drone in their range. The DJI Mavic Pro is an easy to handle UAV, though the target buyer is at the prosumer level.
The Mavic's battery gives you a maximum flight time of 27 minutes. The short 60 minute recharge time is another welcome feature. The drone's speed is 40 mph which is pretty average in this class.
Having a long battery life is essential if you need distance flying. Well, at 7km, you can take the DJI Mavic Pro to those hard to get places that were impossible to reach just a few years ago.
Tech Specs
| | |
| --- | --- |
| Weight: | 735g (1.6 lbs.) |
| Battery: | 2970mAh |
| Charging time: | 60+ minutes |
| Control range: | 4.3 mile (7 km) |
| Max flight time: | 27 minutes |
| Max speed: | 18 m/s (40 mph) |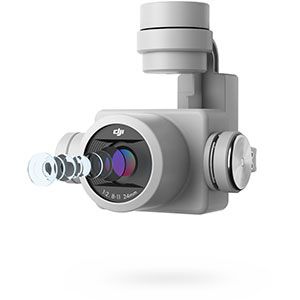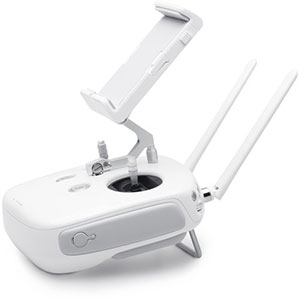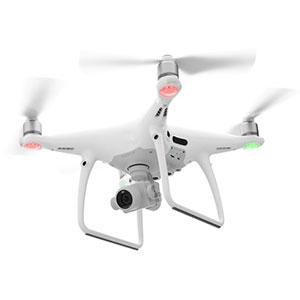 This really is a superb traveler's drone thanks to its light weight and compact design. Don't let its tiny size fool you into thinking it lacks in features or performance. There's a lot going on in a tiny package.
The little handheld remote controller (RC) unfolds to house either an Android or Apple mobile device. Once connected, the controller automatically finds the smartphone via RC or WiFi.
Now you get to enjoy live-feed, presented as crisp, smooth viewing in 1080p. The DJI Go app lets you control settings via the phone's screen, but the manual controls are never far away if you need them.
You'll need to invest in some DJI Goggles if you want to enjoy the ultimate First Person View (FPV) experience. They're so sophisticated and responsive they deserve a review page all of their own.
Let me give you some idea of how advanced these goggles are. For example, you can control the drone and its camera simply by shifting your head using tilt-and-turn movements. It's FPV on steroids!
Mavic Pro Platinum: DJI has recently released the Mavic Pro Platinum. It has a longer flight time of 30 minutes and a 60% noise reduction. It costs just $100 more.
The camera is another fine feature of the DJI Mavic Pro. It delivers 4K video footage and impressive 12MP photos. The 3-axis gimbal makes sure the camera remains stable and the images sharp
This is a powerful little camera despite its size. It sports a 2.3″ sensor that can capture still images in JPEG and DNG RAW formats. There's a variety of resolutions and frame rates to choose from as well.
The DJI Mavic Pro has all the best attributes that the DJI Phantoms boast. It also has a few of its own features bolted on to make it stand out.
One downside would be the crafts inability to perform well in blustery conditions because of its light weight. There're a few complaints about how it underperforms in low light conditions too.
The Mavic Pro's lens has a narrower field of view (FOV) compared to other drones in its class. This is certainly something to think about at the decision making stage.
Overall, though, you get a reasonably priced consumer drone that boasts a long battery life (flight time), superb optics, and long range. The lugability factor is another of the drone's selling points.


The Blade Chroma quadcopter is a great choice for anyone who wants a compact, no-fuss AUV that's ready to fly (RTF) out of its box. Portability and light weight makes this a good travel drone.
The Smart Mode is perfect for first time flyers who want to get serious about drone photography and video. The Aerial Photography (AP) mode gives extra controls to more experienced pilots.
In ideal conditions the Chroma's battery gives you around 30 minutes of flight time. The craft's top speed is around 40 mph and the flight range about 600m. Some of you will find that too restrictive.
Tech Specs
| | |
| --- | --- |
| Weight: | 1315 g (2.9 lbs.) |
| Battery: | 11.1V 3S 6300mAh Li-Po |
| Charging time: | 60+ minutes (1+ hr.) |
| Control range: | 600m (1,968 ft.) |
| Max flight time: | 30 minutes |
| Max speed: | 18 m/s (40 mph) |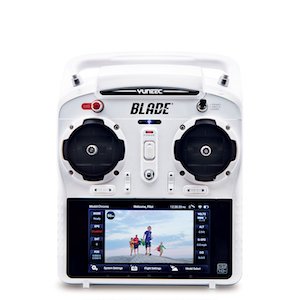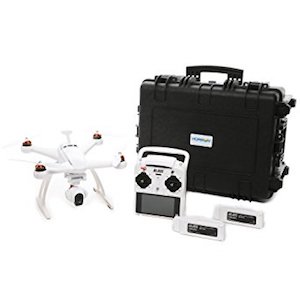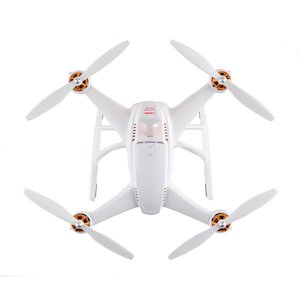 The ST-10+ remote controller (RC) helps to keep flying simple. There's a built-in 5½ inch touchscreen display that sports an Android interface. This lets you enjoy live video and real-time telemetry:
You'll love this RC if you like fingertip controls without having to attach a separate mobile device. You can control drone speed, altitude, flight modes, and camera operations, all in first-person-view (FPV).
The Blade Chroma comes equipped with a 4K/1080p/60 fps video and a 3-Axis, stabilized HD no-distortion camera. And for stills photography you get clear, sharp 16MP images.
I really like the Watch Me and Follow Me flight modes with this drone. They're useful because they let you concentrate on composing images and shooting video while the drone gets on with the flying.
Other impressive features include the Tracking mode, Return Home, and the Adjustable Flight Boundaries. There's certainly a lot on offer, but it won't suit everyone.
The Wi-Fi is not Lightbridge (the most powerful technology), and there're some complaints about the delay. Other popular features are missing too, like Point of Interest (POI), and Waypoint flight.
There's no such thing as the perfect UAV. Personal tastes, needs, and expectations will always differ between people. What I can say, though, is that the Blade Chroma's a reliable, stable camera drone.
The Blade Chroma will fall short on a few automated flight options compared to some other models in its class. It's still a worthy competitor if it checks enough of your own personal preferences.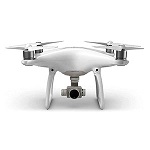 The Pros
Long battery life (flight time)
Long flight range
+8 more
4K video, 60fps
20MP Raw and JPG images
Automated flight modes
Built-in RC screen (Pro+ only)
Gimbal lock
Excellent Sport mode
Obstacle detection
Wide angle 24mm lens
The Cons
High price
High cost of spare batteries
+2 more
Fiddly for novice to set up
Tiring firmware updates (at the time of writing)
It's fair to say that DJI sets the standards when it comes to quality consumer drones in both affordability and technology. DJI market their Phantom 4 Pro and 4 Pro+ at the prosumer level.
This is a sophisticated AUV but it's easy enough to control. The higher cost and extra power may prove too much for the complete beginner, though. I personally think it's better suited for pro-level activities.
The Phantom 4 Pro has an impressive 30 minute maximum battery life. It has an even more impressive 7 km flight range. The top speed of 45 mph lets you reach your destination in good time.
Tech Specs
| | |
| --- | --- |
| Weight: | 1388g (3.1 lbs.) |
| Battery: | Li-Po 4S 5,870 mAh |
| Charging time: | 210 minutes (3.5 hrs.) |
| Control range: | > 7000 meters (7 km) |
| Max flight time: | 30 minutes |
| Max speed: | 20 m/s (45 mph) |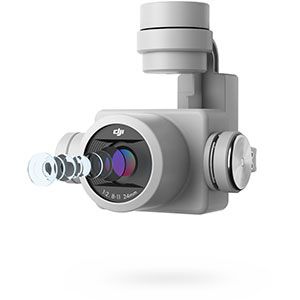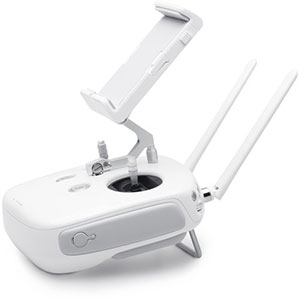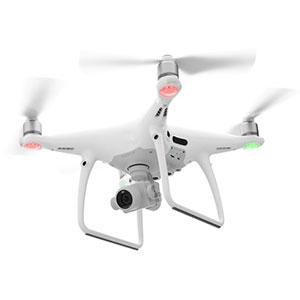 For the ultimate experience in First Person View (FPV), consider DJI's own Goggles. They may not look too comfortable, but they are. They put your eyes right up there in the sky as you pilot your drone.
A reasonably fast drone is useful in situations when you need to exploit the long distance capabilities. The sooner you get to where you want to be using FPV, the quicker you can start shooting.
The controller—like the drone—is compact and well thought out. It operates at 2.4 GHz and 5.8 GHz respectively. These frequencies give you optimal flying experiences in both urban and open spaces.
You need to attach a mobile device to the Phantom 4 Pro. Alternatively you can opt for the costlier Pro+ model which comes with an ultra-bright integrated display—perfect for bright days.
This drone has four directions of capable obstacle avoidance. Not having to worry about crashing into trees and buildings makes for a more relaxing and safer flying experience.
The high image quality for a drone in this class takes some beating. The upgraded 20 megapixels camera shoots 4K video at 60fps. The dynamic range and low light performance has improved too.
The camera even has a mechanical shutter. This is an improvement on the electrical shutter because it's better at capturing faster moving objects. The images are clean, crisp, and free from distortion.
Both the Phantom 4 Pro and Phantom Plus have some great flight modes like Gesture Control, Advanced Return Home, and Reverse TapFly, to name a few.
There're a few reasons why this capable UAV doesn't have the top slot. First is the setup, which can be fiddly, even for more experienced users. There are some criticisms about the sketchy User Guide too.
Some users complain about the obstacle avoidance. It seems that the system fails, or is slow to respond, when approaching leafless trees. In other words, it doesn't always recognize bare twigs.
The final gripe is the need of a mobile device for the controller. Most drone pilots like the integrated screen that comes with the Phantom 4 Pro+ model, but not the extra 300 bucks DJI charge for it.
It's hard to pick any major faults with this drone. You won't find too many complaints from those who own one. The main tech specs, pros, and cons below, will help you to make a better informed decision.


Drones With Flight Times Up to 25 Minutes
We talk about maximum flight times in minutes. If you're used to flying consumer drones you'll know how long and precious every single second is. The four picks here give you around 25 minute's tops.
Pay close attention to other features that matter to you aside from battery life. Perhaps flight range is important as well, or the drone's top speed, its size, and flight modes, etc. They're all in the reviews.
Drones With Flight Times of Less than 25 Minutes
My final three picks all have less than 25 minutes of maximum battery life per charge. These are still capable drones with good flight times. None of the UAVs in this section fall below 18 minutes.
I think the Parrot Bebop 2 is one of those consumer drones that you either like or you don't. I say this because of the design, and not because it falls short on features or functionality.
This is a capable and compact craft that anyone can enjoy at any level. It's impressive battery life gives you a fight time of around 24 minutes—in ideal conditions—and a top speed of 36 mph.
Skip this review if you're looking for a long range drone. The Parrot Bebop 2 delivers on a lot of fronts, but distance isn't one of them. You'd be lucky to get 300m. If that's enough then keep reading.
Tech Specs
| | |
| --- | --- |
| Weight: | 500g (1.1 lb.) |
| Battery: | 2700 mAh battery |
| Charging time: | 55 minutes |
| Control range: | 300 m (984 ft.) |
| Max flight time: | 24 minutes |
| Max speed: | 16 m/s (36 mph) |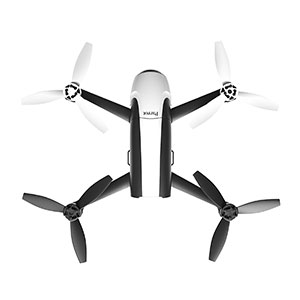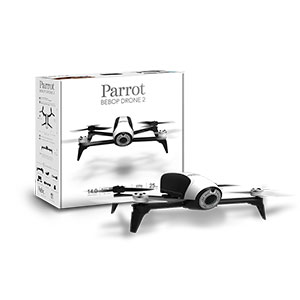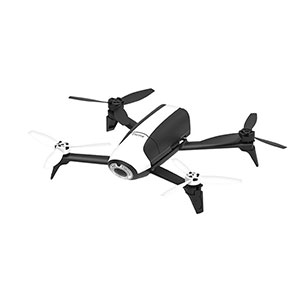 The Sky Controller (Transmitter)
The chunky Sky Controller has everything you need but it does make things less portable. Still, you can always control the drone using a smartphone. The downside of a phone is fewer control options.
The two main benefits of flying this drone with its own Sky Controller include:
1. Controls are much more intuitive and responsive
2. Controller comes with a big antenna which improves the communication quality
There are plenty of reasons to favor the Sky Controller over a smartphone. Your flights are smoother and more stable over longer distances. And your video and photographic footage is better as a result.
You're in for a treat with the FPV Parrot Cockpit glasses (included in bundle) if First Person View is something that interests you. The goggles actually use your smartphone as its display screen.
To get started just connect the FreeFlight Pro app to your smartphone and place it into the comfortable Cockpitglasses. That's it. You're ready to take the pilot's seat and control your UAV from above.
The drone comes with a built-in 1080p, full HD front-facing camera with a 3-axis digital-stabilization system. Its' well put together and produces pretty good quality video and stills.
Personally, I'm not a big fan of large circular fisheye lenses but a lot of people are. For the money this craft has plenty to offer as a camera drone. Just make sure it checks all your boxes before deciding.
It's easy to fly and gives plenty of value for the money. The video footage is stable and the battery life is above that of many other drones in its class. The flight app works with both iOS and Android phones.
It's important to note that this is a fixed-wing quadcopter with quite a bulky controller. If you needs something foldable and more portable, the Parrot Bebop 2 might not make your shortlist.
For everyone else, the FPV kit should help to sway your decision. At just under 500 bucks you can't really go wrong with the Parrot Bebop 2 FPV bundle, which includes the Parrot Skycontroller 2.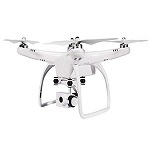 The Pros
Long battery life (flight time)
Ready to Fly (RTF)
+7 more
Return to Home failsafe feature
7-inch RC LCD screen
4K video (2.7K available)
Interchangeable camera option
Excellent value for money
FPV, on-screen display (OSD)
Intuitive RC controls
The Cons
Limited flight range
Not so good in windy conditions
+2 more
Poor customer support
2-axis gimbal
Some refer to the Upair One quadcopter as a DJI copycat. I disagree. It's a great cinematic mid-priced drone for beginners and above. In my opinion, it's a UAV that offers exceptional value for money.
This drone will give you up to 18 minutes of continual flight time in ideal conditions. It has a top speed of around 31 mph and a flight range of half a mile. That last point may disappoint some.
New drone buyers tend to look more at the craft and less at the remote controller (RC). For the best flying, filming, and photographic experiences, you want both to meet your needs and expectations.
Tech Specs
| | |
| --- | --- |
| Weight: | 1280g (2.8 lbs.) |
| Battery: | 5400mAh smart Li-Po |
| Charging time: | 90 minutes (1.5 hr.) |
| Control range: | 800m (0.5 mile) |
| Max flight time: | 18 minutes |
| Max speed: | 14 m/s (31 mph) |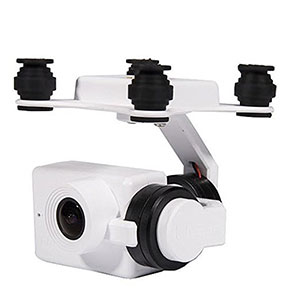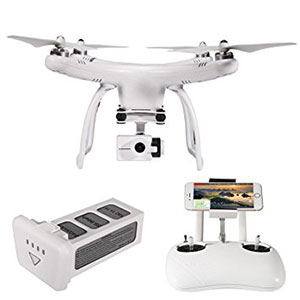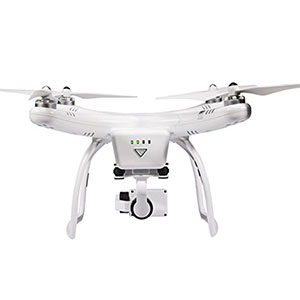 The good news is that the Upair One has an amazing controller. I'm not only referring to its stylish design either. You get a big clear 7″ built-on display that's great for flying in First Person View (FPV).
The screen is certainly a step up from that of any smartphone FPV experience. The RC is an intuitive piece of kit that's incredibly easy to use—at any level.
There are two camera versions available, 2.7K HD and 4K UHD. The 4K version costs a bit more, but not by much. The cameras mount onto an average 2-axis gimbal to reduce camera shake in flight.
Not having the ability to tilt and rotate the camera during flight is a disappointment. The video quality and stills photos were not disappointing, though.
You can't really expect much more from a camera drone costing around 300 bucks. I'd go as far to say that this is one of the best UAVs with a built-in GPS system for this kind of money.
Its popular features include a one-key Return to Home feature and a failsafe Auto-return. There's also the Intelligent Orientation control and Position Hold to boot.
The biggest letdown for me has to be the 2-axis gimbal. Even with decent optics, there'll always be a few occasions where the gimbal isn't able to stabilize the image completely.
It would be unfair to complain too much given the excellent overall value of this drone. Of course it can't compete with models at twice the price, but it's still a very capable, stable, and easy-to-fly craft.



The Pros
Long battery life (flight time)
Brushless motors
+6 more
Easy to fly (indoors and out)
Good range of smart modes
Quality 1080 pixel HD camera
Follow-me mode
Automatic return
Excellent value for money
The Cons
FPV not exceptional
Altitude drop (high speeds only)
+2 more
Short flight range
Average camera
The Hubsan H501S X4 is a quadcopter packed with plenty of impressive features. Although it's not overly difficult to fly, I'd still say its target market is pilots at advanced-beginner level and higher.
This drone gives you an average 20 minutes flight time in good conditions and a top speed of around 45 mph. The flight range is just 250-300m. This is a major letdown for those who need more distance.
The 2.4 GHz standard remote controller (RC) is quite big, but not so big that it's uncomfortable to hold. In fact, it feels natural in the hands. One of the RC's best features is its built-in FPV 4.3″ monitor.
Tech Specs
| | |
| --- | --- |
| Weight: | 410g (1 lb.) |
| Battery: | Li-Po 7.4V 2300mAh |
| Charging time: | 150 minutes (2.5 hrs.) |
| Control range: | 250 meters (820 ft.) |
| Max flight time: | 20 minutes |
| Max speed: | 20 m/s (45 mph) |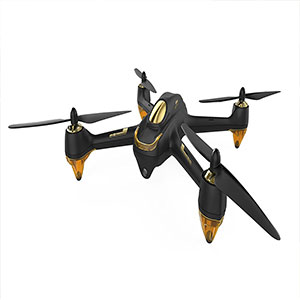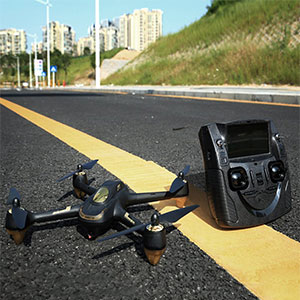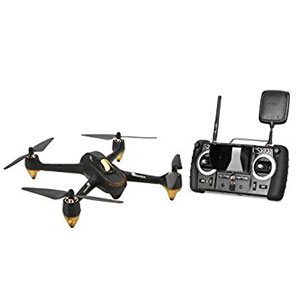 You can access everything from the RC, like viewing live video, recording film and taking still photos. The OSD data includes: drone position, speed, altitude, and battery power, to name a few.
The H501S X4 comes equipped with a fixed 1080p camera mounted at the front. There's no gimbal or image stabilization of any kind, though this is less of an issue with fixed optics.
You'll often see this craft advertised as a quality camera drone for capturing stunning photos and videos. I agree, to a point. It's a pretty good camera—for the price—but it's certainly not exceptional.
The field of view (FOV) of the camera lens is 120°. This is quite narrow compared to some flying camera drones. It is possible to replace it with a wider angle lens if you know how to tinker.
A major plus point is the Hubsan H501S X4's brushless motors. These are more powerful and last longer than conventional motors. They're certainly good news for frequent flyers.
The one-button takeoff & landing feature is a popular selling point, as is 'altitude hold'. The headless function and Follow-me mode are two more exciting features packed into this affordable craft.
The major letdowns for me are the average FPV experience and fixed camera. The fairly short flight range will also put a few people off. Even so, this is still an exceptional drone considering its price.
In short, this is a lightweight and sturdy quadcopter. It's a smooth flyer and keeps steady in windy conditions as long as it's not too high up. It's great fun to fly and sports an affordable price tag.


Closing Thoughts
OK, this concludes my top 10 camera drone picks with the longest battery life.
Happy flying.
Summary
Reviewer
Review Date
Reviewed Item
Author Rating