13 Best Long Range Drones of 2019
3D Insider is ad supported and earns money from clicks, commissions from sales, and other ways.
This guide takes you into the world of long range drones with high-quality cameras.
The more quality features a consumer drone has, the higher the price tag. This means that if you want your drone to travel a range measured in kilometers or miles, then you should expect to pay close to $1000.
The longer your flight range, the less chance there is of losing the signal and subsequent control. The real benefits, though, lie in the videography and photographic potential at your fingertips.
The two major advantages are:
Fly much further distances from you and your controller
Reach greater altitudes (height from ground level)
Budget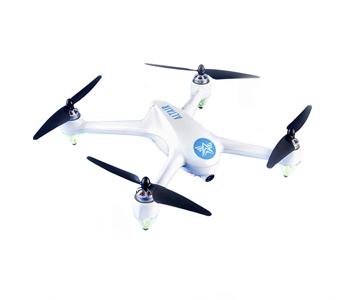 Altair Aerial Outlaw
4.4/5.0
20 Minute Flight Time
0.6 km (0.4 miles) Range
High-res photos, decent quality video, barometer Altitude Hold.
Check Amazon
Best Value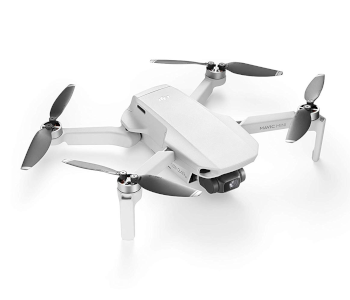 DJI Mavic Mini
4.8/5.0
30 Minute Flight Time
5 km (2.5 Mile) Range
Ultra-portable drone with great flight time.
Check Amazon
Top Pick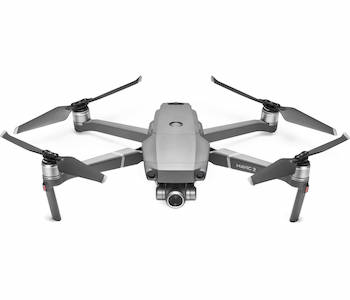 DJI Mavic 2 Zoom
4.7/5.0
31 Minute Flight Time
8 km (5 Mile) Range
360 degree obstacle avoidance with phenomenal battery life.
Check DJI.com
Drones by Flight Distance:
Click below to get detailed information on each drone.
13 Most Sought After Long-Range Drones


I've researched the most sought-after long distance drones so you can pick from the best. My list in this guide includes drones with flight ranges from 0.6 km up to 8 km.
All my drone guides take a different approach to others online. The review format is honest and doesn't contain any confusing language. I don't fill these reviews with stuff you don't need to know.
Anyone who wants a longer read or to look over the technical specifications in more depth can follow my 'price check' links. These pages cover everything in micro details.
After each drone introduction, I include the key technical specs and list any pros and cons. The table here shows my top picks at a glance. The more detailed reviews are further down the page.
Comparison Table of Long Range Drones
Breaking New Boundaries
First Person View (FPV)
A Drone's Maximum Flight Time
Long Distance Drones Up To 8 km
Drones with a control range of up to 8 km give pilots endless possibilities. These are powerful UAVs that can disappear from eyesight. Needless to say you'll have to control them at long distances using First Person View (FPV). Or you can put some drones into Follow Me mode and have fun with that.
There may be times when you may want to explore amazing landscapes that were impossible to reach before we had drones. For professional pilots the opportunities really are endless.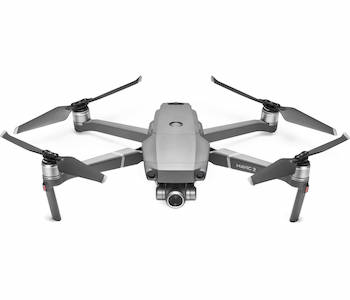 View on DJI.com
Editor's Rating: 4.7/5.0
The foldable DJI Mavic 2 Zoom and Mavic 2 PRO (more on the PRO later) have arrived. DJI has always been leaders in camera quadcopters, but the Mavic 2 is something else. This is DJI's most advanced flying drone to date in its class. This bird has an incredible flight range of up to 5-miles (8km) in ideal conditions. The fast 44 mph top speed and long 31 minute flight time add further to its potential.
Wide to Telephoto Shooting Potential
DJI's Mavic 2 Zoom is a high-quality filmmaking drone that sports a 12-megapixel 1/2.3" sensor. It's 2x 24–48mm optical zoom capability lets you shoot wide or get closer to the action. The narrower 48mm telephoto end compresses perspective to produce a definitive cinematic look. It's the quad's zoom potential that gives the Mavic 2 Zoom a creative edge not found on other models.
The zoom camera's 3-axis gimbal does a great job of keeping stills and video steady. Pilots can save footage directly to the quad's 8GB internal storage. There's also SD card support up to 128GB.
Mavic 2 Zoom Shooting Functions
Shooting functions for the Mavic 2 Zoom include the QuickShot Dolly Zoom feature. It records video while flying backward but with little movement of the main subject. Dolly Zoom is only available with the Mavic 2 Zoom. Other shooting features include ActiveTrack 2.0, Hyperlapse, and Omnidirectional Obstacle Sensing. Two more are the craft's Low-Noise Design and HDR Photos.
The real-time live view and stunning 4k video are significant details, but there's so much more. DJI's latest camera quad has a lot of impressive stuff that's both practical and easy to absorb.
Mavic 2 Zoom VS Mavic 2 Pro
There's more that unites these long-range, long-flight DJI drones than separates them. However, there are a couple of differences that are sure to affect the buying decisions of Mavic 2 fans. One is their cameras, and the other's the price. The Zoom version costs around 300 dollars less than the Pro.
The cameras for Mavic 2 Zoom and Pro are worlds apart. The Pro has a fixed lens, and the Zoom has a variable lens for more creative shots, but that's not all. The latter is the only civilian drone that can shoot in 4K resolution with an optical zoom. It may seem like the Mavic 2 Zoom is the clear winner but not so fast. The fixed camera on the Mavic 2 Pro is a world-class Hasselblad.
Hasselblad is a global leader when it comes to superior cameras of various formats. The one on the Mavic 2 Pro boasts a 1" 20MP sensor and adjustable aperture. It has definite quality advantages over the Mavic 2 Zoom. For example, better image clarity, more vivid colors, and less overall noise.
Easy Decisions
The Zoom version is an easy decision for anyone who wants or needs aerial zoom capability. The Mavic 2 Pro is the ideal choice for drone pilots who don't need zoom and demand the best optics around.


Tech Specs
Weight: 900g (2 lbs.)
Battery: 3.83V 3850mAh 1 S Intelligent Flight Lithium-Ion
Charging time: 90 min (1.5 hrs)
Control range: 8 km (5 miles)
Max flight time: 31 minutes
Max speed: 70.8 km/h (44 mph)
The Pros
Long control range
Long flight time
Foldable, lightweight design
Super fast in Sport Mode
Exceptional camera w/ zoom
Quiet for a camera quad
Collision detection
Panoramas
The Cons
The high cost of extra batteries
No gesture control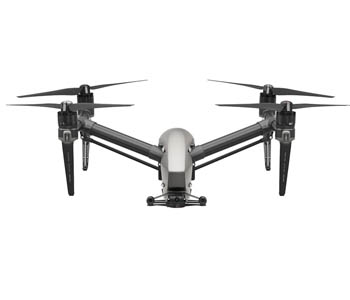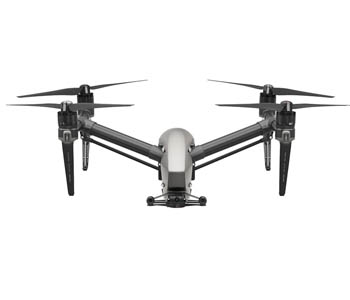 View on Amazon
Editor's Rating: 4.9/5.0
The DJI Inspire 2 is a remarkable flying robot, far removed from the popular toy-like drones. It's a serious piece of engineering genius for pilots who want to capture amazing footage.
This is a drone that performs as well as it looks. It'll give you a top speed of 58 mph and a flight time just short of 30 minutes. Add to this the 7 km range and prepare for some momentous flights.
You need an impressive RC with DJI Inspire 2's, and they deliver with their multifunctional wireless RC. It even comes with a dual frequency video downlink (DL).
The 5.8GHz video DL is the right choice for flying over and around urban areas because of the problems with interference (noise). And you have the 2.4GHz for long distance flying over open spaces.
The RC lets you take full control over the camera and its gimbal as well as all the usual impressive flight commands. This includes the way you capture still photographs and shoot video.
DJI's Lightbridge delivers quality 1080p/720p video, and FPV to pilot and camera operators. The dual controller mode lets the pilot fly while the camera operator concentrates on composing the shots.
The high price tag makes this drone a no-no for many hobbyists. Other than that, it's hard to find fault with this brilliant long range craft. It's very well-built and offers limitless potential in the right hands.


Tech Specs
Weight: 3440g (7.58 lbs)
Battery: 6000 mAh 2S LiPo
Charging time: 90 min (1.5 hrs)
Control range: 7 km (4.3 miles)
Max flight time: 27 minutes
Max speed: 94 km/h (58 mph)
The Pros
Long flight range
Decent flight time
Excellent camera quality
5.2K crisp, clean image quality
Nice ergonomics
Impressive flying stability
Safety features
Nice wide viewing angle
Reasonable low-light ability
The Cons
High price tag
Focusing could be improved
Camera comes separately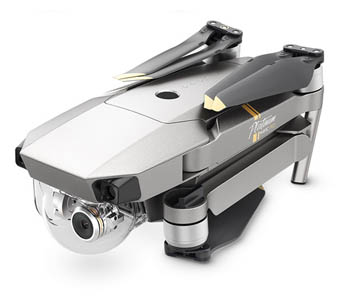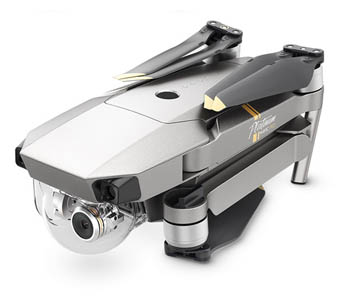 View on Amazon
Editor's Rating: 4.5/5.0
The DJI Mavic Pro deserves a spot in the top three long-distance drones. It's certainly a great prosumer AUV. It also makes a wonderful drone for anyone who wants to move up from toy models.
Like the previous pick, the DJI Mavic Pro also offers a maximum flight range of 7 km in ideal conditions. It can travel at 40 mph and stay airborne for around 27 minutes.
The fast 60-minute battery recharging time is another major plus point. Okay, so you can fly far, for a long time, and at quite a fast speed. But just how easy is the DJI Mavic Pro to handle in the air?
The remote controller is tiny compared to other models in this class. This helps with the overall portability, but does it restrict the ease-of-use, that's the big question.
Anyone with enormous hands would find using this RC awkward. But most of us don't have oversized hands. So for the majority of users, the small RC is a pro, not a con.
This is a multi-function, wireless RC with integrated video downlink (DL). It also includes some impressive and intuitive aircraft and camera control functions (including gimbal control).
The RC system operates at 2.4GHz and has no dual frequency video DL like the top pick. The drone's OcuSync transmission technology is responsible for the 7 km flight range and HD video streaming.
You'll need a pair of DJI Goggles for the ultimate First Person View (FPV) experience. This high-quality virtual reality headset connects the pilot to drone. It gives you a bird's eye view of the camera's live feed.
You also have access to all the basic flight control features in First Person View. FPV with DJI Goggles is akin to viewing a 216″ television from around 10 ft. away. In other words, it's impressive.
Drone operational technology is always changing, but there's only so far you can go with quality optics. I'd say this is perhaps one of the most cutting-edge flying cameras around at the moment.
The Mavic Pro comes equipped with five vision sensors and a brilliant 4K camera. The equally impressive 3-axis mechanical gimbal takes good care of image stabilization.
Operating the optics is a simple case of tapping a finger or the push of a thumb. The intuitive controls let you concentrate more on the drone and less on what's happening down on the ground.
For me, the Mavic Pro's portability is one of its major selling points. Once folded, you can easily put it into a purse or other bag. This makes it the perfect travel craft for people on the go.
Mavic Pro Platinum: You can get the recently released Mavic Pro Platinum with a longer flight time of 30 minutes and a 60% noise reduction for $100 more.
The obstacle avoidance is another welcome feature on any drone. It's very useful for long range flights, particularly on the descent. The two sensors offer an added safety feature.
Although the small size is one of its key attractions it can also be a disadvantage. The smaller and lighter a craft is, the less stable it becomes. There are also limitations on payload capabilities.
Under perfect conditions, these are minor setbacks. They're still things to consider if you intend to fly in less than ideal climates. Taken as a whole, the DJI Mavic Pro is powerful, easy, and stress-free.


Tech Specs
Weight: 735g (1.6 lbs)
Battery: 2970mAh
Charging time: 60+ minutes
Control range: 4.3 mile (7 km)
Max flight time: 27 minutes
Max speed: 18 m/s (40 mph)
The Pros
Long flight range
Compact size/portability
Small controller
Reasonably fast
Great value for money
The Cons
The small size (stability issues)
Limited payload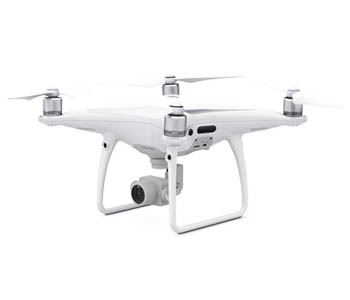 View on Amazon
Editor's Rating: 4.3/5.0
The DJI Phantom 4 PRO is the last of my top three picks. DJI market this drone at the prosumer. But no advanced beginner would find anything too difficult about this ultra-smart flying camera.
As with the other two drones, the Phantom 4 PRO has an impressive 7 km flight range. There's an even more impressive 30 minutes of flight time under ideal conditions. Its top speed is around 45 mph.
The remote controller (RC) is pretty unique thanks to its 5.5″ built-in screen. It's ultra-bright too, twice as bright as most smart devices. This is a welcome feature for flying outdoors on sunny days.
The makers have built the DJI GO app into the RC screen to allow for instant hardware and software optimization. That's great if you want to edit and share your footage right away.
The integrated Lightbridge HD video broadcast supports duel frequencies (5.8GHz and 2.4GHz). The first works best with urban flying in built-up areas. The second for longer flights in clear open spaces.
To experience the best First Person View (FPV) you have to use FPV Goggles. They may look awkward, but they're actually very comfortable. They put you right in the pilot's seat—vital for long flights.
DJI's FPV is also a wonderful and incredibly immersive experience. It's guaranteed to boost your flying skills as well. It takes a little getting used to, but hey, that's all part of the fun.
The excellent onboard camera has a 1″, 20MP compressor. Rolling shutter distortion is now a thing if the past thanks to the new mechanical shutter. This puts it on a par with good quality ground cameras.
The awesome 4K video processing makes sure you capture everything in stunning detail. Creative photographers have extra versatility owing to the adjustable f2.8 to f11 aperture.
You shouldn't have any complaints with the DJI Phantom 4 PRO If you're looking for a long range flying camera. Seriously, this is the best quality DJI Phantom camera so far.
The unique 5-direction obstacle avoidance (OA) is worth noting. Not only does it avoid the standard in-front obstacles, but also the obstructions below. Remember, many drones still don't have OA.
Some reviewers complain that it's pricy, but I say compared to what? It's a high-quality drone. It has an impressive flight range, long battery life, and a list of innovative features.
If you don't need everything the DJI Phantom 4 PRO offers then, of course, it's expensive. In that case, you should find a better deal in a downgraded model (see seven remaining picks).
Another common complaint is that you have to supply a smartphone or tablet to control the camera. This is true, but then most people have these devices anyway. The alternative is the Phantom 4 Pro+.
The Phantom 4 Pro+ comes with an in-built tablet. That means you don't have to connect your mobile device to the remote controller. Mind you, there's about a $400 increase with the 4 Pro+.
All these top three long distance drones are high-quality and do what they say they do. The one that's right for you depends on personal factors, i.e. price, size, design, functions, usability, and portability.


Tech Specs
Weight: 1388g (3.1 lbs)
Battery: Li-Po 4S 5,870 mAh
Charging time: 210 min (3.5 hrs)
Control range: 7 km (4.3 miles)
Max flight time: 30 minutes
Max speed: 20 m/s (45 mph)
The Pros
Long flight range
Return-to-home feature
Obstacle detection (front & back)
Automated flight modes
24mm wide-angled lens
Subject recognition & tracking
60fps 4K video
The Cons
Need smartphone or tablet for camera control
High cost of extra batteries
Long Distance Drones Up To 5 km
Not everyone needs a drone to fly 8 km from the remote controller. Some of the drones that can fly up to 5 km may not be cheaper either. What they lack in one feature they can gain in another.
The whole purpose of guides like this is to present you with a range of quality UAVs within a certain class. In this case, that's distance flying. You should also have a shortlist of other required features.
The best way to make informed decisions is to list your features in two columns: Wants & Needs. You're here because you WANT a drone with a long flight range, but you might not NEED 8 km or 5 km.
Some of you reading here are not sure what you want or need right now. I suggest you read all these informative mini-reviews. By the end of this page, you will have a much better idea going forward.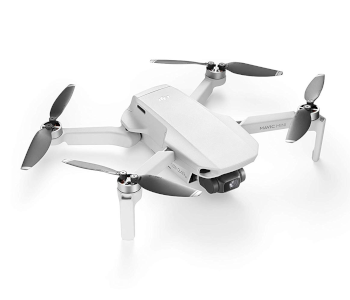 View on Amazon
Editor's Rating: 4.8/5
Meet the long-awaited, all-new DJI Mavic Mini. It's the smallest and cutest foldable camera quadcopter to date, and it also happens to be feature-packed.
Best feature 1: Small, take-it-anywhere, foldable design
Best feature 2: 3-axis stabilized 12MP, 2.7K camera
Plus points: Ultra-lightweight, easy to control, feature-packed, long-range, long flight time
Minus points: No obstacle avoidance
Why Consider the DJI Mavic Mini?
DJI's Mavic Mini is for anyone who wants a feature-packed flying camera quad with a small footprint. The Mini—with its light, ultra-compact and foldable design—is set to become the world's favorite drone. It's the perfect choice for everyday recreational users at the entry-level. It also offers enough power and versatility to meet the needs of pro-level aerial videographers.
Tests so far have shown superb stabilization from the camera's 3-axis gimbal. And the 2.7k video and 12MP stills produce stunning results for such a tiny camera quad.
A Traveler's Dream Camera Quad
The Mini shoots high-quality 2.7K HD video and takes 12MP aerial stills. A 3-axis gimbal and ultra-
smooth flight performance keep the quad stable and its footage smooth. There's no short flight window
to panic over when recording precious moments, either. That's thanks to the incredible 30 minutes
flying time on a fully charged battery and an impressive 4km control range.
Safety features include propeller protection, stable hover, and precision flights. The Mini uses 360°
prop guards to shield the blades from damage and fingers from harm. Advanced vision sensors and
GPS make sure this flying camera maintains meticulous movements at all times.
Fly Further, Faster, for Longer
It's incredible how DJI has managed to pack so much power and performance into such a small unit. The Mini offers a remarkable 30 minutes flying time on a single charge, and a control range up to 4km or 2.5 miles. Also, it can reach speeds up to 29 mph (46.8 km/h) in Sport Mode. These impressive numbers are usually associated with larger, much costlier drones.
Dedicated DJI Mini Remote
There's a dedicated remote for controlling the Mavic Mini camera quadcopter. It supports all the major iOS and Android smartphones and sizes. You may need to remove protective cases with larger models, though. The drone needs the controller to fly, as there are no options for hand-gestures or phone-only. Pilots also get to view clean HD video on the phone's screen for its extended range.
The Not So Good
This drone has exceptional hover and precise flying capability, but no obstacle avoidance. There aren't any other significant negatives to report at this early stage. No quad can offer all things to all people, so we're sure to see a few minor gripes and dislikes show up over time. Despite that, I doubt any of the Mini's negatives will turn out to be deal-breakers.


Tech Specs
Weight: 249g (0.54 lb., 8.78 oz.)
Battery: Intelligent Flight 2400 mAh
Charging time: 270 minutes (4.5 hrs.)
Control range: 5km (2.5 miles)
Max flight time: 30 minutes
Max speed: 48 km/h (30 mph)
The Pros
Easy to use at the entry-level
Ultra-lightweight, foldable design
Dedicated, foldable controller
Quality, gimbal-stabilized camera
Impressive video and aerial stills
Protective 360° prop guards
Excellent value
The Cons
No collision avoidance
No 4k camera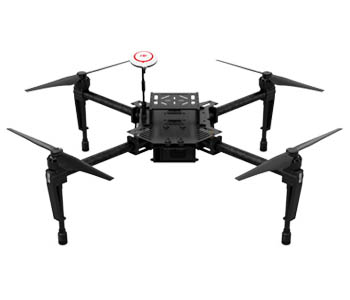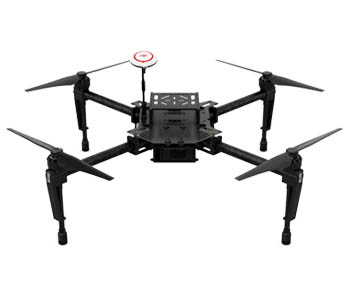 View on Amazon
Editor's Rating: 4.8/5.0
The DJI Matrice 100 is not everyone's cup of tea. It costs a lot, but then it offers a great deal for the enthusiast. By "enthusiast" I mean someone who wants full control over the hardware and software. For longer range, check out the recently launched Matrice 200.
For the tinkerer, this is a light platform that you can customize and program until your heart's content. With a little imagination, you can turn your dreams of the perfect UAV into real-world reality.
The flight time is one of the most impressive at 40 minutes. This flying camera has a lot going for it with its 5 km flight range and a top speed of almost 50 mph.
The dedicated long-range controller is fully-customizable, including adjustable controls. There are outputs for you to connect a mobile device of your choice before you take full control of the UAV.
As a developer's project there's no onboard camera with the DJI Matrice 100. It does come with extra expansion bays, though. These let you add whatever components you like to the payload, e.g.
Cameras
Sensors
Computing boards
Communication tools
This flexibility gives you the option to put whatever you want into the sky.
There won't be too much umming and aahing with the DJI Matrice 100. It's either a project you want or it's not. It has a lot of potential in the right hands, limited only by the developer's imagination.


Tech Specs
Weight: 2355g (5.2 lb)
Battery: LiPo 6S 5700 mAh
Charging time: 90 minutes (1.5 hrs)
Control range: 5 km (3.1 miles)
Max flight time: 40 minutes
Max speed: 22 m/s (49 mph)
The Pros
Excellent flight time
Twin compartment batteries
Programmable
Rugged build, lightweight
Softer landing pads
User-friendly craft
Good value for money
The Cons
High price tag
Camera and gimbal extra cost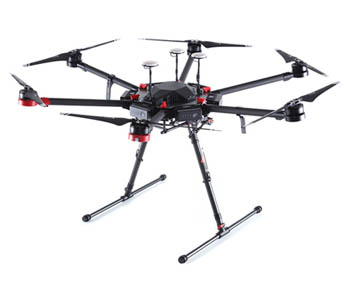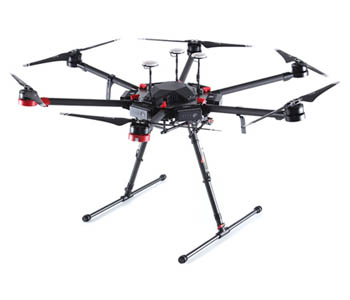 View on Amazon
Editor's Rating: 4.3/5.0
The DJI Matrice 600 Pro is a hexacopter drone for those who want more from their photography and videography. Some drones have fixed cameras, others have options, but even they have restrictions.
Do you want the freedom to choose whatever camera you put into the sky? If you do, keep reading. This drone is a heavy lifter. It's a real workhorse when it comes to professional aerial filmmaking.
The DJI Matrice 600 will give you a maximum distance of 5 km and stay in the air for an impressive 35 minutes in ideal conditions. Its top speed can take you up to around 40 mph.
This drone operates at 2.4 GHz. The RC combines aircraft controls and video downlink (DL) into a single system. The controller works with Lightbridge 2, an intelligent long range video DL feature.
It comes equipped with both standard buttons and customizable ones for enhanced control. Standard controls include a Return-to-Home button, shutter control, record, and a gimbal dial.
As a customizable UAV, you can pretty much get the Matrice 600 Pro to do what you want. This is why it's most popular among filmmakers and for industrial applications.
The M600 can take a payload of around 13.2 lbs. The range of options this gives you with camera choices, gimbals, and various other accessories makes it a lot more flexible than most other crafts.
Both the DJI Matrice 100 and DJI Matrice 600 (M600) have a high price tag. It's because they're top-quality and offer the kind of flexibility that only drones of this type can provide.


Tech Specs
Weight: 9500g (21 lbs)
Battery: 6000 mAh LiPo 2S
Charging time: 90+ minutes (1.5+ hrs)
Control range: 5 km (3.1 miles)
Max flight time: 35 minutes
Max speed: 18m/s (40 mph)
The Pros
Long range
Huge payload capability
Smart flight safety features
Stable flyer
Long battery life (flight time)
Open app development
The Cons
High price tag
Add-ons increase cost
Long Distance Drones Up to 2 km
A flight range of 2 km is quite a distance for those who have only flown their UAVs meters from the controller. For many hobbyists, 2 km is more than they'll ever need. For others, it's a stepping stone.
The three flying considerations for most drone pilots are how far, how fast, and for how long. Once you've prioritized yours, well, it becomes so much easier to compromise on the others.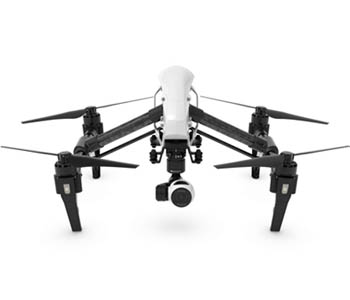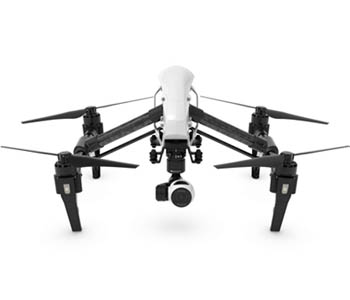 View on Amazon
Editor's Rating: 4.5/5.0
The DJI Inspire 1 Pro Quadcopter costs over $3000 so it attracts mainly experienced drone flyers. It's also an easy-to-learn UAV for anyone who already has a little flying experience behind them.
The Inspire 1 gives your around 2 km flight range in ideal conditions. The flight time is roughly 22 minutes (five minutes less than the DJI Inspire 2 Pro). And the top speed is an impressive 50 mph.
The controller is sophisticated yet simple beyond belief. I mean that in a good way. The RC is void of all unnecessary bells and whistles, designed explicitly for flight and full camera control.
There are also dual operator controls that can come in handy. The controller itself has a few dedicated buttons for capturing video and photos. You also have dials for camera settings and gimbal.
Another feature of the controller is its single push Return-to-Home function. The software is well coded and configured to give pilots a stable and super-smooth flight.
The controller has the integrated DJI Lightbridge full HD video downlink (DL). What this does is provide a live view of the camera via a screen.
At the time of writing this guide, the DJI Inspire 1 Pro is the world's smallest aerial filmmaking drone in its category. The Zenmuse X5 and X5R are the tiniest Micro 4/3 cameras ever produced.
The makers have designed these cameras purposely for ultimate aerial imaging. They're both capable of capturing the clearest 4K video up to an impressive 4 fps. This is professional filmmaking at its best.
For still images, you get 16MP in Adobe DNG RAW. It's reassuring to know you have a choice in lenses too. Now add to this the ability to use wireless control over aperture, focus, and other functions.
My biggest gripe with the DJI Inspire 1 Pro is the absence of obstacle avoidance. This is quite a costly UAV as well. It would have been nice to see a system similar to that on the DJI Inspire 2 Pro.
The cost of the batteries is also quite expensive. This is something to think about if you intend to purchase two or three extras (recommended).
There's a lot to like about this drone, and those who own one don't have too much to complain about. It's excellent overall quality, from the build of the UAV, the controller, the cameras, and aerial imaging.


Tech Specs
Weight: 2935g (6.5 lbs)
Battery: TB47 4500mAh, 22.2V
Charging time: 90 minutes (1.5 hrs)
Control range: 0.6 km (0.4 miles)
Max flight time: 22 minutes
Max speed: 22.3 m/s (50 mph)
The Pros
Long range
Nice compact quadcopter
Practical design
Stable flyer
Decent flight time
Ground sensors
Great gimbal and 4K camera
Dual remote functionality
The Cons
High price tag
No obstacle avoidance
High cost of extra batteries
Long Distance Drones Less That 2 km
Drones in this category let you fly a lot further than many cheaper models. They're also perfect travel companions as they allow you to video or photograph hard to get to, or unfamiliar areas. Think waterways, rugged terrain, and high aerial footage of your travel destinations.
We have four drones in this category. I've listed these models in order of editors rating, with my top choice at #1. I rate these based on user reviews, expert opinions, and drone experience.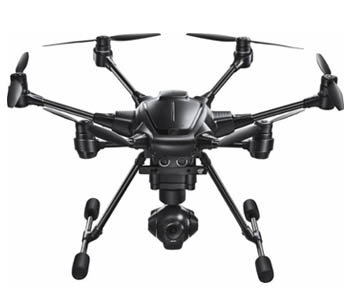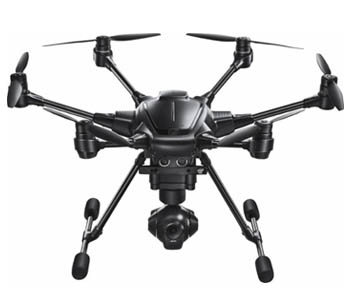 View on Amazon
Editor's Rating: 4.4/5.0
The Yuneec Typhoon H Pro is a decent quality, carbon fiber, long range drone. It boasts a maximum flight distance of around 1.6 km (1 mile), which is perfect for keen amateurs.
There's also a collision avoidance feature. Every drone pilot wants this, but it's still not available on a lot of models. Travelers particularly love the H Pro because it's compact and easy to lug around.
This is not one of the longer distance flyers, but it's not bad. You should be able to take it to its outer limits and still maintain a visual on it without out the need of a First Person View (FPV) kit.
If you do want that virtual reality experience you've got it. Alas, it comes as an optional extra. Skyview FPV headset puts you in the driving seat and takes the flying experience up to a whole new level.
I like the high-quality Android-based ST16 all-in-one controller that comes with the Yuneec Typhoon H Pro. There's a large-sized 7″ integrated touchscreen display and an HD 720p video downlink.
This is a good value-for-money hexacopter whether you want a distance drone for personal or professional use. It's certainly capable of taking advanced aerial videography and photography.
My favorite thing is the improved flight stability as this affects other important functions. I also like the impressive panoramic photography, time-lapse shots & recordings, and serial photography features.
Yes, there is a gimbal (image stabilizer) camera in case you're wondering. It sports a good quality wide-angle glass lens too. You can even take manual control during flights for more creative photography.
The video is impressive. You get ultra-stable 4K Ultra High Definition (UHD) video and 12 megapixel (MP) still images. As for the range of motion, well, how does 360° sound?
If I have any gripes it would be that the obstacle avoidance isn't as responsive as some other drones in this class. And although I like the controller, I can see how it may be confusing for novice pilots.


Tech Specs
Weight: 1950g (4.3 lbs)
Battery: 4S 14.8V LiPo Battery (POWER 4)
Charging time: 1 hr 50 m plus
Control range: > 1.6 km (1 mile)
Max flight time: 25 minutes
Max speed: 19.4 m/s (43.5 mph)
The Pros
Decent operating range
Six-rotor design
Rotating 4K camera
Raw & JPG image capture
The Cons
Obstacle avoidance could be more responsive
Confusing battery life indicator
Quite expensive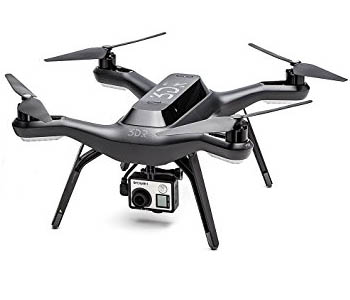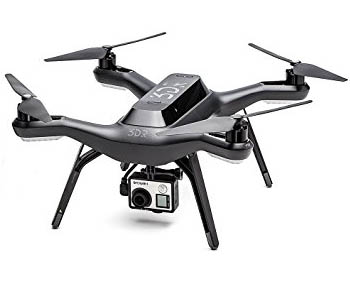 View on Amazon
Editor's Rating: 4.1/5.0
If you're new to flying drones you can't go far wrong with the 3DR Solo. At 1.5 km (0.9 miles) it gives you enough flight range to explore, but not so much that you'll run into problems as a new flyer.
The 3DR Solo is not only a newbie drone; it's a nice UAV for anyone. For less than $250 you get a well-featured all-rounder that won't break the bank. Everything about this drone is simplistic and intuitive.
Experienced pilots also appreciate the in-built control system. It's all pretty much push-button thanks to the Solo's video game style controller.
Having lots of buttons and dials on a controller may look impressive, but they're not usually practical or necessary. The makers of the 3DR controller have stripped it down to the bare necessities:
Two joysticks
Fly button for automated take-off and landing
Return to Home button
Small screen for telemetry and battery data
Simple knob for controlling camera angles
Customizable buttons
Pause button
The controller can accommodate either a tablet or a smartphone. With the free app installed you have more data, functionality, and First Person View (FPV) experience.
The 3DR Solo doesn't come equipped with its own camera. It does provide a range of attachments for the popular GoPro models, though. There's also a vibration dampener, but no gimbal.
This is a durable craft that's resistant to crash landings. I also like the fact that it delivers live streaming high definition video to smartphones and tablets.
Although the 3DR Solo comes ready to fly, it doesn't have everything you need to start filming. Not having a camera or gimbal is a bit of a letdown, but you can add these easily at an extra cost.
You end up with a value-for-money, very capable drone even with the extras. It's easy to get airborne and provides a smooth and reliable flight experience. That's music to any drone pilot's ears.


Tech Specs
Weight: 1814g includes camera (4 lbs)
Battery: 14.8 volt LiPo 5200 mAh
Charging time: 90 minutes
Control range: 1.5 km (0.9 miles)
Max flight time: 25 minutes
Max speed: 24 m/s (55 mph)
The Pros
Decent operating range
Can attach GoPro cameras
App for iOS & Android systems
Long flight time
Return-to-Home feature
The Cons
Tends to drift while hovering
Camera/gimbal not included
No collision avoidance
View on Amazon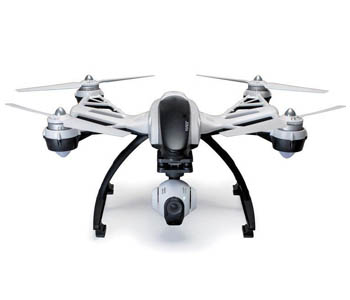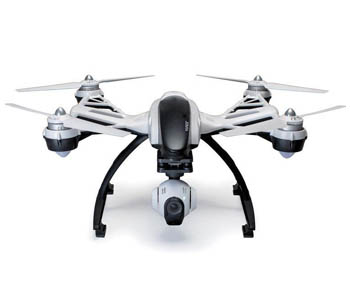 Editor's Rating: 4.0/5.0
You often see the Yuneec Q500+ advertised as the ideal realtor drone, and it is. But it's also a great choice for anyone who wants to become more creative with their aerial imaging.
The flight range is 0.6 km and the top speed reaches around 18 mph. There's also the impressive 25 minutes maximum flight time. This is better than some of the drones at twice the price
The Typhoon 4k is Ready-to-Fly (RTF) out of the box. The Android touchscreen handheld controller makes setting up quick and easy (no need to use separate mobile devices).
The only downside to the ST10+ remote control is that it might overwhelm new users with all its buttons and dials. It's easy enough for experienced flyers, but it has a lot going on for newbie pilots.
The handheld SteadyGrip™ helps you to take perfect ground shots too. You can enjoy First Person View via the controller's own screen or invest in a FPV headset for that ultimate cockpit experience.
The handheld gimbal and built-in touchscreen let you produce high-quality 4K UHD video and ultra-smooth footage. You can even capture 1080p/120 fps slow-motion video.
The manual camera settings are perfect for anyone who likes to take more control over their creative photography at 12MP. The CGO3 camera has an integrated 3-axis gimbal for optimal stabilization.
This UAV comes with its own aluminum carry case as standard. You also get a free 32 GB MicroSD Card and the CGO SteadyGrip Gimbal. There's even an extra battery and spare propellers in the box.
There's a lot of bang for your buck with the Yuneec Q500+ Quadcopter. Even so, like with all drones, it's not going to suit everyone. The plastic materials are okay, but other UAVs use better quality.
Compared to the Phantom, the Typhoon is not as agile or as robust. For the money, though, you get a stable drone with a nice design, and one that's easy to pilot once you're used to the RC.


Tech Specs
Weight: 1130g (2.5 lbs.)
Battery: 5400mAh 3S 11.1V LiPo
Charging time: 120 minutes (2 hr)
Control range: 0.6 km (0.4 miles)
Max flight time: 25 minutes
Max speed: 8 m/s (18 mph)
The Pros
Extra battery included
Smart carry case
Extra propellers
Free Steadygrip™
Integrated FPV monitor
High-quality 4K UHD video
Manual camera settings
High quality stills
Affordable price tag
The Cons
Cheapish materials
No HD live video feed
No waypoint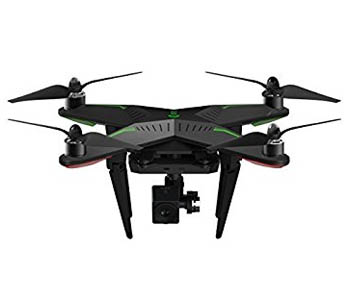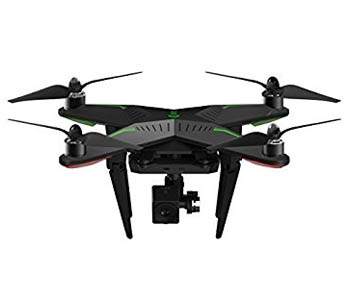 View on Amazon
Editor's Rating: 3.8/5.0
The futuristic looking XIRO Xplorer Camera Drone is the last of my distant UAV picks.
This Ready-to-fly (RTF) quadcopter is suitable for all user levels. Just charge the battery, attach the propellers, and turn on the remote controller. That's it—you're ready to take to the skies.
This drone gives you an impressive 25 minutes of flight time in ideal conditions. The maximum flight range is around 1 km and the top speed is just short of 18 mph.
The advanced remote controller (RC) has a nice design and feel to it, similar to a games console. It even includes some rubberized pads on the rear to help users get a better grasp.
Download the Xiro app and then attach your smartphone to the RC for First Person View (FPV). You now have touchscreen control options to adjust settings, control the camera, and set the flight path.
You've also got a Follow Me function with the Xiro Xplorer V that you can simply activate from the smartphone app. The user-friendly controls make flying this drone a lot of fun.
The Xiro Xplorer V comes with a 1080p FHD, First Person View video Camera. More good news is that it has a 2-axis gimbal as well. There's certainly a lot on offer for the price.
The camera records video at 1080×720 and still images at 14MP. You can save everything to the 8GB MicroSD Card (included). Alternatively, you can save all your photography and videography via WiFi direct to your smartphone.
On the whole, this drone is a sound flyer that offers stable aerial video. The compact design, auto takeoff & landing, and the Return-to-Home safety features, make it a real winner for the price.
It's not perfect, but then no drone is—yet. I dare call it perfect for the price, though. A couple of pet peeves would include a little lens barrel distortion and the flimsy landing gear.
It would also be nice if there was an option to add a mobile device bigger than a smartphone. You can't even get a phablet attached, let alone a tablet.
Still, Xiro Xplorer V checks a lot of positive boxes considering it only costs around $350 on Amazon


Tech Specs
Weight: 1315g (2.9 lbs)
Battery: 5200mAh smart-flight battery
Charging time: 90 minutes (1.5 hrs)
Control range: 1 km (0.6 miles)
Max flight time: 25 minutes
Max speed: 8 m/s (18 mph)
The Pros
Decent flight range
Affordability
Compact design
Free Steadygrip™
Good flight time
Impressive modular design
Stable aerial video
Comfortable RC
User-friendly
Remarkable flight performance
Automated takeoff and landing
Return-to-home
The Cons
Delicate landing gear
No clip for phablet or tablet
Video limit 1080p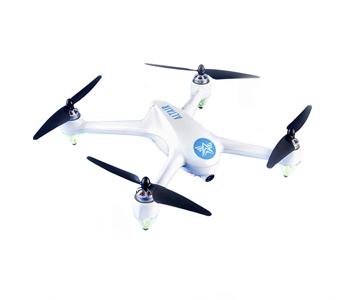 View on Amazon
Editor's Rating: 4.4/5.0
Meet the Outlaw Se, a smart GPS 1080p camera drone by Altair Aerial. It's yet another entry-level quadcopter for advanced beginners and above. Let's see what it has to offer.
Reasons to Consider Outlaw Se
The Outlaw SE is mighty fun, and it's super easy to fly at the entry-level. It comes with a built-in Pro Caliber 1080p camera that captures sharp aerial photos and striking video. Footage saves to an onboard SD card up to 32GB (not included). The Barometer Altitude Hold keeps the drone steady to reduce camera shake while viewing live feeds and shooting.
The controller feels comfortable in the hands and is easy to use. It has a smartphone clamp that you need to fly in First Person View (FPV). However, you don't need a phone to pilot the quad.
Feature-Packed Failsafe Fun
Altair's Outlaw Se is not short on fun or failsafe modes. The Headless control makes flying a cinch for raw pilots. Other novice-friendly features include One-touch Takeoff & Landing and Return to Home (RTH). The latter lets you bring the craft back to a designated home position with a simple button press. There are also two auto RTH functions. One is for out of range, the other a low battery RTH.
It will please selfie fans to know the Outlaw Se has a Follow Me mode. It offers Waypoint and GPS Flights too. The quad can stay in the air for up to 20 minutes on a fully-charged battery. And the 1,969ft (600m) control range gives pilots plenty of distance to explore their surroundings.
The Not So Good
The batteries can take up to 5 hours to charge, depending on the power source. Spares are one of those unavoidable extra costsif you want to avoidlong breaks between flights. The cost of extra batteriesis around $35 at the time of writing. This drone is a steady flier, but the camera could still use a gimbal. No stabilization means you can expect a little camera shake when the winds pick up.


Tech Specs
Weight: 2.8 lbs.
Dimensions: 16.5 x 11.3 x 5.2"
Battery: 7.4V 1800mAh Li-poly
Charging time: 270 minutes (4.5 hrs.)
Control range: 1969ft (600 meters)
Max flight time: 20 minutes
Camera Resolution: 1080p
The Pros
Easy to use at any level
Smooth, stable flier
Barometer Altitude Hold
Headless Mode
1-Touch Takeoff/Landing
3 Return to Home (RTH)
High-res photos
Decent quality video
Smartphone compatible
First Person View (FPV)
The Cons
Long charging time
No gimbal stabilization
Closing Thoughts
This concludes my best long range drone picks. I'll update this page as and when other models materialize that are worthy of a mention.
Thank you for reading and happy flying.