6 Best Long-Range Walkie-Talkies of 2019
3D Insider is ad supported and earns money from clicks, commissions from sales, and other ways.
Long range is one of the most desirable features for walkie-talkies, especially when you want to keep in touch out in the backcountry. Ordinary smartphones are useless without their tower grid, and satellite phones are prohibitively expensive, which is why you want to make a pair of long-range walkie-talkies part of your survival arsenal.
You'll rarely be in a situation to take advantage of a walkie-talkie's maximum range. However, there are models which come closer to it than others, and we're reviewing the best among them to help you narrow down your selection. Range isn't all that matters though – some models are waterproof while others have features like privacy channels or modes that let you clearly hear whispered transmissions. Take a look at each model's review and pick the long-range walkie-talkie that suits you best.
Budget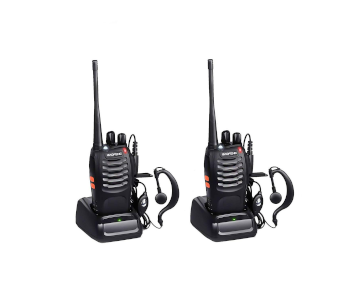 BaoFeng BF-888S
3.8/5.0
Weight: 8.4 oz.
Dimensions: 8.7 x 13.4 x 3.8 in.
It comes with lots of useful accessories.
Check Amazon
Best Value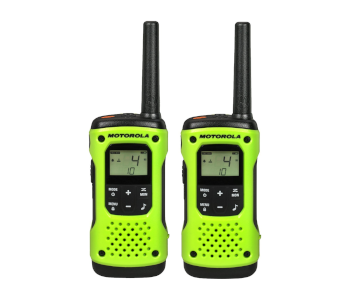 Motorola T600 Talkabout Radio
4.5/5.0
Weight: 8.6 oz.
Dimensions: 7.8 x 2.4 x 1.5 in.
Cycles through frequencies automatically for signals.
Check Amazon
Top Pick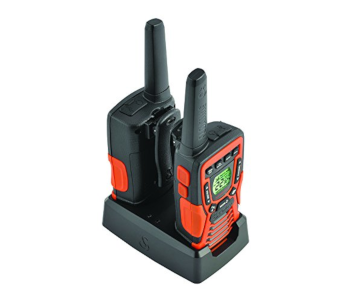 Cobra ACXT1035R FLT
4.7/5.0
Weight: 5.6 oz.
Dimensions: 7.5 x 2.4 x 1.5 in.
This can playback part of last transmission.
Check Amazon
Long-Range Walkie-Talkies Comparison Table
1. Best Overall – Cobra ACXT1035R FLT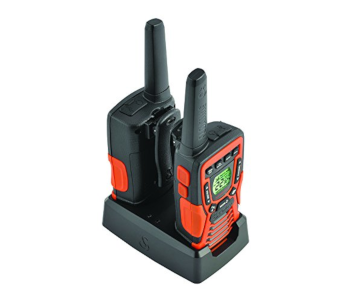 View on Amazon
Editor's Rating: 4.7/5
You'll find many walkie-talkie models with supposedly high ranges, but none of them deliver on that promise as consistently as the Cobra ACXT1035R FLT. This versatile two-way radio combines excellent long-range capabilities with a slew of survival features like an LED light, access to 10 NOAA channels, and rechargeable batteries with a long life. It's the walkie to have by your side when you're exploring the middle of nowhere
Overview of Features
Cobra's walkie-talkies are instantly recognizable because of their bright colors and unique patterns. The ACXT1035R FLT is no exception with its easy-to-see orange body. Its grips are rubberized so you can hold on tight, and the light-up screen features bold numbers that are clearly visible whether you're in glaring sunlight or total darkness. The ACXT1035R FLT comes with 3 AA rechargeable batteries which last 10 hours per charge.
With a maximum range of 37 miles, the ACXT1035R FLT is among the best options out there. Maximums are just results achieved in optimum circumstances and rarely met though. The ACXT1035R FLT stands out from the rest because it works dependably in heavily forested areas where you can still maintain communication from multiple miles away!
Long range is just one of the ACXT1035R FLT's survival feature. The walkie is waterproof and can be submerged fully. It also floats so you can retrieve it in no time. You get access to 10 NOAA stations which send out regular weather updates, letting you know ahead of time if a storm is on the horizon.
The ACXT1035R FLT is designed for ease of access. Its VOX feature lets you activate it with your voice, and you can turn on the vibrating calls feature in areas where you might not hear the alarm. Lastly, there's a feature that allows you to play back the final 20 seconds of the last transmission!
What We Didn't Like
The ACXT1035R FLT has two design flaws. Its belt clip is made out of cheap plastic prone to breaking, so you'll want to avoid bending it. The other, more serious problem has to do with its keys. They're rigid and hard to press. This makes it harder to use the walkie if you're wearing gloves.


Tech Specs
Dimensions: 7.5 x 2.4 x 1.5 in.
Weight: 5.6 oz.
Maximum range: 37 miles
Battery life: 10 hours
Waterproof: Yes
The Pros
Outstanding range
Rugged and waterproof design
Lots of survival features
Can playback part of last transmission
The Cons
Flimsy belt clip prone to snapping
Buttons are hard to press.
2. Best Value – Motorola T600 Talkabout Radio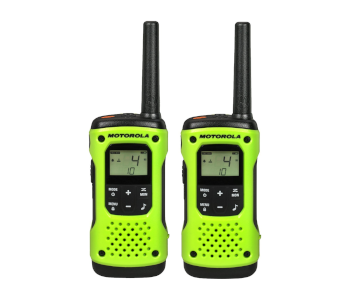 View on Amazon
Editor's Rating: 4.5/5
Motorola is among the finest manufacturers of radio equipment in the world, and they prove this once again with the T600 Talkabout Radio! This flashy walkie-talkie comes with a slew of features that could save your life like a whistle, a flashlight, and automatic signal lock-on. You can get a pair of them at an attractive price which makes them an even smarter investment.
Overview of Features
It's hard to miss you're using the T600 since its body is a tennis ball yellow. This makes the walkie a snap to recover regardless of your surroundings. Like the ACXT1035R FLT, the T600 is waterproof and light enough to float on the surface. It has two LEDs which automatically come on if the walkie is buoyant and help you locate it in the dark. There's also a whistle on the left side for when there's no other way to communicate your distress.
This model supports two types of batteries. It comes with a rechargeable NiMH battery with enough juice for 9 hours. Alternatively, you can use 3 AA batteries and get 23 hours out of them. The pair of walkie talkies comes with a USB cable which splits so both can be charged simultaneously.
There's also a power-saving option in the form of two push-to-talk buttons. These have different signal strengths and use up different amounts of power, so you can use the weaker one when your party is close by to save energy or boost the signal to penetrate obstacles with the stronger alternative.
The T600's range is 35 miles in an ideal mountain to valley scenario. In reality, you can look forward to 6 miles in a forest unobstructed by mountains or 2 miles in an urban area. The signal may not be able to penetrate a mountainside or a thick concrete building, but the T600 is great at tackling bends or hills and still being heard clearly.
What's Bad About It?
The white and red LEDs are too easy to turn on. Their on button is placed close to the belt clip, and you might accidentally activate it while securing the walkie. Noticing that the LEDs are on is hard since they have a shroud. While voices come in clear, the walkie's volume is low. This makes it a lousy choice for rafting, construction sites, and other scenarios where there's a lot of background noise.


Tech Specs
Dimensions: 7.8 x 2.4 x 1.5 in.
Weight: 8.6 oz.
Maximum range: 35 miles
Battery life: 9 hours, 23 with AA batteries
Waterproof: Yes
The Pros
Versatile LED flashlight
Easy to spot and retrieve
Cycles through frequencies automatically to find signals
Excellent value for the money
The Cons
Low volume
Flashlight can turn on accidentally and drain the battery
3. Midland GXT1000VP4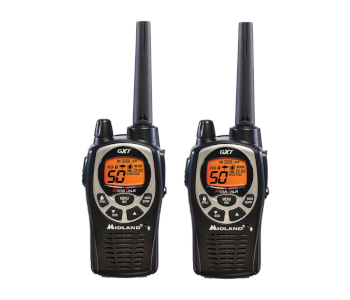 View on Amazon
Editor's Rating: 4.4/5
A walkie-talkie's range might be important, but it's the quality of the transmission under trying circumstances that can be a matter of life and death. If you're working or adventuring in noisy environments, you should pick up a pair of Midland's GXT1000VP4s! They come with hands-free features like headsets and voice activation that ensure you'll hear and respond to a transmission at any time. Privacy codes, an SOS feature, and excellent battery life only sweeten the deal.
Overview of Features
The GXT1000VP4 is noticeably smaller than the models reviewed so far. Coupled with its light weight, this makes the walkie easy to carry around no matter how light you're packing. The walkie isn't totally waterproof, but a splash of water won't do it any harm. The GXT1000VP4s run for 11 hours on rechargeable batteries.
The best thing about the GXT1000VP4 is its ability to provide crystal clear audio at a good range whether you're in a peaceful meadow or surrounded by traffic. It comes with a headset that fits unobtrusively in your ear and has a microphone. This along with VOX voice activation means you can keep the GXT1000VP4 on your belt at all times and still talk freely. Whisper mode is another useful feature that clears up received whispered messages so they're easy to hear.
You wouldn't want strangers or an enemy paintball team to snoop in on your conversation. That's why the GXT1000VP4s support 140 privacy codes. With a privacy code active, you'll only pick up messages that carry the code as an identifier even though more people could be listening to the same frequency.
This model is a fine choice if you regularly communicate with multiple people or groups and need a way to tell them apart quickly. The GXT1000VP4s support 10 different call alerts which precede a transmission and let you know who it is before answering. If you're ever up the creek without a paddle, activating the SOS function sends out a distress call to a wide range of frequencies and maximizes your chance of survival.
Are There Drawbacks?
The GXT1000VP4 has a charging station and takes 12 hours to recharge, forcing you to plan ahead. The headset you receive with the walkie is small. People with larger heads might have trouble with fitting.


Tech Specs
Dimensions: 4 x 2.4 x 1.4 in.
Weight: 4.8 oz.
Maximum range: 36 miles
Battery life: 11 hours
Waterproof: No
The Pros
Excellent for hands-free communication
Many privacy codes
Lightweight yet durable
Multiple call alerts
The Cons
Long recharge time
Provided headsets are small
4. Uniden GMR5098-2CKVP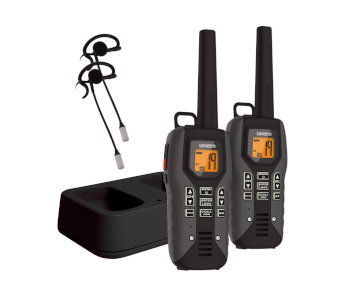 View on Amazon
Editor's Rating: 4.2/5
Do you need a dependable long-range walkie for your net marine adventure? In that case, picking the GMR5098-2CKVP might turn out to be a life-saving decision. It features superb waterproofing, performs well under challenging circumstances, and lets you use tools like an SOS flashlight to signal for help. It might be bulkier than other reviewed items, but this is a small inconvenience when compared to the GMR5098-2CKVP's overall performance.
Overview of Features
Mistaking the GMR5098-2CKVP due to its large size is impossible. While this makes taking the walkie along problematic when you're working with limited packing space, it also testifies to its build quality. Ergonomically, the GMR5098-2CKVP is outstanding – it fits well in hand, its buttons are easy to get to and press, and the rubberized sides ensure you won't lose your grip even with wet hands.
The GMR5098-2CKVP boasts a max range of 50 miles. This should be taken with several grains of salt, however. What is impressive is its actual 2-mile range in difficult environments like cities and dense forests. Signal clarity is further enhanced by automatic squelch while listening to transmissions is convenient thanks to two included headsets. There are 22 channels and more than 140 privacy codes to choose from too.
This is another walkie-talkie you'll be glad you bought when the going gets tough. Its IP rating of 7 means you can submerge it completely in several feet of water and keep it there for half an hour before any damage occurs. There's also a bright LED flashlight that can be set to emit a strobing SOS signal, and you have access to 7 NOAA channels.
The AAA rechargeable batteries you get with the GMR5098-2CKVP are on the weaker side since they last only 8.5 hours with intense use. Luckily, they won't be drained needy if you accidentally press the talk button since the GMR5098-2CKVP turns itself off after 60 seconds of continuous use.
What We Didn't Like
Low volume is by far the GMR5098-2CKVP's biggest drawback. You'll need to keep it close to your ear an on full volume to hear a transmission. You charge the batteries either by setting the walkies on their charging cradle or plugging them directly into a USB port. The charging cradle might stop working after a time, leaving you with only the USB option.


Tech Specs
Dimensions: 8.7 x 13.4 x 3.8 in.
Weight: 8.4 oz.
Maximum range: 50 miles
Battery life: 8.5 hours
Waterproof: Yes
The Pros
Rugged and waterproof
Good range under different circumstances
Automatic squelch
Automatic broadcast shutoff saves battery
The Cons
Very low volume
Charging cradle might stop working
5. Retevis RT-5R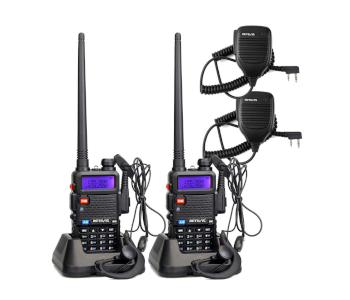 View on Amazon
Editor's Rating: 4.1/5
Retevis is known for producing affordable walkie talkies with features you'd see on more costly models. In the case of the RT-5R, these are two signal strengths, automatic signal finding, and a variable squelch option that helps eliminate background noises. It has a dependable battery with multiple charging modes and a decent range in favorable conditions as well.
Overview of Features
The RT-5R isn't as sturdily built as models higher up on the list. There's no weather or waterproofing, so you'll need to take care to store it properly. On the other hand, the RT-5R features keys that are easy to press and have a logical layout. Its screen accommodates two lines of text and is backlit for effortless viewing at night. You get a charging base to juice the battery up but can also purchase an adapter that lets the walkie draw power from your car battery and save energy.
This walkie has a signal strength of either 1 or 5 watts. Some manufacturers advertise their walkie-talkies as supporting 5 or more watts of power yet their models fall short when put to the test. If anything, the RT-5R emits signals at close to 6W, making them easier to pick up from farther away. This means you can stay in touch past the six-mile mark in clear terrain. The maximum theoretical range is 30 miles, but you'd need ideal conditions to achieve it.
This is a great walkie-talkie to pick up if you're a novice to two-way radio communication. It comes with a thorough quick start guide that shows you the ropes and is easy to learn because of a simple control scheme and logically laid out menus. You'll be able to hear others clearly thanks to varying squelch levels. Pressing the dedicated squelch button incrementally lowers background interference and lets you communicate more clearly over long distances.
Other useful features include a bright LED flashlight which can glow either continuously or flash, an FM radio, and privacy codes for uninterrupted communication.
What We Didn't Like
The instruction guide is written in hard-to-read tiny letters. You may need a magnifying glass to consult it. Signal penetration drops off sharply in cities. Expect no more than half a mile of range in urban centers with lots of high buildings.


Tech Specs
Dimensions: 4.3 x 2.3 x 1.3 in.
Weight: 6.6 oz.
Maximum range: 30 miles
Battery life: 9 hours
Waterproof: No
The Pros
Big bright display
Beginner-friendly
Variable signal strength
Excellent range when out in the open
The Cons
Poor range in cities
Manual is hard to read because of tiny print
6. Best Budget Option – BaoFeng BF-888S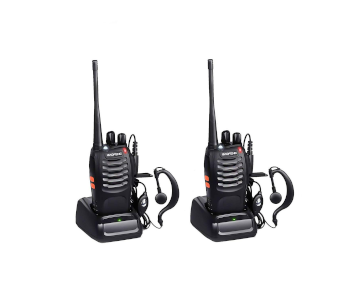 View on Amazon
Editor's Rating: 3.8/5
The last walkie-talkie pair on review is another entry by BaoFeng. You'd think that getting a walkie for less than $15 each means they're terrible, but you'd be wrong! The BF-888S lacks advanced features like waterproofing and local programming, but it makes up for that with good range, surprising clarity, and ease of use. This is the model to get if you're looking for straightforward communication over long distances.
Overview of Features
BaoFeng's BF-888S has a minimalistic and functional design. Due to budgetary restrictions, a detailed keypad and screen are omitted. Then again, this makes the walkie easy to use even for children since there are only a handful of buttons to remember. The package contains two disassembled BF-888S walkies but putting them together is a cinch as you only need to attach the antennas, batteries, and belt clips.
BaoFeng claims the BF-888S has a range of 3 miles. While this is much shorter on paper than that of other models, the BF-888S consistently achieves its maximum in open terrain and suffers acceptable range losses in cities where it works in a 1-mile radius without issue! Its default signal strength is 2 watts.
Like Uniden's model, the BF-888S has a charging cradle. Instead of a USB cable though, it has backup AC adapters so you can charge it from a plug. Battery life isn't the greatest at 8 hours, but the recharge time is acceptable. You can put the BF-888S into battery-saving mode to make the most of it.
The BF-888S supports 16 channels you cycle through by pressing the button next to its volume control knob. There are no privacy codes, but you do get earpieces with microphones and VOX is responsive even to hushed voices. You can't program the channels manually since there's no screen or numerical keyboard. You do get a programming cable and PC software to set the channels up over a computer. CHIRP also supports this model and is a viable alternative for advanced users.
Are There Drawbacks?
The BF-888S's affordable price means that corners had to be cut. The walkie-talkies themselves aren't affected, but their accessories are – both the belt clips and earpieces are made out of cheap plastic and might break if handled roughly. The programming cable might also fail to work, forcing you to buy a replacement.


Tech Specs
Dimensions: 8.7 x 13.4 x 3.8 in.
Weight: 8.4 oz.
Maximum range: 3 miles
Battery life: 8.5 hours
Waterproof: Yes
The Pros
Good value for an unbeatable price
Easy to use for everyone
Can be charged through cradle or AC adapters
Comes with lots of useful accessories
The Cons
Earpieces and belt clips are poorly made
Programming cable might not work