6 Best Luggage Trackers of 2019
3D Insider is ad supported and earns money from clicks and other ways.
Few experiences are less pleasant than the creeping sense of dread you get while waiting on your luggage which just isn't coming. Did someone take it off the carousel by accident? Was it misplaced? Did it even arrive on the same plane you did? There wasn't much you could do about missing luggage a decade ago, but now you can buy a luggage tracker and always know where your precious belongings are.
Luggage trackers are tracking devices you place on or inside your bags. They use GPS tracking or get data from nearby cellphone towers to determine the exact location of your luggage. Some even have Bluetooth which lets you find your belongings easier once you get close enough or alerts you if you move too far away from the tracker.
These are the six best luggage trackers you can buy today. We've selected models with varying prices and monthly subscription options so everyone can find one that fits their needs and means. Pick a favorite and start planning your next vacation knowing your luggage will be safe.
Budget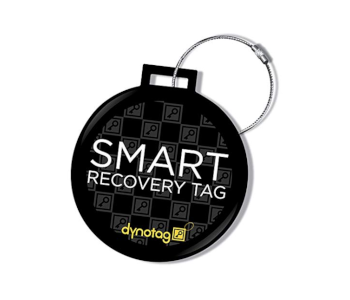 Dynotag Smart Luggage ID Tag
4.1/5.0
Weight: 2.1 oz.
Dimensions: 2.5 x 0.1 x 2.5 in
Affordable, no batteries, accurate GPS, and no fees.
Check Amazon
Best Value
Trakdot Luggage Tracker
4.5/5.0
Weight: 9.1 oz.
Dimensions: 2.3 x 0.8 x 3 in
It accurately reports which airport your luggage is at.
Check Amazon
Top Pick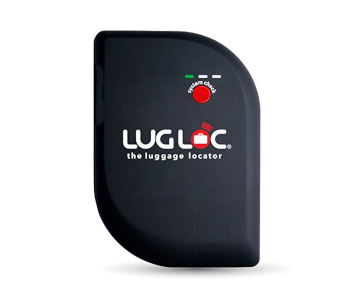 LugLoc Luggage Tracker
4.7/5.0
Weight: 9.6 oz.
Dimensions: 4.1 x 0.4 x 3 in
It has a long battery life and an intuitive companion app.
Check Amazon
Luggage Trackers Comparison Table
1. Best Overall – LugLoc Luggage Tracker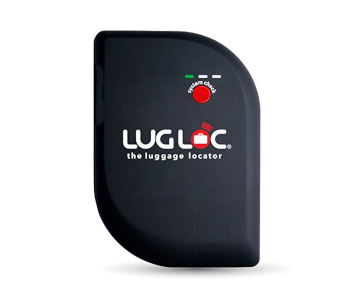 View on Amazon
Editor's Rating: 4.7/5
Trying to find your luggage in an airport maze-like JFK or Heathrow can be a nightmare unless you have the LugLoc luggage tracker. This versatile tracking device uses both GPS and Bluetooth to locate your luggage quickly and accurately! Getting it up and running is a snap, the companion app is intuitive & informative, and using the device is very affordable too. Whether you're a frequent traveler who doesn't want to waste her time at the luggage carousel or need a good theft deterrent, the LugLoc is the best device you can get.
Overview of Features
The LugLoc is a slim & lightweight tracking device that fits inside the palm of your hand or any of your suitcase's pockets. Its rechargeable battery boasts a reported life of 15 days per charge. If anything, this is an understatement since it regularly goes for up to two days more. Take care to plan ahead when charging it for the first time though as this takes 24 hours.
The tracker relies both on GSM and Bluetooth to keep tabs on your luggage. GSM informs you that the luggage has arrived at the correct airport and gives you a smaller area in which to look- Once you're within 100 feet of your luggage, the Bluetooth kicks in and your phone lets out a sound that means you're close. You can also set the Bluetooth connection to act as an anti-theft and forgetfulness alarm. In this mode a tone will sound if you move too far away from the luggage, reminding you to take it along or investigate.
The LugLoc's app has a barebones design and lays out all the important information in a way that's easy to read. At the top, you see the tracker's name and location. Then you're shown when the location was last updated by picking up a new GSM tower. On the bottom, you get an accurate representation of the battery's power level and can adjust Bluetooth settings.
You need to pay $5/month to use the LugLoc. This gives you unlimited location updates as well as access to customer support. 6-month and annual plans are even cheaper, so it's a good idea to invest in those if you travel often. The first month is free of charge as an added incentive.
What We Didn't Like
When a plane lifts off, the LugLoc goes into sleep mode which ends when the plane lands. Sleep mode lasts for a minimum of 3 hours though so using the tracker isn't that great for shorter flights. GSM location is slow to update and you can go several hours without getting a location change notification. Luckily, this can be refreshed manually.

Tech Specs
Dimensions: 4.1 x 0.4 x 3 in
Weight: 9.6 oz.
Power source: Rechargeable battery
Tracking method: GSM, Bluetooth
Fees: $5/month
The Pros
Reliable GSM and Bluetooth tracking
Long battery life
Intuitive companion app
Comprehensive and affordable subscription
The Cons
Not suitable for short flights
Delays in automatic location updates via GSM
2. Best Value – Trakdot Luggage Tracker
View on Amazon
Editor's Rating: 4.5/5
If you travel by plane frequently, you've likely experienced baggage loss. Instead of waiting at the carousel in hopes of your luggage turning up, consider investing in a surefire way of knowing where your luggage actually is – the Trakdot! This small device will alert you any time your luggage comes within the bounds of an airport. It is easy to set up, has decent battery life, and comes with a reasonable yearly fee.
Overview of Features
The Trakdot is a sleek gray & orange luggage tracker which can fit inside your bag's smallest pocket or be placed between clothes without any impact on its performance. The device is powered by two AA batteries which last longer than a day. Trakdot recommends you switch them out for each trip, but as long as the status is at "acceptable" or higher when you land, there'll be enough juice for the return trip.
Setting the Trakdot up is straightforward. After the batteries are inserted, you need to pair it with your smartphone. The pairing process is quick and over once an LED shines in the correct sequence. You need to pair the device only once and can take the batteries out until it's time to head for the airport. Using the Trakdot will cost you $25/year.
Unlike most other trackers which rely on GPS tracking, the Trakdot uses GSM. It won't let you pinpoint the luggage's exact location either. You're notified that the luggage is inside the bounds of an airport instead. This way you'll be sure that your luggage has reached the same destination you have. If it hasn't, the notification tells you exactly which airport the luggage is at and what steps you can take to retrieve it.
Are There Drawbacks?
The Trakdot is limited exclusively to airplane travel. Using it won't let you do anything in case the luggage gets stolen. It takes a while for the Trakdot to report your luggage's location and it isn't uncommon to get its notification half an hour after you've landed or later.

Tech Specs
Dimensions: 2.3 x 0.8 x 3 in
Weight: 9.1 oz.
Power source: Two AA batteries
Tracking method: GSM
Fees: $25/year
The Pros
Good value for the money
Setup is a breeze
Accurately reports which airport your luggage is at
Fair yearly fee
The Cons
Can't be used to track luggage movement in real time
Notifications take a while to arrive
3. GEGO Luggage GPS Tracker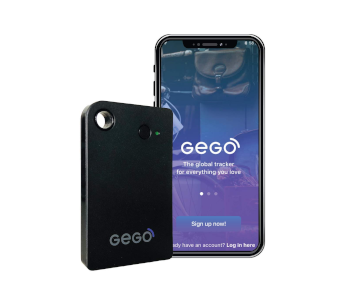 View on Amazon
Editor's Rating: 4.4/5
Do you want to always be informed where exactly your luggage is? GEGO's luggage tracker offers peace of mind by combining 3G, GSM, and Bluetooth tracking into one comprehensive device. It has three operation modes, is quick to update, and offers variable subscription plans. The only thing that keeps this tracker from getting first place is its price.
Overview of Features
GEGO's luggage tracker is the size of a credit card and will easily fit even into an overstuffed suitcase. Similarly to the LugLoc, its first charging takes a long time – 12 hours. The battery lasts up to 15 days with battery-saving features on, 5 if you use it all the time. Instead of GSM, the tracker gets cell tower proximity data through 3G. This lets it work in countries like Japan and South Korea which don't have GSM networks.
You can customize the way in which the tracker behaves by selecting one of three modes. Flight mode will turn the device off once the plane takes off and reactivate it when you land. Standard mode lets you use all of its functions freely while battery saving mode limits the frequency of location reports to a few each day and will ignore this limit only if you enter another city.
The tracker's most impressive feature is the degree to which it tracks the luggage. Thanks to GPS, it can show you its exact location on Google Maps. If you turn Bluetooth tracking on, it will sound an alarm once you get within 200 feet of the luggage. There's also an option similar to geo-fencing called Safe Zone. Once you set the safe zone up, every time the tracker enters or exits it will trigger an alarm.
Are There Drawbacks?
This is the most expensive tracker on our list. Given that you also have to pay $8/month to use it, the cost can quickly rack up. As with other trackers, notifications can be slow. This includes notifications on battery life which sometimes don't even arrive, leaving you in the dark.

Tech Specs
Dimensions: 3.5 x 0.4 x 2.2 in
Weight: 4 oz.
Power source: Rechargeable battery
Tracking method: GPS, GSM, Bluetooth
Fees: $8/month
The Pros
Three tracking methods
Variable operation modes
Responsive app
Compact design
The Cons
A bit pricy
Battery life notifications aren't reliable
4. TK-STAR Mini GPS Tracker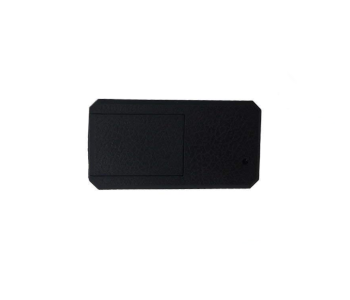 View on Amazon
Editor's Rating: 4.4/5
A good luggage tracker needs to be inconspicuous so a thief doesn't notice it and toss it away while he's rummaging through your belongings. TK-STAR has solved this by introducing their Mini GPS tracker, one of the smallest trackers on the market. It is barely noticeable, has limitless tracking range, and comes with a powerful free companion app that lets you track your luggage in real time.
Overview of Features
The Mini GPS tracker holds true to its name – at 1.9 by 0.9 by 0.7 inches, it is barely larger than a quarter. The device is completely black so it's easier to hide. Its exterior is plain as well. There's only a USB port that powers the 600mAh rechargeable battery, an indicator light, and a cover that protects the SIM card.
You'll need to buy a SIM card for the Mini GPS tracker to work. All major brands are supported and this isn't a big additional expense ass SIM cards can be had for a few dollars. Once the card is inserted, the indicator light will start flashing which means it is searching for a GPS signal. You may need to go outside the first time you use the tracker so it can get a signal quicker, but after that the GPS will work in any environment. You can now keep track of the device either by sending it text messages or using the app.
Control through text involves sending specific commands that ask for a location status, admin password reset etc. The device will respond in less than a minute. If you requested a status update, it will send you a text containing a Google Maps link to the device's current location. Installing the app gives you access to real-time tracking and geo-fencing. The tracking feature shows you a real-time location of your luggage through Google Maps while geo-fencing sends a message if the tracker leaves the limits of a zone you've specified.
What We Didn't Like
The tracker's battery is rechargeable, but it isn't reliable. TK-STAR claims that it doesn't need to be recharged for a week when in active mode and for three when in standby mode. The battery actually gives out twice as fast however. You'll need to remove the SIM card to turn the tracker off. This is poorly explained since the user manual is a mess in general.

Tech Specs
Dimensions: 1.9 x 0.9 x 0.7 in
Weight: 2.4 oz.
Power source: Rechargeable battery
Tracking method: GPS
Fees: None
The Pros
Small and easy to conceal
Has rechargeable battery
Reliable GPS tracking
Good companion app
The Cons
Short battery life
Poorly-written instruction manual
5. Spy Tec STI GL300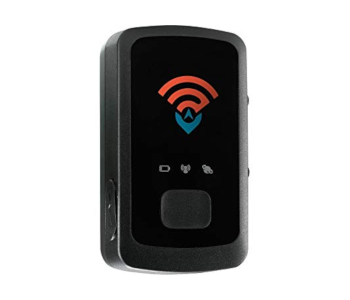 View on Amazon
Editor's Rating: 4.2/5
When your luggage gets stolen, you need to act quickly to stand a chance of retrieving it. Other luggage trackers have long update times which make following the luggage in those first crucial minutes harder. Spy Tec's STI GL300 updates your luggage's location at least every 60 seconds. Its GPS tracking is accurate to within a few yards and it is powered by a long-lasting rechargeable battery. A few puzzling choices like the lack of a companion app aside, this tracker is among the most reliable ones out there.
Overview of Features
The GL300 is shaped like a small black box you can attach inconspicuously to your luggage. If you invest a little more in its carrying case, you'll also get a magnetic strap for easier placement and a waterproof housing that makes the device even more robust. You get a tiny Philips head screwdriver and a USB cable as part of the basic package. The screwdriver is used to remove two screws which secure the SIM card slot. The battery recharges quickly and can last upwards of two weeks of constant activity.
You keep track of the GL300 through a web interface regardless of what device you're using to access it. From here you get to see the tracker's real-time position and can copy-paste its positioning date into Google Maps to get a precise overview of its surroundings. Geo-fencing is also supported – you specify your home location and a perimeter around it, and if the tracker leaves the area you get a text message. You also get access to a 24-hour location history of the tracker and can set up email addresses or phone numbers to which you can send information on the tracker's whereabouts.
Using the GL300 isn't free. Subscription fees start at $25/month and get you accurate positioning information that updates every 60 seconds. The more you pay, the smaller this interval becomes. Receiving an update every 30 seconds will cost you $35/month while getting it every 5 seconds costs $10/month more. Luckily, you aren't bound by any contractual obligations and can cancel the service any time. This is great if you only want to use it during vacation season.
What's Bad About It?
The monthly fees are far too expensive for tracking luggage, especially if you forget to cancel the service in time. Mobile users are in for a rough time since there's no mobile app. They can access the GL300's controls through a simplified version of the web app which makes it hard to put in your home's coordinates and access other configuration options.

Tech Specs
Dimensions: 1.5 x 0.9 x 2.7 in
Weight: 2.1 oz.
Power source: Rechargeable battery
Tracking method: GPS
Fees: Start at $25/month
The Pros
Very accurate
Excellent update frequency
Long-lasting battery
Easy to set up
The Cons
Expensive monthly fees
No mobile app
6. Best Budget Option – Dynotag Smart Luggage ID Tag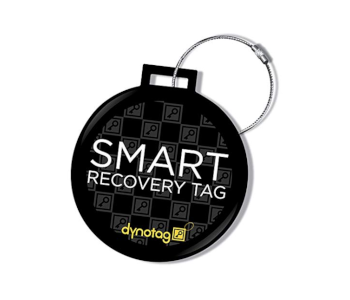 View on Amazon
Editor's Rating: 4.1/5
With an important trip coming up, the last thing you want to worry about is whether or not your luggage tracker's battery is fully charged. If you buy the Dynotag, you'll never have to worry about batteries or your luggage's whereabouts again! This innovative tag relies on a GPS tracker and a QR code system and doesn't need batteries to run. It has a lifetime warranty, is affordably priced, and has no extra charges. Buy it once, and you can take advantage of the tag's full functionality forever.
Overview of Features
The Dynotag is a disc which attaches to your luggage. It is solidly built from steel wrapped in a protective polymer. This makes it resistant to the elements, meaning that the GPS chip inside will work even if the tag gets wet. There's large teat on both sides of the Dynotag which tells finders of its purpose and how to contact you. The basic idea is that if ever your luggage gets lost, a kind soul will find the tag, scan the code, and receive the information they need to contact you.
The best part about this is that you get to control which information the person sees. Once you purchase the Dynotag, you need to create an account. This account then gets associated with the QR code on the tag and you're given an exclusive URL with access privileges. You can fill out an information section with details like your name, phone number etc. so finders know where to return the luggage.
Of course, you wouldn't want to rely on good Samaritans alone, and that's why the Dynotag has a GPD tracker. This lets you view the tag's precise location through a web interface. Unlike the GL300, the web app you get with the Dynotag is the same for desktop and mobile users. By purchasing the tag through a licensed retailer, you're given gold status. This entitles you to a lifetime warranty and replacements as well as a log of password changes and email notifications.
Are There Drawbacks?
The Dynotag works on an honesty principle. Its usefulness hinges on what kind of person finds your bag. Since it is designed to be secured to your luggage from the outside, there's nothing stopping a thief from forcefully removing the tag and robbing you, rendering the GPS useless. Size isn't doing the Dynotag any favors either. Its large diameter makes it both easier to spot and a prime target for thieves who will assume it's your only means of protection and quickly dispose of it.

Tech Specs
Dimensions: 2.5 x 0.1 x 2.5 in
Weight: 2.1 oz.
Power source: none
Tracking method: GPS
Fees: Free
The Pros
Affordable
No batteries
Accurate GPS
No fees
The Cons
Large and easy to spot
Does nothing to stop thieves