Best Mouse for MacBook Pro in 2020 – Our Top 6 Picks
3D Insider is ad supported and earns money from clicks, commissions from sales, and other ways.
The latest MacBook Pro dazzles with its crystal-clear screen and improved keyboard, but the trackpad is still not good enough to replace a traditional mouse. You might get by if you use the laptop casually, but sophisticated editing software and games require precision and responsiveness only a mouse can offer.
A prospective rodent needs to fulfill several prerequisites before being considered MacBook worthy. It should be wireless for starters, so you don't need to worry about wires when on the go. That connection should preferably be Bluetooth on account of the Pro's port shortage. The mouse needs to feel well in hand and run for weeks or even months before its battery gets low. Features that enhance your productivity or gaming experience are a plus.
You're sure to find the best mouse for MacBook Pro among our six picks. They vary in price, size, and use case, so settling on one won't take long. Find out what each is capable of and Start using your MacBook Pro to its fullest.
Budget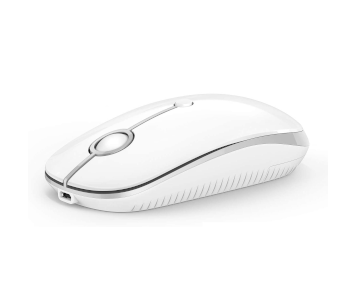 Jelly Comb MS05
4.1/5.0
Buttons: 4
Ambidextrous: Yes
Connects to two devices at once.
Check Amazon
Best Value
Corsair Harpoon RGB Wireless
4.5/5.0
Buttons: 6
Ambidextrous: No
Has five programmable DPI settings and buttons.
Check Amazon
Top Pick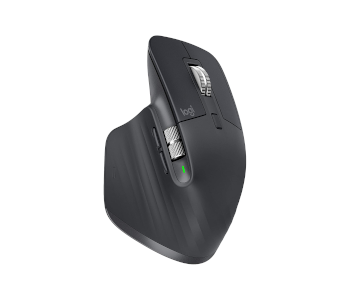 Logitech MX Master 3
4.8/5.0
Buttons: 8
Ambidextrous: No
Two scroll wheels with contextual commands.
Check Amazon
Mouse for MacBook Pro Comparison Table
1. Best Overall – Logitech MX Master 3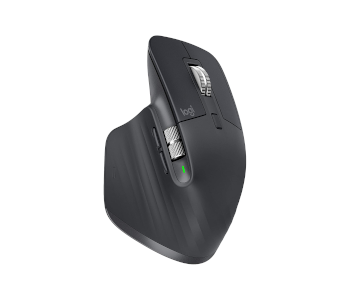 View on Amazon
Editor's Rating: 4.8/5
Logitech's MX Master mice have long been regarded as the best in the world for productivity. The third entry in the series is a refined mouse that will help you get things done quickly whether you're on the go or in the office. It supports gestures, has two scroll wheels with changing functions, and allows you to transfer files from one system to another using Flow seamlessly.
Overview of Features
The MX Master 3 is a large wireless mouse with a prominent thumb rest, so lefties are out of luck. It accommodates all three grip styles and is comfortable thanks to superb ergonomics. The thumb and palm rest areas are also slightly textured and prevent your hand from experiencing pain even if you're constantly using the mouse throughout the workday.
Logitech has done away with the pointy left and right buttons. They're rounder, and the transition between them is smooth instead. The main scroll wheel sits in their middle and has either ratcheted or free-spinning movement. You can change the movement type with a button or speed up scrolling in ratcheted mode to get to a relevant apart of a page or spreadsheet quicker. The horizontal scroll wheel is an unusual and welcome addition. Its use is contextual, so it might scroll between tabs in Safari and zoom in & out in iMovie without special configuration.
The MX Master 3 uses a rechargeable Li-ion battery that lasts 70 days of intense use. You replenish it through USB-C and can either wait three hours for it to finish or give it a minute-long jolt in an emergency that will still yield three hours of uptime. The mouse connects wirelessly through either Bluetooth or 2,4GHz radio to three devices you may quickly switch between with a toggle on the bottom.
Gestures and Flow can increase your productivity exponentially. The thumb rest acts as a button for gesture activation; pressing it and moving the mouse in a direction executes a command like switching to an open tab or running a new program. Flow lets you copy files from your MacBook Pro to a desktop Mac by simply moving the cursor to one end of the screen. It then shows up on the other device's monitor and works as intended.
What We Didn't Like
The MX Master 3 has few flaws. It's the most expensive mouse on review, and there's nowhere to store its tiny unifying receiver. You'll need to keep an eye on the receiver when moving the MacBook as it gets lost easily.
Tech Specs
Dimensions: 4.9 x 3.3 x 2 in.
Weight: 5 oz.
Buttons: 8
DPI: 400 – 4,000
Ambidextrous: No
Battery life: 70 days per charge
Connection type: Bluetooth, wireless
Pros
Excellent build quality and ergonomics
Long-lasting rechargeable battery
Gestures and Flow streamline productivity
Two scroll wheels with contextual commands
Cons
Expensive
No storage space for the receiver
2. Best Value – Corsair Harpoon RGB Wireless
View on Amazon
Editor's Rating: 4.5/5
Gaming on a MacBook Pro is a smooth experience whether you're into multiplayer games like Overwatch or single-player RPGs like Pathfinder: Kingmaker. You'll need a proper gaming mouse to keep up, and the Harpoon RGB Wireless is an affordable yet versatile choice. It's small, runs on rechargeable batteries, and has excellent companion software that will let you tweak it to your heart's content.
Overview of Features
We love the Harpoon RGB Wireless's subdued style. Its shell is made from a single piece of molded plastic that transitions naturally from its high slope to the left and right mouse buttons. Each side has a rubberized and textured diamond pattern to prevent slipping, and the left one protrudes to act as an unobtrusive but comfortable thumb rest. A sizeable gap enveloping the scroll wheel is the only design element that brakes up the aesthetic.
You can connect the Harpoon RGB Wireless via Micro USB cable or wirelessly through radio or Bluetooth LE. The rechargeable battery lasts 30 hours, twice as much if you use Bluetooth and turn off the RGB. You'll find the wireless mode switch on the bottom along with a compartment for the USB receiver.
There's no need to worry about in-game performance when using the Harpoon wirelessly as it offers a responsive and lag-free experience. You can thank Slipstream Wireless – a new technology developed by Corsair – as it ensures a stable connection by cycling through available frequencies until it finds one that isn't being used.
The Harpoon RGB Wireless comes with iCUE, an intuitive and powerful configuration utility. It lets you assign various functions or map macros to five of the Harpoon's six buttons. You can also adjust the Corsair logo's color and blinking pattern or map five DPI settings plus a sniper setting to the associated button.
What's Bad About It?
The Harpoon RGB Wireless is a thin mouse you might have trouble holding if you have large hands and are used to gripping ti with your palm. Some models are prone to stuttering when in wireless mode. You'll have to ask Corsair for a replacement, which can take a while as their customer support is slow.
Tech Specs
Dimensions: 4.6 x 2.7 x 1.6 in.
Weight: 3.5 oz.
Buttons: 6
DPI: 250 – 6,000
Ambidextrous: No
Battery life: 30-60 hours per charge
Connection type: Bluetooth, wireless, wired
Pros
Excellent value for the money
Clean and comfortable design
iCUE is robust and versatile
Has five programmable DPI settings and buttons
Cons
Not the best fit for palm grippers with large hands
Might stutter in wireless mode
3. Logitech MX Anywhere 2S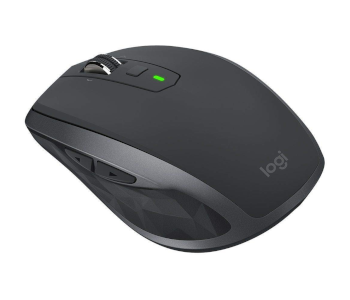 View on Amazon
Editor's Rating: 4.6/5
The MX Master 3 is a fantastic mouse, but its large size doesn't help with portability. That's why the MX Anywhere 2S exists. It's the ideal productivity mouse if you travel a lot and like to work whenever there's time and wherever you might find yourself. It retains all the advanced features of our winner, including Flow and gestures, has excellent battery life, and is considerably cheaper to boot.
Overview of Features
Even though they're from the same line, the MX Anywhere 2S's design differs from our winner. It's smaller and has a less pronounced rest, so finding space in your laptop bag will be much easier. An interesting geometric pattern on the left ensures your thumb won't go anywhere, while the mouse's pleasing matte surface doesn't retain fingerprints.
A travel mouse needs to work on different kinds of surfaces, and the MX Anywhere 2S excels at this thanks to Darkfield technology. It has a unique laser that flawlessly translates hand into cursor movement. It works as long as the mouse has somewhere to glide on; even glass doesn't affect its performance, provided it's at least four millimeters thick.
You charge the MX Anywhere 2S via a Micro USB cable that plugs into its front. It works while charging and lasts for two months before needing a refill. You can see the battery's status, reassign buttons, and change the sensitivity through Logi Options.
The scroll wheel doesn't act as a button; pressing it toggles between ratcheted and free-spinning modes. Other features are similar to the MX Master 3. Gestures work the same, as does Flow and switching between three connected devices. There's no thumb rest button, so you'll have to initiate gestures with another one.
Are There Drawbacks?
This is another Logitech wireless mouse that lacks a USB receiver compartment. Lack of support for lefties is its only other major flaw.
Tech Specs
Dimensions: 3.9 x 2.4 x 1.4 in.
Weight: 8.5 oz.
Buttons: 7
DPI: 400 – 4,000
Ambidextrous: No
Battery life: 60 days per charge
Connection type: Bluetooth, wireless
Pros
Built for maximum portability
Performs admirably on a variety of surfaces, including thick glass
Supports gestures and Flow
Long battery life
Cons
Intended for right-handed use only
Nowhere to store the Unifying receiver
4. Razer Atheris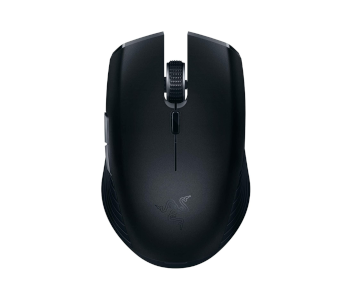 View on Amazon
Editor's Rating: 4.4/5
The Atheris is Razer's ambidextrous answer to the Harpoon Wireless. It's a travel-friendly gaming mouse with a sleek and unassuming build that hides plenty of features. These include setting up the controls for specific games, switching between several DPI presets, and using HyperShift to double the number of controls at your disposal.
Overview of Features
It's hard to tell that the Atheris is a gaming mouse with a cursory glance. It's petite & symmetrical, and there's no RGB to be found anywhere. Its Razer logo and a gap between the main buttons where the scroll wheel resides are the only indicators of its gaming purpose. The mouse is comfortable to hold despite its size as both sides have a ridged texture.
The Atheris performs well as an everyday mouse since it has no trouble maintaining a Bluetooth connection with your MacBook Pro. Using Bluetooth extends battery life to a maximum of 350 hours but leads to a slower polling rate of 250Hz. Productivity won't suffer, but you'll want to switch to wireless via receiver if you're hoping to execute precise maneuvers in Fortnite or the newest Call of Duty.
Razer Synapse 3 isn't available for Macs yet, which might be a blessing in disguise given the later version's buggy state. Luckily, the macOS version of Synapse 2 recognizes the Atheris without issues. It's not as polished as the newer version, meaning you'll be looking at drop-down menus instead of large icons and sub-categories.
Synapse's functionality is solid. You can configure the Atheris's buttons to correspond to keyboard presses or macros. You may also create profiles and associate game-specific controls for each. That lets two people play the same game and use configurations they're used to without having to adapt. You'll also want to designate a HyperShift button. Pressing it activates mappable alternative functions for the rest, bringing the effective button count up to eight.
What We Didn't Like
The side buttons are placed close to each other, and the gap between them isn't wide enough for you to judge which one you're pressing by only moving the thumb. The USB receiver isn't built to last. You'll have to take care when removing it or the receiver might fall apart.
Tech Specs
Dimensions: 3.9 x 2.4 x 1.3 in.
Weight: 2.4 oz.
Buttons: 5
DPI: 200 – 7,200
Ambidextrous: Yes
Battery life: 350 hours
Connection type: Bluetooth, wireless
Pros
Portable gaming mouse that performs on par with wired ones when using the receiver
Unobtrusive design appropriate for a workplace environment
Has HyperShift
Supports game-based control configuration
Cons
Poorly-built USB receiver
Too little space between side buttons
5. Apple Magic Mouse 2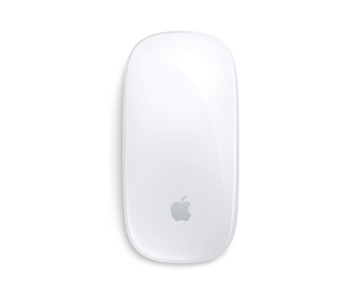 View on Amazon
Editor's Rating: 4.2/5
The original Magic mouse blended Apple's trademark minimalist design with innovative features like touch controls, but users complained that the battery life was far too short. Enter the Magic Mouse 2, a rodent that's addressed this most pressing concern but offers little else in terms of upgrades. It's straightforward, easy to use, and even easier to pair.
Overview of Features
The Magic Mouse 2 looks identical to its predecessor. In other words, it's a low-riding combination of aluminum and white plastic without any visible buttons. There are actually two of them, and pressing either lowers the top part of the mouse's surface to correspond to a click. Were it not for the Apple logo the mouse would be completely symmetrical. Even so, you might find yourself trying to use it upside down if you travel a lot.
The battery issue has been resolved successfully. The Magic Mouse 2's bottom is now solid and only has a Lightning to USB port along with two rails that run its full length and allow the mouse to glide effortlessly on different surfaces. Apple estimates that the battery will last for a month of use, just like the AAs in the last model. Recharging the battery takes a few hours, but you can also plug it in for a few minutes and get nine hours of use out of it.
You connect the Magic Mouse 2 to your MacBook Pro by plugging it in. This initiates a Bluetooth pairing process and establishes a connection that will break only if you pair the mouse with another Mac.
The gesture controls make a comeback and essentially turn the Magic Mouse 2 into a touchpad without its usual limitations. It's much more precise than a touchpad while still allowing for intuitive single or two-finger controls. Swiping up or down acts as the scroll wheel while using left and right swipes lets you navigate spreadsheets or wide webpages. Adding the second fingers introduces more options you can configure while double-tapping both fingers is a quick shortcut for Mission Control.
What's Bad About It?
The Magic Mouse 2's charging port is on the bottom, meaning you have to turn it upside down and can't use it while charging. Lack of ergonomics is a more serious issue, though. Other mice are two to three times higher, so you're out of luck if you use the palm grip regardless of hand size.
Tech Specs
Dimensions: 4.5 x 2.3 x 0.9 in.
Weight: 3.5 oz.
Buttons: 6
DPI: 250 – 6,000
Ambidextrous: Yes
Battery life: 30 days per charge
Connection type: Bluetooth, wireless, wired
Pros
No more battery issues
Gesture controls are easy to grasp
Effortless pairing
Glides well on different surfaces.
Cons
Can't be used while recharging
Low profile makes it unsuitable for palm grip users
6. Best Budget Option – Jelly Comb MS05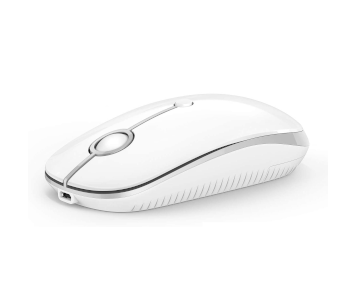 View on Amazon
Editor's Rating: 4.1/5
Most mice we've reviewed so far weren't designed with a USB-c port in mind, which is why you'll need an adapter to use them on the latest MacBook Pro models. Not so with the MS05 from Jelly comb, a no-frills mouse that comes with a wireless USB-C receiver you can plug straight into a Lightning port. It's affordable, attractive, and has a plug & play philosophy that makes using it a breeze.
Overview of Features
The MS05 is a no-frills mouse whose flat design looks similar to the Logitech Pebble. It's available in several color schemes, including black with gold or silver accents. The mouse is sculpted to fit well in your hand if you use the finger or claw grip and works well for left-handed users due to its uniform design.
There's only one additional button apart from the main ones and the scroll wheel. You use it to toggle between three DPI settings – 1,000, 1,600, and 2,400. The first setting is ideal for use with the 13-inch MacBook Pro, while others make more sense if you also connect the MS05 to other devices.
Most wireless mice connect in two ways, but the MS05 is unique in that both use 2.4GHz radio. The main difference is the type of USB the receivers support; one works with USB-C and Lightning while the other uses an older USB version. A switch on the MS05's bottom toggles between them. It's a useful feature to have as you can switch between two systems or even to a PC without pairing or driver installation.
Working with the MS05 is a pleasure. It does well on most surfaces as long as they're straight and produces almost silent clicks. You can use it in a library or during a flight and not disturb the people around you. The mouse has a 300mAh Li-ion battery that can last for a month if you use it a couple of hours each day.
Are There Drawbacks?
The MS05 connects to your laptop via USB-C, but it uses Micro USB to charge. That means you can't use USB-C cables you'd charge your phone with and need to take care not to lose its cable. The mouse might intermittently shut down after prolonged use. It will stop working and start responding again after you click. It's not a big deal at first but can quickly become annoying.
Tech Specs
Dimensions: 4.3 x 2.4 x 1.2 in.
Weight: 3.8 oz.
Buttons: 4
DPI: 1,000 – 2,400
Ambidextrous: Yes
Battery life: 30 days per charge
Connection type: Wired via USB and USB Type-C
Pros
Inexpensive mouse that works with USB-C directly out of the box
Connects to two devices at once
Convenient DPI switch
Comes in several color schemes
Cons
Needs proprietary cable for charging
May start to randomly turn off with use