6 Best Makeup Camera Picks for 2020
3D Insider is ad supported and earns money from clicks and other ways.
Makeup showcases and tutorials are among the most popular types of video on social media. They have the power to transform a person's sense of self-worth and can even bring in a decent income if you're good at them and have a large fanbase. Not every camera can rise to the challenge of portraying your makeup accurately, though.
There's no such thing as a dedicated camera for makeup artists, but finding ones that fit the bill isn't difficult if you know what to look out for. Accurate color rendition is essential for a makeup camera since you're striving for consistent results viewers can recreate at home. Images and videos featuring models wearing makeup need to be razor-sharp so subtle color transitions and the effect makeup has on transforming one's appearance don't go unappreciated.
These are our six best makeup camera picks for the season. You'll find cameras of varying sizes and at different price points, so settling on one won't be difficult. Pick a camera that you find appealing and start making the world a more beautiful place.
Budget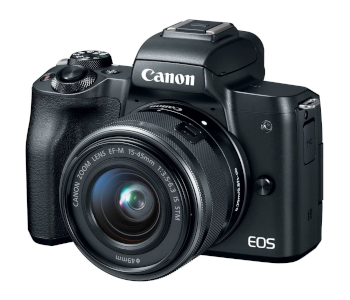 Canon EOS M50
4.1/5.0
Type: Mirrorless
Battery: 235 shots
Great color fidelity and dynamic range.
Check Amazon
Best Value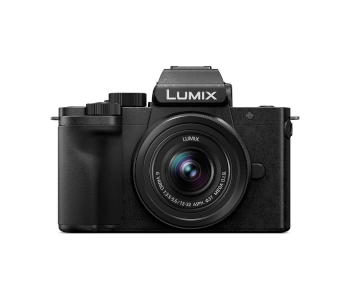 Panasonic Lumix DC-G100
4.6/5.0
Type: Mirrorless
Battery: 270 shots
This has a versatile microphone array.
Check B&H
Top Pick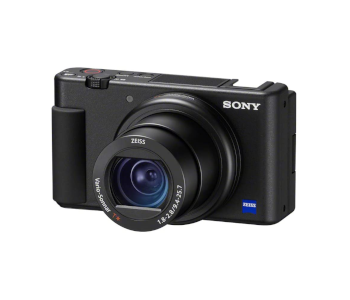 Sony ZV-1
4.8/5.0
Type: Compact
Battery: 260 shots
Fast lens can create wonderful backgrounds.
Check Amazon
Makeup Cameras Comparison Table
1. Best Overall – Sony ZV-1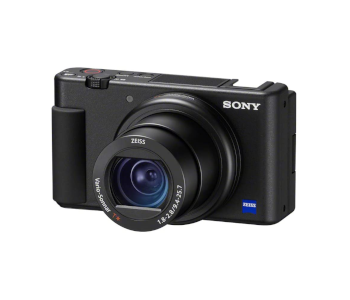 View on Amazon
Editor's Rating: 4.8/5
Sony's recently-released ZV-1 has quickly become our number one recommendation for vloggers, and it offers much for makeup artists who want to showcase their skills. It's a video-first compact camera keen on making video recording as smooth and professional-looking as possible. Expect user-friendly physical controls, exceptional autofocus accuracy & speed, and a slew of video options for perfectionistic.
Overview of Features
Much of the ZV-1's body and electronics are built around the fifth iteration of the RX100. However, the bright red REC button you can easily reach from either side makes it clear this is a camera optimized for videos. The articulating screen, along with a three-capsule microphone & deadcat, leave no doubt about the camera's purpose.
Sony has designed a new algorithm that unerringly recognizes people's faces regardless of skin tone. The camera has hybrid autofocus as well as Real-time Tracking and Eye AF modes. Turning tracking on causes the ZV-1 to immediately stick to a person's face and keep their eyes in focus once they're detected. It can do so in challenging light or even if you turn away from the camera.
The ZV-1 has a 24-70mm lens with a maximum aperture of f/1.8 to f/2.8. The focal length range is perfect for showcasing your surroundings and then seamlessly zooming into a model's face for a detailed demonstration of your skills. One of the ZV-1's tow customizable buttons automatically sets the aperture to its widest position, delivering wonderful bokeh that will create a pleasant background and make viewers focus on the face. There's also Product Showcase, a mode that disables real-time tracking and allows you to focus on the specific powder or eyeshadow you're using and promote it seamlessly.
The ZV-1 records 4K video with its 20.1MP sensor's entire surface area and downsamples this to 4K at 30fps, making for crystal-clear quality. You can take advantage of focus peaking and zebra stripes to get the framing right and even use one of three log profiles for color grading during video editing. The camera has a 3.5mm microphone jack as well as a hotshoe mount. The latter is indispensable for mounting shotgun mics or portable lights.
What We Didn't Like
The ZV-1's touchscreen is limited. You can only pull focus or assign AF points with it and need to navigate Sony's comprehensive menus with the rotating D-pad. The battery is only good for 45 minutes of video recording. You can keep rolling while the ZV-1 is plugged in, but it's a shame that Sony used Micro USB instead of USB-C on a 2020 camera.
Tech Specs
Dimensions: 4.2 x 2.4 x 1.7 in.
Weight: 10.4 oz.
Type: Compact
Sensor: 1-inch
Battery: 260 shots
ISO range: 100 – 12,800
Max still resolution: 20.1 MP
Max video resolution: 4K, 30fps
The Pros
High-speed and accurate autofocus ideal for any skin tone
Fast lens can create wonderful backgrounds
Portable and built specifically for video recording
High-quality oversampled video
The Cons
Limited touchscreen capabilities
Weak battery without USB-C charging
2. Best Value – Panasonic Lumix DC-G100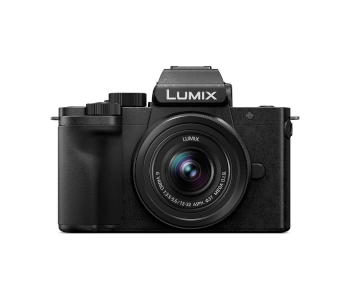 View on B&H
Editor's Rating: 4.6/5
The ZV-1 didn't have to wait long to get a worthy competitor, as Panasonic's DC-G100 was released less than two months after it. It's one of the smallest interchangeable lens cameras in the world, and another model focused on delivering great-looking video wherever you are. It's also equipped with an advanced microphone array that lets you forgo an external mic and record sound in a multitude of ways. The kit we linked to also contains an excellent grip that adds even more value to this versatile camera.
Overview of Features
The DC-G100 is tiny and compact but built well all the same. Its tough polycarbonate body is easy to grasp thanks to a solid grip, and its matte surface doesn't attract fingerprints. The physical controls are straightforward. You get four customizable function buttons along with two wheels and a rotating selector. Like the ZV-1, the DC-G100 has a prominent red REC button easily accessible from either side.
A fully articulating screen is one of the DC-G100's best features. It has broad freedom of movement that lets you make vlog-style posts or capture faces from different angles without having to move or obstruct the light. Panasonic's menus are a breeze to use, and the screen's touch functionality is much more sophisticated than Sony's. There's also an LED electronic viewfinder that's not as sharp as OLED models but works well nevertheless.
The grip kit is an excellent addition and indispensable if you're doing makeup vlog while traveling. It has buttons for photo & video recording and one that toggles sleep mode. The grip extends your reach and can turn into a mini tripod useful for resting the DC-G100 on any flat surface.
The DC-G100 uses Depth-from-Defocus to acquire and stick to faces. This method isn't as accurate as Sony's and works best for stills. However, the DC-G100 doesn't have trouble maintaining clear focus on faces during makeup application since they usually keep still. The camera delivers skin tones that are true to life and balances the effect light has on colors well, no matter its source.
You can record clips in either 720p, 1080p, or 4K. The DC-G100 supports time-lapse and slow-motion video. The only drawback is that 4K videos are limited to 10-minute clips to keep the DC-G100 from overheating. Its battery is better than the ZV-1's as you can record 90 minutes of video before it gives out.
The DC-G100 has a 3.5mm microphone jack, but you'll think twice about investing in an external mic since its array delivers quality few cameras surpass. It's made up of three capsules that use Nokia's OZO system to capture sound from different areas. You can set them to track your face and record what you're saying, concentrate on something directly in front of the camera, or capture the entire room.
What's Bad About It?
Panasonic followed in Sony's footsteps and didn't equip the DC-G100 with a USB-C slot. You can't even use it to supply continuous power, so you'll have to keep spare batteries at the ready. There's no headphone jack, meaning you can't monitor sound levels before starting a video and might need to spend more time adjusting them in post.
Tech Specs
Dimensions: 4.6 x 3.2 x 2.1 in.
Weight: 14.8 oz.
Type: Mirrorless
Sensor: Micro Four Thirds
Battery: 270 shots
ISO range: 200 – 25,600
Max still resolution: 20.3 MP
Max video resolution: 4K, 30fps
The Pros
Excellent value for the money
Good build quality and handling
Versatile microphone array
Responsive touchscreen with intuitive menu system
The Cons
No headphone jack
No USB-C port
3. Fujifilm X-T30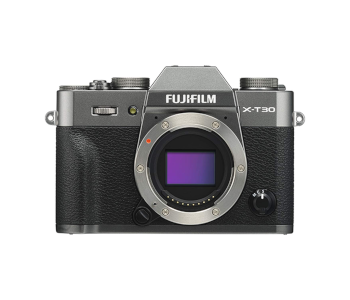 View on Amazon
Editor's Rating: 4.5/5
Fujifilm started emphasizing video quality only recently, but models like the X-T30 are proof that the company is learning quickly. The camera is a pleasure to handle and lets users meticulously customize its output. It has dependable autofocus, shoots quality 4K video, and lets you take advantage of Fujifilm's trademark film modes.
Overview of Features
We love the X-T30's aesthetics as it blends traditionally angular edges with a modern control layout. It's available as all-black and a combination of black and either silver or charcoal gray. Its grip isn't as pronounced as we'd like, but the compensates for that by including a deep thumb rest. It's a very hands-on camera. There's a general control dial along with ones for drive settings, EV compensation, and shutter speed.
The viewfinder is physically small and offers 0.62x magnification. You'll spend most of your time in live view anyway. Luckily, the touchscreen is bright and responsive. It has a Q menu you can populate with sixteen frequently-used control settings for quick adjustments.
The X-T30 uses sophisticated autofocus to keep its APS-C sensor glued to erratically-moving subjects. It excels at detecting faces and eyes. Autofocus speed will partly depend on the lens you're using, but the 18-55mm kit model you get with the X-T30 delivers fast and accurate results.
The X-T30 offers a lot of flexibility in creating a unique look for your videos. On the one hand, you can set everything to auto and get a neutral tone perfect for showcasing how a casual daytime look might appear. On the other, you can take advantage of Fujifilm's film simulation modes and extended dynamic range settings to make colors more vivid or minimize unwanted blemishes.
Videos shot with the X-T30 are oversampled and rich in detail. You can shoot 4K 30fps in 200Mbps quality. Film simulation modes are a welcome option, but you can also use the F-Log color profile for flat output that you can tweak later. Fujifilm has wisely included Movie Silent Control, an overlay with frequently-used settings like ISO, aperture, and mic levels. You access it soundlessly from the LCD and won't accidentally record the sound of turning dials.
Are There Drawbacks?
The X-T30 is another camera that imposes recording limits on clips. 4K ones can last only 10 minutes, while 1080p videos may be 15 minutes long. The LCD doesn't flip out or up. It's a tilting model that lets you stand above or below the camera and get good results, but it isn't suitable for selfies and vlogs you want to monitor continually.
Tech Specs
Dimensions: 4.7 x 3.3 x 1.8 in.
Weight: 13.5 oz.
Type: Mirrorless
Sensor: APS-C
ISO range: 160 – 12,800
Max still resolution: 26.1 MP
Max video resolution: 4K, 30fps
The Pros
Excellent build quality and physical control scheme
Dependable autofocus quickly sticks to faces
Shoots high-quality, uncropped 4K video
Film modes and dynamic range settings offer extensive video customization
The Cons
Limited clip length
Screen only tilts up and down
4. Canon EOS 90D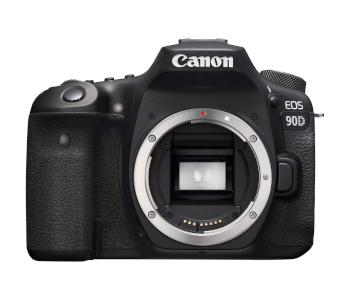 View on Amazon
Editor's Rating: 4.4/5
Makeup vloggers are likely to produce content from their home or studio, which means they can invest in a sophisticated DSLR like Canon's 90D and feel no strain. It's a camera that delivers appealing uncropped 4K video and has lots of options that let you tweak clips to perfection. Excellent autofocus and ports for both headphones & external microphones sweeten the deal.
Overview of Features
The 90D is small as DSLRs go yet retains one's ergonomics and comfort. It promotes a hands-on approach to recording since there are several customizable buttons, and you can map two fully tweakable shooting modes to the mode dial. The 90D looks almost exactly the same as the 80D. An 8-way joystick is the most significant difference, and a welcome one since it speeds up AF point selection.
The OVF will be of limited use to makeup artists, but it's nice to know that it's bright and features an overlay that displays a wealth of shooting data. The touchscreen has a 3-inch diagonal and flips to the side. Its 1-million dot resolution keeps subjects sharp, and menus are logically laid out on either side for easier selection via touch.
Canon uses Dual Pixel CMOS AF to keep subjects' faces in constant focus. The 90D has a dedicated AF mode called Face+Tracking that recognizes and sticks to faces even under challenging circumstances. Turning your head or abruptly moving it presents no problem, while toggling from one face to another lets you have multiple people in the frame.
Videos are shot at a maximum of 4K, 30fps. Canon didn't include 24p for some reason, and you can't find it when switching to 1080p, either. Some vloggers might find this distressing, but it shouldn't matter for makeup tuts unless you were hoping to mimic a movie look and pair it with a cinematic video experience. Video quality is decent and can be further improved if you don't mind applying a slight crop. You can do the same in 1080p but don't need to since HD quality is among the best we've seen.
Are There Drawbacks?
The 90D doesn't support in-camera battery charging. It also lacks optical image stabilization. You'll either have to rely on its lenses or turn on electronic stabilization that crops the image significantly.
Tech Specs
Dimensions: 5.5 x 4.1 x 3 in.
Weight: 42.9 oz.
Type: DSLR
Sensor: APS-C
Battery: 450 shots, 1,300 with live view off
ISO range: 100 – 25,600
Max still resolution: 32.5 MP
Max video resolution: 4K, 30fps
The Pros
Great video quality, especially in FullHD
Reliable face detection and autofocus accuracy
Bright articulating screen
Has a headphone port
The Cons
No optical image stabilization
No in-camera battery charging
5. Canon PowerShot G7X Mark III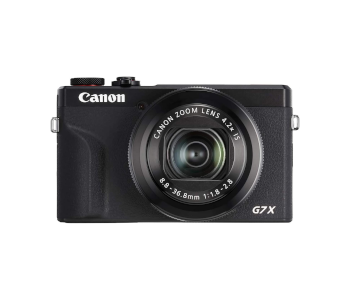 View on Amazon
Editor's Rating: 4.3/5
While the 90D is a general-purpose camera that happens to be suitable for video, the G7X Mark III was built with vlogging in mind. It's a portable compact camera with premium build quality, a nice lens, and a flip screen. Best of all, it has a sharing system that lets you broadcast your makeup sessions in real-time to one of several social media accounts.
Overview of Features
The G7X Mark III is a mid-sized compact camera that still fits inside your pocket if you do a lot of traveling. All of its controls feel tight and are put together well. Customization is a large part of its appeal since five controls can be remapped, and the focus ring around the lens has multiple uses too. There's no viewfinder, and Canon didn't place special emphasis on positioning the REC button like Sony and Panasonic are doing.
The touchscreen LCD is a vivid and bright model you can still view in sunlight. It flips up 180 degrees for vlogs & selfies or down 45 degrees. The menus remain unchanged from previous iterations of the camera. That's a good thing since they were tidy and easy to navigate from the beginning. Color-coding and clear explanations make traversing them a pleasure.
The G7X Mark III has a new sensor and is powered by the 8th iteration of the Digic processor. Its lens has the same max aperture as the ZV-1 but has a 24-100mm equivalent focal length, the log end of which is ideal for close-up shots of one's face. Footage recorded with the camera isn't as sharp as our winner's. Still, you can pull off beautifully blurred-out backgrounds and dreamy bokeh to help display your creations.
The G7X Mark III uses the same Face+Tracking autofocus mode seen on the 90D and is equally adept at keeping subjects in focus. You may also set it to focus on a specific point or a broad area. Displaying different looks on several models at the same time isn't a problem either since the camera accurately switches focus from one person to another when prompted.
Canon received some backlash when the G7X Mark III was released since the autofocus was unreliable. It's still not perfect, but a firmware update successfully got rid of the most blatant issues.
What's Bad About It?
The G7X Mark III's streaming feature isn't reliable. When it works, it works, but you have to create an account with Canon's cloud service and link your YouTube or other accounts. Expect connection issues and general frustration when setting this up. This is the camera with the weakest battery on review. Luckily, it has a USB-C port and can work while plugged into a powerbank.
Tech Specs
Dimensions: 4.1 x 2.4 x 1.6 in.
Weight: 10.7 oz.
Type: Compact
Sensor: 1-inch
Battery life: 230 shots
ISO range: 100 – 25,600
Max still resolution: 20.2 MP
Max video resolution: 4K, 30fps
The Pros
Compact yet premium build with lots of customizable controls
Good subject tracking
Quality flip-up touchscreen
Organized menu system
The Cons
Low battery capacity
Livestreaming suffers from connection issues
6. Best Budget Option – Canon EOS M50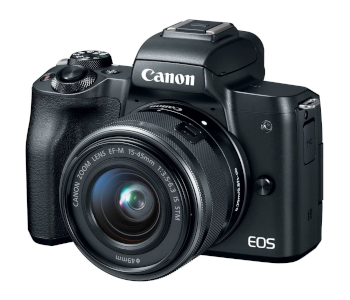 View on Amazon
Editor's Rating: 4.1/5
Our budget pick is another Canon camera, the first to feature the Digic 8 imaging processor. The EOS M50 stands out from similarly-priced rivals with autofocus inherited from more sophisticated Canon models. It's among the cheapest cameras with 4K capabilities and easy for beginners to master. Most of its shortcomings don't affect makeup videos either, so it's an excellent choice for thrifty users.
Overview of Features
The EOS M50 looks like a small DSLR due to its viewfinder's central positioning. You'll know it isn't one as soon as you pick it up as the EOS M50 weighs only 17 ounces. Nothing conceals the fact that the body is made from plastic. However, the camera doesn't feel poorly-made or like it will crack after a slight impact. Its physical controls are few and basic. There's a single control dial along with a handful of buttons. The REC button is small but located behind the shutter release for easier reach.
The viewfinder is small and useful primarily by stills shooters. It works together with the LCD when you're assigning AF points. The screen is a true vari-angle design and can rotate to face the camera for extra protection against scuffs. The EOS M50 is another example of Canon's intuitive menus, this time augmented by a guided mode previously seen on the rebel series of beginner-friendly DSLRs. Turning the mode on replaces standard menus with a simplified interface complete with explanations of settings and how their changes affect the final result.
You can take advantage of Dual Pixel CMOS AF for stills and video alike. It reacts quickly in bright light and maintains respectable speeds in dim conditions if you ever want to demonstrate a particular look in candlelight. This iteration of Canon's autofocus system works well for stationary subjects who don't move unpredictably and will serve your needs well.
There are sharper performers when it comes to video quality, but the EOS M50 scores high marks for color fidelity and detail. Everything from eyeshadow and lipstick hues to skin tones looks balanced, while a natively high dynamic range ensures subtle transitions in shade appear as if they would in front of a mirror.
Are There Drawbacks?
The EOS M50 performs best when recording video in 1080p as its 4K output is lackluster. You're getting a second crop on top of one that's already innate to APS-C lenses. The camera reverts to using contrast-detect autofocus, there's a pronounced rolling shutter, and the framerate is limited to 24fps. The battery runs out of juice quickly, so have spares nearby.
Tech Specs
Dimensions: 4.6 x 3.5 x 2.3 in.
Weight: 17.1 oz.
Type: Mirrorless
Sensor: APS-C
Battery life: 235 shots
ISO range: 100 – 25,600
Max still resolution: 24.2 MP
Max video resolution: 4K, 24fps
The Pros
Simplistic user interface and physical controls ideal for beginners
Vari-angle touchscreen
Dual Pixel CMOS AF works with everything except 4K
Great color fidelity and dynamic range
The Cons
Poor battery life
4K video is severely limited