How to Make Money with Your Drone
3D Insider is ad supported and earns money from clicks, commissions from sales, and other ways.
The idea of turning your passion into your job is THE dream for many people. There are few things better than earning money out of doing something that you legitimately enjoy. In this article, we look at the potential of your drone hobby as a source of income. Whether you are leaning towards starting your own drone business or are looking for a job that uses your drone piloting skills, then we are here to point you towards the right direction. Read on as we detail all the essential of earning cash using your drones, and all the opportunities that are out there right now, ready for you to take.
Become a Commercial Drone Pilot:
Make money with your drone. Get a FAA Drone License. Use coupon code '3dinsider50' for $50 off
Pilot Institute
.
What is the market for drone-based services?
The industry of drone-based services was estimated to be worth about $705.3 million in 2016. At an estimated compound annual growth rate of 71.62%, the value of the industry is forecasted to reach about $18,022 million by 2022. Continuously improving technology and a growing demand for drone-based services across several industries is expected to fuel the growth of the drone-based service industry during the forecast period.
The demand for aerial photography and remote sensing represents the largest share of the drone-based service market. This market continues to grow as more and more organizations and individual start to offer the service, resulting to lowered prices and a growing clientele. Improving camera technology has also resulted in an increasing quality of aerial photos and videos which has made the service more attractive.
The infrastructure industry has been forecasted to undergo the highest rate of growth during the forecast period. Drone businesses have offered their services to monitor the progress of construction projects by regularly taking topographic surveys, allowing project managers to execute construction projects quickly and more efficiently. Cheaper drone services and a higher level of acceptance of drone technology are predicted to facilitate the growth of this market segment.
However, market growth of the drone-based service industry will also continue to be faced with challenges. The lack of skilled and formally trained drone operations personnel has been forecasted as one of the restraining factors for the growth of the market. Current regulatory standards have also been holding back the industry, as stringent rules on when and where drones are allowed to fly for commercial purposes have limited the services that businesses can offer.
From the data, it is apparent that the drone-based service industry still has potential to continue to grow. While there are currently a limited number of individuals and organizations that offer these types of services, the market continues to grow, facilitated by improvements in drone technology and decrease in prices of such services.  Being a highly skilled drone pilot can be a huge advantage over competitors as consumers become more discerning over issues with safety and quality of output.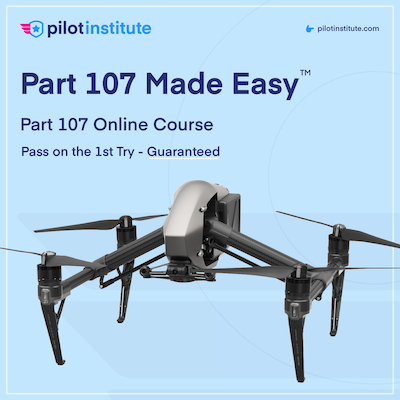 How much can you earn?
The amount that you can earn offering a drone-based service depends on the type of service you can offer, your experience, and your level of skill. Freelance drone photography services can go for hourly rates of $150 to $450, or a per session rate of $500 to $1500. Skilled video editors can even augment this amount by offering video editing services at an hourly rate of about $110.Highly skilled drone pilots, such as those with experience in flying manned aircrafts, can even command much higher rates of $2500 to $7000 per job.
Some drone pilots choose to offer their services as part of a professional organization, such as engineering and survey firms. These firms can offer services such as 3D mapping, drone surveillance, topography surveys, and remote sensing. Drones have also been used to take photos and videos in areas where sending in humans will be dangerous and impractical, such as in industrial equipment, oilfields, and windfarms. A drone pilot in the employ of a commercial organization may have annual earnings of $50,000 to $70,000.
Outside of offering services, there are also some other fun ways to earn with drones. The Drone Racing League (DRL) is a professional sports league that organizes drone races along pre-determined courses. From its humble beginnings in Australia, the first season of the DRL was broadcast on ESPN and attracted a viewership of about 28.2 million. The winner of that season scored a $100,000 contract. Professional drone racing has become a legitimate career for its players, and it has allowed most of them to quit their day jobs and dedicate their efforts full time to drone racing.
The essentials to start earning with your drone
As with any type of business, you will have to do your due diligence if you want your business to succeed. In starting a drone-based business, it is essential that you acquire the proper technology, training, skills, and certification.
1. Buy a high-quality drone
The most important piece of hardware you will need to start your business is the drone itself. Our recommendation is to not cheap out on your choice of drone, but to not get the highest end and most expensive drone, either. If you are still a beginner in drone flight, it is best to get a drone that you know you can handle.
If you are going to offer drone photography services, it is best to get a drone that is easy to handle and has a high-quality camera. Some of the best choices for this include the newly released Mavic 2 Pro, or even the older Mavic Air and Mavic Pro models. The Parrot Bebop 2 is also an excellent choice of a beginner drone that can take high resolution photos and videos. Handling of these drones is very easy even for beginners, and they are all compact and lightweight, making them perfect for location shoots. However, they can be somewhat unstable in very windy condition owing to their small sizes.
For more commercial services such as remote sensing, surveillance, and mapping, an accordingly higher end drone will be in order. Good choices for these applications include the Phantom Pro 4, anything from the DJI Inspire series, the Yuneec H520, or the Yuneec Mantis Q. These models are bigger, have longer flight times, and are more stable.
For long-distance or high-speed applications, you may even consider using a fixed wing drone instead of the usual quadcopter model. Fixed wing drones are able to stay in the air longer and have the capacity to carry increased payloads, which may be necessary for LiDAR or other mapping surveys. Popular choices for fixed wing drones include models by Delair, the Parrot Disco FPV, or the E-Flite Opterra.
The initial hardware investment does not stop with just the drone. Part of being professional means being prepared for anything and having the right set of accessories will allow you to continue providing your service no matter what happens. A good starter list of essential drone accessories will include a rugger carrying case, spare batteries, spare propellers, spare memory cards, a sun shade for your controller, a set of ND filters, and LED lights for nighttime flight.
Upon getting your new drone, make sure to register it with the FAA on their website. This process assigns a unique identifier code to your drone, which you must mark on the drone with a sticker. This step is also a requirement for getting a Part 107 drone license.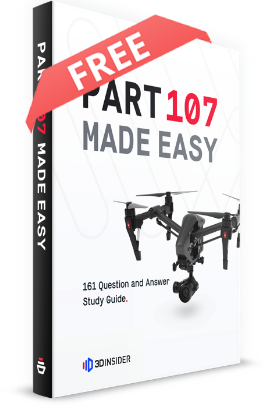 PART 107 Made Easy
161 Question and Answer Study Guide
105 pages of illustrated content
Covers all parts of the Part 107 test
$97 of value for free
2. Get a Part 107 drone license
According to the new FAA regulations, all commercial drone pilots must secure a remote pilot certificate or drone license. A licensed drone pilot must adhere to all Part 107 regulations which include restrictions on when and where to fly, requirements on reporting and documentation, and passing the Part 107 knowledge test.
The knowledge test is designed to establish a standard level of knowledge among commercial drone pilots on topics such as radio communications, meteorological conditions, aeronautical charts, drone performance and loading, drone operation limits, and relevant legislation. You may have to prepare for the test with a training course or some study materials, but there is some comfort in knowing that hundreds of thousands of people have already passed the test. Signing up for the Part 107 knowledge test costs $150.
After passing the test, you will have to undergo a TSA background check before you will officially be granted the drone license. The drone license is only valid for 24 months, after which you will need to take a recurrent knowledge test to renew.
Take note that being a licensed commercial drone pilot means explicit agreement to all the Part 107 regulations. Should you need to provide a service that will be in violation of any of the Part 107 regulations, you will need to file a waiver request to the FAA. Waiver requests are subject to FAA approval based on the conditions of the operation and your skill level as a drone pilot, and the approval process can take up to 90 days.
3. Apply for insurance
Being a human-controlled activity, drone flight is subject to human error and accidents. Not only do you need to insure your drone to protect your business, but you also need insurance against third party liability claims, such as when your drone causes property damage or personal injury. Most clients will also not want to be a part to any liability claims, so having a comprehensive insurance policy should help you sell your services easier.
Obtaining an insurance for your drone is usually the easier part. For DJI drones, you can get their DJI Care Refresh program, which is an insurance program that can offer repair or replacement of your drone should it incur accidental damage. Also known as hull insurance, the costs of insuring your drone is relative to the price of the drone. For instance, buying a DJI Care Refresh plan for the Spark will only cost $59 while buying a similar plan for the more expensive Phantom 4 Pro will cost $149.
Liability insurance will protect your business from expenses due to damage to property or personal injuries caused by your drone operations. It is typically the most expensive part of insuring your business. Premiums for liability insurance packages can be up to $600 annually for a coverage of around $500,000. The premium amount may vary based on the type of drone you are using, your profile as a drone pilot, and the kind of environment in which you are flying your drone.
What type of drone services can you offer?
Having done all the necessary (and expensive!) steps to prepare your drone business, it's now time to offer your services. With a little creativity, the possibilities of earning with your drone are as expansive as the capabilities of today's modern drones. We suggest starting with something you legitimately enjoy doing. Passion goes a long way when you're just starting out. Listed below are some of the most common ways to earn money using your drone.
1. Drone photography
By far the most common commercial application of drone technology is in capturing aerial photos and videos. As a skilled photographer, you can either sell the photos and videos you take or offer on-site photography and videography services.
If you're aiming to sell photos or footage, you must keep in mind that location is key. Start shooting aerial photos in famous tourist destinations, or even less popular locations that have a naturally beautiful setting. Sunsets along the beach, interesting rock formations, expansive grasslands – these are just some of the most common areas to take nice drone shots.
The demand for on-site drone photography has been huge for several years now, and it continues to grow. Photo and video coverage of weddings, concerts, outdoor parties, and sports events are no longer complete without a good number of aerial shots. Competition in this field is tough with so many people offering their services, so you must find a creative way to stand out. Offering friendly rates, having a solid portfolio, coming up with inventive aerial shots – these are just some of the ways that you can distinguish yourself from the competition.
Take full advantage of the capabilities of your drone so that your footage or shots will stand out. Some drones come with interesting automated camera features such as the ActiveTrack and Follow Me modes of many of the DJI drones. These features can be combined in any number of ways to create unique shots. It's all up to how creative you can be.
2. Aerial surveys
Before drones became popular, aerial surveys were done by having equipment being operated by people inside a helicopter. Technology has come a long way since then. Drones can now produce the same results faster and at a fraction of the price.
Aerial surveys are often requested by organizations to quickly map the topography of a large area or to identify significant features. The output of these surveys may simply be aerial shots of the area, or a 3D terrain map generated by laser equipment attached to the drone. Other types of equipment which may be attached to drones in an aerial survey include thermal scanners or magnetic sensors, each one geared towards collecting unique and specific data.
These surveys may be the most technologically diverse application of drones today. They are also often requested by large organizations and are accordingly high paying jobs.
3. Inspection jobs
Drone inspection jobs are usually requested for areas where sending human inspectors is either dangerous or impractical. Drones have been used to electrical lines, communications towers, gas outlets, oilfields, and windfarms. Not only is inspection by drones safer and more cost effective, but results are also obtained faster. With the ability of drones to take high quality photos and videos, inspection jobs can still be done comprehensively and with a high level of detail despite decreased human participating.
Conducting inspection jobs usually involves a higher level of drone piloting skills. The areas that need to be inspected will usually require a lot of maneuvering and tight spaces. This means that a highly stable drone will also be very beneficial.
4. Real estate advertising
The use of drones for real estate advertising has become so widespread that it is estimated that 30% of all drones purchased nowadays are being bought by real estate agents. Drone technology has practically revolutionized the way that houses and other types of real estate property have been advertised. For the companies that have embraced this technology, the change has brought about tangible benefits in the form of increased sales.
Taking photos and videos for real estate advertising is basically just a sub-set of drone photography, but its unique niche and potential for high earnings makes it deserving of a separate item in this list. Drone shots have been used extensively to advertise hotels, resorts, and various forms of real estate. This is especially useful for large properties, as there is no better way to show off their full extent (and even the surrounding areas) than with aerial photography.
5. Surveillance
One of the more specialized applications of drone technology is in surveillance by security organizations and private investigators. Employing drones to monitor areas with sensitive security conditions is inherently safer, rather than assigning people to do the same job. Drones are also more flexible in where they can go and the types of coverage that they can provide. Drones can even be equipped with thermal imaging or night vision equipment depending on the circumstances.
Being sensitive jobs, drone surveillance usually commands high prices of up to $50,000 per year. Top-notch piloting skills is key, as well as having a very stable drone with a high-quality camera.
Final thoughts
If you have plans to start a drone business, then the best time to execute those plans is now. Since the inception of the Part 107 regulations, there have been hundreds of thousands of applications to be licensed commercial drone pilots. This has been fueled by an ever-growing market demand for drone services, as more and more people and organizations start to recognize the value of drone services in photography, remote sensing, advertising, inspection, surveillance, and in many other applications.
The potential for growth of the drone-based service industry is still huge, with many study groups forecasting a higher than ten-fold growth in the next 5 or 6 years. Some applications of drone services have more potential for growth than others, and it may be best to choose your area of specialization accordingly. Drone technology continues to improve and evolve, increasing the capabilities of drones as well as making them more affordable, further providing impetus for the industry to grow.
Before you start a drone business, keep in mind that the initial investments you need to make are not limited to buying a drone and its accessories, and starting an insurance policy. One of the most worthwhile investments you can make is towards you level of skill and knowledge. Clients will always prefer to work with a skilled drone pilot who knows what he or she is doing not only in terms of drone operations, but also in troubleshooting, video editing, and in working with relevant regulations.
The competition for drone-based services can be tough, and you'll have to be creative to make a unique brand. Our best suggestion is that you find what you are good at and improve on it even further. Being exceptionally skilled in one thing is a certain way to make you stand out. Whatever you choose to do, being a responsible and safe drone pilot should always stay on top of mind. Best of luck!