Will There Be a Market for 3D Printed Homes?
3D Insider is ad supported and earns money from clicks, commissions from sales, and other ways.
For the last several years, there has been a sustained interest in the idea of houses being 3D printed. As far back as eight years ago, a Chinese company called Shanghai WinSun released photos of houses that were supposedly 3D printed using recycled materials. The technology has come a long way since then. Even NASA is exploring the possibility of 3D printing houses on Mars for humans!
With all of this development going on, we should stop to ask – will people actually buy 3D printed homes? Will the cost of 3D printed homes be competitive in what is already a very expensive housing market?
How much will 3D printed homes cost?
Let's look at the problem from a more practical perspective first. How much will a 3D-printed home go for in today's real estate market? After all, the value of this entire endeavor will be greatly diminished if it turns out that only the rich and famous can afford to buy 3D-printed homes.
The Virginia Center of Housing Research at Virginia Tech claims that their 3D-printed house can be sold between $210,000 to $220,000. The house being referred to here is a three-bedroom, two-bath home located just off Midlothian Turnpike in South Richmond. The exterior walls of the house are being built using a giant 3D printer and are being reinforced with lumber.
The 2021 prices for similar houses in the area are at a median of $310,000. These figures highlight how much cheaper 3D-printed homes can be. This is mostly due to the fact that 3D printing a house is more energy-efficient, more sustainable, faster, and produces less waste than traditional construction.
Another similar project is a New York property that measures 1500 square feet with three bedrooms, two bathrooms, and a garage. The house will be constructed using 3D printing technology that Kirk Andersen, CEO of SQ4D, had already tested on a smaller house in Long Island. The so-called Autonomous Robotic Construction System extrudes a concrete-like substance layer by layer to build the walls of a house.
When the house is finished, Andersen plans to list it on the market at $299,000. Considering that this is in New York, similar newly built houses in the area cost at least twice that amount.
While we don't have enough data aside from anecdotal cases, these examples provide compelling cases for the marketability of 3D-printed housing. Of course, this does not consider factors such as build quality, longevity, insulation, and aesthetics yet. However, we must also remember that this technology is still very immature. Should 3D printing of homes become more common, competition and the commodification of the technology should drive prices down.
Will people buy a 3D-printed house?
Yes, 3D printed houses can be priced competitively in today's real estate market. The next question should be – will people actually be willing to live in a house that has been 3D printed?
According to Kirk Andersen of SQ4D, the demand for their 3D-printed house in New York is through the roof. Inquiries on the house are practically non-stop as narrated by the real estate agent in charge of selling the house. It's not hard to believe – lots of people nowadays cannot afford the average price of a property.
In a recent survey by Realtor.com, they asked 3026 respondents if they would be willing to buy a 3D printed home. 66% of the total respondents answered in the affirmative. Acceptance was slightly higher in the millennial population at 75%.
Among the population of respondents who are actively looking for houses to buy, there seemed to be a greater knowledge of 3D printing technology – about 63% compared to 42% of all respondents. This seems to imply that people looking for houses are doing their own research for alternative housing technologies.
For the people who were willing to buy a new 3D printed home, factors such as lower cost, shorter build time, higher energy efficiency, and the chance for customization were among the most appealing factors. There were also those who were hesitant about the idea. Among this population, factors such as doubts over the house's longevity, lack of trust in the technology, and a preference for the traditional aesthetics were cited.
22% of the respondents said that there was nothing that will hold them back from living in a 3D printed home.
It's unsurprising that millennials were more willing to buy into the relatively new technology of 3D-printed housing. As the survey called them, these millennials are "digital natives" who are more open to innovative and non-traditional ideas. 3D printing presents an alternative path to homeownership – something that has been kept inaccessible by the current real estate market.
A disruptive force in the real estate market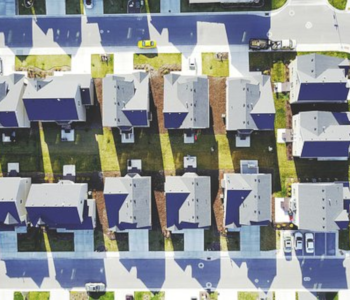 The technology to 3D print homes could not have come at a better time. The housing market in the US continues to suffer from high prices, limited inventory, and competition from investors who have a lot of money. This makes first-time home buyers prone to resorting to having to rent, thus also pushing rental rates higher.
Clearly, the cycle that has kept first-time buyers from buying their own homes at prices they can afford needs to be disrupted. 3D printing may just be the disruptive force that the housing market needs.
In the case of the 3D-printed house being built in South Richmond in Virginia, the Better Housing Coalition estimates that it will be sold to someone who is making about 80% of the region's median household income. This is a huge improvement in a place where families paid more than 50% of their income as rent.
There are now several companies seeking to expand their 3D printing operations to build houses. This fall, five more homes are slated to be 3D printed in the Eastern Shore by Alquist3D. SQ4D is also looking to expand to other territories, such as Florida and California.
Apis Cor, a company that created the largest 3D-printed building in Dubai, will be creating demonstration houses in Louisiana. They are also selling their 3D printing equipment to other companies. There are also similar movements in Germany, Mexico, Bolivia, El Salvador, and Haiti.
The good thing about 3D printing is that it does not need to completely replace the traditional construction industry to make an impact. There are lots of construction companies that take a hybrid approach to integrate 3D printing. As Oakland-based Mighty Buildings put it, 3D printing can offer "disruption by collaboration."
Right now, the burden of coming up with 3D printed homes has fallen squarely on the shoulders of startup companies around the world. These are mostly funded by venture capitalists. Hopefully, successful sales can help these companies grow and improve on their technology. Only then can 3D printed homes go beyond being just a proof of concept into actual commercial products.
3D printing addresses the shortage of skilled labor needed to build houses and long turnover times. With a less expensive process and the potential to more quickly increase the housing inventory, 3D printing may just be the technology that shakes up the housing industry.
Final thoughts
It will likely still be several years before 3D printed homes become so common that they are no longer a novelty. Right now, there are just a handful of these homes built around the world. The good news is that there has been a profound interest in buying these homes. As some of the demo houses have shown, 3D printing can help create houses that are much more affordable, which isn't really a tough act considering how expensive houses are nowadays.
It is also encouraging to know that there is a huge majority of people, particularly millennials, who would be willing to buy a 3D printed house. The market is clearly there – the technology only needs to scale up.
Warning; 3D printers should never be left unattended. They can pose a firesafety hazard.