Huawei Matebook X Pro Black Friday 2018 Deal
3D Insider is ad supported and earns money from clicks and other ways.
Huawei is selling the Matebook X Pro for an all time low price on Black Friday. You can save $150 on a brand new laptop until the day after Black Friday.
Huawei might not well-known in the United States, but it's the largest cell phone maker in China. The company is well-known for the Apple level of quality in their hardware. The Matebook is the first Windows laptop that has managed to match Apple's build quality. In some areas, it has improved on the Macbook Pro with the thin bezel and larger screen being prime examples.
Black Friday Matebook Sale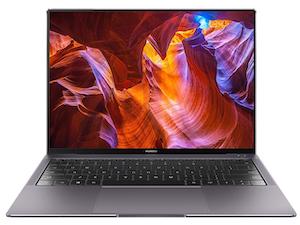 You can get a fully-loaded Huawei Matebook X Pro with an 8th generation Intel i7 CPU, 16 GB of RAM, and a 512 GB SSD for just $1349. The normal retail price is $1499. For comparison, an Apple Macbook Pro with the same specs costs well over $2,000.
The 14 inch 3K screen is extremely immersive, especially since it's a lot taller than the Macbook Pro's. This laptop has the thinnest bezel of any laptop screen, although this is at the expense of the webcam placement. It's in a hidden location in the keyboard, but if you don't use it much it's worth the sacrifice.
Speaking of the keyboard, the Matebook X Pro has a lot more travel than the Macbook Pro. Much has been written about Apple's new keyboard designs and most of it is not positive.
The Matebook X Pro is every bit as portable as the Macbook Pro. It's only 0.57 inches thick and it weighs a little under 3 pounds. Despite it's small size, it offers superior battery performance. It can last for 15 hours without charging, while the Macbook Pro is rated for 10 hours.
This laptop comes with a 1 year manufacturer's warranty. You can also purchase this deal on Newegg. Overall, this is a great Black Friday deal and even more of a reason to get the Matebook over an Apple laptop.