5 Best Matterport Alternatives
3D Insider is ad supported and earns money from clicks, commissions from sales, and other ways.
Real estate marketing is a field that seems to have no trouble keeping up with the times. By embracing modern technology, real estate agents can provide 360-degree virtual tours of the properties they are selling without the inconvenience of prospective buyers having to physically visit them. Considering the millions of dollars that change hands in real estate deals, these types of technology certainly seem like they are worth the investment.
Matterport is a brand that has been in this game for a long time and has built a solid reputation for excellent hardware and software platforms. However, several competitors have also come up offering the same features at a lower price. Which of these competitors should be worth your consideration?
What is Matterport?
Matterport is a company that started out manufacturing 360 cameras for virtual tours but soon branched out to provide software platforms to create and utilize 3D imagery for real estate and design applications. Using cloud-based processing, the Matterport platform can convert 2D panoramic images and 360 videos into fully immersive 3D images.
Recognizing the capabilities of modern hardware, Matterport can be used with 360 cameras outside of the Matterport brand, including more affordable models from Ricoh and Insta360. This move has helped Matterport grow the scope of its 3D rendering services, which currently stacks up at almost 2 million 3D images processed. Since the process is driven by artificial intelligence, having a large database also helps the engine create 3D models faster and more accurately.
Matterport still maintains their line of high-end 360 cameras, but these have seemingly taken a backseat to their 3D image processing service. By rebranding themselves as a data company, Matterport has managed to stay relevant in a market where low-cost alternatives continue to be developed.
Why should you be looking for alternatives to Matterport?
Matterport is still the most popular platform for creating 3D virtual tours, but there seems to be a demand lately for alternatives. Here are some of the reasons why many real estate agents are making the shift:
1. High subscription costs
There is no doubt that Matterport is a high-end platform for creating 3D virtual tours. A complete set of Matterport 360 camera and accessories can set you back up to $5000. Even if you don't get their cameras but only use their service, the subscription payments to host the virtual tours will cost at least $50 per month and can go up to $150 per month. There are several alternatives that are much more affordable.
2. Not suitable for small markets
Having to pay for a continued subscription service is great for real estate agents who have a steady stream of sales, but the reality for most common agents is that it may take several months from one sale to the next. It can feel like a waste of money to pay for hosting a virtual tour which no one is accessing.
The premium prices of Matterport cameras and service can also be intimidating for real estate agents who focus on small markets. After all, these virtual tours require a huge investment which does not come with guaranteed returns. If you can't get enough deals secured, then you may even end your year with a loss.
3. Proprietary hosting
The way the Matterport service works is that you upload the necessary images and videos to the server, which then processes it to create a virtual tour. This means that the tour is hosted on the Matterport server and that you need to pay for this hosting.
This, in itself, is disconcerting. Proprietary hosting means that Matterport controls access to the virtual tour generated from the files you provided. Since there is no way for you to download the tour from their server, this means that you essentially have no ownership of it. While the hosting provision is convenient, it has the unfortunate consequence of keeping you tied down to their subscription plan.
Top 5 best Matterport alternatives
In looking for the best Matterport alternatives, we tried searching for software platforms that offer a good set of features without being too expensive. We also put a premium on software that can generate virtual tours using just a phone or tablet, as the lack of a 360 camera requirement can significantly reduce the capital you need as a real estate agent.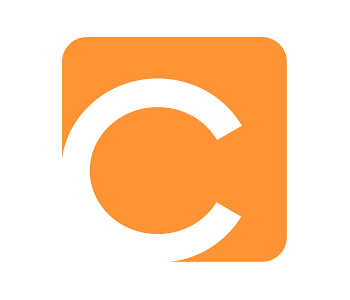 For professional-grade virtual tours at a friendly price, our top pick would have to be Cupix. This is a relatively young company that has managed to win over a lot of Matterport users because of better support and a more customer-centric stance on copyright and ownership.
To start off, Cupix is a paid service that offers three different subscription plans. If you don't want to commit to these plans, you can also opt in to their free options which you can try out indefinitely and provides a limited storage capacity. Cupix also offers optional add-ons for photo editing, team management, and dimensional analysis of your 3D models.
What we find great about the plans offered by Cupix is that you pay for capacity, not the number of models created. This means that you don't need to pay extra if you're unsatisfied with the results – you simply need to delete the 3D tour and create a new one.
Cupix requires the use of either a 360 camera or a DSLR camera to capture panoramic shots for 3D tour generation. This somewhat reduces accessibility to the platform, but Cupix accepts just about any of the popular 360 camera models, including the Ricoh Theta, Insta360, Mi 360, and GoPro Fusion, among others. In a way, this can be considered as an advantage if you want your 3D tours to look really good.
Data ownership and copyright have always been gray areas in Matterport, and we're glad to see Cupix take a more customer-friendly approach to these issues. Cupix expressly states that you hold the copyright for your data and that they may not create any derivative works using the data that you have uploaded. This should assuage many of the concerns with these types of platforms, mainly the possibility of your data being sold to competitors.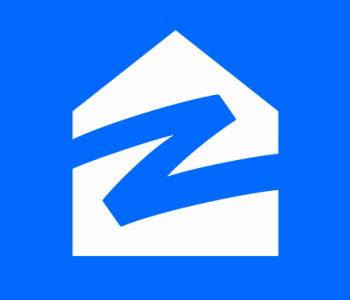 In terms of price, it's going to be incredibly tough to beat the Zillow 3D Home Tour. The 3D Home Tour is a mobile app from Zillow, a company that offers various real estate services such as lead generation and property management. The app is free to download and use provided that you have a Zillow Premier Agent account. The account is also free, although you will need to pay $20 to $60 for every lead.
One of the best things about the Zillow 3D Home Tour is that you only need a smartphone or tablet to create a virtual tour. A recent update allows the app to process footage captured using the Ricoh Theta, although this is an optional feature. Everybody has a phone, though, so the Zillow 3D Home Tour is the perfect choice for the beginner real estate agent who doesn't have the budget for a fancy 360 camera.
Creating a virtual tour using the mobile app is made incredibly easy with a series of instructions and on-screen prompts. The quality isn't top-notch if you'll only be taking stills using a smart device, but that's the price you pay for convenience. Editing options aren't so generous, either, and you might be better off re-processing a whole virtual tour if there are some minor details that you're not satisfied with. Through the Zillow platform, you can easily attach the virtual tours that you've created to your property listings.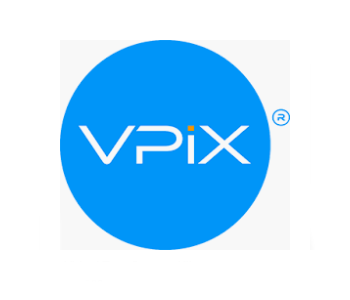 VPiX offers a variety of 3D and virtual tour services for different industries including real estate, entertainment, car brands, and hotels. Their platform offers just about all the tools you'll need to create your own virtual tours but have slightly specialized features that make it easy to share your content to all major social media channels.
Hosting of the virtual tours is offered through three subscription plans. The cheapest one goes for $59 per month and allows you to store up to ten virtual tours. More large-scale real estate agents may opt for the premium plan for $259 per month and gives you enough space to store up to a staggering 250 virtual tours. We like this scaling subscription plan which makes the platform accessible to both small-scale and high-profile real estate agents.
Although the subscription plans of VPiX are a little more affordable compared to Matterport, it retains an almost equal level of complexity. You will need a 360 camera to shoot panoramic photos, which will then be stitched by VPiX. If there are areas of the virtual tour that you're not satisfied with, you can simply take a new shot and insert it into the right spot.
VPiX lacks any features that can interface with smart devices, so you can't use your phone or tablet for quick virtual tours. The workflow of the software platform also doesn't feel intuitive, so this isn't' something we can recommend for beginners. Still, this is an excellent tool if you want to leverage social media to get some mileage out of your virtual tour.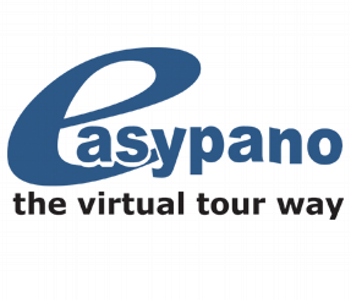 Some people prefer paying a one-time fee to own a software platform rather than a subscription plan for software as a service. If this sounds like you, then you might want to consider this virtual tour software from EasyPano. For a one-time cost of $299.95, the software is yours to use forever. EasyPano also offers a free trial with very limited features.
The workflow of EasyPano is a lot more streamlined and simpler than the other entries in this list. Instead of having to stitch together several panoramic shots to create a virtual tour, EasyPano simply shows a floor plan of the property with clickable links that lead to 360 panoramic images. You can create these panoramic images using a standard DSLR. A 360 camera, while nice, will not be necessary.
More than panoramic images, EasyPano allows you to embed different media types in your virtual tour. You can designate hotspot in the floor plan that will display videos, play audio clips, or show a brief piece of text. You can also incorporate 3D objects into your virtual tour, although these have to be Flash-based.
The benefit of a downloadable software like EasyPano is that you won't need to bother with any additional costs once you own it. While it's not exactly cheap, you can still spend a lot less in the long run, especially if you end up using EasyPano for several years.
Naturally, you lose out on any online or cloud-based features with EasyPano, and working collaboratively is virtually impossible. If this doesn't sound like such a big deal for you, then EasyPano is a very good choice that is both affordable and easy to use.
EyeSpy360 is another subscription-based virtual tour platform that allows you to embed more interactive elements for your audience. This is also one of the few platforms that are compatible with the Google Cardboard VR headset – quite a good marketing angle if we say so ourselves.
As with the other software platforms, EyeSp360 takes the 360-degree panoramic images and stitches them together to create a comprehensive virtual tour. The system automatically creates a virtual floor plan complete with 3D objects that users can navigate in. You can program a guided tour for your audience or let them explore freely.
One of the more unique features of EyeSpy360 is the opportunity to leave "hotspots" in your tour. Users can interact with these hotspots to access any text, images, or video that you want them to see. You can even set these hotspots to display your logo to make your branding more visible.
EyeSpy360 provides an API that gives you the freedom to embed the virtual tour on a website or app. You can also use your account to view an analytics page so you can see how many people are viewing your tours and their locations. This can be a valuable tool for identifying your markets.
EyeSpy360 offers three subscription plans that offer different virtual tour allocations and a number of scenes per tour. Their most expensive plan, the Pro25, can be shared across three people, allowing you to collaborate with a team. If you're apprehensive about the platform, then you'll be glad to know that they have a free plan where you can create up to three virtual tours at absolutely no cost.
Final thoughts
When used right, a virtual tour can be a very powerful tool for the real estate market. A virtual tour gives prospective buyers a level of immersion that cannot be achieved by simple photos and videos. If you are a real estate agent, a website that includes virtual tours of your property is a very smart way of increasing your marketing reach – it can do a lot of the legwork, so you won't have to.
Matterport, despite being the most popular brand in the virtual tour industry, is not perfect. Being a complicated and expensive software platform, it has opened up a market for alternatives, the best ones of which we have listed here.