5 Best SD Cards for Mavic Air 2 in 2020
3D Insider is ad supported and earns money from clicks, commissions from sales, and other ways.
DJI's Mavic Air 2 is a superb mid-range drone and a substantial upgrade from its predecessor. It has a much better controller, can fly greater distances, and has longer flight times thanks to an improved battery. Photo and video capture have seen substantial upgrades, too as the Air 2 can snap 48MP pics or record 4K video at 60fps. Video now also benefits from HDR for more contrast and less detail loss in glaring light.
The Air 2 has a maximum bitrate of 120Mb/s and a single micro SD card slot that supports UHS-I models. While UHS-I isn't cutting edge anymore, it's good enough for continuous 4K recording at 60fps if you have the proper card. These are the best SD cards for Mavic Air 2 you can get. They're more affordable than UHS-II cards but just as reliable. Stock up on your favorites and never run out of space mid-flight again.
Budget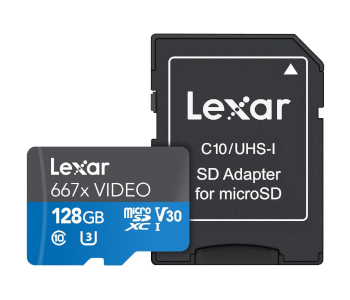 Lexar Professional 667X Video 128GB
4.3/5.0
Check Amazon
SD Cards for Mavic Air 2 Comparison Table
1. Best Overall – SanDisk Extreme PRO 128GB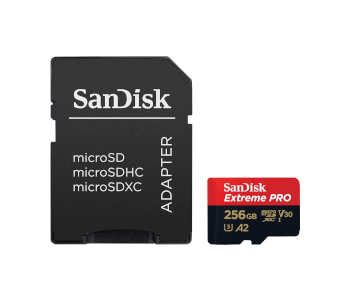 View on Amazon
Editor's Rating: 4.9/5
SanDisk is the most renowned SD card manufacturer in the world, and the Extreme PRO line is the finest the UHS-I standard has to offer. The cards are rated to provide 170MB/s read speeds and 90MB/s write speeds. While the reading speed may not be up to marketing hype, writing speeds never drop below 80MB/s. That means your Mavic Air 2 can continuously record in 4K without having to resort to the buffer to let the card catch up.
You'll recognize the Extreme PRO if you've used a SanDisk card before due to its bright red logo. This series pairs it with gold symbols on a black background, informing you of its class and capabilities. The card is as tiny as any other micro SD model but easy to find because of its glaring color. It's also highly resistant to temperature extremes as well as X-rays. The latter is particularly important for travelers as subjecting your drone to a luggage check won't harm your files.
The Extreme PRO has no trouble maintaining peak write speeds, letting you take full advantage of the Air 2's burst mode or 4K video. Its read speed isn't as crucial but can reach 170MB/s to cut down on the transfer times between your drone and computer. Best of all, the card excels at keeping your files intact. You can store the Air 2 without removing it and not use the drone for months without worrying about file integrity.
The only downside to choosing SanDisk is the likelihood of getting a fake. SanDisk cards are so popular that many stores get fakes on occasion, so make sure to buy them from a reputable source.
2. Best Value – SanDisk Extreme 128GB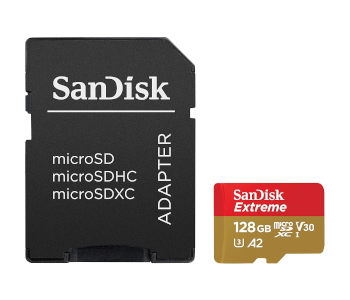 View on Amazon
Editor's Rating: 4.7/5
The SanDisk Extreme is a card with comparable specs to the Extreme PRO, yet it is also considerably cheaper. The variety of SanDisk Extreme cards is impressive as you can get models from 32GB to 1TB. The highest you'll want to go is 256GB since that's the most the Mavic Air 2 supports. Its 128GB version is the sweet spot between capacity and price.
The card's appearance differs little from that of the PRO line. It's easier to spot if you lose it, though, since its bottom part is golden and bright. SanDisk Extreme cards have the same resistance to the elements and X-rays as their more expensive cousins.
Max theoretical transfer speeds differ little between the two lines. SanDisk Extreme can read at 160MB/s while its writing speed is identical to the PRO's. In practice, the regular Extreme card shows sequential read speeds close to 80MB/s while consequential write speeds are firmly entrenched in the 60s. The Mavic Air 2 requires half the sustained writing speed for seamless 4K video recording, so the SanDisk Extreme is an economical and reliable choice.
3. Samsung EVO Plus 64GB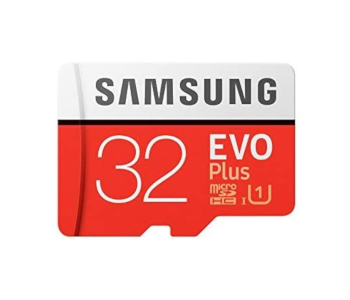 View on Amazon
Editor's Rating: 4.6/5
The newest version of Samsung's EVO Plus micro SD cards is ideal for thrifty pilots who record hours of footage and frequently need to pop in a spare. They're not as good as SanDisk's models for random burst transfers, but EVO Plus cards hold their own during continuous writing tasks. Best of all, Samsung's cards will set you back noticeably less, letting you buy more without impacting your Mavic Air 2's 4K performance.
Samsung's EVO cards are bright orange-red and easy to distinguish from grass if you drop one. They'll take a fall without incident and securely store your files even if you keep them in a harsh environment. X-rays, the weather, even magnets can't harm an EVO Plus's memory.
The last generation of EVO Plus had decent reading speeds but couldn't maintain the minimum 30MB/s write speed required for seamless 4K recording. Samsung designed the new line to deliver write speeds that consistently exceed 80MB/s.
4. PNY Elite-X 128GB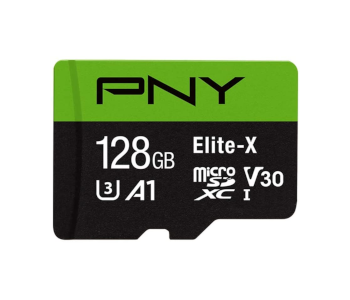 View on Amazon
Editor's Rating: 4.4/5
Pny isn't as well-known as other brands on review, but the Elite-X line can go toe to toe with all but SanDisk's premium cards. The 128GB version is attractively-priced and a smart purchase if you're stocking up.
Elite-X cards might look cool with their green & black color combo, but good luck finding one if it drops while you're filming in a park. Pny doesn't list many of the Elite-X's characteristics on the card's product page, but the card itself reveals it's perfectly suited for work with large video files with the UV30 and U3 logos. It's also an A1 card, meaning it will run apps fast if you use it in a smartphone.
The card's product page only shows a max reading speed of 100MB/s without referencing its writing capabilities. However, testing reveals that it can sustain a respectable 70MB/s in real-world scenarios and is a good choice to pair with a Mavic Air 2.
5. Best Budget Option – Lexar Professional 667X Video 128GB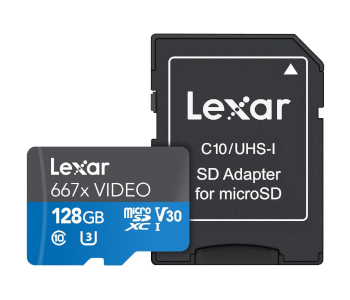 View on Amazon
Editor's Rating: 4.3/5
Lexar's 633x cards were a big hit five years ago as they meshed well with the then-new & exciting action cameras. The 667x video continues this trend by incorporating standards like U3 and V30 to bring you excellent read and write performance.
Lexar's cards are blue & gray, which makes them hard to spot in urban environments. You get an SD adapter with each for hassle-free data transfer to your laptop or phone. Leaving the 667x out in the sun won't corrupt its data, but we wouldn't recommend using it outdoors during the winter since the card can't withstand temperature below freezing. The specs don't mention x-ray or magnetic protection, either.
The 667X's speed test results are sufficient for 4K video but differ based on the software used. Fortunately, the worst-case scenario clocks Lexar's cards at a reading speed of 70MB/s while writing speed is closer to 60MB/s. You might get close to the advertised 100 and 90MB/s results on some tests too.