The Best Mavic Mini SD Cards in 2020
3D Insider is ad supported and earns money from clicks, commissions from sales, and other ways.
DJI's Mavic Mini is a small drone you don't need a license to operate. It's a fun and versatile drone despite its small size, thanks to easy handling and a capable camera. The Mavic Mini doesn't come with a memory card, however, and you'll need one if you want to save its scenic flights for posterity.
Unlike more expensive models like the Mavic Air 2, the Mavic Mini is limited to 2.7K video capture at 25 or 30fps. This means that the card you're after doesn't necessarily have to maintain blazing-fast transfer speeds and may therefore be cheaper. We've assembled the best Mavic Mini SD cards so that it's easier for you to pick one out. Every card on review is more than fast enough for 2.7K video, so the choice comes down to your preferences for capacity, price, and build quality.
Mavic Mini SD Cards Comparison Table
1. Best Overall – SanDisk Extreme 128GB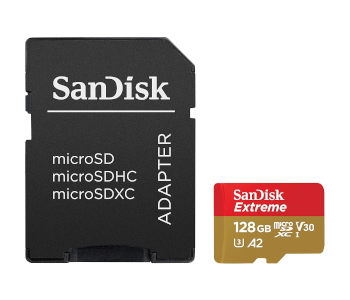 View on Amazon
Editor's Rating: 4.7/5
SanDisk's memory cards are renowned for their durability, performance, and file protection capabilities. The Extreme line is best for Mavic Mini users as its transfer speeds far exceed minimum requirements while the price remains reasonable. Just make sure to get it from a trusted source as the series' popularity has set off a flood of fakes
The Extreme line is instantly recognizable because of its gold & red color combo. While pretty, the choice is also practical since it will let you spot the card with ease wherever you may drop it. SanDisk engineered the card to be durable and resistant to temperature extremes, so don't fret if you leave a case with spares out in the open. Shock- and X-ray proofing are featured as well, letting you travel care-free. You can buy SanDisk Extreme cards alone or with a USB 3.0 adapter that's fantastic for transferring footage over to PCs.
SanDisk's cards boast impressive speeds on paper, 160MB/s for reading and 90MB/s for writing consequentially. Real-world results show slower reading speeds that are closer to 100MB/s than the advertised maximum. On the other hand, writing speeds are more consistent and do not fall under 80MB/s. That's overkill for the Mavic Mini's video capabilities but nice to have if you plan on using the card for other purposes too.
2. Best Value – Samsung PRO Endurance 128GB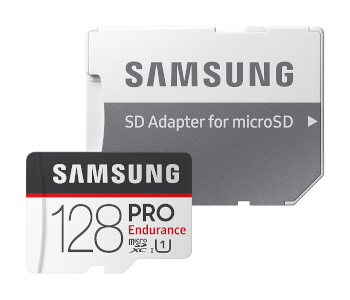 View on Amazon
Editor's Rating: 4.5/5
Do you often pilot the Mavic Mini in hot weather and constantly transfer SD card data to other drives? Samsung's PRO Endurance cards were designed with such extreme use cases in mind. They're superbly resistant to all kinds of weather and perform better than the marketing material suggests. You can also opt for the faster & cheaper EVO Plus line if toughness isn't a priority.
EVO endurance cards stand out from the crowd with a gray & silver front you won't have trouble spotting. Dropping one of these cards isn't cause for concern since their lightness and reinforced build makes them resistant to fall damage. Data stored on the EVO endurance is unlikely to get lost since the card is resistant to high temperatures, X-rays, and magnetism.
Samsung claims that an EVO Endurance card can read at 100MB/s and write at 30MB/s. Read speeds slightly slower than advertised are a common occurrence, and the EVO Endurance's 90MB/s is no different. However, we were pleasantly surprised by its writing performance. Tests consistently show the card writing at 35MB/s and more, almost reaching 40 during long-term testing. The card is also designed to handle constant file erasure and transfers.
3. Toshiba EXCERIA M303 128GB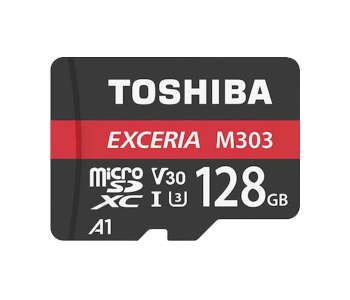 View on Amazon
Editor's Rating: 4.4/5
Beaches and riverfronts offer some of the most spectacular shooting opportunities, but they also pose a risk to file integrity because of spray during close fly-bys. Toshiba's EXCERIA M303 cards are shock-and waterproof, letting you take the Mavic Mini straight into the action and know you'll get excellent footage.
The card is black with a red stripe that's easy to spot on a variety of surfaces. The U3 and V30 logos imply a minimum writing speed of 30MB/s, more than enough to sustain 2.7K video recording effortlessly. Apart from waterproofing, EXCERIA M303 cards are X-ray resistant and hold up well in extreme temperatures.
Toshiba estimates the EXCERIA M303's peak performance at 95MB/s and 65MB/s for reading and writing, respectively. The card performs almost as advertised when reading and reaches 85MB/s consistently. Writing speeds aren't as faithful but never drop under the guaranteed 30MB/s threshold.
4. Lexar High-Performance 633x 128GB
View on Amazon
Editor's Rating: 4.3/5
The 633x is getting on in years, but there's no better choice if you're after an inexpensive micro SD card that easily keeps up with your Mavic Mini's memory needs. It's a card that keeps your files safe while also being cheap enough that you can buy several and have them at the ready for hours of breathtaking aerial shots.
Lexar's High-Performance cards are black and blue, so be careful when switching them out in the city as they're easy to lose. You used to get a USB 3.0 adapter with these cards, which was great for transferring data to PCs lacking a card reader. Lexar has since replaced the dongle with an SD card adapter.
The 633x is a class 10 card. It will never drop below 10MB/s when writing files, thereby ensuring that 2.7K video won't stutter. The card's performance is much better than the minimum, though. Reading comes in at a strong 90-95MB/s while writing sits comfortably at 45MB/s
5. Best Budget Option – Netac P500 128GB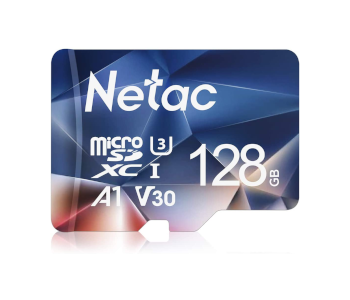 View on Amazon
Editor's Rating: 4.3/5
Netac isn't a well-known manufacturer, but that shouldn't prevent you from scoring a few of its well-rounded micro SD cards. They're designated as U3 and V30, which means maintaining optimum writing speeds won't be an issue. They're also among the cheapest reliable SD cards on the market and an excellent choice either as main and backup storage devices.
The P500 series differs from other SD cards design-wise. Netac dropped the customary two-tone color scheme in favor of an abstract blue design that's more pleasant to look at and easier to spot. Durability isn't an issue despite their lower cost as P500 cards are water-and shock-resistant and can be used in temperatures well below freezing.
Fluctuating speeds are the main reason the P500 is last on our list. Its reading speeds are solid and reach 60-75MB/s, even climbing into the 90s in some tests. However, the minimum 30MB/s writing speed doesn't hold up in all scenarios. Values from 20 to 25MB/s are more realistic, but that's not a problem since your Mavic Mini uses a fraction of that bandwidth even while shooting 2.7K video at 30fps.