Mebotics Microfactory Combines 3D Printing And Milling To Create The Ultimate Manufacturing Machine
3D Insider is ad supported and earns money from clicks, commissions from sales, and other ways.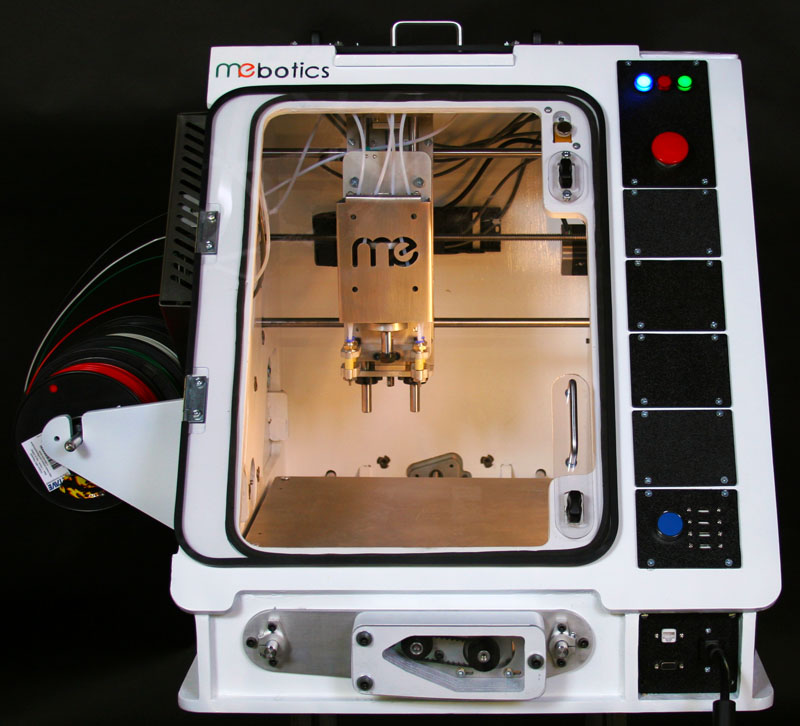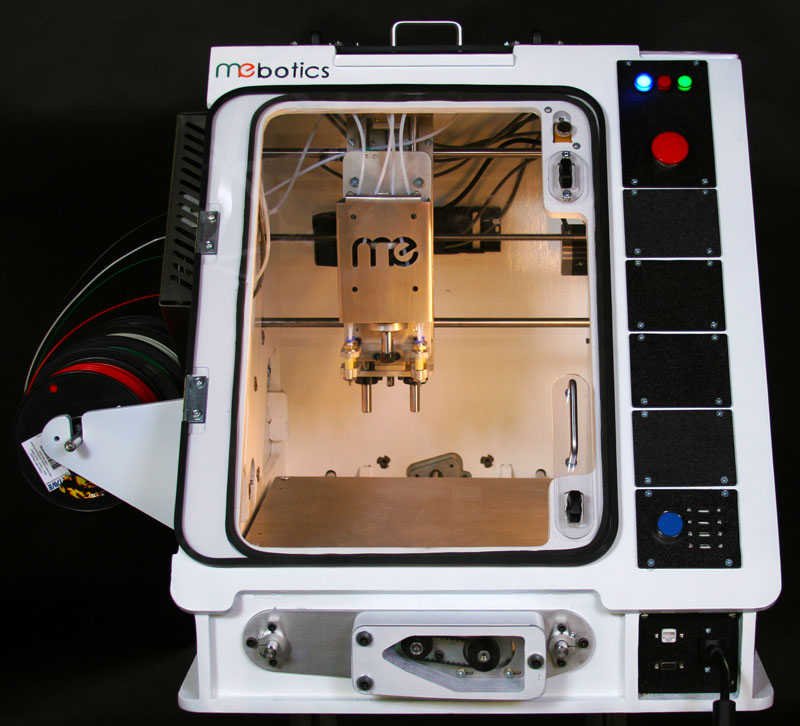 Mebotics is a company based in Somerville, MA and they have just announced the Microfactory, a 3D printer combined with a milling machine to create "a Machine Shop in A Box". The 3D printer part of the Microfactory has the ability to print in four colours or multiple materials.  Computerized milling gives users the ability to manufacture parts in materials that the printer cannot use, making the Microfactory a 'Jack of all trades'.
Files can be transferred to the Mircrofactory via wi-fi or downloaded straight from the internet from an on-board computer. "If you had a database of parts for your Humvee you could connect the machine to a Wi-Fi hotspot, download the part you need from a directory and make it on the fly out in the middle of nowhere," says Jeremy Fryer-Biggs. The use of the milling head and print head are controlled by code that is embedded in the design files.
Once the manufacturing process is complete, Mebotics has been kind enough to include a vacuum port that allows you to connect a vacuum cleaner and remove waste material.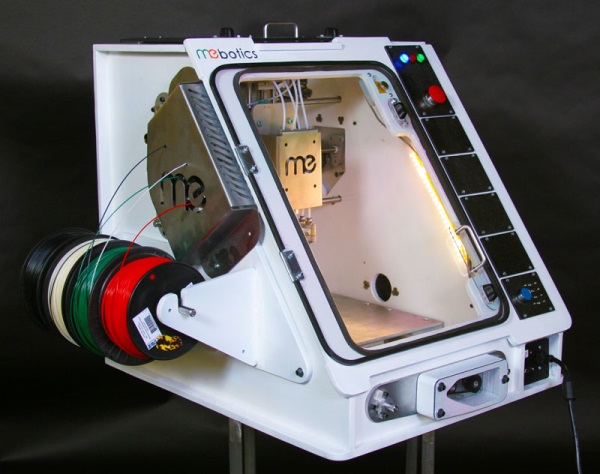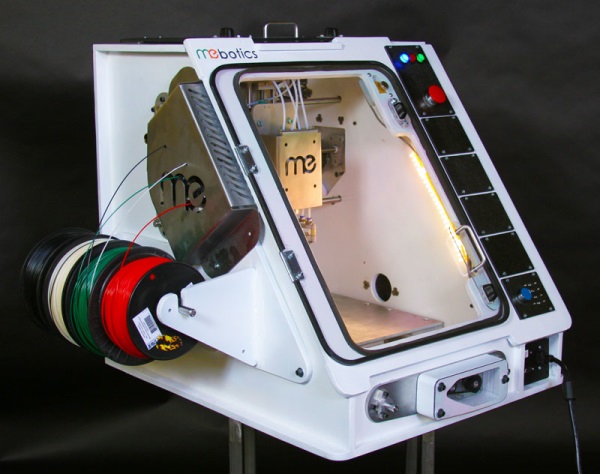 Features include:
mess-free milling for quiet indoor use
print and mill in the same machine
fully networkable complete on-board computer
print in 2 materials or four colors at once
http://www.youtube.com/watch?v=ImROFDJ1cq4
Specification of basic model:
prints functional parts in four colors or multiple materials in 2 colors
4-spool side rack for extrusion materials
300W spindle for computerized etching and milling of plastics and wood
plywood frame, 25″ wide x 29″ deep x 25.5″ tall
work volume 12inx12inx6in
sturdy enclosure tested to 350lbs, reduces noise output by ~10db
vacuum port for standard 2.5″ shop vac + filtered air inlet with replaceable cartridge
safety features: fully enclosed moving parts; covered drive belts & motors; software-controlled large red Emergency Stop button
professional industrial motion-control package for high precision & machine reliability
swappable pallets for batch printing
internal dedicated networkable computer (no standalone computer required)
runs industry-standard gcode on a customized open-source system (cross-compatible with machine-shop mills)
Ports: 4x USB 2.0, VGA, Ethernet Power
A limited run of Microfactory's will be sold through Kickstarter, which Mebotics hopes will raise $1 million. The Kickstarter campaign will be launched in the next couple of months.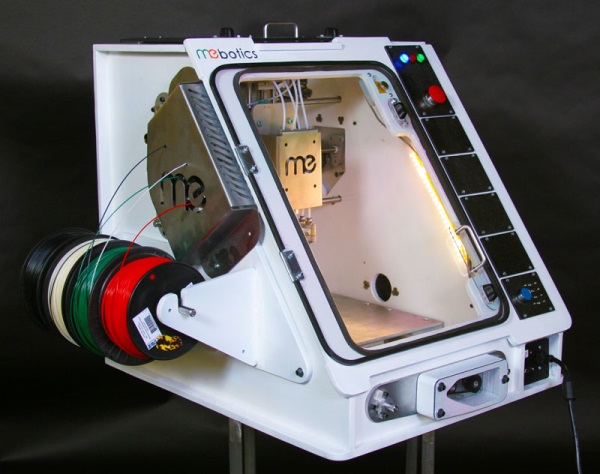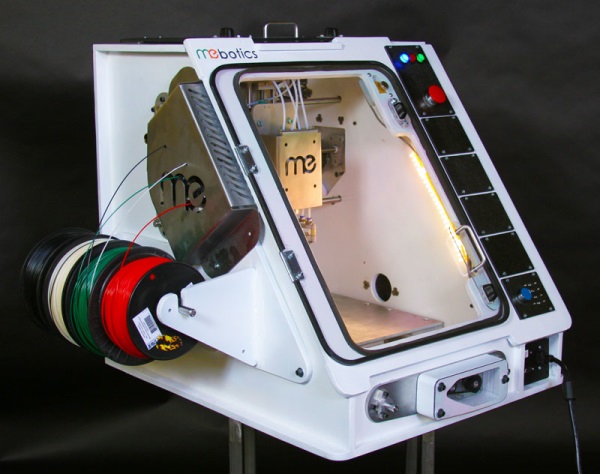 About Mebotics:
"The dream behind Mebotics LLC began in 2009 when four soon-to-be friends met by chance at a local makerspace in Somerville, MA. One of them, Calvin, was wrestling with an issue common to many do-it-yourselfers and small business owners: When he got home from his day job, he went to work in the living room of his small apartment, developing his ideas with his power-tools. The noise and the mess was a point of contention with his longtime girlfriend, Jamie. He voiced this problem to the group and after some spirited conversations, the concept for the Microfactory was born.
While all four members come from different backgrounds and have diverse skills – Judah is an industrial designer by trade who started a CNC router table company, Jeremy is a biomedical engineer turned product developer, Calvin is a network architect who moonlights as a jeweler and Edison is a network architect who used to weld in the oil industry – they are all, first and foremost, die-hard, hands-on, makers. The Microfactory is the culmination of a collective 68 years of experience building things (yeah we all started young), using the lessons gleaned from working with and rebuilding both industrial and hobbyist machines."
http://www.youtube.com/watch?v=_PuYqM9uFcc
Warning; 3D printers should never be left unattended. They can pose a firesafety hazard.